Triple test: Hyundai Ioniq 5 vs BMW iX3 vs Volvo XC40 Recharge
The Hyundai Ioniq 5 is one of our favourite electric family cars, but how does it stack up against the more premium offerings in the electric SUV class?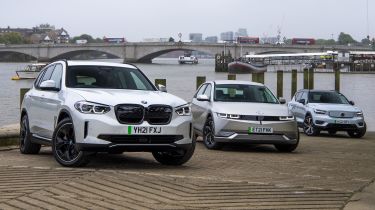 While electric cars of all shapes and sizes are available these days, and even more are in the works, the sheer amount of zero-emissions SUVs you can buy right now is undeniably staggering.
At one end of the spectrum you've got the likes of the compact Vauxhall Mokka-e, Peugeot e-2008 and Kia e-Niro, which focus more on value for around the £30,000 mark or less, while more exclusive, luxury options like the BMW iX and Tesla Model X can crack the £100,000 mark with ease.
Slap bang in the middle of those extremes are the three premium, zero-emissions family cars we've decided to pit against one another here: the BMW iX3, Hyundai Ioniq 5 and Volvo XC40 Recharge, all of which we've commended individually in the past for their exceptional interiors, soothing refinement, useful practicality and up-to-the-minute technology.
BMW iX3
Pros: Practical, well built, clever regenerative braking
Cons: High starting price, only two trim levels, most expensive to insure
Hyundai Ioniq 5
Pros: Styling, interior, comfort
Cons: Only top spec gets all-wheel-drive, no rear wiper, performance compared to rivals
Volvo XC40 Recharge
Pros: Excellent refinement, Google infotainment, dual-motor performance
Cons: Not the most fun to drive, rivals have longer range, quite expensive
We've heaped praise on the Ioniq 5 in particular since our first test drive in the South Korean model, however, it must be said that Hyundai isn't exactly the first brand you'd think of when considering spending £50,000 or more on a car. So does that mean even the space-age Ioniq 5 is unable to hold its own against the electric SUV heavy-hitters from BMW and Volvo? Let's see which one comes out on top...