Triple test: Hyundai Ioniq 5 vs Ford Mustang Mach-E vs Volkswagen ID.4
The Hyundai Ioniq 5 is finally here, and receiving plenty of praise. But how does it hold up against some of the best electric family cars around?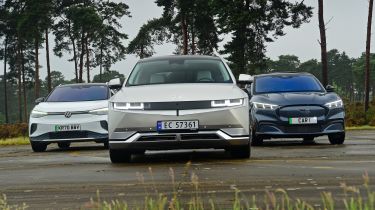 These days it's hard to find a carmaker that isn't already producing or developing an electric SUV. This type of car promises space, comfort and practicality along with style and the usual electric-car benefits of strong performance and low running costs. So models like the Ford Mustang Mach-E and Volkswagen ID.4 have become the go-to family cars right now.
However, Hyundai may now have something to say about that. Its new Ioniq 5 electric family hatchback 'broke the internet' when it was revealed earlier in 2021, as people fell in love with its retro '70s-inspired styling and concept-car features. But now the rubber has to meet the road. The Ioniq 5 has a circa-£35,000 starting price, but certain versions are priced closer to £50,000, placing Hyundai's zero-emissions family car directly in the crosshairs of the likes of the ID.4 and Mach-E.
Hyundai Ioniq 5
Pros: Style, interior, comfort
Cons: Top-spec price, no rear wiper, fidgety ride over some bumps
Ford Mustang Mach-E
Pros: Fun to drive, infotainment, refinement
Cons: Firm ride, lacks serious performance, rapid-charging capability
Volkswagen ID.4
Pros: Range, space, practicality
Cons: Fiddly infotainment, performance, interior quality
All of these cars have impressed us in the past for various reasons – but stick them side-by-side and it might already seem like the ID.4 is being left behind by the rakish Mach-E and show-stopping Ioniq 5. But can Volkswagen still snatch victory from the Ford or the Hyundai? Let's find out...