Toyota bZ4X prototype review
First taste of Toyota's electric family SUV reveals an impressively comfortable offering with great in-car tech – but fairly modest performance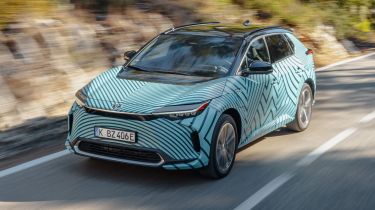 Pros
Much improved infotainment
Smooth and comfortable
Decent interior space
Cons
Interior materials feel drab
Not as fast as you'd expect
Not class-leading for practicality
To say the bZ4X will be an important car for Toyota would be a massive understatement. Having focused mainly on hybrid engines for many years while other big car manufacturers forged ahead with electric models, the Japanese giant is finally gearing up to go electric in a big way.
It recently showcased no less than 11 new fully electric models that'll launch between now and 2030 – nearly all of them using the same technology that underpins the bZ4X. So in short, this car has to be good. And even if it wasn't forming the basis of the company's EV strategy for the foreseeable future, it still has to do battle with the likes of the Skoda Enyaq iV, Volkswagen ID.4, Ford Mustang Mach-E and Kia e-Niro in what has become a highly competitive electric family SUV class.
The bZ4X will be available from launch in either front or four-wheel-drive form. Both draw power from a 71.4kWh battery, but the front-drive model makes 201bhp from a single electric motor on the front axle, while the dual-motor four-wheel-drive version sees a modest increase to 215bhp. Exact ranges for each were confirmed in April 2022 as 317 miles for the front-drive car and 285 miles for the rear-drive model.
There won't be a huge difference between the two on the performance front, either, with the front-drive car getting a provisional 0-62mph time of 7.5 seconds, versus 6.9 for the four-wheel-drive. The latter is what we've driven, in near-production prototype form, to get our first taste of what to expect from the bZ4X.
All versions will boast 150kW rapid-charging capability, sufficient for an 80% top-up to be done in around half an hour. That's slightly ahead of the pack as far as charging speeds go in 2022, but not radically better than what rivals can offer – which is actually a good summary of how the bZ4X seems to stack up overall.
On the road, it's not violently fast in Tesla Model Y fashion, which may disappoint anyone who's driven that or any other dual-motor, four-wheel-drive electric car. But it is extremely smooth and quiet, suggesting Toyota is going after a different sort of buyer with the bZ4X – one who prioritises comfort over sheer driving thrills.
Such buyers will be pleased to learn that even on large 20-inch alloy wheels, tackling less-than-perfect Spanish tarmac and even some gravel roads, the bZ4X rode very well, thanks to a sophisticated and evidently very well engineered suspension and chassis. That also pays dividends when it comes to handling: despite a hefty 2,000kg total weight, the Toyota doesn't lean or wallow about excessively in corners.
We found the steering to be nicely positive, too – although Toyota has another trick up its sleeve in this area in the form of a steer-by-wire system (with no physical connection between the wheel and axle) which we've yet to try out. Elsewhere, there's a reasonably strong regenerative braking effect when the strongest mode is engaged – although not quite strong enough for true one-pedal driving on every kind of road.
Toyota interiors have always erred more on the side of function than form down the years and the bZ4X isn't a complete departure from that philosophy. Although material quality could be refined further in the final production version, we found some of the surfaces inside this prototype felt a bit drab and plasticky. On the storage front, there is neither a glovebox nor a 'frunk' under the bonnet, however the conventional 452-litre boot is both spacious and well shaped. Interior space is adequate, but won't be class-leading.
In-car technology is becoming an increasingly important point of difference between electric cars – but it's another area where Toyota has been behind the curve in the past. The bZ4X looks set to right that wrong, however; the next-generation infotainment system it showcases has sharper graphics, faster responses, more versatile connectivity and a generally slicker feel than what's gone before.
Safety technology is also impressive. Toyota's latest package of crash-avoidance systems goes by the name 'T-Mate' and incorporates automatic emergency braking with collision warnings, cross-traffic alerts, detection of other vehicles approaching an intersection and sensors to warn you against opening the doors if a car or bicycle is approaching. As is the case with Toyota's current hybrid models, we expect all this will be offered on even the entry-level bZ4X.
All in all then, Toyota's first fully electric car has the makings of a strong – if not standout – contender in the mid-size electric family SUV class. But rather than blowing its rivals into the weeds for technology or practicality, the bZ4X may win over buyers with the lease deals Toyota has cooked up. The 'Kinto One' packages bundles leasing and three years' servicing into a £611 monthly charge, after a £3,662 initial payment. You also get six months' free charging, a free wallbox and three years' breakdown assistance.