Audi Q4 e-tron pre-production review
An early drive of Audi's upcoming smaller electric SUV reveals lots of promise
Pros
Superb interior technology
Fast and engaging to drive
Very spacious and practical
Cons
Exterior slightly bland
No true one-pedal driving
Likely to be quite expensive
This is a pre-production example of the new Audi Q4 e-tron electric SUV. It's not the first fully electric Audi, of course: we've already had the e-tron SUV (in standard and Sportback forms), as well as the e-tron GT high-performance saloon. But the former is a bit of a halfway house, sharing a platform with combustion-engined models, while the latter is an extremely expensive and exclusive flagship model that won't sell in huge numbers.
The Q4 e-tron, on the other hand, is much more significant. It's the first Audi to sit on the VW Group's dedicated 'MEB' electric-car platform (making it a sister model to the Volkswagen ID.4 and Skoda Enyaq iV) and aims to sell in big numbers as a serious competitor to the likes of the Mercedes EQA, Ford Mustang Mach-E, Tesla Model Y and Volvo XC40 Recharge P8 in the compact premium family SUV class.
We'll have to wait for a more comprehensive drive on UK roads to deliver our definitive verdict, but the early signs are very promising. It looks like the Q4's dedicated pure-electric underpinnings will give it a distinct advantage over the likes of the Mercedes and Volvo mentioned above, which (like the original e-tron) share platforms with combustion-engined models.
As well as boasting all the strengths we've seen in pure-electric VW Group cars to date, the Q4 e-tron sets itself apart with some neat digital technology inside and some clever engineering solutions elsewhere. We're still to see the fully undisguised exterior of the car, but as you'll see from our images, it's clearly not going to be quite as sharp and angular as its VW and Skoda cousins.
Instead, it sticks closer to the established Audi SUV styling mould of the current Q3 and Q5. That's almost certainly a deliberate ploy from Audi to avoid alienating some of its less adventurous customers in the move to electric power. The end result is possibly a less eye-catching look overall – but some of them may like it that way.
Sales of the Q4 e-tron will begin this summer, but Audi is keeping a few final details under wraps still. We can assume similar powertrain options to those offered in the ID.4 and Enyaq iV, though; an entry-level, single-motor, rear-drive version making 168bhp and a top-of-the-line four-wheel-drive, dual-motor edition with front and rear motors and up to 302bhp.
There should be two different battery sizes, too: 52kWh or 77kWh useable capacity, with 125kW rapid-charging capability getting you to 80% capacity in about half an hour. No official range figures have been published yet; Audi engineers reckon anything from around 180 miles if you're 'pushing on' to over 350 miles if you're gently cruising down the motorway, but our test car showed 240 miles remaining on its screen with a full battery and we'd expect it'll post something in the region of 300 miles in official testing.
As our test car was the more powerful four-wheel-drive variant, it felt pretty sporty from behind the wheel, with acceleration at least equivalent to the combustion-engined Audi SQ5. But it was also engaging – more so than the Volkswagen ID.3, indicating that the engineers are learning how to extract more driving fun from the VW Group electric platform as they go.
Pulling away, you can feel the Q4 is obviously heavy, but this sensation tends to disappear at higher speeds, thanks to a relatively low centre of gravity, a long wheelbase and adaptive suspension – the latter likely to be an optional extra on the production version.
In terms of ride quality, it feels like the larger Audi Q7, but in terms of agility (especially on tight city streets) it feels closer to the Audi A1 supermini. That's thanks to a very tight turning circle, made possible by space occupied by the engine in a petrol or diesel car being used to allow the front wheels to turn more.
Less impressive is the Q4 e-tron's regenerative braking system. Yes, there are multiple levels it can be set to, as with almost any other electric car, but there's no true 'one-pedal' driving ability like you get in a Tesla or Polestar – or even the humble Nissan Leaf. This could again be an effort to make the driving experience seem less foreign to those coming from a petrol or diesel SUV.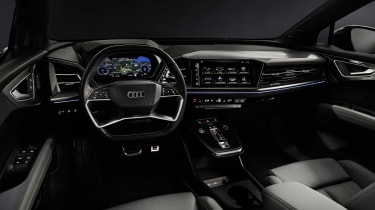 A similar theme emerges inside the Q4 e-tron where, like in the existing e-tron, the feeling is very similar to one of Audi's petrol or diesel SUVs. There are some innovations: the screens are slightly larger than we're used to seeing, and the steering wheel now has sensor panels and sliders on it rather than hard clicky buttons. There's also a big step up in head-up display technology, with augmented reality (AR) superimposing navigation arrows and safety warnings onto your view out the windscreen. Physical buttons for the climate-control system remain, however.
Practicality hasn't been forgotten amid all this cutting-edge technology: the Q4 e-tron has one of the most spacious interiors in its class. There's no boot up front, but luggage capacity is about 500 litres nonetheless, plus there's a huge storage bin between the front seats. Rear-seat passengers are well looked after, too, with the flat floor again paying dividends.
Overall, on the evidence of this pre-production drive, Audi seems to have nailed the electric SUV formula with the Q4 e-tron. It's spacious inside but feels light and agile to drive, offers a decent driving range as well as entertaining performance and handling, and manages to incorporate some innovative technology without feeling too alienating. With keen pricing, it could become a very frequent sight on the roads indeed.