BMW iX1: 272-mile electric range predicted ahead of late 2022 debut
BMW will launch its next zero-emissions SUV by the end of the year; the iX1 will take on rivals including the Mercedes EQA and Volvo XC40 Recharge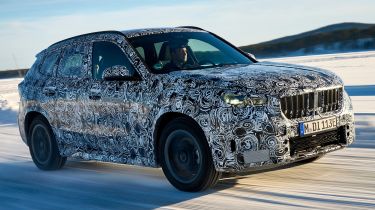 BMW has released official images of its forthcoming iX1 compact electric SUV wearing camouflage while undergoing winter testing in Sweden. The zero-emissions version of the next-generation X1 is one of two new EVs the German brand is launching in 2022 – the other being the i7 luxury saloon.
According to BMW, testing in sub-zero temperatures has so far "subjected the electric motors, electric all-wheel-drive technology, high-voltage battery, power electronics and charging technology to a particularly exacting examination" and ensured the car's range and charging times won't be excessively hampered in cold conditions.
Like most other electric BMWs, the iX1 will be offered alongside combustion-engined and plug-in hybrid versions of the same car. On the outside, it'll feature the German brand's signature pair of kidney grilles up front, along with a twin headlight design. However, the iX1 will also get blue-accented exterior trim to set it apart from other X1 models on the road.
Under the metal, it'll use the brand's fifth-generation eDrive electric powertrain technology, as found in the already-on-sale iX3, i4 and iX models, with a dual-motor setup. BMW predicts this will give it an official range of between 257 and 272 miles on a charge, as calculated by standardised industry testing.
Further details about the iX1 remain under wraps ahead of its unveiling, which will come shortly after the regular X1 debuts in autumn 2022. Its key rivals will include the Audi Q4 e-tron, Mercedes EQA and Volvo XC40 Recharge electric.
The upcoming X1 and iX1 are expected to sit on the second generation of BMW's 'FAAR' platform, which can accommodate internal-combustion, hybrid and electric powertrains. This platform will also underpin the new MINI Countryman, arriving in 2023, which will also be offered in electric or combustion-engined forms.
BMW announced at its annual conference it plans to be building 15 EVs by the end of 2022 – although that figure includes pre-production vehicles. An electric version of the current 3 Series debuts in China later this year, and may join the firm's European line-up in future. By the end of 2025, BMW aims to have delivered two million fully electric vehicles, and hopes that at least half its global deliveries will be EVs by 2030.
New Polestar 3 electric SUV to be unveiled in October 2022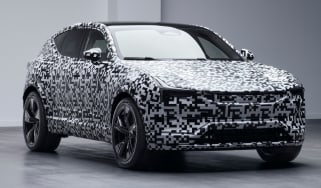 New Polestar 3 electric SUV to be unveiled in October 2022
New electric cars coming in 2022 and beyond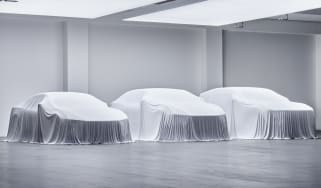 New electric cars coming in 2022 and beyond
Renault Scenic to return as electric SUV in 2024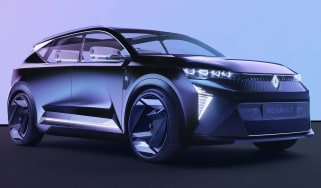 Renault Scenic to return as electric SUV in 2024