Top 10 best hybrid company cars 2022
Hybrid cars are heavily favoured by UK company-car tax rules, so choosing one could save you a lot of cash. These are the best hybrid company cars to buy in 2022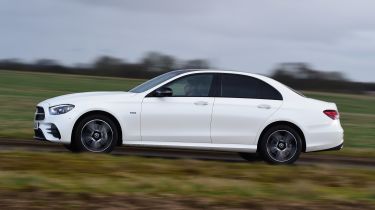 Hybrids and plug-in hybrids (PHEVs) are here to stay, and it's easy to see why. These electrified cars are not only more efficient than purely petrol or diesel-engined models, they're also brilliant for everyday driving thanks to their quiet, smooth electric motors. Hybrids that can travel a 'significant distance' on electric power will be exempt from the UK's proposed 2030 ban of new petrol and diesel cars.
It used to be the case that diesels, with their low CO2 emissions, were most favoured by the UK's company-car tax system, but those days are over. It's now the turn of the hybrid to dominate the company car-park, and you should be surprised if you get offered a diesel car. All electrified cars, including purely electric models, make great fleet cars, as they cost less to both tax and fuel in the long run. A plug-in hybrid company car could slash your tax bills by two-thirds compared to a similar diesel.
And it's not just lower Benefit-in-Kind (BiK) tax rates that make them such good company cars. Running costs in general should be lower (as long as you plug in to recharge the battery) plus drivers get to enjoy electric power, which is great for commuting and really easy to live with. And you've still got the back-up of a petrol or diesel engine for longer journeys.
Read on to find out more about the best hybrid company cars to buy, including our favourite models from a variety of sectors and across different price points. You can read more about each model in their respective in-depth reviews, too. If you'd prefer a purely electric company car, read our guide to the best picks here – and don't forget to follow DrivingElectric on Twitter, Facebook, Instagram and YouTube for the very latest.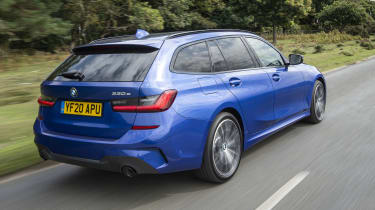 BMW 330e
The BMW 3 Series has been among the very best executive cars since its inception in the late 1970s. So it comes as no surprise that the latest version – complete with its plug-in hybrid powertrain – is one of the most entertaining and cost-effective company cars you can run. The previous-generation 330e only offered a modest electric range, but the latest one is capable of going for up to 37 miles without waking the petrol engine. The boot is slightly smaller than in the purely petrol or diesel derivatives, but the cost savings will outweigh this small compromise for many company-car drivers. Plus, a 330e Touring estate version (pictured above) is offered for those who need to carry more. Read our full review here.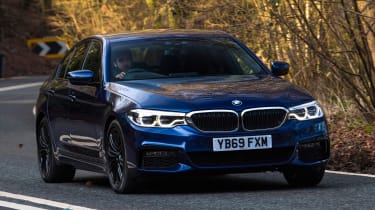 BMW 530e
As far as company-car tax goes, the BMW 530e plug-in hybrid is at the pricier end of the scale. There's no getting away from the high list price, but you're getting a very capable executive car for your money: 0-62mph takes just 6.2 seconds and you'll enjoy the limousine-like luxury offered by all 5 Series models. An update in 2019 saw the 530e get a little extra electric range, plus the option of xDrive four-wheel drive. The standard model will now do 41 miles on electric power thanks to its slightly larger battery. Read our full review here, or our review of the 530e Touring estate, and check out the more powerful 545e saloon version.
Ford Kuga Hybrid
The newest Ford Kuga is the best yet, and the great news for company-car drivers is that the plug-in hybrid version is really cheap to tax. There's also a regular hybrid model, and while it's not quite as competitive on tax costs, it's a cheaper car overall and you don't need to have a home or work parking space with access to a charger to make the most of it. The Kuga has a nicely integrated hybrid powertrain and (in the plug-in) a decent electric range of 35 miles, plus it's really spacious inside and good to drive. It's got lots of standard equipment, too, and while the interior isn't the most exciting place to be, it's comfortable and easy to live with. Read our full reviews of the Kuga Plug-In and Kuga Hybrid for more.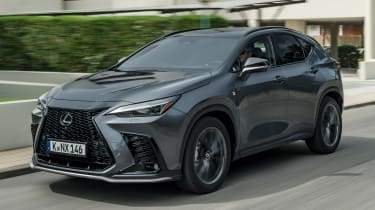 Lexus NX 450h+
Lexus' reluctance to embrace plug-in hybrid technology and stick with its proven 'self-charging' hybrids was beginning to hold the Japanese brand back in the battle for sales with BMW and Mercedes. Now, though, it has made the leap with the latest generation of its popular NX mid-size SUV, which boasts an impressive 40-mile electric range, typically angular Lexus styling and rock-solid build quality inside and out. Lexus has fixed its previously terrible infotainment system, as well. If you'd rather sit and relax instead of attacking the bends like a BMW driver, it could be just the ticket. Read our review here.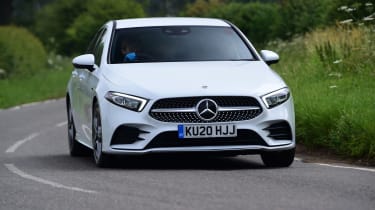 Mercedes A 250 e
The Mercedes A-Class frequently features among the UK's best-selling cars, and the introduction of a plug-in hybrid model has cemented the hatchback's place near the top of that list. Don't be put off by the fact it's only available in top-spec AMG Line trim – this gives the BMW 1 Series and Volkswagen Golf rival a sporty look, with loads of the kit that so many company-car users desire. A 44-mile electric range means those covering short distances with regular access to a charging point could effectively run the A 250 e as a pure-electric car – relying on the petrol engine for longer journeys or motorway driving.
The A-Class hybrid is available as either a hatchback or a saloon (we'd choose the hatch for its more versatile boot), while you can also get this same powertrain in the Mercedes CLA, B-Class and GLA. Read our full A 250 e review here.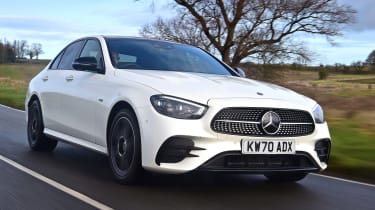 Mercedes E 300 de
One of our favourite hybrid company cars is the Mercedes E 300 de plug-in hybrid. It's highly unusual in that instead of using petrol power, the E 300 de has a 2.0-litre diesel engine paired with a powerful electric motor (although there's an E 300 e petrol-electric version, too – we've compared the two here).
That means even when the battery is depleted, you still benefit from the excellent fuel economy of a modern diesel engine. The E 300 de has all the luxury features of the standard E-Class, wrapped up in your choice of a saloon or estate body. An E 300 de might cost a few hundred pounds more than a BMW 530e in BiK, but you'll save substantially on fuel costs if you regularly run the diesel engine on longer journeys. The choice on offer, combined with potentially unbeatable running costs, makes the E-Class a top hybrid company car. Read our full review here.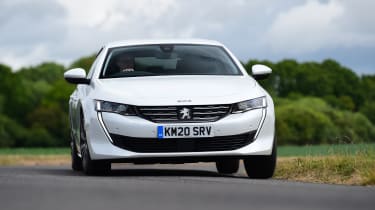 Peugeot 508 Hybrid 
A worthy alternative to some of its compact executive rivals from BMW and Mercedes, the 508 is a left-field choice that's stylish inside and out, as well as being very efficient. It features a well integrated hybrid system with a claimed electric range of up to 39 miles. It makes a lot of sense on the company-car front thanks to its low BiK rating, while the fact that the 508 is a comfortable, refined and uniquely designed alternative to the relatively unimaginative mainstream is something of a bonus. Read our full review here.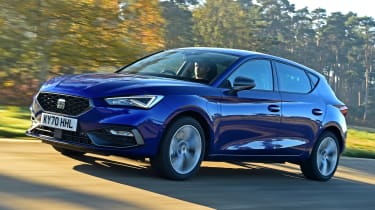 SEAT Leon e-Hybrid
Based on the same platform as the Volkswagen Golf GTE and Skoda Octavia iV, the Leon e-Hybrid offers a sporty yet sensible take on the plug-in hybrid recipe. Power comes from a 1.4-litre petrol engine and an electric motor, with a 13kWh battery offering up to 40 miles electric range. With an extremely low BiK rate, there's plenty to attract company-car users looking for a lower-cost alternative to the Golf, which sits in a higher bracket. To us, the SEAT offers much better value, feeling closer to its VW sibling than ever in terms of quality and driving experience. Read our full review here.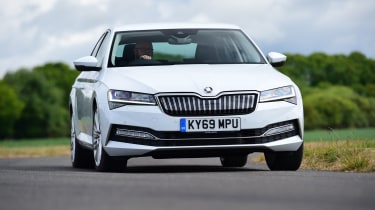 Skoda Superb iV
If space is a major consideration, but you don't want to pay over the odds for the privilege, the Superb iV makes a lot of sense as a company car. Its plug-in hybrid drivetrain is much the same as you'll find in the SEAT Leon above, with the same 1.4-litre petrol engine and 13kWh battery offering a similar 35-mile range. The difference here is that it's fitted to a much larger and more practical car, complete with massive boot and acres of rear legroom. BiK is low, too – entry-level cars sit in a pleasingly low band, meaning manageable payments for 20% and 40% taxpayers. In fact, payments will be lower than an equivalent large executive saloon, as the Superb boasts a considerably lower list price. Read our full review here.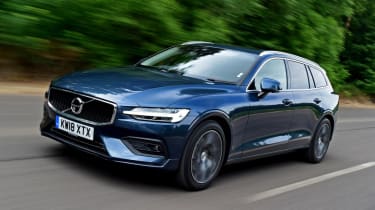 Volvo V60 Recharge
This position on the list could easily be occupied by any of Volvo's current 'Recharge' plug-in hybrid models, but we've gone for the V60, as it embodies all that's great about the boxy Swedish estates of old, while bringing the formula right up to date in terms of styling, quality and technology. While it's still not as keen-handling as a BMW 3 Series Touring, the V60 is a fine drive nonetheless, with startling performance thanks to its healthy 345bhp power output. Read our full review here.
UK electric-car grant reinstated until March 2023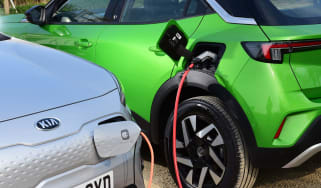 UK electric-car grant reinstated until March 2023
The Plug-in Car Grant (PiCG) was axed back in June 2022, but will now apply to orders placed until 31 March 2023
Top 10 best electric cars 2022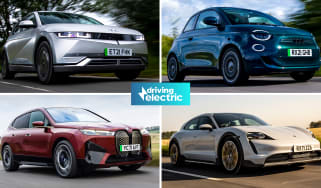 Top 10 best electric cars 2022
Here, we run through our favourite new electric cars that you can buy right now in the UK…
Top 10 best plug-in hybrid SUVs 2022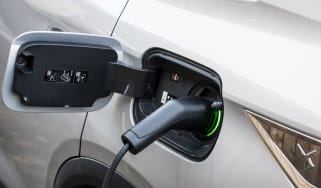 Top 10 best plug-in hybrid SUVs 2022
The finest plug-in hybrid SUVs offer low running costs, enough electric range for daily use and excellent practicality. These are the best plug-in hyb…