Top 10 best hybrid hatchbacks 2022
A hybrid hatchback is just as practical as a normal hatchback, but with even lower running costs. These are the best on sale in 2022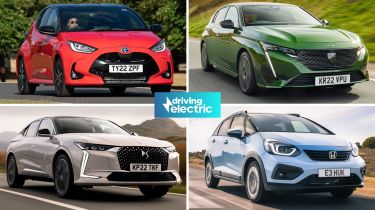 You can find hybrid technology in all manner of cars these days from supercars to superminis. The latter combine the attractive affordability of an ordinary hatchback with improved fuel efficiency and lower emissions, resulting in even more manageable running costs.
Whether you're looking at a regular hybrid or a plug-in hybrid, the engine works in conjunction with an electric motor and a battery to drive the wheels. But which type of hybrid is best for you will depend on the way you drive on a day-to-day basis, your budget and if you have somewhere you can charge a car. 
Plug-in hybrid hatchbacks can travel further on electric power than any other type of hybrid, and they can return the highest fuel economy figures in theory. But they're also quite expensive, and you need to plug them in regularly in order to achieve their high mpg figures. Regular or full-hybrid hatchbacks can't travel as far on electric power, but they're typically less expensive and still return superior fuel economy to any purely petrol-powered alternative.  
With all that in mind, we've come up with a handy list of the best hybrid hatchbacks on sale today…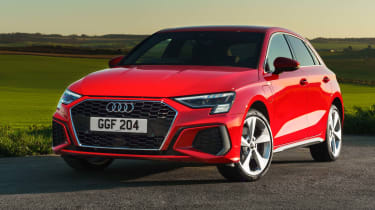 Audi A3 TFSI e
The Audi A3 has been a company-car stalwart for years, but the formerly favoured engine choice, an efficient diesel, has now been usurped by this 'TFSI e' petrol-electric plug-in hybrid model. Promising ultra-low BiK tax along with strong performance and around 250mpg fuel economy, the TFSI e also offers the traditional plus points of the A3: five-door hatchback practicality combined with a premium-car badge and high-quality interior. Read our full review here.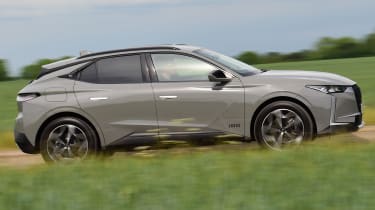 DS 4 E-TENSE
DS is the up-and-coming premium-car arm of the Franco-Italian Stellantis Group, and while of some of its previous models have felt a bit too close to the Citroen brand it emerged from, the new-for-2022 DS 4 is its most convincing effort to date. Sporting a taut, handsome design and efficient plug-in hybrid power under the bonnet, it sets itself apart with exceptional interior quality and a focus on comfort rather than sportiness. Read our full review here.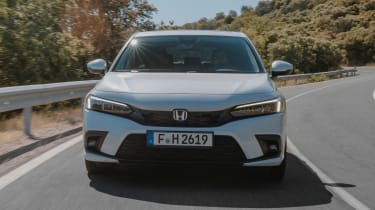 Honda Civic
The Civic seems to have been around forever, and this 11th generation sees the model continue its tradition of successfully reinventing itself to stay relevant. Like the rest of the Honda range (including the Jazz below), it's now hybrid only, but instead of the plug-in setup with a fairly large battery favoured by many rivals, the Civic has a small battery that's constantly topped up on the move by both the engine and a regenerative braking system. An electric motor, rather than the engine, drives the wheels most of the time, resulting in a smooth, EV-like driving experience. Read our full review here.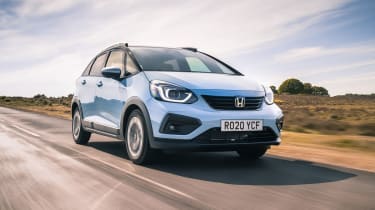 Honda Jazz
The Honda Jazz has been electrified for its third generation and packs a lot of technology into a small yet clever package. Power comes from a 1.5-litre petrol engine and a pair of electric motors, linked to a small battery and a CVT gearbox. The drivetrain feels well engineered and is very refined, with a focus on efficiency that'll please private owners and company-car users alike. It's a little pricey, but you get a lot of practical hybrid supermini for your money. Read our full review here.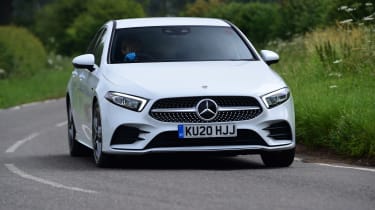 Mercedes A 250 e
If you fancy a touch of luxury without the bulk of the Mercedes S-Class, the latest A-Class offers a genuine alternative that's surprisingly similar in terms of prestige, albeit in a more compact package. The interior of the A-Class is simply one of the finest that you can currently find in a small car, with sheer quality to be found throughout. The A-Class is practical, too, and will seat four in comfort. Opt for the A 250 e plug-in hybrid and while the boot space drops slightly from 370 to 310 litres, you get a claimed fuel economy of 282mpg. Admittedly, the real-world figure is very likely to be less, but it should still impress, and the Mercedes also has an electric range of 45 miles. Read our full review here.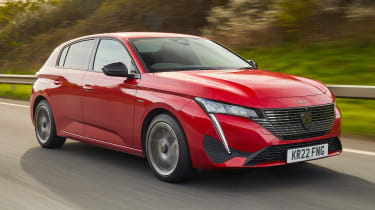 Peugeot 308 Hybrid
Barely recognisable as a Peugeot, the latest 308 hatchback has undergone a sharp and aggressive visual transformation to become one of the most distinctive mainstream cars on the road. It also offers bang up-to-date plug-in hybrid engine options and will be available in fully electric form in the near future, too. It's pricey and perhaps not the most practical hatchback you can buy, but many buyers will be won over by those looks alone. As the sister model to the Peugeot 308 Hybrid and DS 4, the Vauxhall Astra Hybrid-e is also worth a look. Read our full review here.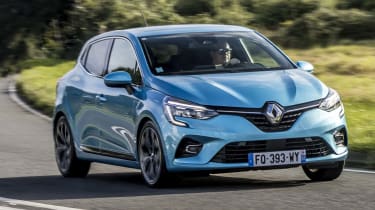 Renault Clio E-TECH
The Clio E-TECH is one of the more recent additions to the hybrid hatchback club, but unlike its Captur SUV sibling, it's not a plug-in hybrid. Instead, Renault has introduced a clever system that comprises a 1.6-litre petrol engine, two electric motors and a 1.2kWh battery; power makes its way to the road through a Formula 1-inspired automatic gearbox. It's good at shuffling between power sources and should prove economical once the official figures come in. It handles well, too: the Clio has lost none of the talent on display in the non-electrified versions. Read our full review here.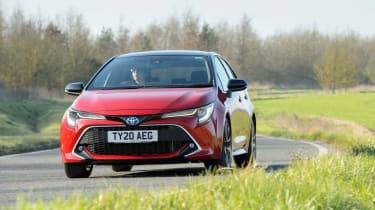 Toyota Corolla
The Toyota Corolla is available in hatchback and estate forms. The hatchback is powered by a 1.8-litre petrol engine, with the option of a more powerful, 2.0-litre version available on higher trims. Prices start from around £25,000, with the 1.8-litre returning as much as 66mpg. CO2 emissions of 76g/km ensure relatively low tax, while 361 litres of boot space is competitive in this class. The CVT gearbox leaves a little to be desired, but overall the Corolla Hybrid is a very attractive package. Read our full review here.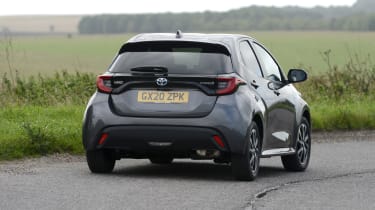 Toyota Yaris
This is one of a number of 'self-charging' hybrid Toyotas on this list, as the brand has introduced its preferred method of electrification right across its range. The latest Yaris comes with a 1.5-litre three-cylinder petrol engine working alongside an electric motor. A power output of 114bhp means performance is reasonable, while scaled-down Corolla underpinnings ensure it's good to drive and comfortable on the move. Plenty of standard kit and updated infotainment are also good news. Read our full review here.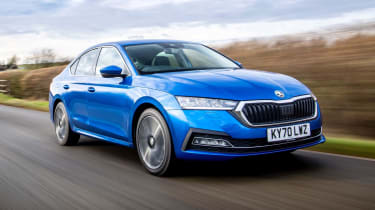 Skoda Octavia iV
The Skoda Octavia has been a long-time favourite with buyers looking for a hatchback with saloon styling and which offers great value for money. The most recent iteration is available in plug-in hybrid form as the Octavia iV. This version uses a 1.4-litre petrol engine paired with an electric motor and 13kWh battery, offering a 43-mile electric driving range and low CO2 emissions of between 22-33g/km. The plug-in Octavia is a more comfort-focused, practical cruiser than the SEAT Leon e-Hybrid with which it shares many of its underpinnings, so it's not the most engaging car to drive. Read our full review here.
Fisker PEAR: first look at £25,000 electric city car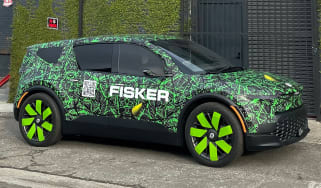 Fisker PEAR: first look at £25,000 electric city car
The cut-price EV is due to be unveiled in the second half of 2023 and offer up to 310 miles of range
New electric cars coming in 2023 and beyond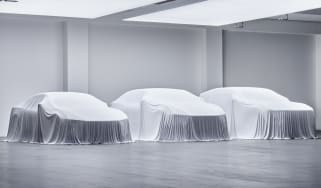 New electric cars coming in 2023 and beyond
With electric cars making up an ever-increasing proportion of sales, the industry is working flat out to launch new models – here's what's on the way …
Top 10 best electric SUVs 2023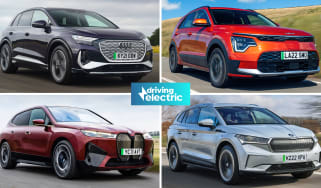 Top 10 best electric SUVs 2023
Electric SUVs combine style and practicality with low running costs, making them a very popular choice in the UK. Here are our top 10 favourites to bu…