Best hybrid hatchbacks 2021
A hybrid hatchback is just as practical as a normal hatchback, but with even lower running costs. These are the best on sale in 2021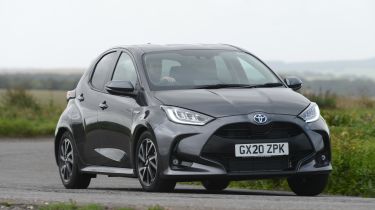 If you're looking for a new compact car, but want one that emits less has uses less fuel, there are plenty of options; from plug-in hybrids like the Volkswagen Golf eHybrid and Mercedes A-Class A 250 e. to all-electric models like Volkswagen ID.3, Peugeot e-208, Honda e or Renault ZOE.
But, if you don't have access to a charging point or simply want less hassle, then maybe a full or mild hybrid hatchback is for you. The way hybrids work is very simple: most harvest energy from the car's engine and brakes in order to charge a small battery. The electric motor and battery working in conjunction with a petrol or diesel engine to provide drive.
Some hybrid hatchbacks are able to travel a short distance on electric power alone, but they won't go anywhere near as far as the leading plug-in hybrids, which typically have much larger batteries. So which model would be best for you? To point you in the right direction, we've come up with a handy list of the best hybrid hatchbacks on sale today.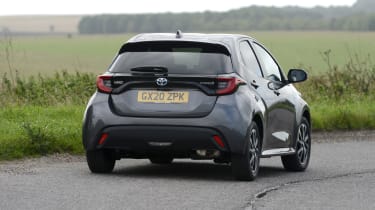 Toyota Yaris
A pioneer of so-called 'self-charging' hybrid technology, Toyota has introduced its preferred method of electrification right across its range – right down to the Yaris supermini. Refreshed for 2020, the latest Yaris comes with a 1.5-litre three-cylinder petrol engine working alongside an electric motor (a cheaper non-hybrid version is also offered). A power output of 114bhp means performance is reasonable, while scaled-down Corolla underpinnings ensure it's good to drive and comfortable on the move. Plenty of standard kit and updated infotainment are also good news. Read our full review here.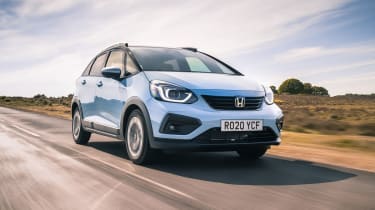 Honda Jazz
The Honda Jazz has been electrified for its third generation and packs a lot of technology into a small yet clever package. Power comes from a 1.5-litre petrol engine and a pair of electric motors, mated to a small battery and a CVT gearbox. The drivetrain feels well-engineered and is very refined, with a focus on efficiency that'll please private owners and company-car users alike. It's a little pricey, but you get a lot of practical hybrid supermini for your money. Read our full review here.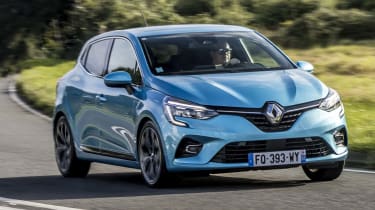 Renault Clio E-TECH
The Clio E-TECH is the most recent addition to the hybrid hatchback club, but unlike its Captur SUV sibling, it's not a plug-in hybrid. Instead, Renault has introduced a clever system that consists of a 1.6-litre petrol engine, two electric motors and a 1.2kWh battery; power makes its way to the road through a Formula 1-inspired automatic gearbox. We've only driven a prototype so far, but we were impressed: it's good at shuffling between power sources and should prove economical once the official figures come in. It handles well, too: the Clio has lost none of the talent on display in the non-electrified versions. Read our full review here.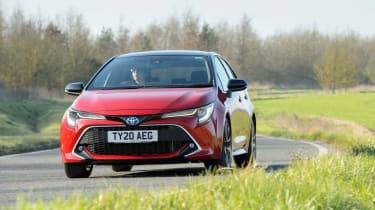 Toyota Corolla Hybrid
The Toyota Corolla Hybrid is a replacement for the now defunct Auris Hybrid, going on sale in the UK in hatchback, estate and saloon forms. The hybrid hatch is powered by a 1.8-litre petrol engine, with the option of a more powerful, 2.0-litre version available on higher trims.
Prices start from around £24,000, with the 1.8-litre returning as much as 66mpg. CO2 emissions of 76g/km ensure relatively low tax costs, while 361 litres of boot space is competitive in this class. The CVT gearbox leaves a little to be desired, but overall the Corolla Hybrid is a very attractive package. Read our full review here.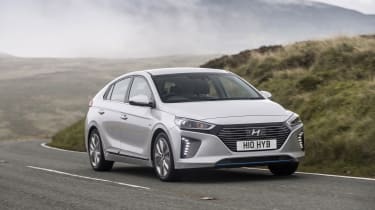 Hyundai Ioniq Hybrid
The Hyundai Ioniq was the first car ever offered as a hybrid, plug-in hybrid or pure electric car, and in all three guises it's a competitive prospect. The Hybrid here is one of the frontrunners in this class, with an official fuel-economy figure of 78.5mpg and CO2 emissions of 84g/km on paper.
Practicality is decent, with seating for five and 443 litres of boot space. A power output of 139bhp is enough to make the Ioniq Hybrid feel eager on the road and the light steering means it isn't taxing to drive. Read our full review here.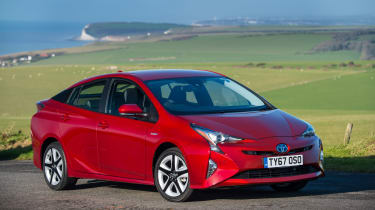 Toyota Prius
The Toyota Prius is the Ioniq Hybrid's main rival, and in its fourth generation, the Japanese manufacturer has a refined the formula. The Prius is a hugely practical car, promising good head and legroom throughout, as well as easy access and a 343-litre boot. This figure rises to 1,558 litres when the rear seats are lowered, so transporting bulky goods is possible.
It's fuel economy that impresses most, though: 83.1mpg will make your money go further, although you need to be on the 15-inch wheels that are standard on the lower trim levels to achieve this. Read our full review here.
Top 10 best seven-seater electric and hybrid cars 2021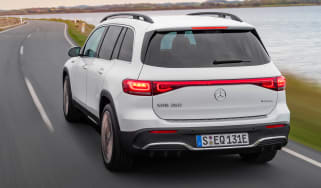 Top 10 best seven-seater electric and hybrid cars 2021
If the regular crop of electrified SUVs and family cars don't provide enough practicality for you, then take a closer look at the range of electric an…
Top 10 best luxury electric cars 2021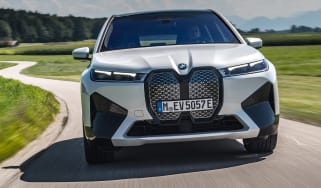 Top 10 best luxury electric cars 2021
From Audi to Tesla, here are our top picks of the most luxurious zero-emissions motoring options on the market right now
2021 Volvo XC40 Recharge electric SUV: single-motor version on sale now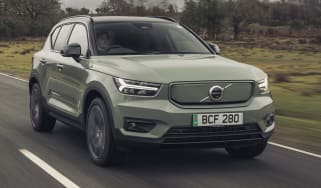 2021 Volvo XC40 Recharge electric SUV: single-motor version on sale now
Volvo has introduced a new single-motor version of its electric SUV, available in two trim levels and with prices starting from £48,300