Cupra Formentor eHybrid 2020: specs, price and on-sale date
SEAT sister brand's high-performance plug-in hybrid SUV has arrived; SEAT-badged versions likely to follow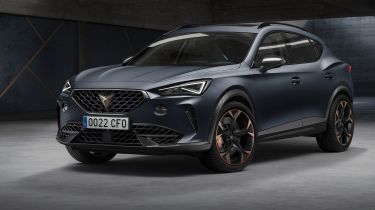 The Cupra Formentor eHybrid is the plug-in hybrid version of a new halo car for SEAT's performance-orientated sub-brand. The 2.0-litre petrol version of the car is now open for reservation in limited-edition 'VZ' specification at preorder.cupraofficial.co.uk for a £500 deposit.
The plug-in hybrid version cannot be pre-ordered as yet; a full line-up of trim levels and pricing information for the Formentor range is set to be unveiled in the fourth quarter of 2020.
Adhering to the current coupe-SUV trend and based on the purely petrol-powered Cupra Ateca, the Formentor pairs aggressive, sporty styling with a punchy plug-in hybrid (PHEV) petrol-electric drivetrain. Customer deliveries are set to begin in late 2020.
Due to have been revealed at the cancelled 2020 Geneva Motor Show, the production-ready version of the Formentor hasn't changed much from a pre-production concept that arrived at the same show in 2019. Its styling remains familiar, with sharp, sporty lines, large 19-inch wheels (hiding 18-inch Brembo brakes) and the now-ubiquitous Cupra copper-coloured trim. A range of metallic and matte paint finishes are offered alongside high-quality interior trims like brushed aluminium and leather.
Like the Cupra Leon hot hatchback, the Formentor is powered by a choice of powertrains – plug-in hybrid or purely petrol. The petrol option sits at the top of the range and uses the Volkswagen Group's tried-and-tested 2.0-litre TSI turbocharged four-cylinder engine with 306bhp. Power goes to all four wheels via Cupra's 4Drive system.
The PHEV model, badged eHybrid, uses a 1.4-litre turbocharged petrol engine paired with a 13kWh battery and electric-motor combination making up its plug-in hybrid element, with a quoted total output of 242bhp and 400Nm of torque. A DSG gearbox puts power to the road, but four-wheel drive isn't offered here.
All Cupra Formentor models get the brand's Dynamic Chassis Control (DCC) drive- mode selection system. It monitors the road surface and driver inputs to make changes to the car's suspension, steering and power delivery. Four modes are offered: Comfort, Sport, Cupra and Individual.
The Formentor backs up its high-end image with a host of up-to-date on-board technology. A 12-inch infotainment system takes pride of place on the floating dashboard, complete with Android Auto and wireless Apple CarPlay connectivity. A number of USB-C ports allow owners of modern smartphones to connect to the system, while a built-in SIM card allows for the use of Cupra's eCall service, which can automatically contact emergency services in the event of an accident.
Plug-in hybrid Formentors get an e-Manager system, which can be used to control the car's charging or pre-heat or cool the interior, all with smartphone integration through a dedicated app.
Up-to-date driver assistance and active safety features include Cupra's Predictive Active Cruise Control (PACC), which uses sat-nav and camera data to adjust speed for corners, roundabouts and other road features – along with blind-spot monitoring and 'Exit Assist', which gives an audio warning to passengers opening doors into traffic.
In addition to the Formentor, Cupra has unveiled a fully electric concept car called the Tavascan and will have its own version of the Volkswagen ID.3 electric hatchback in the shape of the Cupra el-Born. Cupra's parent brand SEAT recently announced a plug-in hybrid version of the latest Leon family hatchback.