Top 10 best hybrid family cars 2021
If you're not ready to go fully electric yet, you should consider one of these: the best hybrid family cars to buy in the UK right now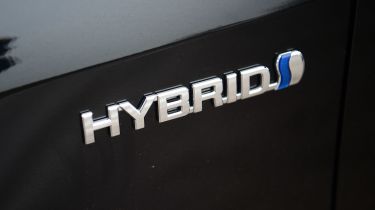 Before you buy a new family car, think about what are the most important aspects. Chances are you've come up with some combination of practicality, comfort and low running costs – and we reckon one of your best options these days is a hybrid family car.
One of the aspects of practicality aside from a big boot is the ability to go on a long trip like a family holiday without having to worry about charging, like you might in an electric car. Hybrids can be efficient when running on electric power, yet still have this ability to do a long trip, even at short notice. For some, plug-in hybrids (PHEVs) are an even better solution, as they can allow you to dramatically cut running costs if your lifestyle allows it.
There are a few names for them, but traditional hybrids (also known as full hybrids, conventional hybrids or 'self-charging' hybrids) work well for those who can't charge up at home or who don't want to change their driving style, yet still want low running costs and high fuel economy. These hybrids use a small electric motor and battery with an engine, using the electric motor for low-speed running and the engine for motorways.
Hybrids are great for more than just saving cash, though – the quiet electric running at low speed is really relaxing, and driving in stop-start traffic is easy and stress-free in a hybrid. They are a great stepping-stone into electric driving, and most have plenty of space for the family as well. The best hybrid family cars combine these aspects and come at an affordable price and with plenty of equipment. You can read more about all our picks below – and don't forget to follow DrivingElectric on Twitter, Facebook, Instagram and YouTube for the very latest on all aspects of electric and hybrid motoring.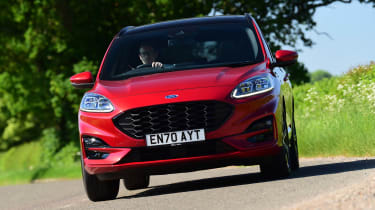 Ford Kuga Hybrid
The Ford Kuga is a great SUV in all its forms, whether that's mild hybrid, plug-in hybrid or this, the FHEV 'full hybrid'. This option works really well if you want to get into an electrified SUV but don't have the means to charge at home or at work to make the most of the plug-in version. The Kuga is really good to drive, although even with a combined 187bhp and a 0-62mph time of 9.1 seconds it's not exactly sporty. It is, however, satisfying to drive thanks to well-weighted controls and a comfortable ride, plus a pleasant cabin that should keep everyone on board happy. It's roomy inside as well, plus there's a big boot and lots of standard equipment. Read our in-depth review here.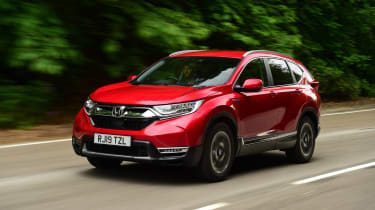 Honda CR-V
Majoring on comfort, refinement and build quality, the Honda CR-V is a mid-sized family SUV boasting 2.0-litre petrol-electric hybrid power and a choice of front or four-wheel drive. It's not an entirely normal set-up, as for most of the time the petrol engine doesn't directly drive the wheels – but it's easy to drive and works well. Average economy officially tops out at a fairly disappointing 43mpg, but we managed as much as 45mpg in tests. It's not the most efficient car on this list, but the CR-V is a very comfortable and quiet family car that's sure to be reliable and very easy to own. Read our Honda CR-V review here.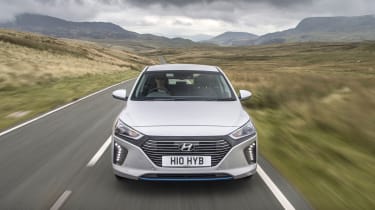 Hyundai Ioniq Hybrid
The Hyundai Ioniq Hybrid has a 1.6-litre petrol engine that produces a total of 139bhp when working in conjunction with an electric motor. Unlike some of its rivals, the Ioniq Hybrid isn't capable of driving on electric power alone, although the "self-charging" system helps it to achieve 61-63mpg and CO2 emissions of 102-105g/km. While the exterior is rather generic-looking, the Ioniq Hybrid is spacious inside and will comfortably seat a family of five, with 443 litres of boot space. The Ioniq is easy to drive and very smooth, so it's relaxing. It's also a reliable choice with a five-year warranty. Read our Hyundai Ioniq Hybrid review here.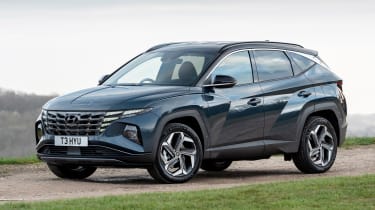 Hyundai Tucson Hybrid
The Hyundai Tucson Hybrid is an affordable and practical family SUV with 50mpg economy and very distinctive looks. It uses a 1.6-litre petrol engine paired with a small electric motor and battery to make an impressive 227bhp, so performance is strong. It's also good to drive and has a lot of standard kit, plus it's well built and should be really reliable. It's not as much fun to drive as some of its rivals, such as a Ford Kuga, but it's a great all-round family car. Read our Hyundai Tucson Hybrid review here.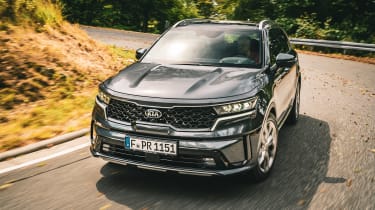 Kia Sorento Hybrid
The Kia Sorento Hybrid is a big family SUV with loads of room inside, a pleasant driving experience and lots of standard kit. It's a little expensive and not as comfortable as it could be, but the Sorento is one of our favourite hybrid family cars overall. It uses a 1.6-litre petrol engine alongside the electric motor, and returns 38-41mpg and emits 158-168g/km of CO2. The in-car technology is top-notch and there's all the equipment you could want on all but the lowest trim levels. Read our Kia Sorento Hybrid review here.
Lexus NX 300h
The Lexus NX 300h is one of the more striking five-door SUVs to look at thanks to its bold, angular design. It's powered by a 2.5-litre petrol engine assisted by an electric motor, helping to maximise fuel efficiency. The NX 300h delivers 37-40mpg and emissions of 161-175g/km of CO2. The batteries provide enough charge for around a mile of driving without the engine running, which means the NX 300h copes well around town. It's good to drive, if not particularly exciting, and it's comfortable and well-built. It's a little noisy when accelerating but the luxurious cabin adds a lot of appeal. Read our Lexus NX review here.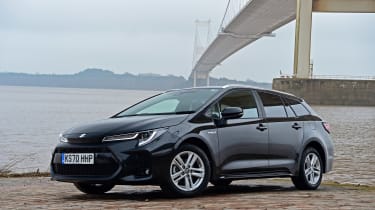 Suzuki Swace
The Suzuki Swace is a Toyota Corolla with Suzuki badges and some other small tweaks. That's no bad thing, because the Corolla (below) is an excellent car, and while the Swace isn't as good value as the Toyota, it's still a great-driving, comfortable and practical family car with great efficiency. It'll return around 64mpg and emits 103g/km, so it's cheap to run. Unlike in the Toyota there's no 2.0-litre option, you can only choose the 1.8-litre motor – but that's okay, because it does the job and is quiet. Read our Suzuki Swace review here.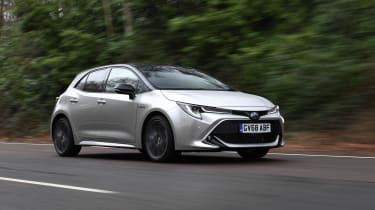 Toyota Corolla
Toyota revived the Corolla name for its Auris replacement in 2018, and the latest car is a great all-rounder and a fine alternative to the non-hybrid establishment. Power comes from a 1.8 or 2.0-litre petrol engine mated to a small battery. Around 50-66mpg is achievable and CO2 emissions are 101-120g/km. The Corolla's well sorted chassis strikes a great balance between handling and comfort, while an array of bodystyles means there's a car in the range for just about everyone. Clunky infotainment and a less-than-perfect CVT gearbox are slight issues, but not enough to spoil what's a great recipe overall. Read our Toyota Corolla review here.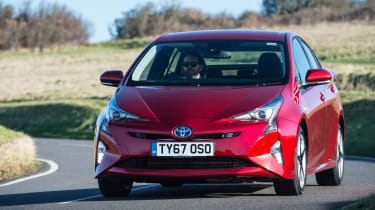 Toyota Prius
The Toyota Prius is the Hyundai Ioniq Hybrid's main rival, and while it's a little more expensive than the South Korean car, running costs should be lower in the long run. A 1.8-litre petrol engine and an electric motor join up to produce 121bhp, and the claimed fuel economy of 59-68mpg is easy to achieve in the real world. This means the Prius should go a little further than the Ioniq Hybrid between trips to the fuel station, and a small amount of electric-only driving range means you'll be better off in traffic as well. It's roomy, comfortable and good to drive, too. Read our Toyota Prius review here.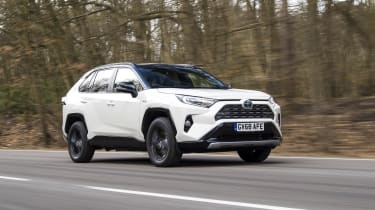 Toyota RAV4
If you like the idea of a rugged-looking, practical, hybrid-powered SUV, then the RAV4 should be all the car you need. Its 2.5-litre petrol-electric drivetrain is connected to a CVT gearbox, much as you'll find on models from Toyota's sister brand Lexus, and despite the SUV's considerable size, it'll return 49-50mpg. The RAV4 is one of the best-handling cars of its type yet it's also comfortable and roomy inside, so it's a fantastic choice if you really want an SUV as your next family car. Read our Toyota RAV4 review here.
Tesla Model 3 facelift will be a double-edged sword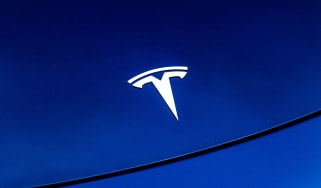 Tesla Model 3 facelift will be a double-edged sword
Tesla's updated EV will have an improved interior, greater range and a more affordable price – as well as one unfortunate drawback
Electric Ford Puma could become the UK's best-selling EV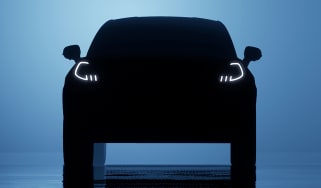 Electric Ford Puma could become the UK's best-selling EV
The Ford Puma EV is set to arrive in 2024 with a range of over 200 miles and a tweaked exterior design
Vauxhall Astra Electric: price, range and video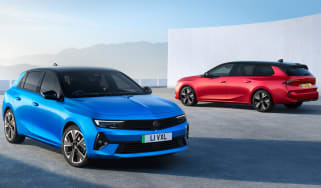 Vauxhall Astra Electric: price, range and video
The new Astra Electric shares its parts with the Peugeot e-308, with first deliveries due soon