Top 11 best hybrid estate cars 2021
The best hybrid estate cars you can buy right now in the UK save you money on fuel, but still have plenty of space inside. Here are our top picks
If you're looking for a car that combines efficiency and practicality, but you also want it to be good to drive, a hybrid estate is a great choice. Estate cars aren't as large and ungainly as SUVs, despite the latter being more popular in 2021, and we love them for their all-round ability. And since estates tend to be smaller and lighter than SUVs, they're not only better to drive, but also more efficient and cheaper to run. They also don't stand out from the crowd as much – it's a more subtle, pragmatic type of car.
Hybrid cars use a petrol or diesel engine, but also have a battery and one or more electric motors. Changes to the company-car tax system have boosted the popularity of these models – where it previously promoted diesels, it's now cheapest to get a hybrid if you're a business user.
Cars like the Toyota Corolla Touring Sports use a small battery that's charged either by the engine or regenerative braking. These models tend to be very fuel-efficient all the time, rather than being ultra-efficient on some trips and not efficient on others (like a plug-in hybrid). They suit those who don't have access to a charging point at home or at work.
Plug-in hybrids (PHEVs) tend to have much larger batteries, and so can complete a modest commute – about 30 miles or so – without using petrol or diesel at all. Most of the cars in this list – including the Skoda Superb iV Estate and Volvo V90 Recharge – are plug-in hybrids. These also make use of regenerative braking and (occasionally) harvest electrical energy from the engine, although they're at their most efficient and cost-effective when charged using a cable. They make a good stepping-stone between a petrol or diesel car and a fully-electric model.
Read on to find out more about all the best hybrid estate cars you can buy in 2021 – and don't forget to follow DrivingElectric on Twitter, Facebook, Instagram and YouTube for the very latest news and review on these and all other electric and hybrid cars.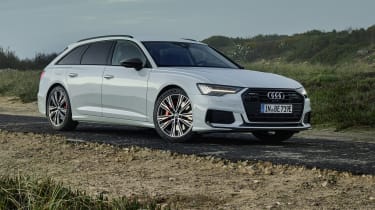 Audi A6 TFSI e Avant
Audi launched its hybrid A6 saloon in 2019, along with a plethora of other plug-in hybrid models including electrified versions of the A7, Q5 and A8. Now, the manufacturer has announced the A6 TFSI e Avant – an estate version of the plug-in hybrid A6 saloon. It uses the same basic setup, with a 2.0-litre petrol engine paired to an electric motor and 14.1kWh battery. Total power output is 362bhp, with Audi claiming CO2 emissions of between 44 and 48g/km and a pure-electric range of just under 32 miles. While the boot is obviously bigger and more practical than that of the hybrid A6 saloon's, it's smaller than you'll find in the normal petrol or diesel A6 Avant. That's because the batteries take up so much space; the standard car's 565-litre load bay shrinks to 405 litres, while folding the seats flat results in a total volume of 1,535 litres. Read the latest here.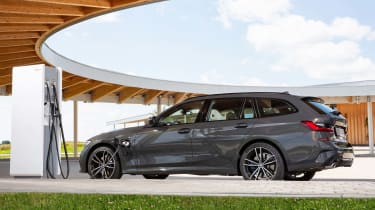 BMW 330e Touring
BMW has added a Touring estate version (as well as the option of xDrive four-wheel drive) to its 330e plug-in hybrid line-up. We haven't driven the Touring yet, but based on BMW's track record, and our impressions of the four-door saloon version, it should be a winner. Potential buyers can expect a familiar blend of driver-pleasing handling, slick infotainment and super-low running costs – as well as an electric-only driving range of 34 miles. Boot space is compromised slightly, although the 1,420-litre load bay should be big enough for most families. Read the latest here.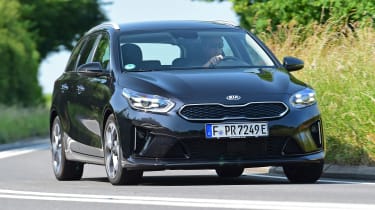 Kia Ceed Sportswagon PHEV
The Kia Ceed Sportswagon hybrid estate is on the expensive side considering it's not based on a premium model (like the 3 Series above, for example), but on a normal family hatchback. However it's worth considering as a company car, because it's cheap to tax, efficient and good to drive. The Ceed Sportswagon has a 437-litre boot, which opens up to 1,506 litres with the rear seats folded down, so it's also really practical and works well as a family car. It has lots of standard equipment too, and when driving in electric-only mode it's really quiet and relaxing. It uses a 1.6-litre petrol engine combined with an electric motor for a total power output of 139bhp, and the 8.9kWh battery allows for an all-electric range of 29 miles, which should be enough for the daily commute. Read our full review here.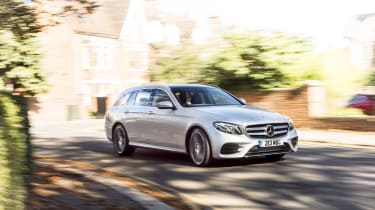 Mercedes E 300 de Estate
Mercedes' E-Class plug-in hybrid is offered with either a petrol or diesel engine in four-door saloon form, but for the more practical estate, it's diesel-electric power only. As with the saloon, boot capacity suffers somewhat due to a large box-shaped intrusion housing the hybrid system's batteries, but in all other respects this is a very fine car, offering excellent passenger comfort, smooth and strong power delivery in either electric or hybrid mode and that timelessly classy Mercedes image. Read our full review here.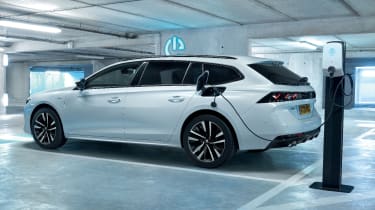 Peugeot 508 SW Hybrid
If you need a practical plug-in hybrid but can't accept any compromise in style, the Peugeot 508 SW should be top of your list. With bold, modern look and compact-executive aspirations, the 508 is a great alternative to more mainstream options here. Power comes from a 1.6-litre petrol engine and electric motor which together produce 222bhp, while the 11.8kWh allows for up to 39 miles of pure-electric running. The Skoda below is ultimately the more practical car, but there's still lots to like about the comfortable, refined and stylish Peugeot. Read our full review here.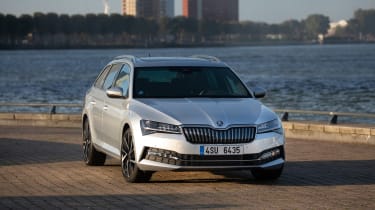 Skoda Superb iV Estate
Skoda has long been renowned for offering great value for money, and the latest plug-in hybrid Superb Estate certainly does well in the 'bang for your buck' department. You get the voluminous passenger and luggage space that all Superb models are famous for, along with generous standard equipment and the ultra-low running costs brought by the VW Group's 1.4-litre turbocharged petrol-electric drivetrain. It's a fantastic all-rounder and one we'd recommend in an instant. Read our full review here.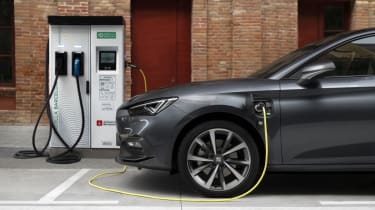 SEAT Leon ST e-Hybrid
The SEAT Leon ST e-Hybrid uses a small 1.0-litre three-cylinder engine, which means it's really efficient – yet thanks to the electric motor, it's also quick in a straight line so you have the best of both worlds. It has an electric driving range of 36 miles and company car tax is cheap, so running costs should be low. The SEAT is practical too, thanks to a 620-litre boot and a good amount of space in the rear seats. There's lots of kit included too, including an 8.25-inch media system, smartphone connectivity, air-conditioning, parking sensors and LED headlights as standard. Read our full review here.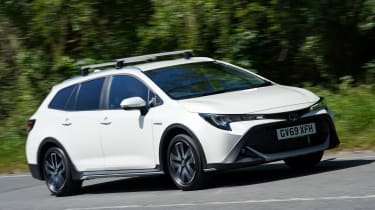 Toyota Corolla Touring Sports
If you don't have the ability to plug your car in overnight, then a conventional hybrid model like the Toyota Corolla Touring Sports Hybrid estate might be the perfect alternative to a PHEV. Priced from just over £25,000, the Corolla will comfortably surpass 60mpg on the motorway and – depending on which engine you go for – provide close to 600 litres of boot space. Inside, it has been finished to a high standard, and it's easy to find a good driving position as the steering wheel can be adjusted back and forth as well as up and down. You can even get a toughened-up Trek version (pictured), complete with a raised ride height and plastic cladding. Read our full review here.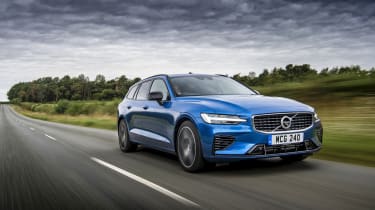 Volvo V60 Recharge
The Volvo V60 is available with a choice of plug-in hybrid powertrains. The standard T6 offers more than enough for most, but for those after something even faster and sportier, the T8 Polestar Engineered boasts almost 400bhp, as well as manually adjustable Öhlins dampers. With a 10.4kWh battery, the V60 hybrid offers a zero-emissions range of around 30 miles on a single charge. For drivers who need a reasonably sized runabout most of the time with scope for the odd longer journey, the V60 is hard to fault. Officially it'll return 135mpg, although you'll need to charge it regularly to get anything close to that figure. CO2 emissions of less than 50g/km also make it very clean on paper, which is a bonus if you're an eco-conscious buyer. The styling also helps to make it an attractive vehicle, although you do pay a premium for it: you can't get a V60 plug-in hybrid for less than £45,000. Read our full review here.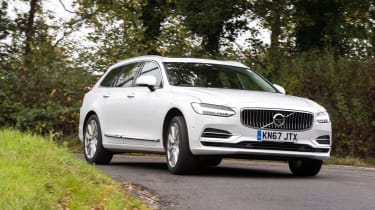 Volvo V90 Recharge
If the V60 above isn't quite large enough for your needs, then there's always the V90 Recharge plug-in hybrid instead. This larger estate comes with 728 litres of boot space, rising to 1,562 litres with the rear seats folded down; more than enough for carrying large items around, although the V90 isn't quite a class leader in this department. It has the same 10.4kWh battery as the V60, although it returns a little less electric range owing to its extra weight. The official fuel-economy figure is 112-141mpg, but after you've exhausted the electric-only range you're more likely to see somewhere in the region of 30-35mpg from the 2.0-litre engine. Again it's an excellent package from the Swedish manufacturer, provided you've got at least £55,000 to spend. Read our full review here.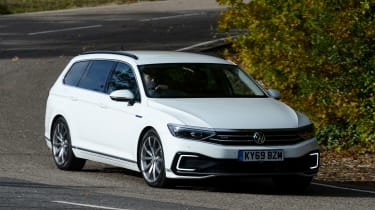 Volkswagen Passat GTE Estate
The Volkswagen Passat GTE Estate seems like the ultimate all-rounder: 34 miles of electric range will be enough for most daily commutes, while 483 litres of boot space will serve most families well enough, even on longer trips away. The 1.4-litre petrol engine is extremely smooth, too, so the Passat GTE should be a relaxing car to own. Prices start from under £40,000, while fleet operators and user-choosers are likely to be drawn in by the prospect of CO2 emissions in the region of 33-35g/km – leading to very low company-car tax. As an overall package, there are few better options. Read our full review here.
Top 10 best seven-seater electric and hybrid cars 2021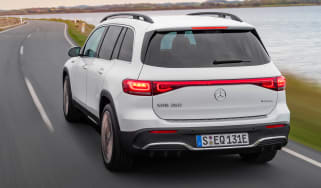 Top 10 best seven-seater electric and hybrid cars 2021
If the regular crop of electrified SUVs and family cars don't provide enough practicality for you, then take a closer look at the range of electric an…
Complete guide to the BP Pulse (formerly Polar Plus) charging network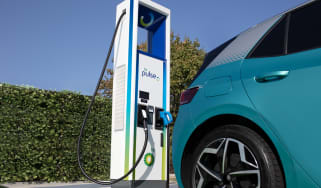 Complete guide to the BP Pulse (formerly Polar Plus) charging network
This is how to charge your electric or plug-in hybrid car on the BP Pulse public charging network (which was formerly known as the Polar Plus network)
Osprey opens first of 150 new electric-car rapid charging hubs for the UK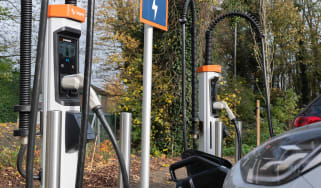 Osprey opens first of 150 new electric-car rapid charging hubs for the UK
The first location in Wolverhampton has now opened, with nine more set to begin construction before the end of 2021