Top 10 best small electric cars 2022
Small electric cars make a lot of sense for commuting, city life and slashing your running costs. Here, we pick out the best ones to buy in the UK right now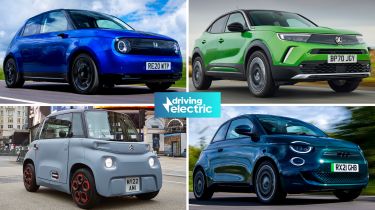 Electric cars have also come a long way since the infamous G-Wiz arrived on the scene, especially when it comes to the most compact EVs on the market today. Thanks largely to big improvements in the package of EVs and the amount of range available from their batteries, carmakers can build more convincing and usable small zero-emissions models.
Plus, since small EVs have smaller batteries on board, charging them up is quick, and you can expect your running costs to be far cheaper than even the most economical small petrol cars. However, electric cars, even ones this size, are still more expensive to buy than their petrol-powered counterparts, so it's worth considering the purchase price as well as the running costs when you buy.
It's only a matter of time before the gap closes though, with sub-£20,000 EVs on the way from Volkswagen, Cupra and Renault, to name but a few. If you are concerned about cost, you can check out our list of the cheapest electric cars you can buy right now – but you're here for the best small electric cars, so read on to find out our top picks. 
Make sure to check out the winners of the 2022 DrivingElectric Awards and our list of the best electric cars on sale in 2022 as well, to see what's impressed us the most over the past year – and don't forget to follow DrivingElectric on Twitter, Facebook, Instagram and YouTube for the very latest news and reviews.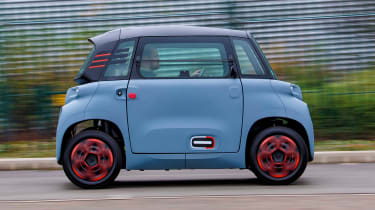 Citroen Ami
Strictly speaking, the Ami isn't a car – it's classified as a 'heavy quadricycle' – but if you genuinely only need something small for nipping around locally carrying not much luggage, it might fit the bill. You can charge its 5.5kWh battery from a regular household socket in a few hours and it'll take you over 40 miles at nearly 30mph if you do. The interior is basic at best, but there's no arguing with the price. Read our full review here.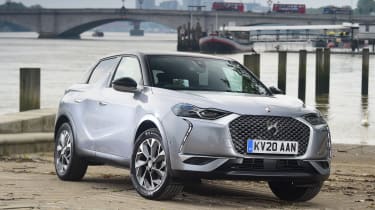 DS 3 Crossback E-TENSE
The DS 3 Crossback E-TENSE is a small electric SUV that shares its powertrain with the Peugeot e-208 and Peugeot e-2008, among others. It's not the best value, because it's more expensive than some alternatives sharing its technology, but it does have a smart interior and distinctive exterior design. It also has a range of 212 miles, 50kW charging and punchy performance. It's practical for a small car, although it's not an ideal choice for families, as the rear seats are a little cramped. A 10-80% charge takes only half an hour at a public charger, so it's not bad for longer trips, even though it's best suited to town. Read our full review here.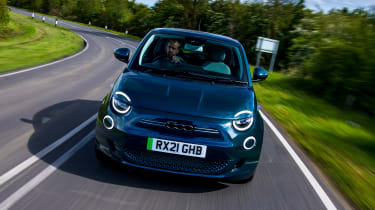 Fiat 500
The electric-only Fiat 500 was named Best Urban Electric Car in the 2022 DrivingElectric awards. It boasts a tastefully updated take on the iconic model's charming looks and inside offers cabin that's stylish and high-tech – but not overly complex or excessively minimalist. On the road, the Fiat drives sweetly, with a better seating position and smoother ride than its predecessor. The icing on this cake is an affordable price: entry-level Action grabs attention and will be ideal for those who can live with its 115-mile range, but we think the Passion is the real value buy, adding extra kit, more power and a larger battery. Read our full review here.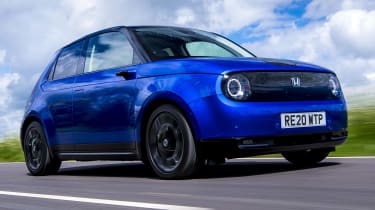 Honda e
The Honda e takes a different approach to most small electric cars: range from its 35.5kWh battery is just 136 miles, although Honda reckons its efforts to keep the car light make it better to drive – which in our experience seems to be the case. The car is packed with technology, including a full-length touchscreen inside and cameras in place of conventional door mirrors. It's undeniably quite expensive, though, and doesn't have the sort of boot or rear-seat space family buyers will be looking for. Read our full review here.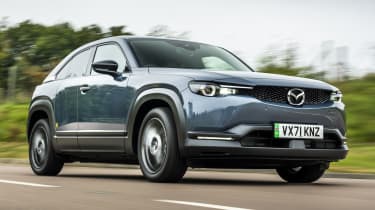 Mazda MX-30
The MX-30 is the Japanese brand's first electric car, and like many of its creations, treads a different path to mainstream models. It has a short range of just 124 miles, but this could be made up for by other factors at play: it's made using sustainable materials and is relatively light, so it's better for the environment. The MX-30 is luxurious inside, great to drive, has a distinctive look and charges to 80% in half an hour. Its only drawbacks are that short range and a slightly odd door layout, but if you don't plan on doing trips longer than 100 miles and can charge at home every night, it could be a great option. Read our full review here.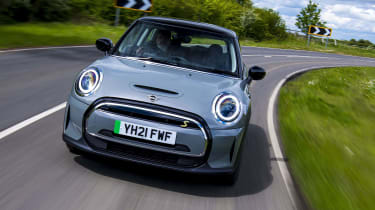 MINI Electric
It's got all of the style appeal of other MINI models, so with the addition of a zero-emissions drivetrain, the funky MINI Electric is a very attractive proposition out of the box. It's best suited to urban motoring, as its range is less than 150 miles, while its three-door body limits versatility a little – but if you're after a stylish small electric car that's great fun to drive, the MINI is one of the best there is. Read our full review here.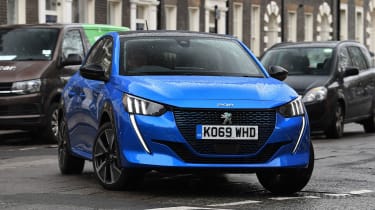 Peugeot e-208
The latest Peugeot 208 is one of the most stylish small cars on sale, and one that was designed from the outset to have electric power (along with its Vauxhall Corsa counterpart below). The e-208 packs a 50kWh battery and will manage up to 225 miles of range, while the 134bhp electric motor can propel it from 0-62mph in 8.1 seconds. The ride on typically poor UK road surfaces is a little too firm for our liking, but the sharp exterior styling is a triumph and certain to make bystanders look twice. Read our full review here.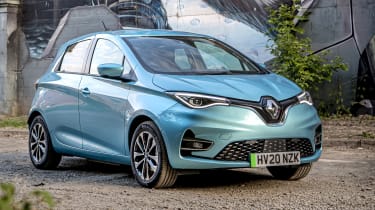 Renault ZOE
The latest-generation Renault ZOE is still one of the very best small electric cars on sale. It offers a highly affordable route into long-range electric motoring and an overall package that's hard to beat. The ZOE is well equipped, tidy to drive, nicely styled inside and out and can be specified with CCS rapid charging; useful for those occasions where you need to top up mid-way through a longer drive. Read our full review here.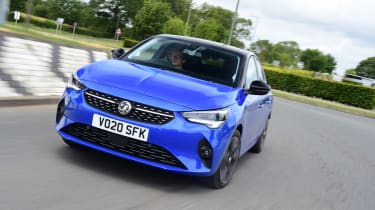 Vauxhall Corsa-e
The Vauxhall Corsa-e is based on the same platform as the Peugeot e-208 above, and so offers a similar 222-mile range and identical 0-62mph figure. That might not sound especially fast, but it'll complete 0-31mph in just 3.1 seconds, so it's in its element on urban roads. It's also slightly cheaper than the shaper looking e-208, and some may prefer the Corsa-e's understated design. Read our full review here.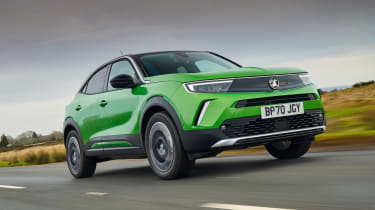 Vauxhall Mokka-e
Vauxhall's Mokka-e shares its underpinnings with the Corsa-e, DS 3 Crossback and e-208 above. That means a 50kWh battery, 209-mile claimed range, 134bhp electric motor and 100kW rapid charging. Those familiar parts don't stop the compact electric SUV from having its own character, though; it's a good-looking, comfortable car – if not quite as good to drive as its Peugeot counterpart. Read our full review here.
Reborn Renault 4 to be unveiled on 17 October at Paris Motor Show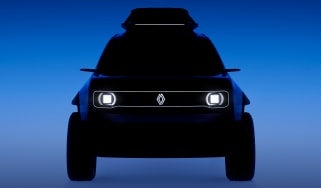 Reborn Renault 4 to be unveiled on 17 October at Paris Motor Show
UK electric-car grant reinstated until March 2023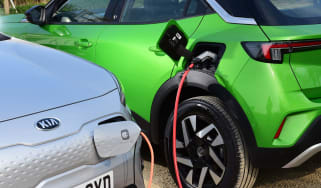 UK electric-car grant reinstated until March 2023
The Plug-in Car Grant (PiCG) was axed back in June 2022, but will now apply to orders placed until 31 March 2023
Top 10 best electric cars 2022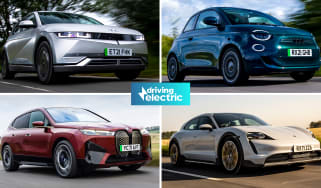 Top 10 best electric cars 2022
Here, we run through our favourite new electric cars that you can buy right now in the UK…
Top 10 best plug-in hybrid SUVs 2022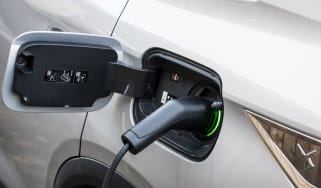 Top 10 best plug-in hybrid SUVs 2022
The finest plug-in hybrid SUVs offer low running costs, enough electric range for daily use and excellent practicality. These are the best plug-in hyb…