Top 9 best small electric cars 2021
Small electric cars make a lot of sense for commuting, city life and saving money on running costs. We pick out the best ones to buy in the UK right now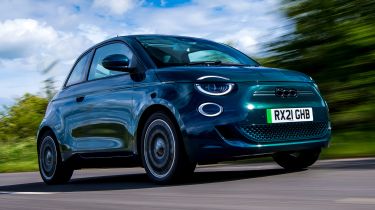 There are so many types of electric cars on sale now, and that includes small cars - and in fact there are now plenty of small electric cars available to buy. Big improvements over the past few years in the amount of range available from lithium-ion batteries means that car makers can build more convincing and usable small cars.
Since small cars have smaller batteries on board, charging a small electric car is quicker and cheaper than for a larger model: you can expect running costs of around 3p per mile, far cheaper than even the most economical small petrol cars. 
Take the Renault ZOE for example, which manages 245 miles of range. It costs just over £7 at the average rate of electricity for home use in the UK – so if you've got a cheap overnight tariff then it could be even less costly than that.
Small cars also cost less to make, which means they're cheaper to buy as well – though even the cheapest electric cars are still far more expensive than petrol or diesel alternatives. It's only a matter of time before the gap closes (it could happen within the next five years) but until then, it's worth considering the purchase price as well as the running costs when you buy.
If you are concerned about cost, you can check out our list of the cheapest electric cars you can buy – but you're here to find out the best small electric cars, so read on to find out more about our top picks. Click through to our in-depth reviews to learn more about each car – and don't forget to follow DrivingElectric on Twitter, Facebook, Instagram and YouTube for the very latest on these and every other hybrid and electric model.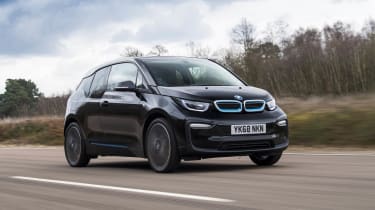 BMW i3
Launched back in 2014, the BMW i3 is now getting on a bit. However, its futuristic interior design means that it isn't showing its age, and regular updates have ensured it has kept pace with rivals. Now featuring a 42.2kWh battery, the i3 will manage up to 193 miles of range, and it's a joy to drive around town. It's a pity that BMW has announced that the i3 won't be replaced, although there should be far more choices on the market by the time it does depart. Read our full review here.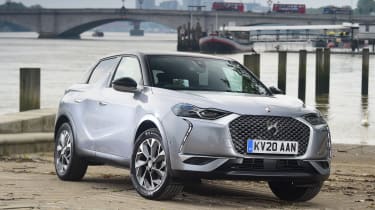 DS 3 Crossback E-TENSE
The DS 3 Crossback E-TENSE is a small electric SUV that shares its powertrain with the Peugeot e-208 and Peugeot e-2008, among others. It's not the best value, because it's more expensive than some of the alternatives sharing the same powertrain, but what it does have on its side is a smart interior and a distinctive exterior design. It has a range of around 200 miles, 50kW charging and punchy performance. It's practical for a small car, although it's not an ideal choice for families, as the rear seats are a little cramped. A 10-80% charge takes only half an hour at a public charger, so it's not bad for longer trips even though it's best suited to cities and towns. Read our full review here.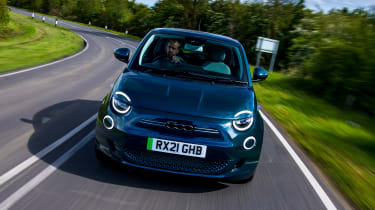 Fiat 500
The latest electric-only Fiat 500 scooped both the 'Best Small Electric Car' and 'Car of the Year' prizes at the 2021 DrivingElectric Awards. It boasts a tastefully updated take on the iconic model's charming looks and inside offers an environment that's stylish and high-tech, but that also avoids being overly complex or excessively minimalist. On the road, the Fiat drives sweetly, with a better seating position and smoother ride than its sometimes-uncomfortable petrol-engined predecessor. The icing on this very impressive cake is a satisfyingly affordable price: the entry-level Action grabs attention at around £20,000 and will be ideal for those who can live with its 115-mile range, but we think the Passion is the real value buy, adding extra kit, more power and a larger battery for a range of 199 miles. Read our full review here.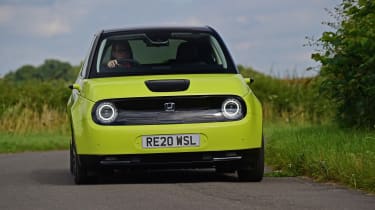 Honda e
The Honda e takes a different approach to most small electric cars: the range offered by its 35.5kWh battery amounts to just 136 miles, although Honda reckons its efforts to keep the car light will make it better to drive – which in our experience seems to be exactly the case. The car is packed with technology, too, including a full-length touchscreen inside and external cameras in place of conventional door mirrors. Read our full review here.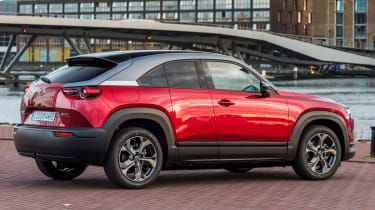 Mazda MX-30
The Mazda MX-30 is the Japanese brand's first and only electric car, and like many of its models it treads a different path to the mainstream models. It has a rather low range figure of just 124 miles, but this could be made up for by all the other factors at play: it's made using sustainable materials and is relatively light, so it's better for the environment. The MX-30 is luxurious inside, great to drive, has a distinctive look and charges to 80% in half an hour at a 50kW charger. Its only drawbacks are the short range and a slightly odd door layout, but if you don't plan on doing trips longer than 100 miles and can charge at home every night, it could be a great option. Read our full review here.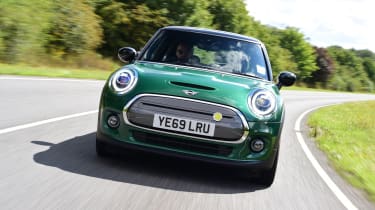 MINI Electric
It's got all of the style appeal of other MINI models, so with the addition of electric power the MINI Electric a very attractive proposition. It's best suited to urban motoring as its range sits at less than 150 miles, while its three-door-only body limits versatility a little – but if you're after a stylish small electric car that's great fun to drive, the MINI is one of the best. Read our full review here.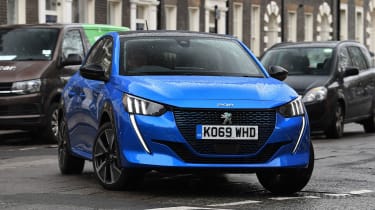 Peugeot e-208
The latest Peugeot 208 is one of the most style-conscious small cars on sale, and one that was designed from the outset to have electric power (along with its Vauxhall Corsa counterpart below). The e-208 contains a 50kWh battery and will manage up to 211 miles of range, while the 134bhp electric motor will propel it from 0-62mph in 8.1 seconds. The ride is a little firm for our liking, but the sharp exterior styling is a triumph and certain to make bystanders look twice. Read our full review here.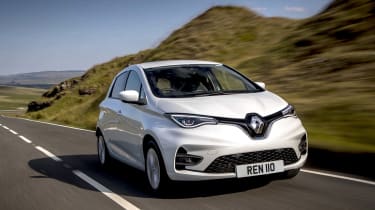 Renault ZOE
The latest-generation Renault ZOE is hands-down the best small electric car on sale: priced from just over £25,000, it offers an affordable route into long-range electric motoring and an overall package that's hard to beat. The ZOE is well equipped, tidy to drive and can be specced with CCS rapid charging; useful for those occasions where you'll need to top-up the battery mid-way through a longer drive. The ZOE is so good that we named it our Car of the Year for 2020. Read our full review here.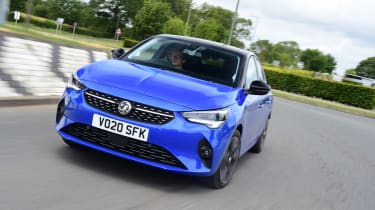 Vauxhall Corsa-e
The Vauxhall Corsa-e is based on the same platform as the Peugeot e-208, and so it offers a very similar 205-mile range and an identical 0-62mph figure. This might not sound especially fast, but it'll complete 0-31mph in just 3.1 seconds, meaning it'll be in its element on urban roads. It's a shame the starting price is more than for the e-208, but some buyers may prefer the Corsa-e's understated looks the the e-208's eye-catching design. Read our full review here.
Top 10 best seven-seater electric and hybrid cars 2021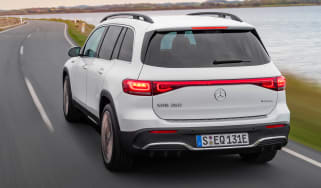 Top 10 best seven-seater electric and hybrid cars 2021
If the regular crop of electrified SUVs and family cars don't provide enough practicality for you, then take a closer look at the range of electric an…
EV36Zero and Nissan's road to carbon neutrality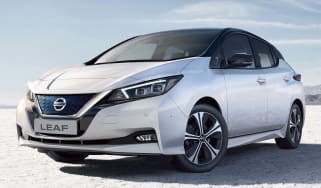 EV36Zero and Nissan's road to carbon neutrality
How the EV36Zero hub in Sunderland is set to take Nissan a step closer to its sustainability goals
Top 10 best luxury electric cars 2021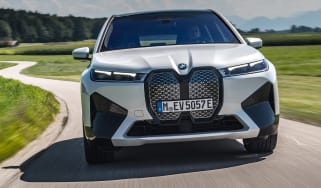 Top 10 best luxury electric cars 2021
From Audi to Tesla, here are our top picks of the most luxurious zero-emissions motoring options on the market right now