Top 10 best small electric cars 2023
Small electric cars make a lot of sense for commuting, city life and slashing your running costs. Here, we pick out the best ones to buy in the UK right now...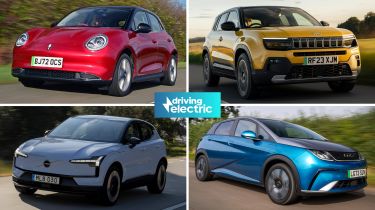 Electric cars have come a long way since the infamous G-Wiz landed back in 2001, especially when it comes to the most compact EVs on the market. Thanks largely to improvements in terms of packaging and battery capacity, even the smallest electric cars offer a decent amount of range, with some even suitable for longer trips, too.
Plus, since small EVs have smaller batteries on board, charging them up is quick, and you can expect your running costs to be far cheaper than even the most economical small petrol cars. However, electric cars, even ones this size, are still more expensive to buy than their petrol-powered counterparts, so it's worth considering the purchase price as well as the running costs when you buy.
But it's only a matter of time before the gap closes, with sub-£25,000 EVs on the way in the form of the Citroen e-C3 and Renault 5, to name but a couple. If you are concerned about cost, you can check out our list of the cheapest electric cars on sale right now – otherwise, here's our round-up of the top 10 best small electric cars you can buy.
Make sure to check out the winners of the 2023 DrivingElectric Awards and our list of the best electric cars on sale as well, to see what's impressed us the most over the past year – and don't forget to follow DrivingElectric on Twitter, Facebook, Instagram and YouTube for the very latest news and reviews.
1. BYD Dolphin
BYD may not be a household name in the UK, but it's bound to be very soon after the introduction of its latest electric car: the Dolphin supermini. Soon to become the cheapest new electric car on sale in Britain – the least-expensive entry-level models go on sale in 2024 – the BYD Dolphin's funky interior feels anything but cheap with all models getting plush vegan leather and a rotating touchscreen. The larger MG4 may be more fun to drive, but the BYD Dolphin still offers a composed driving experience that is perfectly aimed at city drivers, thanks to its light steering. Don't sniff at its Chinese origin; the BYD Dolphin is arguably the strongest offering in the small electric car space and you'd be flippin' (pun intended) daft to ignore it!
Read our full BYD Dolphin review to find out more.
2. Volvo EX30
The new entry point into the Volvo line-up comes in the form of the pint-sized plug-in EX30 and let us tell you, the Swedish brand has really knocked it out of the park. If you can overlook its rather cramped rear seats, the Volvo EX30 is arguably the plushest-feeling small electric car around and although most of the controls lie buried in the touchscreen, this is no hardship as it's one of the slickest systems around. While base models offer superb value-for-money as a posh second car, top-of-the-range EX30s can manage up to roughly 300 miles on a charge, or reach 62mph in a Porsche Taycan-toppling 3.6 seconds.
Partnership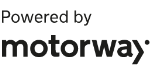 Need to sell your car?
Find your best offer from over 5,000+ dealers. It's that easy.
Read our full Volvo EX30 review to find out more.
3. Jeep Avenger
Jeep's first foray into the electric-car market comes in the form of a chunky crossover that shares its parts with the Fiat 600e and Vauxhall Mokka Electric. Don't let this put you off, though, as a raised ride height and several off-ride drive modes help the front-wheel-drive Avenger be a pretty capable off-roader. On the tarmac, the Avenger is relaxing and easy to drive, plus rapid charging and a range of up to 250 miles make it possible to do longer journeys frequently. Our biggest gripe is the iPad case-style centre console lid which, if that's our main concern, shows you how well-rounded this oversized Tonka toy of an electric car really is.
Read our full Jeep Avenger review to find out more.
4. Peugeot E-208
The latest Peugeot 208 is one of the most stylish small cars on sale, and one that was designed from the outset to have electric power (along with its Vauxhall Corsa counterpart). Thanks to a recent facelift, the E-208 is now more striking than ever and boasts a 154bhp electric motor, paired to a 51kWh battery pack to provide a boosted range of up to 248 miles. The suspension is a little too firm for our liking – especially on pothole-laden UK roads – but the E-208's interior is a real highlight and feels like something pulled straight out of a concept car.
Read our full Peugeot E-208 review to find out more.
5. Fiat 500e
The electric-only Fiat 500 tastefully updates the iconic city car's charming looks, and features a cabin that's stylish and high-tech. While it might not quite offer the same retro vibes as its predecessor, the latest 500 offers a much better seating position than the car it replaces, with a smooth drive to make nipping around town a breeze. The Fiat 500e is one of the cheapest electric cars on sale, with a choice of two powertrains, offering 118 miles and 199 miles of range respectively. If speed is more important to you than style, a sporty Abarth 500e is also available.
Read our full Fiat 500 review to find out more.
6. Kia Soul EV
Few small electric cars turn heads quite like the funky Kia Soul EV with its unique boxy shape and Stormtrooper-esque front-end design. The Soul's interior may not quite match its distinctive exterior, but nonetheless everything feels well-screwed together and Kia's infotainment system is one of the best on the market. Top-of-the-range models are expensive, but offer a superb range of up to 280 miles; base Urban models are much cheaper, but are best kept as city runarounds due to their 171-mile range.
Read our full Kia Soul EV review to find out more.
7. Peugeot E-2008
If you like the idea of the Peugeot E-208 but need a little more space, the E-2008 SUV offers this alongside a desirable high driving position. The Peugeot e-2008's boot is over 100 litres larger than the E-208's, while you can easily carry four adults in complete comfort. Under the metal, facelifted versions of the e-2008 use a 51kWh (useable) battery pack for a range of up to 251 miles on a charge. Like the smaller E-208, 100kW rapid charging capability comes as standard, as well as Peugeot's futuristic i-Cockpit infotainment system and digital instrument cluster setup.
Read our full Peugeot E-2008 review to find out more.
8. Vauxhall Corsa Electric
One of the UK's best-selling cars is also available with electric power; the Vauxhall Corsa Electric is based on the same platform as the Peugeot E-208 and offers a similar range, identical 0-62mph figure and 100kW maximum charging speed. Like the Peugeot, the Corsa Electric is in its element on urban roads as it can sprint from 0-31mph in just 3.1 seconds. It's roughly the same price as the shaper looking E-208, but some may prefer the electric Corsa's more understated design, which has just been refreshed with Vauxhall's trademark Vizor. A new 51kWh (useable) battery is now also available with up to 246 miles of range, alongside the 50kWh base model which can do just over 220 miles on a charge.
Read our full Vauxhall Corsa Electric review to find out more.
9. Ora Funky Cat
Look past the questionable name and you'll find Ora really has put the cat amongst the pigeons with its first foray into the UK market. The Ora Funky Cat is a fantastic small EV, even winning Best Urban Electric Car in the 2023 DrivingElectric Awards. Besides its eye-catching exterior, the Funky Cat is also rather good to drive and boasts a five-star Euro NCAP safety rating thanks to a plethora of safety features. You can only buy the flashy First Edition model at the moment, which offers a range of 193 miles on a single charge, however, there are more versions to come.
Read our full Ora Funky Cat review to find out more.
10. MINI Electric
With all of the style appeal of other MINI models and the addition of a zero-emission drivetrain, the funky MINI Electric is a very attractive proposition out of the box. It's best suited to urban motoring, as its range is less than 150 miles, while, as its name suggests, the MINI is pretty compact inside. Regardless, if you're after a stylish small electric car that's great fun to drive, the MINI is one of the best there is – plus an all-new model is on the way with a stunning circular screen and even more range.
Read our full MINI Electric review to find out more.
Wildcard: Citroen Ami
Strictly speaking, the ultra-compact Citroen Ami isn't a car – it's classified as a 'heavy quadricycle' – but if you genuinely only need something small for nipping around locally carrying not much luggage, it might fit the bill. You can charge its 5.5kWh battery from a regular household socket in a few hours and it'll take you over 40 miles at nearly 30mph if you do. The interior is basic at best, but there's no arguing with the price. 
Electric Renault 5: prices, 2024 launch date and teaser images of the MINI Cooper rival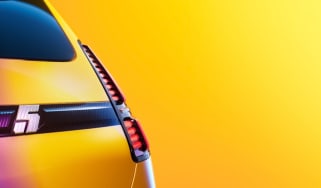 Electric Renault 5: prices, 2024 launch date and teaser images of the MINI Cooper rival
New Fisker Ocean Sport washes up in the UK: £36k for a 288-mile range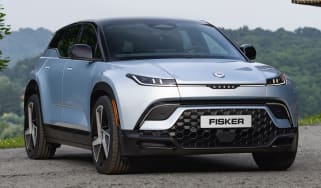 New Fisker Ocean Sport washes up in the UK: £36k for a 288-mile range
American EV startup Fisker has just launched its entry-level Ocean SUV in the UK, with a range of up to 288 miles
Big price cut: Electric Renault Megane prices slashed in time for Christmas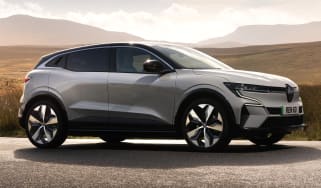 Big price cut: Electric Renault Megane prices slashed in time for Christmas
Renault Megane E-Tech gets a price drop of up to £3,500, bringing the starting price to just £34,495