Longest range electric cars 2021
The range of electric cars is continually improving. Here are the top 10 models with the longest range on a single charge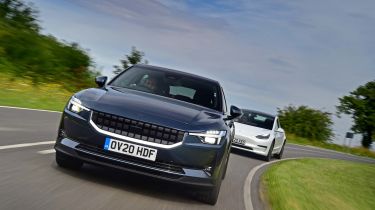 Range anxiety – the fear of running out of power being you reach your destination – is one of the biggest reasons why consumers are still afraid of going electric. The less-than-ideal charging infrastructure we have in the UK right now doesn't help ease first-time electric-car buyers' concerns, either. 
In reality, you needn't worry. Technology is constantly advancing and now many electric cars are capable of driving just as far as an equivalent petrol and diesel model would on a single tank of fuel. With range anxiety quickly becoming a thing of the past, it's the promise of much lower running costs that you should focus on when choosing an electric car.
We've drawn up a list of the top 10 longest range electric cars on sale now – perfect if you're still a little concerned about being caught short. All of the figures are officially quoted numbers derived from the WLTP efficiency test, which was designed to be more representative of what you'll achieve in the real world than the old NEDC procedure.
However, these figures still don't fully represent real-world conditions, much in the same way that fuel economy will almost always be better on paper than it is on the road. With this in mind, the numbers below will still give you a good idea of what to expect from an electric car – and offer some reassurance when making the switch. If you don't need such a long range, check out our list of the best small electric cars, too.
10. Kia Soul EV – 280 miles
The second-generation Kia Soul EV arrived in the UK at the end of 2019, replacing the first-generation model. Using the same 64kWh battery as the Hyundai Kona Electric and Kia e-Niro, it'll officially return 280 miles of range, while its 201bhp electric motor is good for a 0-62mph time of 7.6 seconds. Although that's very slightly less than its sister model (below), many buyers will probably prefer the Soul's funkier, more youthful styling. Read our full Kia Soul EV review here.
9. Kia e-Niro 64kWh – 282 miles
The Kia e-Niro was our 2019 Car of the Year, and it's easy to see why: it's practical, affordable, and the 282-mile range is one of the best you can get from a mainstream electric car right now. The e-Niro is also well equipped and good to drive, while a mid-2020 facelift made it more affordable if you don't need quite so much range: the addition of a 39kWh battery option, good for around 180 miles on a charge, took the starting price after the government grant has been deduced down to less than £30,000. Read our full Kia e-Niro review here.
8. Porsche Taycan 4S 93kWh – 287 miles
Porsche hit the ground running with its first fully electric car: a four-door sports coupe designed to steal sales away from the hitherto-dominant Tesla Model S. It can't quite match its American rival in the range stakes, but the mid-range 4S model fitted with the larger 93kWh battery still manages a pretty respectable 287 miles on a single charge, according to WLTP testing. And you're guaranteed to have fun while covering that distance; the Taycan is as rewarding to drive as any of Porsche's petrol sports cars. Read our full Porsche Taycan review here.
7. Polestar 2 – 292 miles
Polestar is a new brand from the Volvo stable; after debuting with the plug-in hybrid Polestar 1 coupe, it'll focus on pure-electric cars only going forward. First to arrive is the Polestar 2 – a coupe-SUV designed to take on Tesla in the premium electric-car market. Range is impressive from the off, with an anticipated figure of nearly 300 miles calculated from WLTP testing. Read our full Polestar 2 review here.
6. Jaguar I-Pace – 292 miles
The Jaguar I-Pace has swept up several accolades since its launch, earning our 'Best large electric car' prize at the 2019 DrivingElectric Awards, as well as the prestigious 2019 World Car of the Year gong. The I-Pace has it all: performance is rapid with a 0-62mph figure of 4.5 seconds, it handles brilliantly and 292 miles of range is squeezed from the 90kWh battery. It looks spectacular, too. A word of caution though: we've tested the I-Pace in the real world, and 220 miles is a more realistic target for the range. This is a bigger discrepancy than we've seen from most other electric cars. Read our full Jaguar I-Pace review here.
5. Volkswagen ID.3 ProS Tour – 340 miles
The first car in our rundown to break the 300-mile barrier is the special long-range 'ProS' version of the Volkswagen's ID.3 electric family hatch. Although it shares the excellent in-car technology and smooth looks of the standard ID.3, there are some compromises to be made for that eye-catching range figure: firstly, this version only seats four, not five; secondly, it's quite expensive, coming in at around £10,000 more than the entry-level Life version with the standard battery. Read our full review.
4. Tesla Model X Long Range – 348 miles
The Tesla Model X has undergone several line-up changes lately, but in late 2020 Elon Musk's company announced significant improvements to the drivetrain in order to boost performance and range. The Model X Long Range – as the name suggests – has the longest range of the current variants, with Tesla estimating a return of 348 miles from its 100kWh battery . Read our full review here.
3. Tesla Model 3 Long Range – 352 miles
The arrival of the Model 3 marked a big change for Tesla: partly because it spearheaded the company's push to make electric cars more affordable, but also because the firm started being less open regarding battery sizes in its cars. Tesla says this is to avoid confusing customers who better understand range over kilowatt-hours, so we'll just have to take company sources at their word that the Model 3 Long Range contains a 70kWh battery. In any case, 352 miles of range from a single charge is more than 99% of us will ever drive in a day. Read our full review here.
2. Ford Mustang Mach-E Extended Range RWD – 379 miles
Originally set to debut in the UK late in 2020, but now delayed slightly until early 2021 by the coronavirus outbreak, the Mustang Mach-E puts Ford's hallowed sports-car badge on an all-new electric SUV. Ford is supplying the new car with a range of battery sizes and drivetrain options, allowing buyers to prioritise range or performance as needed. The 'Extended Range' rear-wheel-drive version is the one with the best maximum range figure, although all can manage a very respectable distance on a full charge. Read our full review here.
1. Tesla Model S Long Range – 405 miles
It briefly lost its crown to the Mach-E above, but thanks to regular updates (the most recent of which arrived in late 2020), the Tesla Model S is once again the longest-range electric car on sale today. In descriptively named 'Long Range' guise, it's currently the only electric car you can buy in the UK with a claimed range exceeding 400 miles. Using a Tesla Supercharger, the Model S should achieve a 0-80% top-up in around 40 minutes. Read our full review here.
Top 7 best hybrid and electric sports cars 2021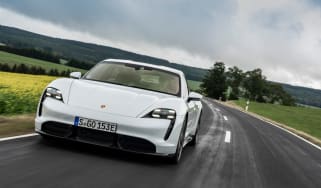 Top 7 best hybrid and electric sports cars 2021
Bringing thrills and performance with their powerful electric motors, these are the best electric and hybrid performance cars to buy in the UK in 2021
Are electric cars expensive to insure?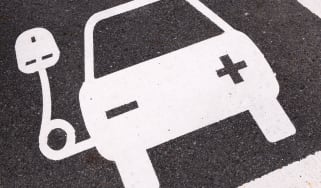 Are electric cars expensive to insure?
Everything you need to know about insuring an electric car, including how expensive it is and why
2021 Audi Q4 e-tron and Q4 e-tron Sportback: specs and prices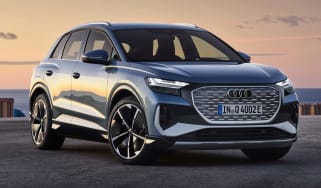 2021 Audi Q4 e-tron and Q4 e-tron Sportback: specs and prices
The pure-electric Audi Q4 e-tron and Q4 e-tron Sportback are on sale now, with prices starting from £40,750 for the regular SUV and £42,250 for the Sp…