Top 10 longest range electric cars 2021
Avoid range anxiety by choosing one of these: the longest-range electric cars you can buy in the UK right now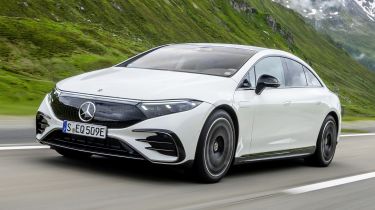 One of the main things that can put off potential electric-car buyers is the fear of running out of power before getting to their destination. The charging infrastructure in the UK is getting better all the time, but it's still not as easy to find a plug as it is to find a petrol pump. 
Owning an electric car usually puts range anxiety to bed, as owners realise that with just a little planning, they'll never run out of charge. Plus, while some models have a limited range, there are plenty of cars available now that not only have as much range as some petrol cars, they also have much lower running costs overall.
In this article, we take a closer look at the top 10 longest-range electric cars. All the models below are actually on sale in the UK – there are no concept cars or niche contraptions here. We've picked out the longest-range version in each case; frequently this is also the most expensive version in the line-up, due to the cost of battery capacity. The figures quoted are from official WLTP testing, and while these aren't always achievable in the real world, a standardised test does at least allow for a clear comparison between models.
In the real world, factors such as the temperature, the traffic, your driving style and where you're driving all change the maximum range that any of these cars will do. Bear that in mind, and give yourself some leeway with any potential journey, and you'll be fine. And if you don't need such a long range, check out our list of the best small electric cars, too. Finally, don't forget to follow DrivingElectric on Twitter, Facebook, Instagram and YouTube for the very latest developments in the world of electric and hybrid motoring.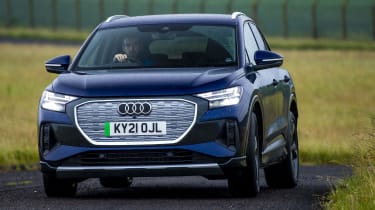 10. Audi Q4 e-tron – up to 316 miles
The Q4 e-tron is the first model on this list to use the VW Group 'MEB' platform. All cars based on this technology, including the Volkswagen ID.4 and Skoda Enyaq iV below, have impressive range. The Q4 e-tron is the poshest of the bunch, with a luxurious interior, comfortable ride and loads of high-tech kit inside. Rapid charging at up to 125kW matches its sister models, allowing an 80% charge in 38 minutes. Read our full review here.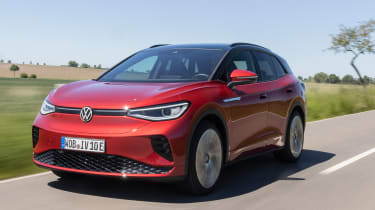 9. Volkswagen ID.4 – up to 323 miles
The Volkswagen ID.4 arrived after the ID.3, and although it can't cover quite the range of its smaller sibling, it's actually a better car overall. It's more comfortable and more spacious than the ID.3 and great for family life thanks to its big boot and roomy rear seats. It's comfortable, decent value and has a more understated look than the Q4 e-tron and Enyaq iV, though it still has a relatively futuristic design. Read our full review here.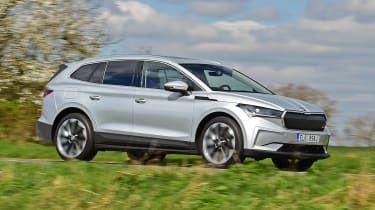 8. Skoda Enyaq iV – up to 333 miles
The Skoda Enyaq is the Czech brand's first MED-based effort, and it has the longest range of the three SUV-like models here, even if it can't quite match the smaller ID.3's maximum range figure. The Enyaq is good to drive, roomy and good value, plus it looks distinctive, has a very upmarket interior and lots of standard kit. It has 125kW rapid charging on the larger-battery models, and an 80 per cent charge takes about 50 minutes. Read our full review here.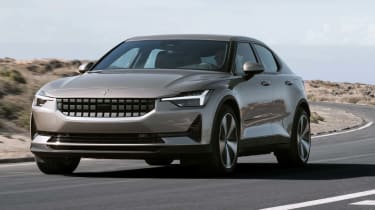 7. Polestar 2 – up to 335 miles
Polestar is Volvo's electrified spinoff brand; after debuting with the plug-in hybrid Polestar 1, it's focusing on pure-electric cars only going forward. First to arrive is the Polestar 2 – a coupe-SUV designed to take on Tesla in the premium electric-car market. Range was impressive from the off, with a figure of nearly 300 miles, but a new single-motor version arriving in mid-2021 boosts that to 335. Read our full Polestar 2 review here.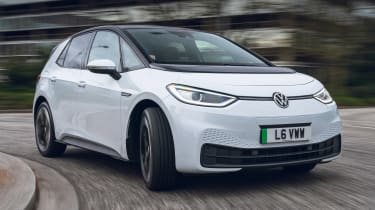 6. Volkswagen ID.3 – up to 336 miles
The long-range 'ProS Tour' version of the Volkswagen family hatchback manages an impressive range. Although it shares the excellent in-car technology and smooth looks of the standard ID.3, there are some compromises to be made for that eye-catching range: firstly, this version only seats four, not five; secondly, it's quite expensive, coming in at around £10,000 more than the entry-level car. Read our full VW ID.3 review here.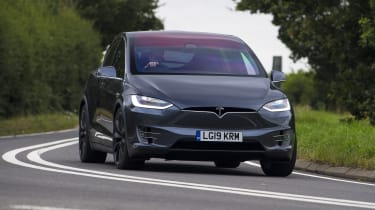 5. Tesla Model X – up to 360 miles
The Tesla Model X has undergone several line-up changes lately, but in late 2020 Elon Musk's company announced significant improvements to the drivetrain in order to boost performance and range. The Model X Long Range – as the name suggests – has the longest range of the current variants, with Tesla estimating a return of 360 miles from its 100kWh battery . Read our full review here.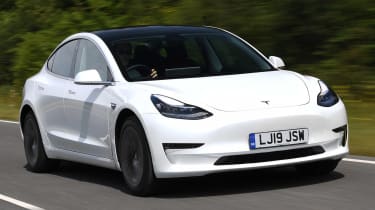 4. Tesla Model 3 – up to 360 miles
The arrival of the Model 3 marked a big change for Tesla: partly because it spearheaded the company's push to make electric cars more affordable, but also because the firm started being less open regarding battery sizes in its cars. Tesla says this is to avoid confusing customers who better understand range over kilowatt-hours, so we'll just have to take company sources at their word that the Model 3 Long Range contains a 70kWh battery. In any case, 360 miles of range from a single charge is more than 99% of us will ever drive in a day. Read our full review here.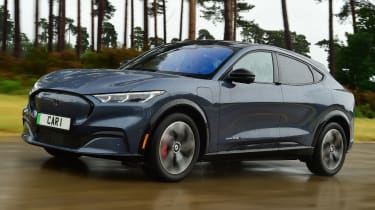 3. Ford Mustang Mach-E – up to 379 miles
Originally set to debut in the UK late in 2020, but delayed slightly until early 2021 by the coronavirus outbreak, the Mustang Mach-E puts Ford's hallowed sports-car badge on an all-new electric SUV. Ford is supplying the new car with a range of battery sizes and drivetrain options, allowing buyers to prioritise range or performance as needed. The 'Extended Range' rear-wheel-drive version is the one with the best maximum range figure, although all can manage a very respectable distance on a full charge. Read our full review here.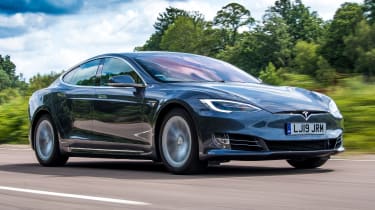 2. Tesla Model S – up to 405 miles
It has been on sale for many years, but thanks to regular updates (the most recent of which arrived in late 2020), the Model S is still one of the longest-range electric cars on sale. In descriptively named 'Long Range' guise, it just creeps over the 400-mile mark for potential maximum range. And using a Tesla Supercharger, the Model S should achieve a 0-80% battery top-up in around 40 minutes. Read our full review here.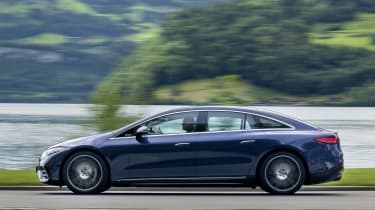 1. Mercedes EQS – up to 485 miles
Going in sale in the coming months, the EQS sets a new benchmark for electric-car range thanks to both its humongous 107kWh battery and its extremely slippery shape, which boosts range by cutting wind resistance. You'll certainly pay for the privilege, though: exact UK prices haven't yet been confirmed, but even the cheapest version will most likely exceed the six-figure threshold. The EQS is also a fantastic place in which to while away your long-distance electric jaunts, with masses of interior space and an enormous all-screen dashboard featuring the very latest version of the MBUX infotainment system. Read our full review here.
Top 10 best seven-seater electric and hybrid cars 2021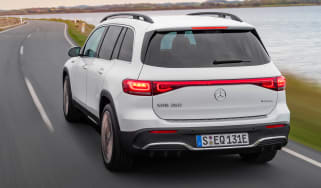 Top 10 best seven-seater electric and hybrid cars 2021
If the regular crop of electrified SUVs and family cars don't provide enough practicality for you, then take a closer look at the range of electric an…
EV36Zero and Nissan's road to carbon neutrality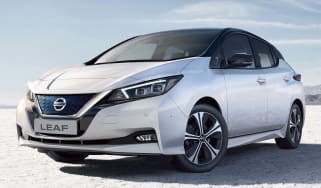 EV36Zero and Nissan's road to carbon neutrality
How the EV36Zero hub in Sunderland is set to take Nissan a step closer to its sustainability goals
Top 10 best luxury electric cars 2021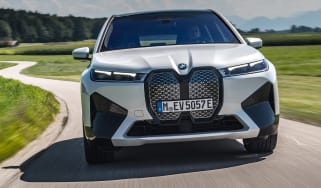 Top 10 best luxury electric cars 2021
From Audi to Tesla, here are our top picks of the most luxurious zero-emissions motoring options on the market right now