Top 10 longest range electric cars 2023
Avoid range anxiety by choosing one of these: the longest-range electric cars you can buy in the UK right now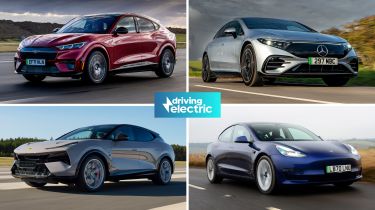 ​One thing that might dissuade potential EV buyers is the thought of running out of juice before getting to your destination – commonly called 'range anxiety'. And although charging infrastructure in the UK has improved immensely in recent years, it's still not quite as easy to locate a plug as it is to find a petrol pump. Plus, not everyone has a wallbox charger installed at home.
A few weeks of running an electric car in the real world is usually enough to quash most people's range anxiety, as a lot of people will realise they probably don't do as many long-distance journeys as they thought, and that it only takes a little pre-planning to ensure you're able to top up if necessary when out and about.
Nonetheless, a big range number can still bring peace of mind, and there are those who genuinely need to cover long distances in one hit on a regular basis. With that in mind, we've assembled this list of the top 10 longest-range electric cars that you can buy in the UK right now. That last bit is important because while the Lucid Air has the longest official range of any production EV – up to 520 miles – it's not available in Britain just yet. There are also upcoming models like the Polestar 3 and Volkswagen ID.7 that are due to arrive in the coming months and both promise a circa 400-mile range figure.
The range figures quoted are from official WLTP testing and are for the longest-range version of each model. These numbers aren't always achievable in the real world, but the standardised test does at least allow for a clear comparison between different EVs. In the real world, factors such as temperature, traffic, driving style and what type of roads you use can all impact the range you'll get. Bear that in mind, and give yourself some leeway with any potential journey, and you'll be fine.
If you don't need such a long range, check out our list of the best small electric cars on sale today and don't forget to follow DrivingElectric on Twitter, Facebook, Instagram and YouTube.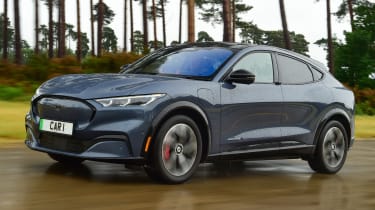 10. Ford Mustang Mach-E – up to 372 miles
The Mustang Mach-E puts Ford's hallowed sports-car badge on an electric SUV that rivals the likes of the Tesla Model Y and Nissan Ariya. But unlike either of its competitors, the Mustang Mach-E can cover over 370 miles on a charge thanks to a huge 98kWh battery found in the Extended Range model. That said, all four of the variants offered by Ford can manage a very respectable distance on a full charge and are a hoot to drive – although, putting pedal to the metal will certainly send that range figure tumbling.
Read our full Ford Mustang Mach-E review to find out more.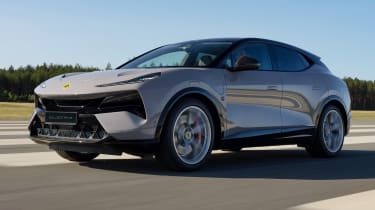 9. Lotus Eletre – up to 373 miles
Lotus, known for its lightweight sports cars, has entered the electric SUV game with this: the all-new Eletre. It's the British brand's answer to the Polestar 3 and BMW iX also on this list, and comes as standard with a whopping 112kWh battery. As a result, the base Eletre and Eletre S boast an official range of 373 miles, which is further than any version of the Mercedes EQS SUV or Tesla Model X can manage on a single charge. It also features an 800-volt electrical architecture, like the Porsche Taycan, meaning a 10-80% top-up takes just 20 minutes if you find a 350kW ultra-rapid charger.
Partnership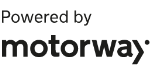 Need to sell your car?
Find your best offer from over 5,000+ dealers. It's that easy.
Read our full Lotus Eletre review to find out more.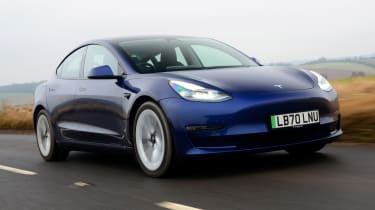 8. Tesla Model 3 – up to 374 miles
The arrival of the Model 3 marked a big change for Tesla because it spearheaded the company's push to make EVs more affordable, and now the 3 Series alternative is one of the best selling electric cars in the UK. It's unclear the exact size of the battery packs used in the Model 3, but we do know that the aptly-named Long Range version has an official range of 374 miles. However, Tesla claims it could cover as much as 389 miles on a single charge if you stick with the standard 18-inch aero wheels, but that's just an estimate.
Read our full Tesla Model 3 review to find out more.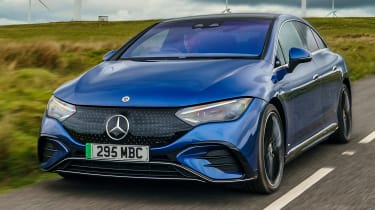 7. Mercedes EQE – up to 380 miles
The electric equivalent to the E-Class, the EQE is the smaller sibling of the EQS below, and in its longest-range form gets tantalisingly close to the 400-mile mark with its maximum range of 380 miles. It offers most of what the EQS does in a slightly smaller and less expensive package, prompting the question of whether you really need to fork out the extra cash for the range-topping model at all. That's why it won our Best Long-Distance Electric Car Award for 2023.
Read our full Mercedes EQE review to find out more.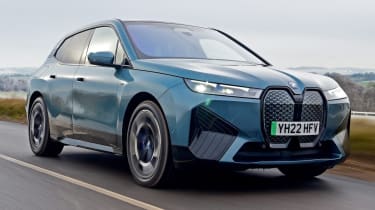 6. BMW iX – up to 382 miles
BMW has been rapidly expanding its range of zero-emissions cars recently, also launching the iX1 crossover, the i4 saloon and the i7 limousine. The iX is the marque's technological flagship, and it makes an impressive statement about what we can expect from future electric BMWs. The luxury SUV is also great to drive, quiet, comfortable and available with two battery sizes: 71 and 105.2kWh. The larger of the pair is standard in the more expensive xDrive50 model and offers up to 382 miles of range from a charge.
Read our full BMW iX review to find out more.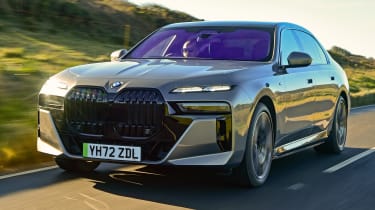 5. BMW i7 – up to 388 miles
The i7 is one of the latest additions to BMW's EV line-up, as well as the brand's Mercedes EQS and Lucid Air rival. The zero-emissions 7 Series features a vast amount of technology, including a 31.3-inch 8K screen for rear passengers, as well as a huge 101.7kWh battery. BMW also integrated heat pump technology into the car's heating and cooling systems for the cabin and powertrain to boost efficiency, and as a result the i7 has an official range of up to 388 miles.
Read our full BMW i7 review to find out more.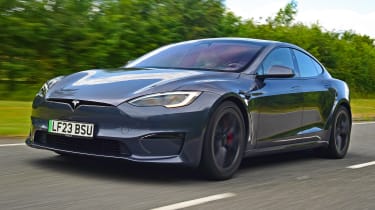 4. Tesla Model S – up to 405 miles
It has been on sale for years, but because of regular updates, the Model S is still one of the longest-range electric cars. In descriptively named 'Long Range' guise, it just creeps over the 400-mile mark for its potential maximum range. And using a Supercharger, the Model S can do a 0-80% top-up in around 40 minutes. The caveat is that Tesla's current focus on the cheaper Model 3 and Model Y means the Model S is now only available in left-hand drive form in the UK – as is the larger Model X SUV. That's not as bad as it seems, though, especially given the Tesla's extensive list of driver aids.
Read our full Tesla Model S review to find out more.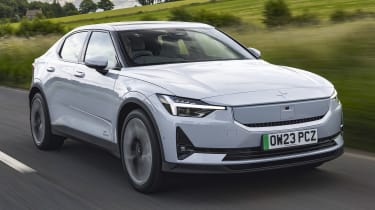 3. Polestar 2 – up to 406 miles
The Polestar 2, while an appealing package in its own right, has long lived in the shadow of its Tesla Model 3 rival. That is, until recently when Polestar announced a new facelifted version with over 400 miles of range. That, alongside 205kW rapid charging and a well-built, minimalist interior means the Polestar 2 is, on paper, the ideal motorway mile muncher. Make sure to try before you buy, though, as we've found it to have a rather firm ride – not ideal if you've got a bit of a bad back!
Read our full Polestar 2 review to find out more.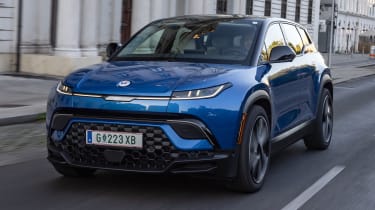 2. Fisker Ocean – up to 440 miles
Fisker may be somewhat of an unknown name at the moment, but its upcoming range of sustainable, tech-filled EVs are certain to take the world by storm. The Fisker Ocean is the first of these, coming in the form of a fashionable family SUV with an astonishing range of up to 440 miles on top models. Notable features include a retractable rear windscreen and a rotating touchscreen, but perhaps more important is that an entry-level model is due in the future with a competitive £35,000 starting price. Your move, Tesla.
Read our full Fisker Ocean review to find out more.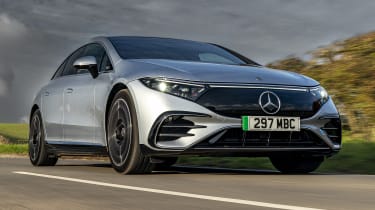 1. Mercedes EQS – up to 453 miles
The Mercedes EQS set a new benchmark for EV range thanks to both its 107.8kWh battery and its slippery shape, which reduces wind resistance. The result is a range of up to 453 miles, however you pay for the privilege, as the EQS starts from over £100,000. But it's also a fantastic means of tackling long-distance jaunts on electric power, with loads of interior space up front, exquisite materials and an enormous three-screen dashboard featuring the latest version of the MBUX infotainment system.
BMW i4 facelift to topple Tesla with huge range and tech upgrades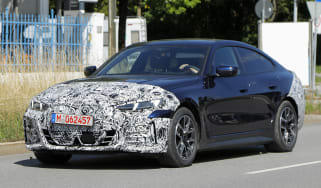 BMW i4 facelift to topple Tesla with huge range and tech upgrades
An updated version of the BMW i4 has been spotted testing, likely sporting a longer range and the latest technology
We've had a ride in the new electric MG Cyberster and it's NOT what we first thought…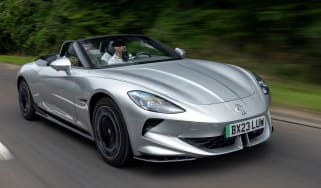 We've had a ride in the new electric MG Cyberster and it's NOT what we first thought…
The MG Cyberster is due to go on sale next year with up to 536bhp and scissor doors – and we've already had a ride in it