Fastest electric cars in the world 2023
The days of the trundling milk float are long gone; the latest electric cars are now some of the fastest vehicles in the world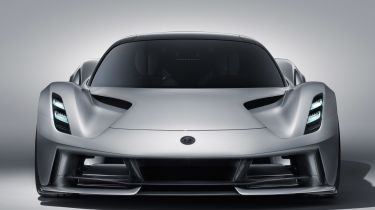 Electric cars have exploded in popularity in recent years, with the 2030 ban on the sale of petrol and diesel cars edging ever closer. While they are often cheap to run, exceptionally quiet and emit zero carbon dioxide during use, you may not know that they also have the potential to be incredibly fast – often even more so than their petrol counterparts.
Even electric city cars feel very quick off the line because electric motors provide all of their power as soon as you press the accelerator, rather than having to build up revolutions like a traditional engine. Plus, since there's no gearbox and other moving parts, they're more efficient, too.
Unfortunately, while there are some cheap EVs such as the MG4 and BYD Dolphin, most electric cars remain quite expensive, with many aimed at weather buyers who want a luxurious, powerful car. The result of this is that there are a lot of extremely fast electric cars out there.
For example, Tesla has built a big part of its brand around acceleration, and its family saloons have "Ludicrous" acceleration able to keep up with supercars, despite also being long-range cruisers with plenty of comfort and luxury features.
So, which are the fastest electric cars in 2023? We've put together a list below covering a wide variety of different models, from sporty family cars with mind-bending acceleration to full-on race cars – and even some record-breakers that are on the frontier of how fast electric cars can go.
Production cars
Here are the fastest road-legal EVs that you're actually able to buy…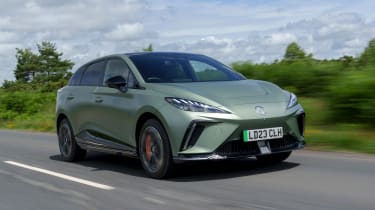 MG4 XPower
0-62mph: 3.8s
Top speed: 124mph
As mentioned, the MG4 is one of the cheapest electric cars you can buy, but the new XPower variant is also one of the fastest. The new hot MG4 gets an extra electric motor on the front axle to provide four-wheel-drive and a combined output of 429bhp. The sprint from 0-62mph takes just 3.8 seconds, with the XPower continuing onto a top speed of 124mph.
Starting at just over £36,000, the MG4 XPower offers exceptional value for money in terms of performance per pound, and doesn't shout about it, either. There are very few ways to tell the hot MG4 apart from more pedestrian models, with flashes of orange on the brake calipers and a set of model-specific alloys. The drawback? Range is reduced to 239 miles, compared to the Long Range variant's 281-mile maximum.
Read our full MG4 review to find out more.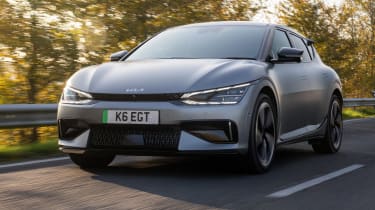 Kia EV6 GT
0-62mph: 3.5s
Top speed: 162mph
You may be surprised to see a brand like Kia on this list, and while the EV6 GT is one of the most affordable entries on this list, it has no problem reaching a higher top speed than much more expensive EVs. The high-performance variant of the South Korean brand's flagship EV produces a combined 577bhp and 740Nm of torque from its two electric motors, and can accelerate from 0-62mph in 3.5 seconds.
With more than twice the power of the entry-level model, the EV6 GT is still a practical family car with seating for five, a futuristic dual-screen infotainment system and a roomy 490-litre boot. It's not only quick in a straight line: it's one of the fastest-charging electric cars you can buy, too. Able to top-up at speeds of up to 233kW, the EV6 GT can complete a 10-80% charge in as little as 18 minutes.
Partnership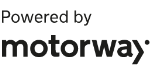 Need to sell your car?
Find your best offer from over 5,000+ dealers. It's that easy.
Read our full Kia EV6 review to find out more.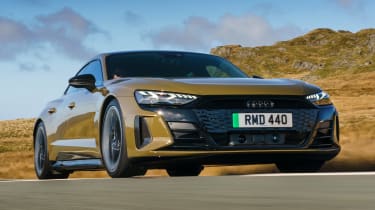 Audi RS e-tron GT
0-62mph: 3.3s
Top speed: 155mph
The Audi RS e-tron GT sets the bar as the first fully electric RS high-performance flagship from the German brand. The sister car to the Porsche Taycan, the RS e-tron GT produces a whopping 590bhp from its dual-motor setup. Thanks to that power, the over-two-tonne saloon is capable of 0-62mph in 3.3 seconds and has a top speed of 155mph.
The regular e-tron GT is no slouch either, though: with 469bhp, the standard variant can reach 152mph and will sprint from 0-62mph in 4.1 seconds. The e-tron GT is tuned more for comfort compared to its Porsche counterpart, but it's still agile thanks to its four-wheel steering system and responsive handling, while there's little body roll on twister roads.
Read our full Audi e-tron GT review to find out more.​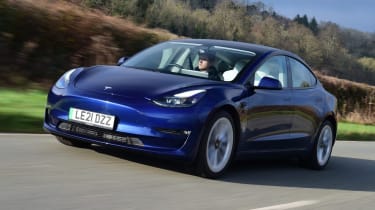 Tesla Model 3 Performance
0-62mph: 3.1s
Top speed: 162mph
Slightly overshadowed by its SUV sibling, the Tesla Model Y, in terms of sales, the sleeker Model 3 saloon beats its brother when it comes to straight line speed. In its range-topping Performance specification, the baby Tesla can get from 0-62mph in just 3.1 seconds and will carry onto a top speed of 162mph.
Despite this impressive performance, range still stands at 340 miles, which is more than many less-powerful rivals. On the inside, the Model 3 gets an incredibly minimalist interior  that centres around a huge 14-inch touchscreen. Access to Tesla's excellent Supercharger network means that there should be no worries about using the Model 3 Performance's full potential all the time.
Read our full Tesla Model 3 review to find out more.​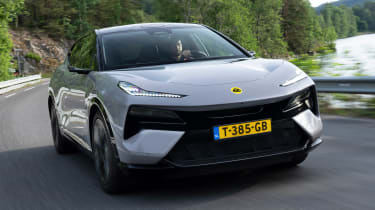 Lotus Eletre R
0-62mph: 2.9s
Top speed: 155mph
Purists should look away now, as Lotus has made an SUV – and a pretty quick one at that. While even base Eletre models get a dual-motor setup with as much as 595bhp, the range-topping Eletre R outputs a staggering 893bhp which propels the two-and-a-half tonne SUV from 0-62mph in just 2.9 seconds. Partner this with plenty of active aero and a finely-tuned chassis and the Eletre rewrites the rulebook for electric SUV handling.
On the inside, the Eletre hasn't totally forgotten Lotus' allegiance to everything lightweight and simple; the overall design of the cabin is relatively uncluttered, with heavy leather and wood trim swapped-out for lightweight fabrics and aluminium. One neat feature is the slim passenger display which, like the one in modern Ferraris, makes the front passenger feel part of the action with their own dial readouts.
Read our full Lotus Eletre review to find out more.​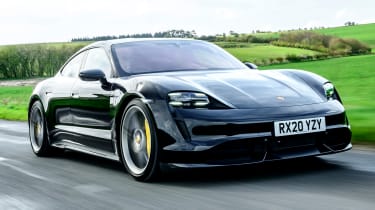 Porsche Taycan Turbo S
0-62mph: 2.8s
Top speed: 161mph
The Porsche Taycan is the prestigious German brand's first zero-emissions model and is arguably the sharpest-driving electric car that money can buy. Despite weighing over two tonnes, the Taycan channels Porsche's knack for deft and engaging handling, all while being able to transport four adults in silence and comfort.
There are several Taycan models to choose from, but even the base model can reach 62mph faster than most hot hatches, while the range-topping Taycan Turbo S challenges even the equivalent Porsche 911 in terms of acceleration. With 0-62mph taking just 2.8 seconds, the top-of-the-line Taycan is not only great to drive, it's utterly ballistic as well.
Read our full Porsche Taycan review to find out more.​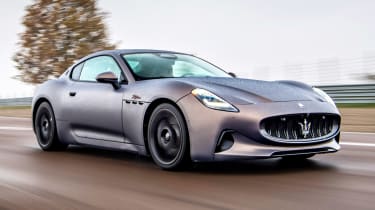 Maserati GranTurismo Folgore
0-62mph: 2.7s
Top speed: 199mph
Maserati is famous for its sonorous engines and beautifully-sculpted car designs. The all-electric GranTurismo Folgore ditches the former, but has still managed to become one of the fastest cars the brand has ever made. It's capable of 0-62mph in just 2.7 seconds – faster even than the Porsche Taycan – and its top speed of very nearly 200mph is incredible in the electric car world.
The Maserati hides three motors under its elegant bodywork, with 750bhp and 1,350Nm of torque available in total. It's also able to drive for 279 miles on a charge, although this will be impossible to achieve at full throttle. Ultra-rapid charging means you can get back on the road quickly, though, while the Maserati's luxurious interior means you'll be cruising along in style.
Read more about the Maserati GranTurismo Folgore here.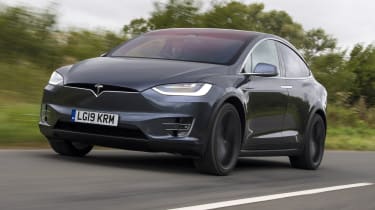 Tesla Model X Plaid
0-60mph: 2.5s
Top speed: 163mph
The Tesla Model X is the bigger brother of the Model S saloon, available with up to seven seats. Instead of using its rear gull-wing doors to take-off, the range-topping Plaid model gets a 1,006bhp dual-motor powertrain to launch the SUV from 0-60mph in just 2.5 seconds – faster than many supercars. Top speed stands at 163mph, although reaching such a velocity will quickly take its toll on the Model X Plaid's 333-mile range.
Even the base Tesla Model X is pretty quick, with all models coming fully-loaded with a huge central infotainment system and an optional jet fighter-style yoke steering wheel. It may be incredibly expensive and only available in left-hand drive, but the Tesla Model X proves that performance doesn't have to come at the expense of practicality.
Read our full Tesla Model X review to find out more.​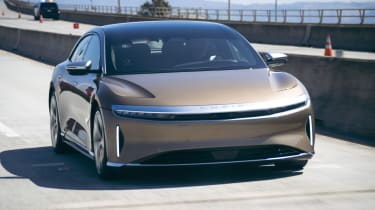 Lucid Air
0-62mph: 2.5s
Top speed: 168mph
You may not have heard of American startup Lucid, but its boss was chief engineer on the Tesla Model S. Lucid's first car, the Air, certainly boasts some eye-catching statistics that might give Tesla the shakes. Several versions are offered, with the top-spec Performance packing 1,111bhp. It hits 60mph in just 2.5 seconds – the same as the Bugatti Chiron hypercar. Yet there's room for the family and a 626-litre boot.
Like Tesla, the Lucid offers impressive range figures (and a luxurious interior) as well as searing performance. The flagship version manages up to 471 miles, but there's a long-range 'Dream Edition' model that offers up to 549 miles on a single charge – making it the longest-range electric car on sale in Europe. Unfortunately, you can't currently buy one in the UK.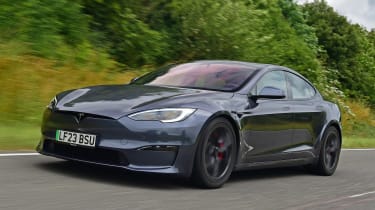 Tesla Model S Plaid
0-60mph: 1.99s
Top speed: 200mph
The fastest electric saloon car here is the one that started it all: the Tesla Model S. The Model S Plaid is the quickest version of the car yet. It has three electric motors, produces 1,006bhp and can accelerate from 0-60mph in 1.99 seconds.
The one drawback – other than the £113,000 base price – is that the Model S Plaid isn't offered in the UK in right-hand drive; like the larger Model X, you can only get a Model S with the optional 'yoke' steering wheel on the left. This isn't as much of a problem as you might expect – especially with all the car's safety systems – and if straightline performance matters to you above all, nothing feels more like jumping to lightspeed than driving the Model S Plaid.
Read our full Tesla Model S review to find out more.​
Hypercars
These EVs are the best of the best, although you may need deep pockets to afford them…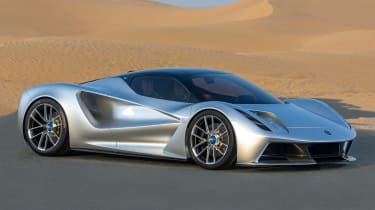 Lotus Evija
0-62mph: <3s
Top speed: 200mph+
Traditional British sports-car manufacturer Lotus isn't holding back for its first electric model. The Evija (pronounced 'E-vi-ya') sells for a cool £2 million, with buyers getting 1,972bhp, a 0-60mph time of less than three seconds and a top speed of over 200mph. The first year of production has already sold out.
In keeping with Lotus tradition, the Evija is as light as possible, as it's built around a carbon-fibre chassis and has all carbon-fibre body panels, too. A 'tunnel' through the bodywork boosts airflow, while more clever trim pieces at the front channels cooling air to the car's battery pack.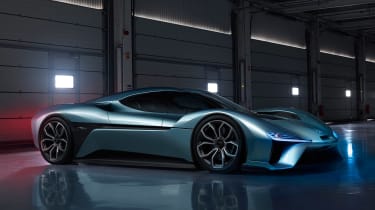 Nio EP9
0-62mph: 2.7s
Top speed: 196mph
One of the most futuristic-looking cars on this list is the Nio EP9, the flagship supercar from a Chinese manufacturer that means serious business. In-wheel motors give four-wheel drive, the slippery body provides plenty of downforce, and there's a total of 1,341bhp on tap.
We're told that the EP9 sprints from 0-62mph in just 2.7 seconds, on the way to a top speed close to 200mph. And the car's 6m45s lap of the Nurburgring race track in Germany gives cars like the Porsche 918 Spyder a run for their money. Claimed range is 265 miles, while the battery can be swapped directly for fully charged replacements. Though originally slated for limited-run production, it seems the EP9 will now just stand as the brand's technical showcase.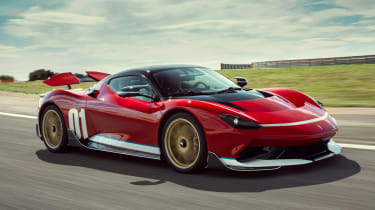 Pininfarina Battista
0-62mph: <2s
Top speed: 217mph
With a powertrain provided by Rimac, the Battista boasts extraordinary performance figures that are unsurprisingly similar to those of the Nevera below. Four electric motors combine to produce 1,873bhp and 2,300Nm of torque; 0-62mph is said to take less than two seconds, with 0-186mph dealt with in just 12 seconds.
A top speed of 217mph isn't quite as extreme as the Nevera's, but buyers are unlikely to care: the Battista's gorgeous bodywork has been crafted by a company responsible for some of the prettiest Ferraris ever made. The Battista might just be up there with the best of them.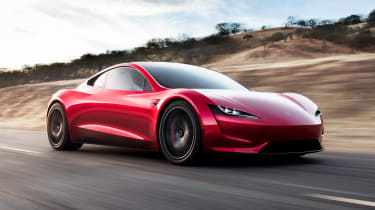 Tesla Roadster
0-62mph: 1.9s
Top speed: 250mph
It's not on sale yet – it should arrive in 2023, apparently – but the Tesla Roadster will be a force to be reckoned with for all supercars, electric or otherwise. The claimed figures speak for themselves: 0-62mph in 1.9 seconds, 0-100mph in 4.2 seconds, a standing quarter mile in 8.9 seconds and a top speed of around 250mph. Power has yet to be revealed, but the torque figure is expected to be an incredible 10,000Nm.
The Roadster will be powered by three electric motors and a 200kWh battery that should give a range of 620 miles – although we imagine that figure will drop dramatically if you plan to use every last drop of the car's stated performance.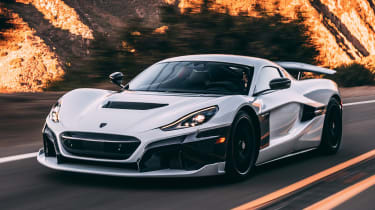 Rimac Nevera
0-62mph: 1.85s
Top speed: 258mph
The latest product from the Croatian manufacturer – made famous by The Grand Tour presenter Richard Hammond's high-profile crash in 2017 – the Nevera packs a total of four electric motors for a titanic power output of 1,914hp, allied to maximum torque of 2,360Nm.
The big (and small) numbers don't stop there: the Nevera can hit 60mph from rest in under 1.9 seconds and will keep going to a dizzying top speed of nearly 260mph. Despite that mind-boggling performance, the car also boasts reasonable range and charging figures, with a top-up from 0-80% taking less than 20 minutes, plus a projected driving range of 340 miles. Just 150 are being built, priced at a cool €2 million each.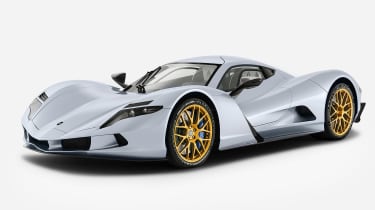 Aspark Owl
0-62mph: 1.69s
Top speed: 249mph
Japanese company Aspark has one aspiration with the Owl: to make it the fastest-accelerating road-legal electric car you can buy. And, true to its name, the Aspark Owl really flies. From a standstill, a burst of acceleration will see you at the UK's single-lane speed limit in less than 1.7 seconds. If you have somewhere long (and safe) enough to keep the throttle pinned, you'll top out at nearly 250mph.
Its economy statistics neatly match a Hyundai Kona Electric. It has a 64kWh battery and a 280-mile range, so the company says. But it is slightly more powerful than the Kona, with four electric motors and a power output somewhere close to 2,000bhp.
Prototypes and racing cars
If track times and world records are what you're after, these are the EVs for the job…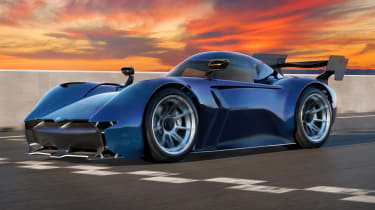 McMurtry Spéirling: British-built prototype holds Goodwood record
Until 2022, the Volkswagen ID.R held the hillclimb record at the Goodwood Festival of Speed. But then up stepped the mysterious McMurtry Spéirling, a miniscule single-seat prototype, which romped up the Goodwood hill in just 39.08 seconds – almost a second quicker than the ID.R.
The car, which wouldn't look out of place in a Batman film, uses a large fan at the rear to generate huge amounts of downforce. That helps to 'stick' the car to the road and enables blistering cornering speeds. Set up for the hillclimb, the Spéirling hits 0-60mph in just 1.5 seconds and has a 150mph top speed.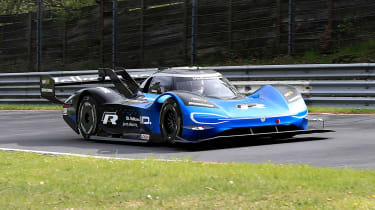 Volkswagen ID. R: Nurburgring record holder
The Nio EP9 didn't hold the electric lap record at the Nurburgring for long: the Volkswagen ID. R electric racer lowered the benchmark to just over 6m5s in June 2019. Other records set by the car include the Goodwood Festival of Speed hillclimb (now beaten by the Spéirling) and the ascent of the Tianmen Shan Big Gate Road in China.
The ID.R was initially built to win the 2018 Pikes Peak International Hill Climb, and it did so in some style. Its time of 7m57.148s along the 12.24-mile course smashed the existing record by 16.73 seconds, becoming the first vehicle to dip under the eight-minute mark.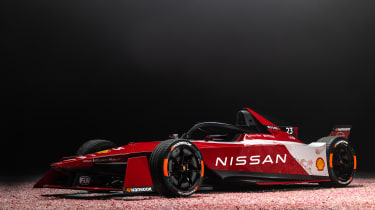 Formula E 'Gen2': single-seater racer
The latest generation of Formula E cars are incredible racing cars, intended as the pure-electric answer to Formula 1. While previous seasons required drivers to change cars mid-race, the latest models have a much larger battery capacity (54kWh) and can go the full distance.
Acceleration from 0-62mph takes less than three seconds and the car weighs just 900kg, with 350bhp or so on tap. Sophisticated and futuristic aerodynamics help drivers extract the most from the series' road-car-like tyres.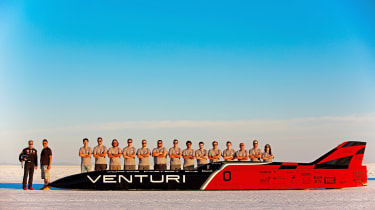 Buckeye Bullet 3: top speed 342mph
Claiming the title of the world's fastest electric car is the catchily named Buckeye Bullet 3. The car was developed by Ohio State University in conjunction with French company Venturi to take on the world speed record for electric cars at the Bonneville Salt Flats in September 2016.
The result of their efforts was 342.144mph, thanks to two separate electric drivetrains and supremely slippery bodywork with a drag coefficient of just 0.13Cd. Further attempts at the record by the Buckeye Bullet team are expected to clear 400mph; a hydrogen-electric version is also in the works.
Electric Renault 5: prices, 2024 launch date and teaser images of the MINI Cooper rival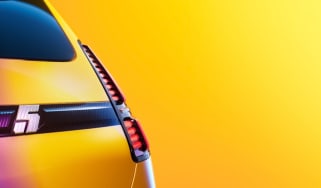 Electric Renault 5: prices, 2024 launch date and teaser images of the MINI Cooper rival
New official teaser pictures for Renault's electric supermini confirm the 5's reveal in February 2024
Big price cut: Electric Renault Megane prices slashed in time for Christmas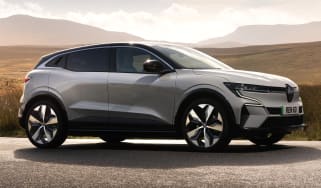 Big price cut: Electric Renault Megane prices slashed in time for Christmas
Renault Megane E-Tech gets a price drop of up to £3,500, bringing the starting price to just £34,495