Porsche Taycan Sport Turismo review
The Taycan Sport Turismo is proof practicality doesn't have to come at the expense of performance – just be prepared to pay for it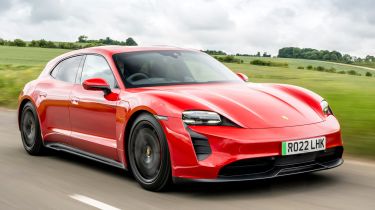 Pros
Looks great
Longer range than Cross Turismo
Even better to drive than other Taycans
Cons
Extremely expensive
Real-world range can disappoint
Many features are pricey options
| Car type | Range | Wallbox charge time | Rapid charge time |
| --- | --- | --- | --- |
| Electric | 305 miles | 13hrs 30mins (0-100%, 7.4kW) | 21mins (10-80%, 225kW) |
Porsche Taycan Sport Turismo verdict
If you ever doubted whether a two-tonne, fully electric estate car could be a 'proper' Porsche, then you only need to spend five minutes in the Taycan Sport Turismo to find out what the boffins down at Stuttgart are capable of. The Porsche Taycan Sport Turismo is not only one of – if not the best – handling EVs out there, but it's also luxurious, has a decent electric range and is surprisingly practical. As you'd expect from a car of this calibre, the plug-in Porsche estate doesn't come cheap, but the Taycan Sport Turismo manages to tick every box to become the ultimate electric family car.
Details, specs and alternatives
The Porsche Taycan is the German sports-car brand's first – and currently only – electric car. At launch, it was only offered as a sleek and futuristic saloon, but now buyers also have the choice of two practical estate models: the Cross Turismo and Sport Turismo.
It's the latter we'll be focusing on here, with the Cross Turismo offering a slightly more rugged appearance and the Sport Turismo being… well, sportier. Neither have any direct competitors at the moment, with the only other electric estate car on sale being the budget-focused MG5 – estate versions of the Vauxhall Astra Electric and Peugeot e-308 are on their way, too.
The lineup kicks off with the eponymous 'Taycan Sport Turismo' which utilises a single electric motor outputting 402bhp and is powered by a 71kWh battery, providing a range of up to 268 miles. Next up is the Taycan Sport Tursimo 4S which, as its name suggests, gets an extra electric motor on the front axle for four-wheel-drive grip and a combined output of 523bhp – 0-62mph takes just four seconds.
The keenest drivers should instead look at the Taycan Sport Turismo GTS which ups the power to 590bhp and cuts the 0-62mph time to just 3.7 seconds. GTS models boast several performance tweaks such as lower, stiffer suspension and a racier setup for the optional rear-wheel steering system. It also gets the optional 84kWh 'Performance Battery Plus' as standard (lesser models can upgrade to this for around £4,500) meaning range stands at a maximum of 304 miles.
Finally, if straight-line speed is your priority, the Taycan Cross Turismo Turbo and Turbo S are unlikely to disappoint. These output a staggering 671bhp and 741bhp and reach 62mph in 3.2 and 2.8 seconds respectively; even the base Taycan feels fast, though, making both Turbo models almost feel somewhat superfluous.
Something else to be aware of is that, like all Porsches, the Taycan's list of standard equipment is fairly spartan considering its high list price. All cars come as standard with LED lights, leatherette upholstery, heated front seats, a 10.9-inch touchscreen with Apple CarPlay and a reversing camera. It's a tad ridiculous, though, that things such as adaptive cruise control don't come as standard – especially at this price point. We also have a sneaky suspicion that Porsche intentionally designed the base Taycan wheels to be as ugly as possible, all in an effort to force buyers to fork out thousands to step up to a larger, nicer set of alloys.
Range, battery size & charging
| Model | Range | Wallbox charge time | Rapid charge time |
| --- | --- | --- | --- |
| Taycan (71kWh) | 268 miles | 11hrs 30mins (0-100%, 7.4kW) | 21mins (10-80%, 225kW) |
| Taycan (84kWh) | 305 miles | 13hrs 30mins (0-100%, 7.4kW) | 19mins (10-80%, 268kW) |
| Taycan 4S (71kWh) | 274 miles | 11hrs 30mins (0-100%, 7.4kW) | 21mins (10-80%, 225kW) |
| Taycan 4S (84kWh) | 305 miles | 13hrs 30mins (0-100%, 7.4kW) | 19mins (10-80%, 268kW) |
| GTS | 305 miles | 13hrs 30mins (0-100%, 7.4kW) | 19mins (10-80%, 268kW) |
| Taycan Turbo | 305 miles | 13hrs 30mins (0-100%, 7.4kW) | 19mins (10-80%, 268kW) |
| Taycan Turbo S | 285 miles | 13hrs 30mins (0-100%, 7.4kW) | 19mins (10-80%, 268kW) |
If you ever find yourself behind the wheel of a Porcshe Taycan, you'll just want to drive, drive and drive. Thankfully, the Sport Turismo offers a strong electric range for a car with such blistering performance, meaning it's equally good at being a motorway mile-muncher as it is a B-road bruiser.
Partnership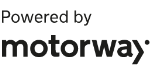 Need to sell your car?
Find your best offer from over 5,000+ dealers. It's that easy.
The base 71kWh battery offers a range of up to 268 miles on the base Taycan Sport Turismo, with the 4S managing slightly more at 274 miles. Upgrade to the optional 'Performance Battery Plus' and range increases on both models to a maximum of 305 miles – mirroring the racier GTS and Turbo variants which all come with the larger 84kWh battery pack as standard. Top-spec Turbo S models will need charging after just 285 miles of driving due to the immense power that's on offer.
The Porsche Taycan Sport Turismo is one of the fastest-charging EVs you can currently buy, with top models able to charge at speeds of up to 268kW. If you can find one of the few 350kW public chargers available in the UK, you can top-up the Taycan from 10-80% in as little as 19 minutes. Models with the smaller battery can 'only' charge at a rate of up to 225kW, but still only take 21 minutes to complete the same charge.
Running costs & insurance
There's no escaping that the Porsche Taycan Sport Turismo is an eye-wateringly expensive car, so unless you're lucky enough to work for a firm that's willing to pay for you to drive around in a luxurious super-EV as a company car, you're going to have to be prepared to swallow that hefty list price.
Despite costing almost as much as a house in the north of England, the Taycan's EV powertrain allows it to slot into the ultra-low 2% Benefit-in-Kind tax bracket. Private buyers will be pleased to know that it's also exempt from road tax (VED) until 2025 and can enter London's Congestion Charge and Low Emissions zones free of charge.
One thing also worth noting is that Porsches are famous for having strong residual values, and the Taycan estate is no different; the latest industry figures suggest it'll hold onto anything between 55 and 62% of its value over three years and 36,000 miles. This isn't quite as much as some petrol-powered Porsches, but is above average for a luxury EV nonetheless.
Performance, motor & drive
| Model | 0-62mph | Top speed | Driven wheels | Power |
| --- | --- | --- | --- | --- |
| Taycan (71/84kWh) | 5.4s | 143mph | Rear | 402/469bhp |
| Taycan 4S (71/84kWh) | 4.0s | 155mph | Four | 523/563bhp |
| GTS | 3.7s | 155mph | Four | 590bhp |
| Taycan Turbo | 3.2s | 166mph | Four | 671bhp |
| Taycan Turbo S | 285 miles | 162mph | Four | 751bhp |
Let's just get this out of the way: the Porsche Taycan is arguably the best-handling EV out there. Despite weighing over two tonnes, the engineers at Porsche have somehow managed to make the Taycan estate feel almost as dialled-in on a twisty road as the esteemed 911 sports car. The steering is brimming with feel and there's plenty of grip so it's easy to know where the car's limit is, meaning you can feel a bit like a hero by attacking every corner at much faster speeds than you'd expect from something that weighs the same as a seven-seater SUV.
With the lineup ranging from Jalfrezi to Vindaloo in terms of heat, all Taycan Sport Turismo models offer an exceptional amount of performance. Even the base model with its single-motor setup responds instantly to any tap of the throttle, with more than enough punch to get up to (and beyond) motorway speeds. The instant torque available at your right foot provides the feeling of jumping to lightspeed – this sensation bolstered further by the optional 'Porsche Electric Sport Sound' which plays spaceship-like noises through the speakers as you accelerate.
Top models like the Taycan Turbo S feel almost absurd with the amount of grunt that's on offer; 0-62mph takes just 2.8 seconds, which is on par with proper supercars like the hybrid-powered Ferrari 286 GTB. Despite this immense performance and a rather stiff suspension setup, the Taycan is incredibly comfortable to travel in – remaining composed over the majority of bumps and ruts in the road.
Interior, dashboard & infotainment
 Porsche is renowned for producing luxurious and well-built interiors and the Taycan is a good example of this; the entire layout is clean, ergonomic and modern, with plush materials everywhere you touch. The tall centre console cocoons the driver and front passenger, giving a cockpit-like feel, while we like the drive mode switch on the steering wheel and analogue clock on the dashboard which both come as part of the optional 'Sports Chrono' package.
Every Taycan comes as standard with a sweeping 16.9-inch curved digital instrument cluster, alongside a 10.9-inch central touchscreen. The former isn't quite as configurable as the display in the Mercedes EQS, but it shows all the necessary information nevertheless and can even provide full-screen sat nav readouts. 
The touchscreen in the centre runs Porsche's latest PCCM software and is bolstered by another portrait-style display below for all of the car's climate settings – something we could have preferred to have been controlled via a selection of physical buttons and switches. 
Regardless, the main touchscreen is super responsive to your touch and offers slick graphics and lots of performance-oriented features. There are a few too many sub-menus, but there is Apple CarPlay and Android Auto if you'd rather use your phone. 
Boot space, seating & practicality
| Length | Width | Height | Boot volume (seats up/down) |
| --- | --- | --- | --- |
| 4,963mm | 1,966mm | 1,390mm | 446/1,296 litres |
The Taycan saloon, while still practical for an EV that offers supercar-rivalling performance, is compromised in terms of rear passenger space and boot volume. However, thanks to its higher roofline, the Taycan Sport Turismo manages to somewhat rectify both of these issues; there's now plenty of head and legroom in the back, although if the driver has their front seat set low, there is little space for you to slide your feet underneath. 
It's also worth noting that, as standard, the Taycan only comes with four seats; you can opt for a fifth occasional seat in the rear for about £300, but sitting three abreast in the back will be very uncomfortable due to the large hump in the floor.
On a lighter note, not only is the Sport Turismo's 446-litre boot a big improvement over the regular Taycan's 336-litre load area, it's much more accessible thanks to the addition of a hatchback tailgate. There should be more than enough room for a pram or a couple of large suitcases and the rear seats can be folded to reveal a cavernous 1,296 litres of space.
Reliability & safety rating
 With a car as fast as the Taycan Sport Turismo, you'd hope that it'd be pretty safe in the event of an accident. Well, you'll be pleased to hear that Euro NCAP awarded the electric Porsche a full five-star safety rating when it was crash tested back in 2019. All Taycan Sport Tursimos get autonomous emergency braking and lane-keep assist as standard, although you have to pay extra for things like adaptive cruise control, blind-spot monitoring and a 360-degree camera system.
On a more positive note, Porsche was ranked the best brand in our 2023 Driver Power customer satisfaction survey. Owners praised the performance, build quality and reliability of the maker's cars. We don't have much concrete reliability data on the Taycan specifically, however, but electric cars do have fewer parts than their combustion-engined counterparts meaning they should, in theory, be more dependable.