New Mercedes EQE SUV revealed in full
The all-new Mercedes EQE SUV is expected to offer a range of over 340 miles and start from around £90,000
The covers have finally been pulled off the new Mercedes EQE SUV – the fifth SUV in Merc's EV line-up and the fourth electric car to use the marque's bespoke electric-car platform, shared with the flagship EQS SUV.
Style-wise there is little to tell the new EQE SUV apart from its larger EQS SUV sibling. It shares a similar overall design, with a familiar face and rear end. The EQE SUV is only a five-seater, however, while the brand's zero-emissions range-topper can seat seven.
The EQE SUV measures 4,863mm long and 1,940mm wide, which makes it 262mm shorter and 19mm narrower than the EQS SUV. The EQE's wheelbase is just 180mm shorter, however, which means few compromises in the rear seats. Boot space stands at 520 litres – 20 litres larger than a BMW iX's – while folding down the Merc's seats reveals a total of 1,675 litres. There's a storage area beneath the boot floor, but there is no extra space under the bonnet.
Inside, as we've seen from previous teaser pictures, the EQE SUV lifts the EQS's 56-inch MBUX Hyperscreen layout wholesale. In fact, the EQE's setup uses the exact same part number; the triple-screen configuration is likely to be an option on most cars, but standard on the AMG model. Dolby Atmos will feature – again, as an extra – bringing cinema-style surround sound to the premium SUV class.
Either side of the EQE's dashboard there are turbine-style air vents, while underneath the central screen is a floating centre console separating the front seat driver and passenger. It bridges the gap between the dashboard and armrest, with a covered storage tray in the middle. There's further storage underneath, plus ambient lighting for the front seats.
Official battery and range details haven't been revealed as yet, but we expect the EQE SUV line-up to mirror that of its saloon counterpart. That would mean, for the time being at least, a single EQE 300 variant and a fire-breathing EQE AMG 53 model – the latter getting a dual-motor 4MATIC+ setup for all-wheel drive. We expect the saloon's 90kWh battery to be carried over as well.
Mercedes has said "depending on the vehicle equipment and configuration, WLTP ranges of more than 342 miles" can be expected from the EQE SUV. Although, given the extra power, performance and weight – plus comparisons with the EQE 53 saloon – a range of around 260 miles is more likely for the AMG-badged variant.
We have at least been told that the EQE SUV will match the saloon's 170kW maximum charging speed, which should result in a 10-80% top up time of 32 minutes. Mercedes says that it can achieve more consistently high charging speeds by using this technology, rather than adopting 800-volt architecture like you'll find in a Porsche Taycan.
As you might expect from a high-end Mercedes, safety and driver assistance systems will be a key selling point for the EQE SUV. The Polestar 3 and BMW iX rival will be available with 10-degree rear-axle steering (nine degrees on the AMG), capable of reducing the car's turning circle to just 10.5 metres – less than a Mercedes A-Class hatchback.
Other features include active brake assist, active lane-keeping assist, speed limit assist, plus a Parking Package with a reversing camera. Optional packages add the functionality to keep the car within its lane, as well as perform driver-assisted automatic lane changes. Rest assured, the EQE will do its best to keep pace with the range-topping EQS when it comes to technology.
But that's only part of the story, because with an estimated starting price of around £90,000, it's likely the EQE SUV will come with a long list of equipment. The maker has already confirmed alloy wheel sizes ranging from 19 to 22 inches, plus a power tailgate will come as standard. We'll need to wait a little longer for exact specs, with the EQE SUV due to launch here in May 2023.
We've no performance details for the EQE 300 just yet, but Mercedes has divulged key information on the AMG EQE 53, such as power, torque and top speed. As standard the AMG-tuned version (above) will get 617bhp and 950Nm of torque, but an optional AMG Dynamic Plus Package raises this to 678bhp and up to 1,000Nm – good for 0-62mph in 3.5 seconds.
Mercedes will continue its electric-car offensive, with a new EV due every six months. The EQE SUV will sit above the EQA, EQB and EQC in the Mercedes' SUV range, below only the flagship EQS SUV and the forthcoming EQG electric G-Class, due on sale in 2024.
New Zeekr X electric SUV revealed; could land in UK by 2025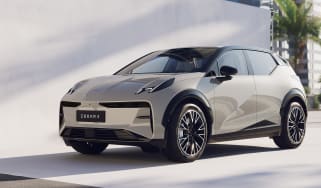 New Zeekr X electric SUV revealed; could land in UK by 2025
New electric cars coming in 2023 and beyond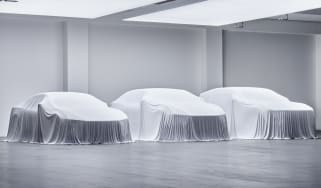 New electric cars coming in 2023 and beyond
New XPeng G9 electric SUV: prices, specs and range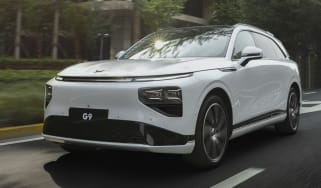 New XPeng G9 electric SUV: prices, specs and range