Genesis Electrified G80 luxury electric car to be sold in the UK
The luxury Korean carmaker will arrive in the UK this summer, with three electric cars expected within the first 12 months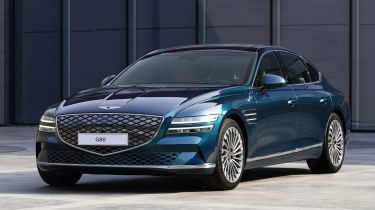 Genesis, Hyundai's luxury off-shoot brand, has confirmed that the Electrified G80 will go on sale in Britain, following the carmaker's arrival into the UK market this summer.
The regular Genesis G80 saloon and GV80 SUV will be the first models available for purchase, both of which have now received 5-star ratings from their Euro NCAP crash-testing. Those will be followed by the G70 saloon and GV70 SUV.
The manufacturer also plans to have three all-electric models available for its European customers within the first year. The first being the Electrified G80 saloon; the other two models have not yet been announced.
However, Genesis has stated that one of the three electric models coming to the UK will be based on a dedicated electric platform. As Genesis is part of the Hyundai Motor Group, we expect this car to use the same underpinnings as the Kia EV6 and the Hyundai Ioniq 5 – the latter of which we recently drove in pre-production form.
Genesis' first electric car will be a likely rival to the Mercedes EQE we recently spied testing, as well as the electric BMW 5 Series we know to be in development – not to mention both the Tesla Model 3 and larger Tesla Model S.
While the battery size has yet to be confirmed, Genesis claims the car is capable of over 311 miles of range on a charge – although that figure was measured using the outdated NEDC testing process, so a sub-300-mile result is expected from the more modern WLTP procedure.
The Electrified G80 is only available with all-wheel drive, thanks to a twin electric-motor setup that produces 359bhp and 700Nm of torque. In Sport mode, that results in a 4.9-second 0-62mph time. But the Electrified G80 is also able to switch between two and all-wheel drive for improved efficiency and increased range.
The car also shares some technical features with its Hyundai Group electric siblings, the Hyundai Ioniq 5 and Kia EV6. Like them, you can recharge the Electrified G80 from 10-80% in just 22 minutes if you use a 350kW DC rapid charger thanks to its 800v charging system.
The Electrified G80 can also perform vehicle-to-load (V2L) charging, so you can charge other electric cars from its battery at up to 3.6kW (the same speed as some home chargers).
Another notable feature of the Electrified G80 is its Active Noise Control-Road (ANC-R) system, which eliminates road noise by analysing data from the four sensors and six microphones built into the car and then producing noises at the "opposite phase" – the same principle behind noise-cancelling headphones.
The Electrified G80 also uses a closed-off grille for improved aerodynamics and features a solar panel on the roof to generate electricity. Inside, Genesis has used sustainable materials like recycled wood, while the car's leather is coloured by natural dye.