Top 10 fastest charging electric cars
If you want to get where you're going quickly, charging speed is as important as range – these are the 10 fastest-charging EVs on sale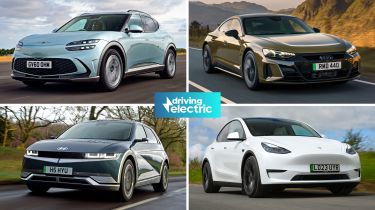 Ultimate range is only one factor in electric car usability. How quickly you can recharge again – however big your car's battery or how far it travels on a charge – is just as important, ensuring quick top-ups take little more time than filling the tank on a combustion vehicle, and that home charging is as practical as can be.
As EV technology develops, onboard chargers are getting more efficient too. Back in 2011, a Nissan Leaf could charge at a maximum of 46kW, but the best modern EVs can top up at five times the rate, if you can find a charger capable of delivering that kind of power.
Below, we've taken a look at the 10 quickest-charging EVs on the market. We've based our order on peak charging speed, but it's important to point out that your actual charging speed will vary from model to model according to the charging efficiency curve of a particular car – and whether a charging point can get anywhere close to what a car will accept.
The similarity of several Hyundai group models means it's something of a lockout for the Korean brands – but in case you're interested, both the Mercedes EQS (at 200kW) and BMW i7 (195kW) are right up there with the very fastest-charging cars, too.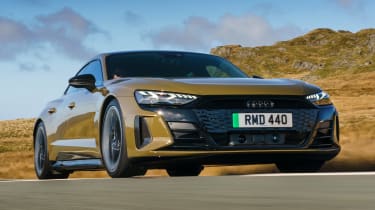 1. Audi e-tron GT (268kW)
The Audi e-tron GT and the Porsche Taycan that top this list are very similar under the skin, so that's why you'll see them sharing the same peak charging speed. At 268kW, it's fast enough to give the Audi's battery pack – with 84kWh of usable capacity – a 10-80% boost in just over 20 minutes. Of course, that's if you can find a public rapid charger capable of delivering that – though the car's charging capability does future-proof it when the public network catches up. With ultra-fast charging and nearly 300 miles of range, the e-tron GT can back up its grand tourer tag with actual ability.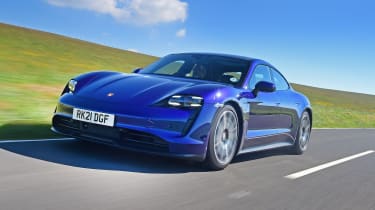 2. Porsche Taycan (268kW)
Porsche's Taycan is relegated to second place on this list purely alphabetically, as both in theory and in practice, it can charge just as quickly as the Audi e-tron GT. There's a caveat to that: the full 268kW charging rate applies only to models with the 84kWh usable capacity packs. The 71kWh pack is limited to 225kW fast charging – though that's still enough to put it on this list. The big-battery Taycan 4S, with up to 318 miles of range, can charge from 10-80% in 19 minutes – like the Audi, it's extra reassurance for a car that's at its best over long distances.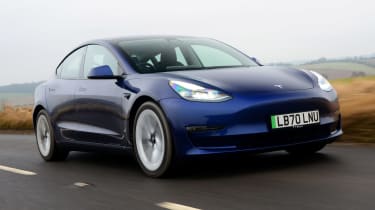 3. Tesla Model 3 (250kW)
The two Teslas have an advantage over the other cars in this list. Even though the 250kW charging speed might not be as quick as that of the Audi or Porsche, Tesla's Supercharger network – currently numbering more than 1,000 charging points – is certainly more consistent than some other public networks. That 250kW figure is still a peak rather than a constant speed, but pull up to a Supercharger and you can be reasonably confident it'll approach that – especially if you've used the car's sat-nav to pre-condition the battery. Standard Range Model 3s can charge at up to 170kW, with Long Range and Performance models getting the full whack, capable of adding more than 200 miles of range in just half an hour.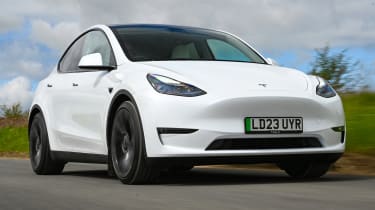 4. Tesla Model Y (250kW)
It's no surprise to see the Tesla Model Y crossover next to the Model 3 here, since the pair share a drivetrain and several features – and unlike the Model S or Model X, which we've omitted here since Tesla is no longer supplying right-hand drive models, the 3 and Y are still offered with the wheel on the correct side for UK buyers. The bulkier, less aerodynamic Model Y can't quite match its saloon-shaped sibling for range (331 miles for the Long Range car, versus 374 with the Model 3), but otherwise it's just as quick to charge; get that full 250kW for as long as possible, and a 10-80% top-up takes only 27 minutes.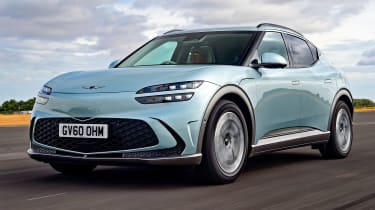 5. Genesis GV60 (233kW)
Another car capable of covering more than 300 miles in its longest-range format – in this case, Premium trim, with a single 226bhp electric motor drawing current from the 77.4kWh battery pack – the strikingly-styled Genesis GV60 also benefits from one of the fastest peak charging rates of any EV. The 233kW figure is shared with the other Genesis, Hyundais and Kias in this list, and if you can find a charger fast enough to deliver it, a 10-80% charge can take just 18 minutes – you'd struggle to get in and out of a motorway services in that time.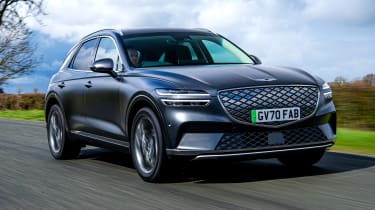 6. Genesis Electrified GV70 (233kW)
Genesis offers a choice of combustion-powered GV70s, but the Electrified model gives buyers another option. It's bigger than the GV60 above but with a 77.4kWh battery pack and the same 233kW maximum charging rate its figures are identical to those of the other Genesis, Hyundai and Kias here, making for equally rapid recharging times if you can find a charger to take advantage of them. More understated than the GV60, the GV70's size does impact range (283 miles) but at the maximum charging rate, a 10-80% fill still takes under 20 minutes.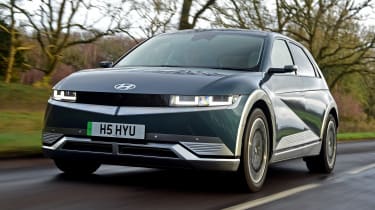 7. Hyundai Ioniq 5 (233kW)
It's been on sale for more than two years now but the Hyundai Ioniq 5 has lost none of its visual impact. It rides on the same architecture as the Genesis GV60 and Kia EV6, but the Hyundai's retro-futuristic styling, pixelated lights and blocky proportions are unmistakable. The siblings' similarity under the skin is given away by yet another 233kW maximum charging rate – though Hyundai does offer an Ioniq 5 with a smaller 58kWh battery pack and slower 175kW charging rate. With the larger pack and rear-wheel drive, range is up to 315 miles, and just shy of 300 with all-wheel drive, but all have the potential to replenish half of their range in just over a quarter of an hour.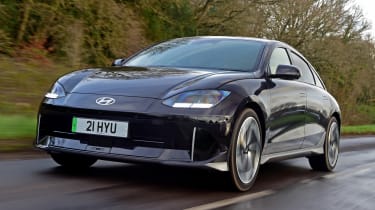 8. Hyundai Ioniq 6 (233kW)
With the Hyundai Ioniq 6 we're once again looking at the same battery and charging technology from the Korean conglomerate, but the wrapper is very different indeed. Hyundai's electric saloon could almost pass for a 1930s streamliner and has one of the most aerodynamic profiles on the road. You might expect a greater improvement in range over the boxy Ioniq 5 than the 6's 20-odd mile boost, however – the rear-drive model is quoted at 338 miles. Find a charger capable of delivering juice as fast as the car will accept and a 10-80% top-up could be over in 18 minutes. That's substance as well as style, in our book.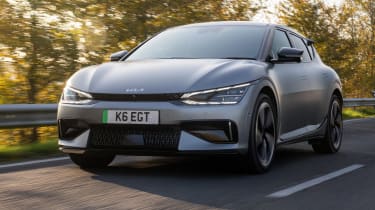 9. Kia EV6 (233kW)
The EV6 is Kia's counterpart to the Genesis GV60 and Hyundai Ioniq 5, and has a more sporting flavour than the luxurious Genesis and designer-savvy Hyundai. It rides a little more firmly but it's the most fun of the bunch to drive, and with the same technology under the floor, loses out on nothing in terms of real world range or charging speed. In fact, at up to 328 miles in rear-wheel drive form, it'll actually travel a little further on a charge, if you're not too tempted to make use of the car's strong performance. The fast charging rate means that once again you can top up a significant proportion of your range in under 20 minutes.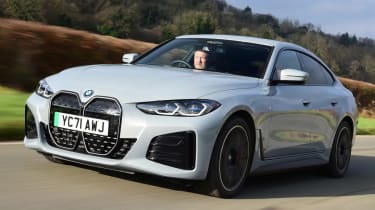 10. BMW i4 (205kW)
The BMW i4 doesn't shout about its electric power – at a glance it looks much like a fastback variant of the 3 Series, something that will surely appeal to BMW buyers making the transition to electric power, or conquest sales from the likes of Tesla. But the i4's fast charging speed of 205kW and 365-mile range in eDrive40 form, gives the i4 real ability to go with its traditional BMW strengths. This version is our top pick, but whichever you go for, a 10-80% charge at the maximum rate takes just over half an hour.
BMW i4 facelift to topple Tesla with huge range and tech upgrades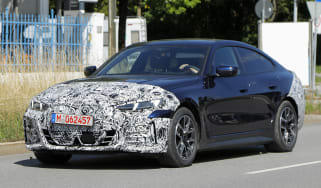 BMW i4 facelift to topple Tesla with huge range and tech upgrades
An updated version of the BMW i4 has been spotted testing, likely sporting a longer range and the latest technology
Electric BMW iX2 is set to take the kidney grille to the next level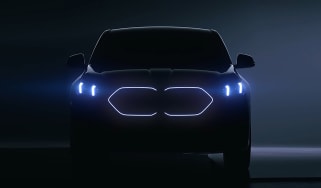 Electric BMW iX2 is set to take the kidney grille to the next level
BMW has teased the highly-rumoured iX2 coupe-SUV, which has been revealed to get enlarged illuminated kidney grilles