Mercedes EQE electric car: spy shots show electric saloon in testing
Mercedes E-Class-sized electric car will slot in below EQS luxury saloon in range, as well as getting an SUV variant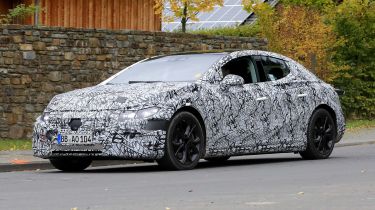 This is the Mercedes EQE – a purely electric four-door saloon that's set to join the German manufacturer's 'EQ' range within the next few years. These spy shots, which show the car under heavy disguise while undergoing testing – give a first glimpse of one of many forthcoming electric cars from Mercedes.
The new electric saloon will join the current EQC SUV in the range, along with the forthcoming EQA and EQB compact SUVs that are set to arrive before the end of 2020, as well as the larger and more luxurious EQS saloon. Mercedes has already confirmed it'll have introduced 10 new electric cars by 2022, so we expect both of its new saloons to arrive before then.
We expect that the EQE will use much the same setup as its stablemates: dual electric motors, a large battery and plenty of power. Just as its SUV siblings follow the form factor of their respective GLA and GLC counterparts, the EQE looks to be similar in size – if not shape – to the Mercedes E-Class.
It's firmly in the sights of the Tesla Model S as a result, so we expect the Mercedes to be fast, easy to drive and packed with the latest and greatest technology. A battery large enough for a range of at least 400 miles is expected to feature, as previewed by the Vision EQS concept at the 2019 Frankfurt Motor Show.
Mercedes has already released images of its larger EQS undergoing testing; compared to these, the EQE appears to share broadly similar front and rear designs. The two differ in their wheelbase, however – Mercedes' Modular Electric Architecture (MEA) underpins both and can be lengthened as required for different applications. The EQE's wheelbase is shorter and its roof – though seemingly low and CLS-like in its proportions – is not quite as swept-back as that of the longer EQS.
The EQE in our pictures is almost fully disguised, apart from its front lights, glasshouse and a small gap on the 'grille' – the location of the sensors for autonomous-driving promised by the Vision EQS concept. Other high-tech features are likely to include LED matrix headlights and the latest version of Mercedes' MBUX infotainment system.
In addition to the four-door saloon version seen here, there'll be an EQE SUV, and this arrangement will be mirrored by the larger EQS, which will also get saloon and SUV variants for buyers to choose from. Mercedes-AMG has also confirmed it's working on high-performance versions of the brand's electric models – so an EQE equivalent to any or all of the E43, E53 and E63 combustion-engined variants seems a near-certainty.
2022 Mercedes EQE electric SUV: pictures and details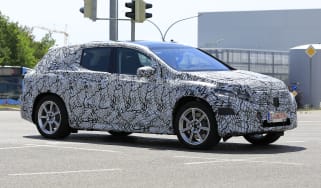 2022 Mercedes EQE electric SUV: pictures and details