New 2022 Mercedes EQE electric E-Class equivalent unveiled
The Mercedes E-Class-sized electric saloon features EQS flagship styling and technology, with a expected range of 410 miles; prices have yet to be announced
The Mercedes EQE, the latest addition to the brand's 'EQ' range of fully electric cars, has been unveiled at the Munich Motor Show. The all-electric E-Class alternative will go on sale early next year, and will compete with the Tesla Model S, Porsche Taycan and forthcoming BMW i5 and Audi A6 e-tron executive saloons.
Mercedes is claiming a range of 410 miles on a full charge thanks to a 90kWh battery, but that figure has yet to be formally verified. If it is correct or close to the real-world figure, it would put the EQE on par with the latest Tesla Model S Long Range, and capable of around 100 miles more than even top-spec versions of the Porsche Taycan can cover on a single charge.
The EQE is the second model to use Mercedes' new platform specifically designed for electric cars after the EQS flagship. But it's not just the underpinnings these two cars have in common; they both feature a sweeping roofline, short overhangs, and a small bootlid for improved aerodynamics. The black panel design used on the EQE in place of a grille is a design cue shared not only with the EQS, but also the rest of the EQ line-up.
Powertrains, batteries and charging
Two versions of the EQE will be available from launch – the EQE 350 and a second to be confirmed in the near future – however, more models will follow, one being an AMG-tuned variant.
The EQE 350's single rear-axle mounted electric motor produces 288bhp and 530Nm of torque, but all-wheel-drive 4MATIC versions are expected featuring a dual-motor setup. Performance figures have yet to be announced for the EQE 350, or any other variants.
As standard, the EQE is fitted with an 11kW on-board charger but an upgraded 22kW on-board charger is also available. Charging the 90kWh battery in the EQE 350 should take over eight hours if you have access to a 11kW home wallbox, so we expect a full charge from a more common 7.4kW wallbox will take around 12 hours or more. Use an AC charging point capable of 22kW or faster, and you'll cut that time down to just over four hours.
Like its rivals, the EQE also gets ultra-rapid charging capabilities, and can reach charging speeds of up to 170kW. That is slower than the EQS, Porsche Taycan or Audi e-tron GT, but find a fast enough DC charging point, and you can still top up the EQE's battery from 10 to 80% in 32 minutes or, at that speed, you can add 155 miles of range in 15 minutes.
Technology
Not only does the EQE share a platform and much of its styling with the bigger, more expensive EQS, but it's also available with the Hyperscreen infotainment setup that seriously impressed us when we drove Mercedes' electric flagship a short while ago. It features three displays underneath a single piece of glass: a 12.3-inch digital driver's display, a 17.7-inch central infotainment touchscreen and another 12.3-inch item for the front passenger.
If you don't want to shell out for the Hyperscreen setup, we expect the EQE will come as standard with a central portrait-orientated infotainment touchscreen and a digital driver's display like the current generation E-Class and S-Class, however, we've get to see any images of the standard setup. Both versions will run the latest version of the German brand's MBUX infotainment system that we experienced in the EQS.
In addition, the EQE's navigation system can calculate if the car has sufficient charge to return to the starting point of a journey without charging. If not, charging stops can be added to your route, with the system able to provide estimated costs per charging stop as well.
The EQE will be available with rear-axle steering as well, to aid with maneuverability. The first option is up to 4.5 degrees of rear steering angle, however, another setup that reaches up to 10 degrees is available, which reduces the EQE's turning circle from 12.5 metres down to 10.7 – less than a MINI Electric's. It can also receive over-the-air (OTA) updates from Mercedes, with the option for you to purchase additional functions from the 'Mercedes me Store', while subscriptions, time-limited activations and free trial phases are also planned. 
Mercedes has yet to announce pricing for the EQE, but we do know it will be offered with several equipment packages and optional exterior and interior styling upgrades. We expect prices for entry-level versions to start from around £70,000-£80,000 if it can compete with the Model S in terms of range and other technology.
The EQE is one of six new electric cars the German company will release by 2022. It'll also join the EQS executive limousine and the EQA, EQB and EQC SUVs in the Mercedes' EQ range, as well as the EQE and EQS luxury electric SUVs that we've previously spied testing.
Classic Mini goes electric: official conversion for iconic supermini announced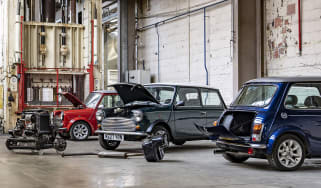 Classic Mini goes electric: official conversion for iconic supermini announced
Twin test: Kia EV6 vs Volkswagen ID.4 GTX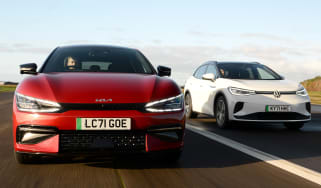 Twin test: Kia EV6 vs Volkswagen ID.4 GTX