Mercedes EQE electric car: zero-emissions E-Class alternative spied testing
Mercedes' E-Class-sized electric saloon will sit below the luxury flagship EQS limousine and is aiming at over 370 miles' range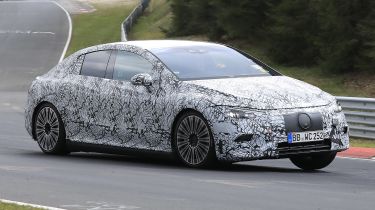 The Mercedes EQE, the next addition to Mercedes 'EQ' range of fully electric cars, has been spied testing in Germany. The pure-electric four-door salon will sit below the recently unveiled Mercedes EQS luxury limousine in the EQ range, and is one of six new electric cars Mercedes will release by 2022.
The new electric saloon will also join the current EQA, EQB and EQC SUVs in the range, as well as the EQE and EQS luxury electric SUVs we've recently spied testing. Combined, Mercedes plans to feature 10 electric cars in its range by the end of next year.
As its name suggests, the EQE will be Mercedes' all-electric alternative to its mid-size executive saloon, the E-Class. Because of that, it'll be a rival for the Tesla Model S and Audi A6 e-tron when that goes into production.
However, thanks to the advancements of Mercedes' EAV2 platform (which also underpins the EQS), the EQE has a smaller footprint on the road than its combustion-engined counterpart, but packs the same amount of interior space as the formerly range-topping Mercedes S-Class.
Also like the EQS, we can see a more rounded front end to the EQE, which will likely feature a black front panel for improved aerodynamics and longer range, like other EQ models. The rear of the EQE also features a short bootlid and sloping roofline reminiscent of the Mercedes CLS. However, this is more than a styling choice, as it should help Mercedes reach its target of over 370 miles of range for the EQE.
We still haven't seen inside the EQE yet, but if the EQS is anything to go by, it'll feature Mercedes' latest autonomous driving features, advanced safety system and the brand's 'MBUX' infotainment system – which recently saw a huge evolution when the optional 55.5-inch Hyperscreen debuted in the EQS.
We expect the EQE will be available with either rear or all-wheel drive, and different trim levels will feature different battery sizes, like the EQS. As it uses the same platform Mercedes has developed for large electric cars, the 90 and 107.2kWh batteries offered in the EQS could be used here, but that'll depend if Mercedes can fit them within the EQE's shorter wheelbase.
Additionally, Mercedes-AMG has confirmed it's working on high-performance versions of the brand's electric models – so an EQE equivalent to any or all of the E43, E53 and E63 combustion-engined variants seems a near-certainty.
The EQE is expected to be fully unveiled later this year and arrive in showrooms at the start of 2022. Prices and trim levels haven't been revealed, but a starting price of £60,000 is likely due to the amount of technology the EQE will pack – and to make the new Mercedes competitive against the Tesla Model S.
See our pick of the best luxury electric cars available here.