2023 DrivingElectric Awards: the winners
At the end of another historic year for the new car market, we celebrate the best electric and hybrid cars you can buy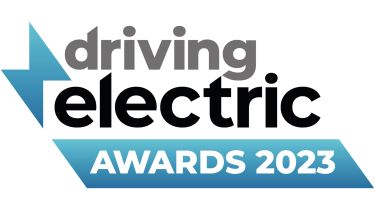 As another momentous year for electrified motoring draws to close, we're celebrating the very best electric and hybrids on sale today. The 2023 DrivingElectric Awards is our biggest yet, spanning 28 categories – from the best electric family car, to our top choice for your next plug-in hybrid company car.
Our expert panel of judges has covered thousands of miles and crunched the numbers on every new EV and hybrid over the past 12 months to pick these winners. And once again, we asked our readers to voice their opinions and name the best electric car from this year, their favourite electric car brand, and which EV arriving in 2023 they're most excited about.
But enough with the pomp and circumstance; ladies and gents, these are the winners of the 2023 DrivingElectric Awards.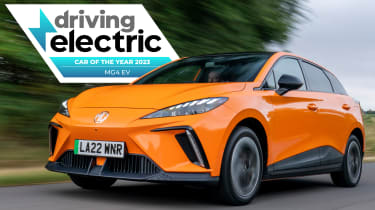 DrivingElectric Car of the Year 2023: MG4 EV
The new MG4 EV won our 2023 DrivingElectric Car of the Year award with a landslide victory. This electric hatchback is fun to drive, spacious and offers solid real-world range in a sharp looking package, all at a truly unbeatable price. Yet it comes with oodles of standard kit, as well as a brand-new infotainment system, seven-year warranty, and impressive rapid charging capabilities. Read our full review to find out more.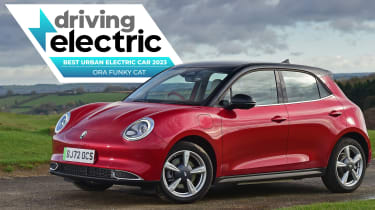 Best Urban Electric Car: Ora Funky Cat
The Ora Funky Cat was one of the biggest surprises of the year, and a fantastic small electric car. It's undeniably eye-catching, as well as roomy, good to drive, and boasts a five-star Euro NCAP rating thanks to a plethora of safety features. The flashy First Edition model is here now, but there are more versions to come, which we can't wait to get our hands on. Read our full review to find out more.
Best Value Electric Car: MG4 EV
At a time when new car prices are on the rise, the MG4 has swooped in and blown the competition out of the water. It's one of the cheapest EVs on sale in the UK, though you'd never be able to tell at first glance, or from behind the wheel. Entry-level versions come with plenty of kit and a 218-mile range, but the Long Range model is the real pick of the range, capable of covering 281 miles for less than £30k – significantly undercutting similarly capable electric hatchbacks from Volkswagen, Renault and Nissan. Read our full review to find out more.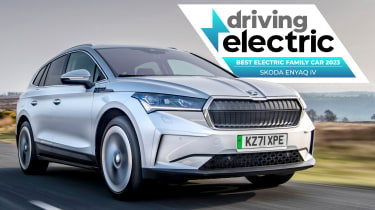 Best Electric Family Car: Skoda Enyaq iV
A number of fantastic electric family cars have arrived this year, but none of them were able to top the Skoda Enyaq iV. The popular zero-emissions family SUV offers a vast amount of cabin and boot space, excellent refinement and plenty of handy 'Simply Clever' features that Skoda has become known for. It still boasts a competitive starting price, range and rapid charging speeds, plus for those looking to complete the school run in record time, there's even a high-performance vRS model. Read our full review to find out more.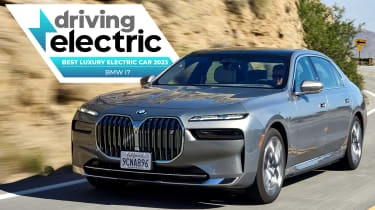 Best Luxury Electric Car: BMW i7
The BMW i7 is the new benchmark for luxury cars – electric or otherwise. This fully electric version of the latest 7 Series makes no compromises to ride comfort or passenger space, only improving the luxury-car experience with the addition of a silent powertrain, effortless acceleration and truly exceptional levels of refinement. The tech-filled cabin also features fantastic materials and a flagship-worthy infotainment system. Read our full review to find out more.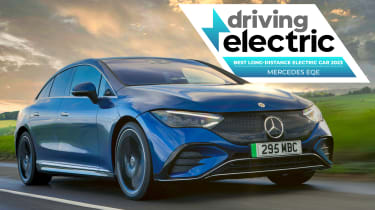 Best Long-Distance Electric Car: Mercedes EQE
Of course an electric equivalent to the popular Mercedes E-Class is going to get a lot of attention. Thankfully the EQE delivers with 170kW rapid charging speeds, a comfortable ride, and a whopping 394 miles of range that makes it an outstanding EV for covering long distances in a single bound. The excellent interior quality and infotainment system are just icing on the cake. Read our full review to find out more.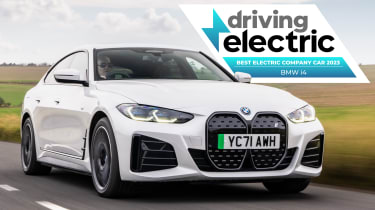 Best Electric Company Car: BMW i4
The BMW 3 Series may have been the go-to company car for many years, but the switch to electrification has brought with it a new class champ: the BMW i4. It wraps up everything we love about the brand's proven four-door saloon formula, with strong performance, low running costs, and a premium-feeling, user-friendly interior. After taking the win in our triple test against the Tesla Model 3 and Polestar 2 earlier this year, the BMW i4 really is the company car to beat. Read our full review to find out more.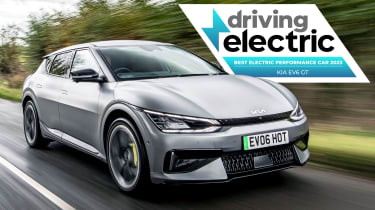 Best Electric Performance Car: Kia EV6 GT
The Kia EV6 GT challenges the status quo by offering supercar-slaying performance in a more accessible package. The 0-62mph sprint takes an astonishing 3.5 seconds, but there's more to it than a straight-line performance. The EV6 GT is a rewarding car to drive; it's eager to turn into corners, communicative and confidence-inspiring without being uncomfortable, thanks in part to the dual-motor setup with loads of grip. It even boasts 263 miles of range, and some of the fastest charging speeds we've seen, making it a serious all-rounder. Read our full review to find out more.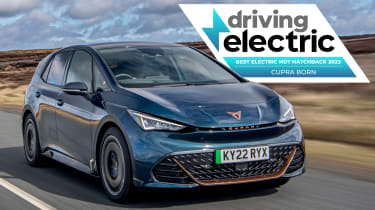 Best Electric Hot Hatch: Cupra Born
It looks like 2023 will be the year of the electric hot hatch, but our favourite so far is the Cupra Born. It takes the Volkswagen ID.3's proven underpinnings and adds sharper styling, a more premium-feeling cabin and, most importantly of all, sharper driving dynamics. The rumblings of a more potent dual-motor version to come have got us very excited indeed. Read our full review to find out more.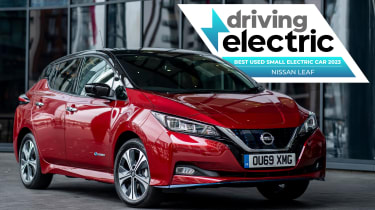 Best Used Small Electric Car: Nissan Leaf Mk2
The Nissan Leaf has been a part of Britain's EV landscape for over a decade now, which means there's plenty of secondhand examples about – at prices to suit almost any budget. The second generation Leaf is of particular interest; it's been around since 2018 and features advanced driver assistance tech, plus a range of up to 240 miles if you opt for the bigger-battery 'e+' model. Overall, the second generation Nissan Leaf is still a great choice for a family EV. Read our full review to find out more.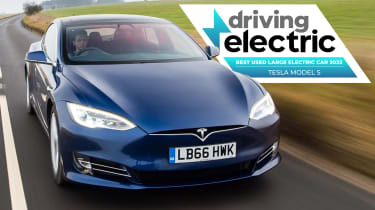 Best Used Large Electric Car: Tesla Model S
The Tesla Model S was an electric-car pioneer when it launched in 2012 and still stands strong today as a fantastic used-car buy. Big, comfortable and full of tech, it takes any journey in its stride. Plus, with more than 250,000 examples of the Model S produced, and close to a dozen versions to choose from, you're sure to find one just right for you. Read our full review to find out more.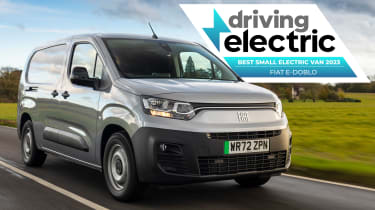 Best Small Electric Van: Citroen e-Berlingo, Peugeot e-Partner, Toyota Proace City Electric and Vauxhall Combo Electric, Fiat e-Doblo
The award for Best Small Electric Van jointly goes to Citroen, Fiat, Peugeot, Toyota and Vauxhall's most compact commercial vehicle offerings. They share the same platform and technology, and remain unmatched in this class. All five excel in town, while offering better range and rapid charging speeds than their competitors we've tested to date. Read our full reviews of the Citroen e-Berlingo, Peugeot e-Partner, Vauxhall Combo Electric. Fiat e-Doblo and Toyota Proace City Electric to find out more about each one.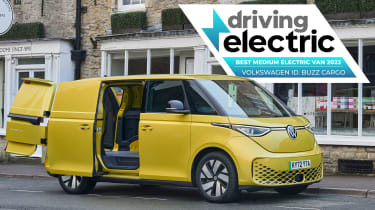 Best Medium Electric Van: Volkswagen ID. Buzz Cargo
Behind the lovable retro styling of the Volkswagen ID. Buzz Cargo is an exceptionally talented electric van. Its practical load bay, strong range and fast charging tech not only puts it ahead of other mid-size electric vans on the market, it means this is a van you buy with your heart as well as your head. Read our full review to find out more.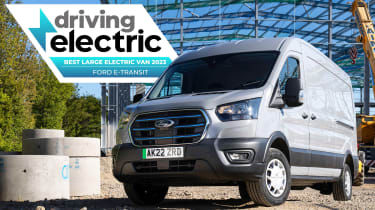 Best Large Electric Van: Ford E-Transit
The Ford E-Transit is a game-changer for the electric-van market, bringing a historic nameplate into the electric age. The first in a long line of pure-electric Ford commercial vehicles to come, this full-size electric van is unrivalled when it comes to range, charging speeds, the variety of bodystyles available, and connected services for fleets. It's also cheaper than its rivals, making the E-Transit's victory a no-brainer. Read our full review to find out more.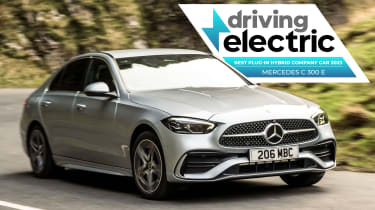 Best Plug-In Hybrid Company Car: Mercedes C-Class
Available as a saloon or estate, the Mercedes C-Class is a great option for those who aren't quite ready for an EV. Its big battery means you can cover close to 70 miles without using a drop of petrol, plus, CO2 emissions of just 13g/km means the Benefit-in-Kind (BiK) company-car tax rate is just 8%. The C-Class' great cabin design, build quality and infotainment system completes the package. Read our full review to find out more.
Best Plug-In Hybrid Family Car: Kia Sportage
A 43-mile electric range, generous boot space and show-stopping looks made the Kia Sportage PHEV an easy choice for our Best Plug-In Hybrid Family Car award. As well as being spacious and well-built, the Sportage's cabin also features the intuitive dual-screen infotainment setup from the flagship Kia EV6. Meanwhile, strong fuel economy and a long list of safety kit make this a fantastic family car. Read our full review to find out more.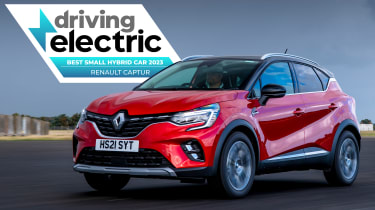 Best Small Hybrid Car: Renault Captur E-TECH
The Renault Captur E-TECH has retained its title as our Best Small Hybrid Car. It's smooth, comfortable and efficient, plus it's capable of cruising around town just on electric power without you ever needing to find somewhere to charge it up. We've yet to test a compact hybrid more capable than the Captur E-TECH. Read our full review to find out more.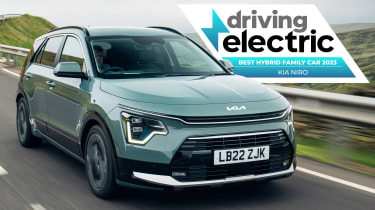 Best Family Hybrid Car: Kia Niro
The second generation of Kia Niro surpassed our expectations with its smart looks, user-friendly cabin, slick infotainment and the impressive amount of space it offered. The new Niro's comfortable ride and regenerative braking system make it ideal for tackling UK roads, whether around town or cruising on the motorway. Hybrid power boosts fuel economy and lowers your running costs, without you needing to change the way you drive. Read our full review to find out more.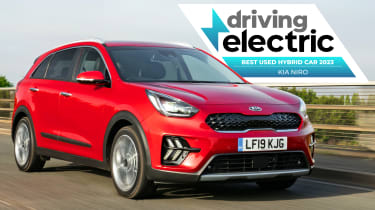 Best Used Hybrid Car: Kia Niro Mk1
The Kia Niro is a great all-rounder, new or used, and those on a budget won't feel short-changed by going for a secondhand example. The original Kia Niro represents great value for money and has the potential to dramatically slash your running costs thanks to low CO2 emissions and excellent fuel economy. Read our full review to find out more.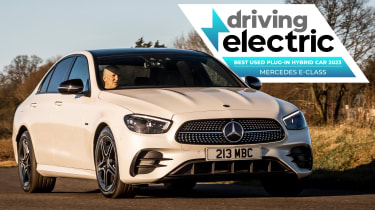 Best Used Plug-In Hybrid Car: Mercedes E-Class
It's a wonder why so few manufacturers don't offer the choice granted by Mercedes and its hugely capable E-Class. You can get the plug-in hybrid version with either a petrol or diesel engine, and as a saloon or an estate. Whichever model you go for, the E-Class PHEV rewards you with a comfortable ride, smart looks, excellent technology and impressive fuel economy. Read our full review to find out more.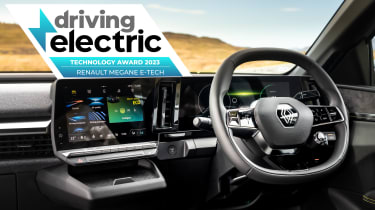 Technology Award: Renault Megane E-TECH
The Renault Megane E-TECH's infotainment system is one of the best we've ever tested. Its Google software is intuitive, slick and easy to navigate, because everything is laid out like a smartphone. Both the nine-inch touchscreen and 12.3-inch digital driver's display that come standard are responsive and sharp, with additional Google services built-in to select versions, too. If this is the system that will appear in new Renaults going forward, we have zero complaints. Read our full review to find out more.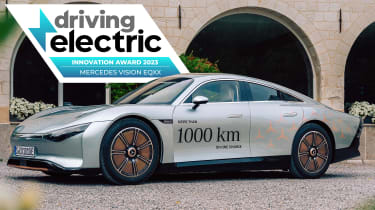 Innovation Award: Mercedes Vision EQXX
Plenty of manufacturers unveil electric concept cars with huge batteries and unfathomable range figures, but Mercedes has put its money where its mouth is and proven what the Vision EQXX is capable of in the real world. Earlier this year the futuristic four-door managed to cover an extraordinary 747 miles on a single charge, boasting efficiency of just 7.5 miles per kilowatt-hour. We're set to see the first application of the Vision EQXX's technology in a production car in 2024 – and we can't wait. Click here to find out more.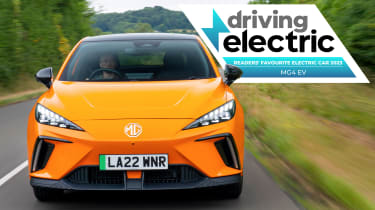 Readers' Favourite Electric Car: MG4 EV
It's not just our expert panel of judges who fell for the MG4 this year, as our readers were unanimous in naming it their favourite electric car launched in 2022. That should come as no surprise, however, as MG's first bespoke EV is a brilliant all-rounder with a truly unbeatable price tag; it is the electric car many have been waiting for. 
Readers' Favourite Electric Car Brand: Polestar
Polestar continues to go from strength to strength, winning the title of Readers' Favourite Electric Car Brand for 2023. The Swedish EV maker's focus on stunning design, elegant interiors, leading-edge technology and sustainability clearly made an impression on our audience, as did the incoming Polestar 3 SUV and drop-top Polestar 6 – two of the hottest EVs unveiled this year.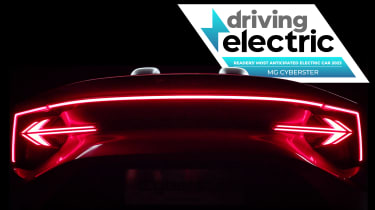 Readers' Most Anticipated Electric Car: MG Cyberster
Our readers are chomping at the bit to get their first look at MG's electric sports car, judging by the results of this year's poll. Technical details remain thin on the ground, but considering this British brand built its reputation on lightweight convertibles, and the road-going version of the stunning MG Cyberster concept will celebrate its centenary, we have no doubt it's going to be something very special. Read our full story for all the latest details.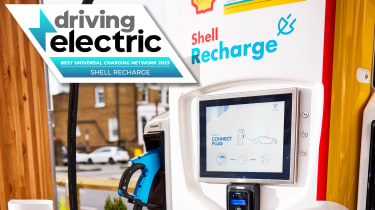 Best Universal Charging Network: Shell Recharge
For the second year in a row, Shell Recharge was ranked the best universal charging network in the Driver Power owner satisfaction survey. Users who responded loved how easy the network's chargers are to use and their convenient locations, praising Shell's customer service as well. There are currently over 100 chargers at Shell fuel stations across the UK, with ultra-rapid 150kW and 175kW units now being rolled out, and plans for expansion over the next few years. Find out more about the Shell Recharge network here.
Best Home Charger: Hypervolt
The Hypervolt Home 2.0 wallbox was voted first in an extraordinary seven of the nine categories in this year's Driver Power survey. In particular, Hypervolt's customers said the installation process couldn't be simpler, the units look great, feel well built and are reliable. They also praised the company's customer service and smartphone app. Find out more about the Hypervolt Home 2.0 charger here.
Best Electric-Car App: Bonnet
Bonnet makes living with an EV simpler by allowing electric-car drivers to pay for charging on multiple networks through one app that's easy to use, provides real-time information and features a map so you can locate charging points near you. Bonnet also offers bolt-in packages so you can get money off your charging sessions. Frankly, every electric car driver should have the Bonnet app installed on their smartphone.
Electric Ford Puma could become the UK's best-selling EV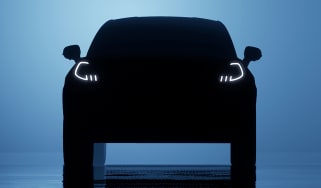 Electric Ford Puma could become the UK's best-selling EV
The Ford Puma EV is set to arrive in 2024 with a range of over 200 miles and a tweaked exterior design
Vauxhall Corsa Electric facelift brings sharp new look and tech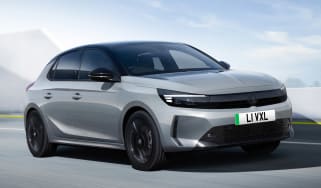 Vauxhall Corsa Electric facelift brings sharp new look and tech
Vauxhall's top-selling electric supermini has been updated for 2023, now getting the 'Vizor' from the Mokka Electric
Caterham EV Seven is the track day car of the future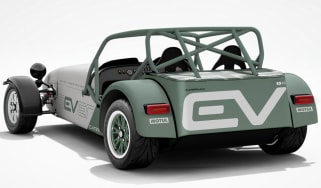 Caterham EV Seven is the track day car of the future
Caterham has revealed an all-electric version of its iconic Seven sports car… that you can't buy