Electric car wallbox installation: the complete guide
Ever wondered what an electric car home charger installation entails? We reveal all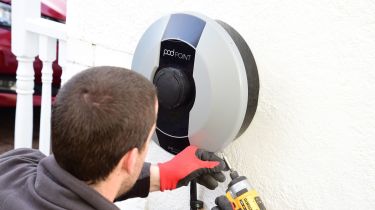 Once you've decided on an electric or plug-in hybrid car, the next step is to choose a home wallbox charger to power it. There are a wide variety of home EV chargers to choose from in the UK, with companies such as British Gas, Screwfix, Pod Point and Pulsar all offering a range of models with different characteristics. Wallboxes vary in cost, charging speed, and can come tethered or untethered (either with a permanently integrated charging cable or a socket to plug in a separate cable), so it's worth doing some research to get the best wallbox for your money. 
You'll want to bear in mind some important considerations when having an electric car charger installed at your house. There are installation requirements your home will need to meet to have an EV charger fitted, and it's also worth being aware of the installation costs. If you live in the UK, you may also be eligible for a grant to help bring down the cost of EV charge point installation, although eligibility requirements were made more stringent in April 2022.
Some energy tariff providers offer home wallboxes as part of your plan, while others will be recommended by your car manufacturer. But it's important to know that, with a few exceptions, pretty much any wallbox will charge any electric or plug-in hybrid car.
With all the different options and technical jargon used in the electric-car world, it can be confusing to find the best home EV charger for your needs, and work out how much it may cost to buy and have installed. To help, we've put together this guide to bring you up to speed with everything you need to know about having a home EV charger installed.
What is a home EV charger?
You could charge an electric car from a standard three-pin household socket – but it could take the best part of two days to do this with some of the larger-battery models now available. So, for most electric-car owners with driveway space, a wallbox charger is well worth the investment.
It charges at a much higher rate than a normal socket, meaning a full charge can be done in a few hours in most cases, rather than more than a full day. There are a number of different wallbox providers and costs, but often it comes down to personal preference as they all generally fulfil the same role.
Depending on the car you pick, you'll be able to schedule when the charge starts through an accompanying phone app. That means you can take advantage of cheaper energy tariffs (overnight, for example) if you have them.
How do I choose a home EV charger?
If you're buying a new electric or plug-in hybrid car, your dealer or manufacturer can likely recommend a supplier. But remember, the charger they recommended may not always be the cheapest option, so it's worth doing your own research as well. Take a look at our guide on how to choose the best home EV charger and see whether you'd like a tethered or untethered unit.
Partnership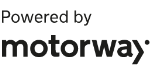 Need to sell your car?
Find your best offer from over 5,000+ dealers. It's that easy.
There are also a growing number of third-party installers that may be able to recommend the best wallbox for you from a variety of manufacturers. If you're in any doubt, give one or more of your preferred suppliers a call to discuss the merits of their systems.
By providing your address, the supplier will be able to check Google Maps to see the layout of your property. Assuming it's all in view, they should be able to suggest some locations for the unit to be installed. Some wallbox manufacturers offer freestanding mounts, allowing installation where wall-mounting isn't an option. From there, it's a case of providing a few personal details and arranging the installation date and time.
Most wallbox manufacturers or suppliers will be able to help you with the government's home charging grant. This sees the government contributing up to 75% or £350 (down from £500 from 1 April 2020) towards the cost of the wallbox. You may be asked to provide evidence of your car ownership and proof of your address.
Electric car charger home installation requirements
To have a home EV charge point installed, you need access to off-street parking, wi-fi and the correct cables or adaptors. A smartphone can also be helpful.
Off-street parking: You can't have cables running across the pavement, so you'll need off-street parking for your car, with space for a wallbox charger.
Wi-fi: Most wallbox chargers have online services accessible through smartphone apps or on the internet, which allows you to monitor the amount of power flowing through the charger into your car. It enables you to keep tabs on costs and the efficiency of your car and your driving.
The correct cables or adaptors: You can choose from tethered wallboxes, which have an integrated cable, or untethered wallboxes, which require you to use your own cable. If it's the former, you need to check that it has the correct plug for your car. If you have the latter, you need to ensure you have your car's charging cable with you.
A smartphone: Most wallbox providers provide an app to tell you how much it costs to charge your car. If you don't have one, a smart meter can give you a good idea, too.
How much does it cost to install an electric-car charger?
The cost of a home EV charge point, including installation, is typically at least £800 in the UK, depending on the model you choose. However, cheaper options are available, especially if you opt for a charger with less power.  A government grant covering up to £350 of the cost of a charging point is available, however the terms of this Electric Vehicle Homecharge Scheme (EVHS) changed at the end of March 2022: homeowners in single-occupancy dwellings are no longer eligible. Scottish EV drivers can get an additional grant of up to £250 through Energy Savings Trust Scotland.
Can I install my own EV charging point?
Unless you're an electrician with experience installing EV chargers, it makes more sense to have a wallbox installed by an approved technician through your vehicle's manufacturer or a credible supplier. You can use a qualified third-party electrician, but it'll still need commissioning by an approved installer. Installing an EV home charging point is not a DIY job.
The complexity of your wallbox installation and the time it'll take depends on a number of factors. The easiest installs are usually where the wallbox is mounted close to the electricity meter. In these instances, the wallbox installation time could be as little as two hours.
If you want – or need – the wallbox somewhere else, it could require floorboards to be lifted or furniture to be moved. But even in these situations, you should be up and running in around half a day.
It's worth mentioning that some providers may charge an additional fee for 'non-standard' installations. What is deemed a non-standard installation may vary, but Pod Point, one of the more well-known providers, told us these include long cable runs, the concealment of cables, running the cables at height or underground, or those requiring extra works to ensure the safety of the installer and customer.
The first thing a wallbox installer will check is the quality of your home's earth connection. Due to the power demands of a wallbox charger, your home needs a good, solid earthing connection. It's a quick job for the installer to check, but depending on their findings, it could be the responsibility of you, your utility company or even UK Power Networks to upgrade. As a result, the work could take days, weeks or even months to complete.
Next, the installer will check the rating of your home's cut-out fuse. Many will be rated at 100 amps, while others will be rated at 60 amps. This won't be a problem for most, but loading a wallbox charger on top of other power-hungry equipment such as induction hobs, power showers or hot tubs could cause the fuse to trip, requiring a reset. If you have a 60-amp fuse, it's wise to contact your utility provider to upgrade your fuse to 100 amps. This isn't something you should attempt yourself.
To minimise the risk of fuses tripping out, wallboxes produced after 1 January 2019 contain a 'fuse saver'. This is a clever bit of integrated kit that effectively reduces the power supplied to the car while maintaining the same current to other electrical products. In practice, this means your induction hob and power shower will work as normal, but your car may take a little longer to charge – all in the interests of avoiding a 'blown' fuse.
Once the checks have been made, the installer will mount the wallbox by drilling a number of small holes and screwing the wallbox to your wall. A hole will be drilled through the wall to allow a length of armoured cable to be fed through. The location of this hole will depend on the wallbox's position relative to the electricity meter and fuse box.
In some instances, the cable will run along the outside of the wall. In other instances, the cable can run inside the house, although you'll want to ensure it can be hidden; the cable could measure 25mm in diameter and isn't particularly malleable.
The installer will feed the armoured cable and fuse-saver wire through to the fusebox. This part of the operation will require power to the property to be switched off. The cable will be connected to the mains supply by a standalone RCD (residual current device). This avoids the need for the installer to touch the existing fuse boards, which minimises the risk of electrical supply problems elsewhere in the property.
It's helpful to clear the area in the vicinity of the meter and fuse box to allow the installer good access. Once it's all connected, the installer will run some tests before securing the front of the wallbox in place.
Most systems offer some level of wi-fi connectivity, so you'll need your broadband login details. The installer will connect the wallbox to your wi-fi, enabling you to monitor the amount of power your car is taking. Finally, they'll ask you to plug in your car to check its charging – and you're all ready to go.
Most systems are compatible with a smartphone app. Pod Point's app allows you to enter your electricity tariff details, from which it can derive the exact amount it's costing you. You can even download this data to keep a proper record of your outgoings. Some providers have a website where you can access similar information.
First contact: facelifted Kia EV6 will look even more like a UFO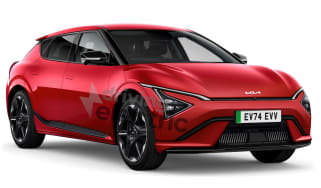 First contact: facelifted Kia EV6 will look even more like a UFO
Kia is readying an update for the EV6 crossover, which is set to include a new face and tech from the larger EV9
New Fisker Ocean Sport washes up in the UK: £36k for a 288-mile range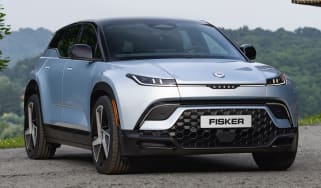 New Fisker Ocean Sport washes up in the UK: £36k for a 288-mile range
American EV startup Fisker has just launched its entry-level Ocean SUV in the UK, with a range of up to 288 miles
New Vauxhall Vivaro Electric is cheaper, yet has more range and tech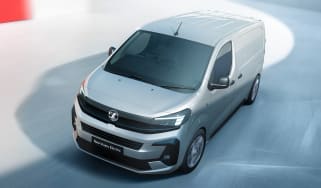 New Vauxhall Vivaro Electric is cheaper, yet has more range and tech
Vauxhall has given its Vivaro Electric panel van a mid-life refresh with a new face and some of the latest tech