Tethered or untethered home charger?
All the pros and cons of home wallbox chargers with either tethered or untethered cables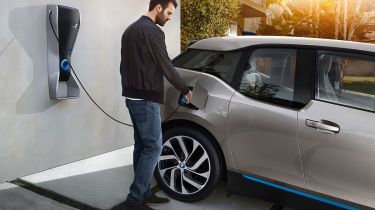 If you've just bought or are planning on buying a new electric car, you are probably now considering which type of home wallbox charger to install. What you now need to know is whether to choose a tethered or untethered style box. It's fairly self-explanatory what each one is – tethered means it has a cable attached to the box that you plug into your car, while untethered is designed to be used with a cable that plugs into your car at one end and the box at the other. There's a price difference between the two, so you probably want to know which is best so you can get the best deal. Read on to find out more about each type of charger and what the pros and cons of each are.
Tethered wallbox chargers
Tethered wallbox chargers are more convenient than untethered boxes, so this is the style most buyers go for. It means you don't have to find your cable to be able to charge up – you just arrive home, park next to the box, unwind the cable and plug in. There is a possibility that by choosing a tethered charger you could end up with a box that you can't use. It seems unlikely that anything other than Type 2 will be the norm in the future, but advances in tech could make it obsolete – or you might buy a car with a CHAdeMO charger in the future. You'll also have to make sure you wind the cable back up and store it neatly, otherwise you risk driving over it or damaging it in some other way. You might also need a longer cable in the future, for example if you buy a car with the charging port in a different place.
Untethered wallbox chargers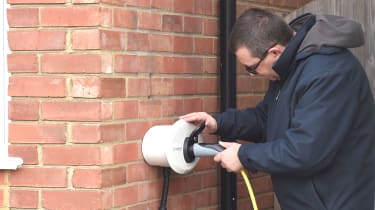 You need to have your own charging cable for an untethered wallbox, and while most cars come with this as standard, it's sometimes an optional extra and can cost upwards of £100 to replace if you lose it. It's more inconvenient than a tethered charger because every time you arrive home, you'll need to open the boot, or wherever the cables are stored in the car, get them out and plug in at both ends. Then you have to do the reverse when you set off. However, without a cable, untethered units look a bit tidier on your driveway, and you can purchase cables of different lengths as required. They're also the best way of future-proofing your charger, as you can simply upgrade the plug configuration when you need to.
Where can I buy hydrogen and where is my nearest hydrogen filling station?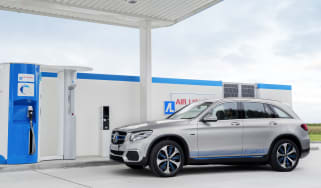 Where can I buy hydrogen and where is my nearest hydrogen filling station?
A guide to where you can find UK hydrogen fuel stations for filling up a hydrogen fuel-cell car
Tesla Supercharger network: complete guide to Tesla charging stations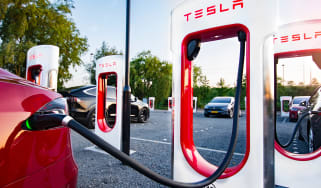 Tesla Supercharger network: complete guide to Tesla charging stations
The Tesla Supercharger network is expanding fast, providing reliable rapid charging throughout the UK to Tesla and non-Tesla owners alike
Top 10 best electric SUVs 2022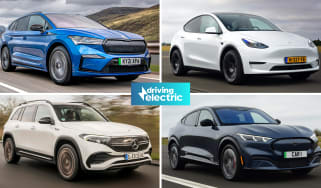 Top 10 best electric SUVs 2022
Electric SUVs combine style and practicality with low running costs, making them a very popular choice in the UK. Here are our top 10 favourites to bu…