Top 10 best 4WD electric cars 2022
We pick the best four-wheel-drive electric cars to buy in the UK right now, with options to suit various budgets and lifestyles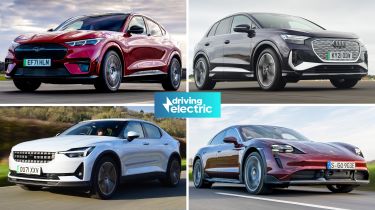 In petrol and diesel-engined cars, four-wheel-drive (4WD) tends to be reserved for SUVs and performance models, as it adds both cost and complexity. It's more common in electric cars, though, because here it only requires the addition of a second electric motor – no transfer box or extra mechanical gubbins are necessary.
The benefits of four-wheel drive include more grip in harsh conditions like snow or heavy rain compared to a two-wheel-drive car. Plus, it also increases traction in the dry, which helps electric cars achieve the super-quick acceleration times that can embarrass petrol-engined supercars.
Four-wheel-drive isn't always standard on electric cars – in some cases, it's reserved for more expensive or more powerful versions, but in a lot of cases on this list, dual motors are standard. So without further ado, here's our rundown of the best four-wheel-drive electric cars you can buy – from SUVs to estates:
Make sure to check out the winners of the 2022 DrivingElectric Awards and our list of the best electric cars to buy in 2022, too – and don't forget to follow DrivingElectric on Twitter, Facebook, Instagram and YouTube for the very latest news and reviews from the world of hybrid and electric cars.
1. Hyundai Ioniq 5
The Hyundai Ioniq 5 is quite simply one of the best electric cars there is, with top-spec models getting all-wheel-drive, around 300 miles of range, rapid charging at up to 220kW and a stunning interior. It makes the most of its dedicated EV platform by offering loads of interior space, as well as dramatic, space-age styling, loads of technology and a powerful set of electric motors for instant, punchy performance. Read our full Ioniq 5 review here.
2. BMW iX
BMW's long-awaited zero-emissions flagship, the iX is an X5-sized SUV that has the Tesla Model X in its sights. The iX showcases a bold new design language that's set to appear across all of the brand's future pure-electric models. All versions get a pair of electric motors producing between 322bhp (in the entry-level xDrive40) all the way up to 611bhp (in the range-topping M60). The luxury SUV also offers up to 380 miles of range, while 200kW charging allows for a 10-80% top-up in just 34 minutes. Read our full iX review here.
3. Porsche Taycan Cross Turismo
The Taycan Cross Turismo is a version of the Porsche Taycan with four-wheel drive and a more practical estate-like body shape. It uses the same drivetrain as its sister models, but is four-wheel drive only. There are several versions, but the most powerful Turbo S makes an incredible 751bhp and goes from 0-62mph in 2.9 seconds. There's a new configuration for the Porsche Active Suspension Management (PASM) system to allow some off-road ability on gravel tracks, so despite the Taycan's sporty image in standard form, the Cross Turismo is intended to be used rurally. The longest-range model can go 283 miles on a charge. Read our full Taycan Cross Turismo review here.
4. Tesla Model Y
The Tesla Model X may be the luxury electric SUV to beat, but its showy gullwing doors aren't to everyone's taste. That's why it's the smaller Model Y that appears on this list, as it combines the practicality of an SUV with Tesla's cutting-edge in-car technology, but in a far more restrained and less expensive package. Essentially an SUV variant of the Model 3, there are two versions of the Model Y available in the UK, both of which feature four-wheel drive.
The Long Range offers a claimed range of 315 miles, while the Performance is capable of 0-60mph in just 3.5 seconds – all while boasting 854 litres of boot space (measured to the roof) plus an extra 117 litres in the 'frunk' under the bonnet. Both versions will also rapid-charge from 0-80% in 36 minutes from one of the latest Tesla Superchargers. Read our full Model Y review here.
5. Kia EV6
Only the entry-level version of the Hyundai Ioniq 5's sportier sister car is rear-wheel drive, with the rest of the EV6 line-up featuring dual motors for all-wheel traction. The Kia excels on a twisty road and is overall one of the most enjoyable electric cars we've driven. The regular dual-motor version produces 321bhp and 605Nm of torque for 0-62mph in just over five seconds, while a range-topping 576bhp GT model offers a neck-snapping 3.5-second 0-62mph time. The electric coupe-SUV also features a technology-filled cabin, a large boot and ultra-rapid charging capability. Read our full EV6 review here.
6. Skoda Enyaq iV
The Enyaq iV is another electric SUV available in two or four-wheel drive form. It has a choice of powertrains and trim levels, but if it's four-wheel drive you want, you'll have to upgrade to the '80x' model, which has 262bhp on tap and a range of 311 miles (slightly less than the front-drive car's 323). Skoda's first electric car can also top up from 10 to 80% battery capacity in 33 minutes thanks to 135kW rapid-charging capability. A plush interior, plenty of kit and a 585-litre boot complete the package. Read our full Enyaq iV review here.
7. Audi Q4 e-tron
The Q4 e-tron is a bit more mainstream and a lot more affordable than the first Audi e-tron SUV. Built on the same platform as the Enyaq iV and Volkswagen ID.4, the Q4 takes the best of these cars and adds significant upgrades in terms of quality, comfort and on-board technology. The Q4 e-tron 50 is the one to go for if you want four-wheel drive. The added power requirements of the extra motor are offset by a larger 77kWh battery, resulting in a range of up to 294 miles. Read our full Q4 e-tron review here.
8. Jaguar I-Pace
The I-Pace from Jaguar continues to be one of the best-handling electric cars on sale, even a few years after launch. With an electric motor on each axle providing all-wheel drive, it has impressive grip that should see it cope well when conditions turn nasty. While it misses the ground clearance that gives other 4x4s the edge off road and can only tow a 750kg trailer, it nevertheless has plenty of traction and power. And with a 0-60mph time of 4.5 seconds, it's among the fastest SUVs on sale. Read our full I-Pace review here.
9. Ford Mustang Mach-E
Named after the brand's famous 'pony car', the Mustang Mach-E has a lot to live up to. Thankfully, while it's still a practical, spacious family SUV with loads of technology inside, the Mach-E handles well, too, preserving Ford's reputation for producing entertaining family cars. Four-wheel-drive versions of the Mach-E are available with either a standard or extended-range battery for ranges of 248 and 335 miles respectively, and a 0-62mph time of around six seconds. The range-topping Mach-E GT also gets a dual-motor setup, pumping out 480bhp and 860Nm of torque, which is enough for a 0-62mph time of 3.7 seconds. Read our full Mustang Mach-E review here and our review of the Mach-E GT as well.
10. Polestar 2
The Polestar 2 is the Volvo spinoff brand's answer to the Tesla Model 3, with the striking Swedish coupe-SUV featuring a Google-powered cockpit, a minimalist interior and great build quality. Entry-level, front-drive models were added in 2021, but the top-of-the-range variant still uses a 78kWh battery to power a pair of electric motors, one for each axle. This setup makes 402bhp, so performance is strong: 0-62mph takes less than five seconds, while range stands at 298 miles. A 10-80% recharge also takes just over half an hour, as long as you use a 150kW rapid charging-point. Read our full Polestar 2 review here.
Top 10 best hybrid and electric sports cars 2022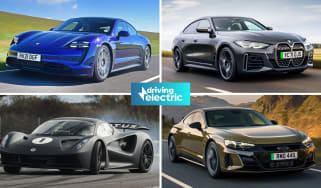 Top 10 best hybrid and electric sports cars 2022
Top 10 best electric cars 2022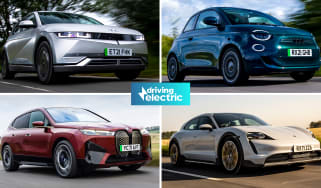 Top 10 best electric cars 2022
Complete guide to the Gridserve (formerly Ecotricity) Electric Highway charging network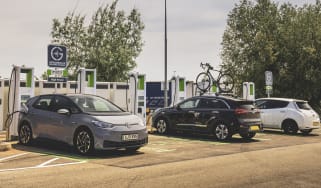 Complete guide to the Gridserve (formerly Ecotricity) Electric Highway charging network
Need to charge your electric vehicle on the Gridserve Electric Highway network? Here's how it works, how much it costs and how to pay
Top 10 best seven-seater electric and hybrid cars 2022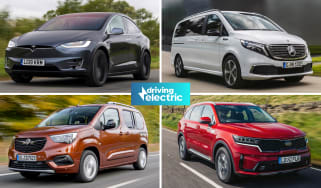 Top 10 best seven-seater electric and hybrid cars 2022
If the regular crop of electrified SUVs and family cars don't provide enough practicality for you, then take a closer look at the range of electric an…
Top 10 best electric cars 2022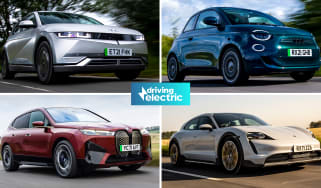 Top 10 best electric cars 2022
Here, we run through our favourite new electric cars that you can buy right now in the UK…