Top 11 best 4WD electric cars 2021
We pick out the best four-wheel-drive electric cars to buy in the UK right now, with options to suit various budgets and requirements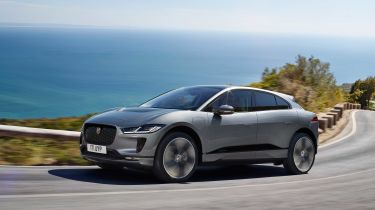 Many electric cars use four-wheel drive (4WD), which is a shift away from the norm for combustion-engined cars. There are extra linkages and mechanical parts needed to make an engine drive all four wheels, but since electric motors are compact and easily placed on each axle, you can see why so many EVs are driven by all four wheels – and not just SUVs.
Four-wheel-drive cars have more traction, especially in harsh conditions like snow or heavy rain, than two-wheel-drive cars. It also increases traction in the dry, which helps EVs to achieve those unbelievable acceleration times that are being marketed alongside them. There were plenty of drawbacks to consider with four-wheel drive cars in the past, like the added complexity and weight, but with electric cars this is no longer an issue – you simply add one more motor to the axle that's not already driven, and you've got a four-wheel-drive model. This is the case on models where there's a choice, but in most cases on this list the manufacturers have gone with the dual-motor setup for every model in the range. 
Below you'll find our picks for the best four-wheel-drive electric cars you can buy in 2021, with options for a range of budgets. Most are SUVs simply because most EVs are SUVs, but four-wheel drive is available on all sorts of models. Read on to find out the best 4WD EVs, then read more about each in our full in-depth reviews – and don't forget to follow DrivingElectric on Twitter, Facebook, Instagram and YouTube for the very latest on these and other electric and hybrid cars.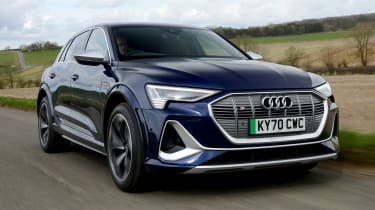 Audi e-tron
Audi's quattro four-wheel-drive system is very well known. From Group B rally cars to rugged family estates, the quattro badge is synonymous with tough and capable vehicles. That lineage continues with the brand's first fully electric car, the e-tron SUV. Featuring an electric motor on each axle and similar ground clearance to Audi's Q5 and Q7 SUVs, the e-tron feels surefooted in all conditions and is capable of towing (up to 1,800kg) or driving across a slippery field. There's a choice of power outputs and two bodystyles – standard and Sportback – as well as a sporty e-tron S model (pictured above) with 496bhp. Read our full review of the Audi e-tron here and its e-tron Sportback sister model here.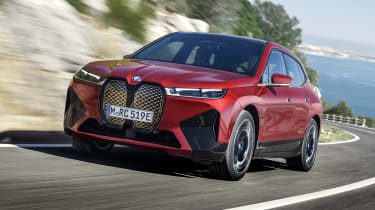 BMW iX
The long-awaited production version of the BMW Vision iNEXT concept, the iX is a BMW X5-sized SUV that's aimed at the Tesla Model X. The iX showcases a bold new design language that's set to make its way across all of the brand's future pure-electric models. Sales start in the second half of 2021. Power comes from two electric motors producing a total of 496bhp, while the 100kWh battery allows for a 370-mile range. The 0-62mph sprint is handled in under five seconds, while 200kW charging allows for 10-80% top-up in just 40 minutes. Read our full BMW iX review here.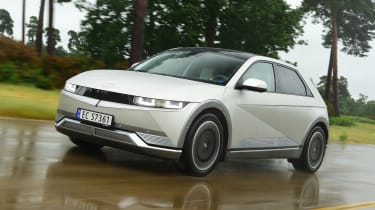 Hyundai Ioniq 5
The Hyundai Ioniq 5 is available in four-wheel drive in top-spec form, but most versions are two-wheel drive. It's one of the best electric cars there is, with around 300 miles of range, rapid charging at up to 350kW chargers and a stunning interior. It makes the most of its dedicated EV platform by offering loads of interior space, as well as dramatic exterior looks, loads of technology and a powerful set of electric motors for instant, punchy performance. Read our full Hyundai Ioniq 5 review here.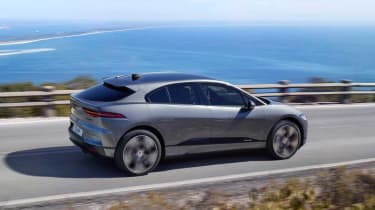 Jaguar I-Pace
The I-Pace from Jaguar is one of the best-handling electric cars on sale. And with an electric motor on each axle giving it all-wheel drive, it has impressive grip that should see it cope well when the conditions turn nasty. While it misses the ground clearance that gives other 4x4s the edge off road, and while it can only tow a 750kg trailer, it has plenty of traction and power. And with a 0-60mph time of 4.5 seconds, it's among the fastest SUVs on sale. Read our full Jaguar I-Pace review here.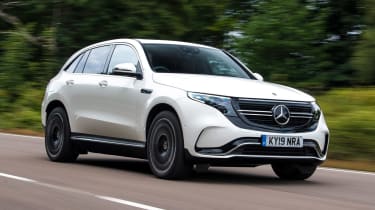 Mercedes EQC
The EQC is a luxury mid-sized electric SUV that offers four-wheel-drive grip and a bit more ground clearance than you get in a Mercedes saloon or estate car. If you need a tow car with a raised seating position and plenty of all-weather grip, the EQC is a good choice, with an 1,800kg trailer limit. It lacks the true go-anywhere ability of some of the other cars in this list, however. Power comes from an 80kWh battery giving a driving range of close to 260 miles, short of the I-Pace above. Two electric motors, one on each axle, provide four-wheel drive and 402bhp. Read our full review of the Mercedes EQC here.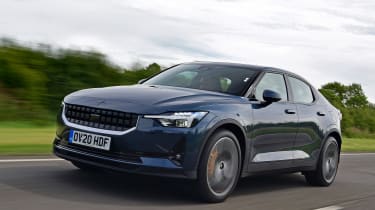 Polestar 2
The Polestar 2 is a luxury electric car from Volvo's electric-only premium spin-off brand. It's a rival for the Tesla Model 3 and Jaguar I-Pace and uses a 78kWh battery powering two electric motors, one for each axle. This setup makes 402bhp, so performance is strong: 0-62mph takes less than five seconds. The 2 has coupe-SUV looks so it has plenty of appeal to modern car buyers, but of more importance is the useful 292-mile range, and a very impressive charging time from 10-80% in less than half an hour (from a 150kW charging source). Read our full review of the Polestar 2 here.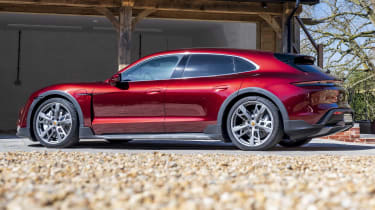 Porsche Taycan Cross Turismo
The Taycan Cross Turismo is a version of the Porsche Taycan with four-wheel drive and a more practical estate-like body shape. It uses the same drivetrain as its sister model, but is four-wheel drive only. There are several versions, but the most powerful Turbo S model makes an incredible 751bhp, which means it can go from 0-62mph in 2.9 seconds. There's a new configuration for the Porsche Active Suspension Management (PASM) system to allow some off-road ability on gravel tracks, so despite the Taycan's sporty image in standard form, the Cross Turismo is intended to be used rurally. The longest-range model can go 283 miles on one charge. Read our full Taycan Cross Turismo review here.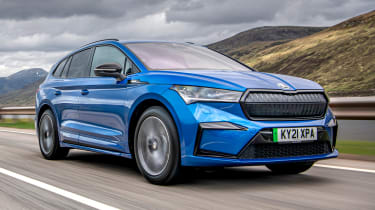 Skoda Enyaq iV
The Skoda Enyaq iV is an all-electric SUV that's available in two or four-wheel drive form. It has a choice of powertrains and trim levels, but for four-wheel drive, you need the '80x' model, which has 262bhp and a driving range of 311 miles (slightly less than the front-drive car's 323 miles). The Skoda electric car can rapidly charge from 10 to 80% battery capacity in 40 minutes when upgraded to 125kW charging capability (an optional extra). A plush interior, plenty of kit and a 585-litre boot complete the package. Read our full Skoda Enyaq iV review here.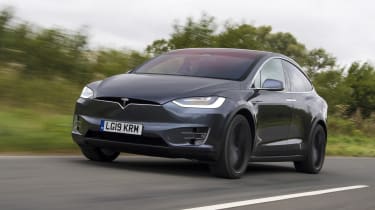 Tesla Model X
With its spaceship-like styling and 'Falcon Wing' doors, the Model X is the SUV to choose if you want to draw a crowd. While it lacks the ground clearance of some cars here, the Tesla has permanent four-wheel drive thanks to an electric motor on each axle. This will give it enough traction to cope with snow, but you might want to think twice about entering the Dakar Rally. The Model X can seat seven and has incredible performance: the fastest models hit 60mph in under three seconds and can travel 314 miles between charges. Read our full Tesla Model X review here.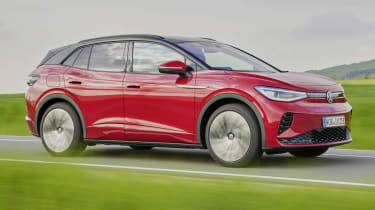 Volkswagen ID.4
The Volkswagen ID.4 is the brand's electric family SUV contender, with a range of up to 324 miles. It's a very convincing proposition: practical, well equipped and good to drive, and four-wheel drive should be available in due course. There's a choice of powertrains: we tried a 201bhp model with a 77kWh battery, but a smaller 52kWh battery is coming, with a choice of either 146 or 168bhp power outputs. You can top up quickly thanks to 125kW charging capacity, which should take the biggest battery model from 10-80% in half an hour. Read our full ID.4 review here.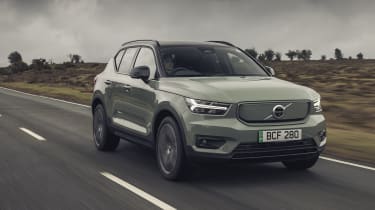 Volvo XC40 Recharge P8
The XC40 Recharge P8 is Volvo's first electric car, based on its smallest SUV model. With four-wheel drive from two electric motors – one on each axle – it's capable workhorse with lots of grip and towing ability. It's fast too, with a 78kWh battery, 402bhp and 660Nm of torque, giving a 0-62mph time of just 4.9 seconds. Range is a respectable 260 miles, with a quick charge taking you from 0-80% capacity in around 40 minutes. Read our full XC40 Recharge P8 review here.
Top 10 best seven-seater electric and hybrid cars 2021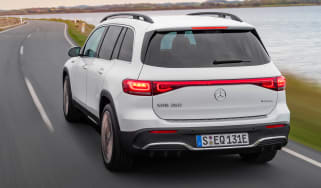 Top 10 best seven-seater electric and hybrid cars 2021
If the regular crop of electrified SUVs and family cars don't provide enough practicality for you, then take a closer look at the range of electric an…
Top 10 best luxury electric cars 2021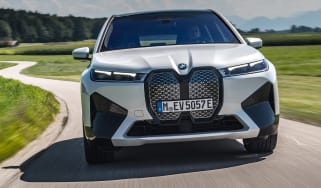 Top 10 best luxury electric cars 2021
From Audi to Tesla, here are our top picks of the most luxurious zero-emissions motoring options on the market right now
2021 Volvo XC40 Recharge electric SUV: single-motor version on sale now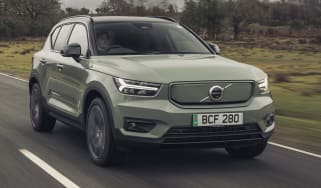 2021 Volvo XC40 Recharge electric SUV: single-motor version on sale now
Volvo has introduced a new single-motor version of its electric SUV, available in two trim levels and with prices starting from £48,300