What is the cost of running an electric car?
Electric cars are cheaper to run than their petrol and diesel counterparts, but exactly how much does an electric car cost to run?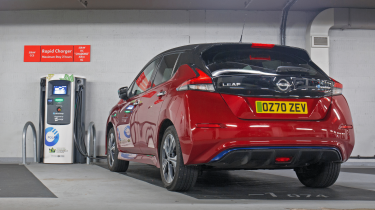 While the situation is improving, electric cars remain on average more expensive to buy or lease than their petrol or diesel combustion-engined equivalents. But a list price or monthly payment doesn't paint the full financial picture: even in the context of rising energy prices, switching to electric motoring save you considerable chunks of money in the long run, thanks to EVs' low running and servicing costs. 
Overall, the total cost of ownership – or 'TCO' – for an electric car is significantly lower than that of a petrol or diesel-engined vehicle – especially if you keep the initial outlay as low as possible by choosing one of the cheapest electric cars on sale.
So, what exactly is responsible for that lower TCO? And what costs do you need to consider before buying your first electric car? Here, we explain the cost breakdown of electric-vehicle ownership.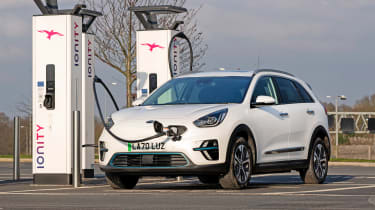 The cost of charging an electric car
After purchase, the main expense associated with electric vehicles is recharging. Just as normal cars need to be periodically refuelled with either petrol or diesel, electric vehicles need to be regularly topped up with electricity. Unlike refuelling, though, charging taking place either at home using a wallbox charger or at a public station. Where and when you charge determines how much you'll pay.
According to government estimates, 90% of charging takes place at home, with many homeowners investing in a dedicated wallbox charger to make the process safer, faster and more convenient. They can cost from several hundred to over £1,000 to buy, however, this is a one-off cost that quickly pays for itself.
After that, it's a matter of your energy tariff. Currently, electricity costs around 28p per kilowatt-hour on an average household tariff. That means it'll cost around £15 to completely recharge the 52kWh battery in a Renault ZOE. That works out at roughly 6p per mile, thanks to the ZOE's 245-mile range.
Even the most efficient petrol and diesel cars are likely to cost three or four times as much to run. However, you can reduce that figure further if you're able to take advantage of a dual-rate tariff and schedule your car's charging sessions for specific time periods at night when lower electricity prices are offered.
Public charging stations tend to be more expensive to use, with rates charged by major networks as of June 2022 varying from 49 to 72p per kilowatt-hour, meaning a comparable full charge of a Renault ZOE could cost from anything from £25 to nearly £40. Not cheap, but still a lot cheaper than full tank of fuel. However, you're unlikely to fully replenish your battery from near-empty to full at these stations; they're more commonly used for quick top-ups while you stop for coffee or a bathroom break, to see you as far as your destination.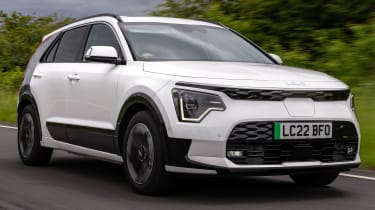 Road tax for electric cars
Fully electric cars are currently 'zero rated' for road tax, so there's no Vehicle Excise Duty (VED) to pay. This can bring big savings over the years. Currently, all other vehicles are taxed based on how much carbon-dioxide they emit. For example, the Hyundai Kona Electric costs nothing to tax, as it emits no CO2 at all. However, the petrol hybrid version emits between 112 and 115g/km of CO2, and so costs £155 a year to tax.
Partnership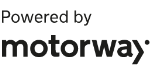 Need to sell your car?
Find your best offer from over 5,000+ dealers. It's that easy.
Company-car drivers also benefit hugely from the lower Benefit-in-Kind (BiK) rates for electric cars. For the 2022/23 and 2023/24 financial years, that's set at 2%. Compared to an entry-level diesel Mercedes C-Class saloon, which attracts a 29% company-car tax rate and so would cost £2,414 a year for a 20% taxpayer to run, a Tesla Model 3 Long Range would cost the same taxpayer only £220 a year in BiK.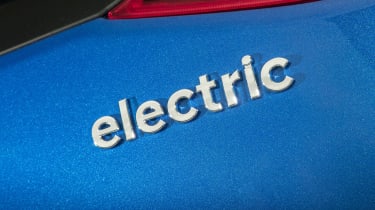 How much do electric cars cost to service?
Another big bill that many motorists fear is servicing and repairs. The good news is that electric vehicles are in general cheaper to service and maintain than their petrol and diesel counterparts. The government's Go Ultra Low campaign estimates electric vehicles can be up to 70% cheaper to service and maintain. This is largely because they have fewer moving parts and fewer items that wear over time.
For example, a 36-month service plan on a BMW i3 costs around £15 per month, compared to £20 for a BMW 1 or 2 Series, or £25 for a 3 Series. The same goes for other brands. Nissan, for example, charges £13.99 per month for its two, three or four-year service plans when purchasing an electric car, rising to £19.99 for petrols and £23.99 for diesels.
Where the real savings come is when you need to replace parts after the warranty runs out. Electric cars don't need oil filters and have no cambelts or other items that are costly to replace.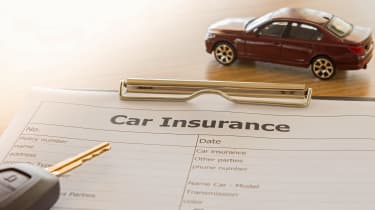 How much do electric cars cost to insure?
Insurance prices in the UK have risen in recent years, and although electric vehicles are different from conventional cars, they also have to be insured. While servicing, fuel and tax are cheaper for electric cars compared to conventional vehicles, electric vehicles have tended to be more expensive to insure.
This is partly because repair costs are higher, but also because there aren't enough trained technicians in the UK to do the work. Research conducted in 2017 found that some electric vehicles can cost 45% more to insure than conventional cars. However, this isn't always representative.
Our research found we could be insured on a Hyundai Kona Electric for £648 a year. Using the same details of a 42-year-old engineer living in Banbury, Oxford, who's married and a house owner, the insurance on a diesel Kona cost £612.
Volvo EX30 electric SUV undercuts Vauxhall Mokka Electric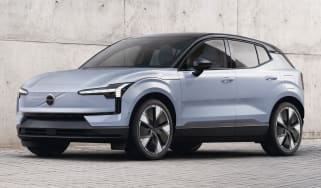 Volvo EX30 electric SUV undercuts Vauxhall Mokka Electric
Volvo has revealed its smallest electric car which boasts a range of up to 298 miles
New electric cars coming in 2023 and beyond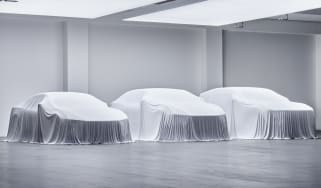 New electric cars coming in 2023 and beyond
With electric cars making up an ever-increasing proportion of sales, the industry is working flat out to launch new models – here's what's on the way …
Peugeot e-2008 facelift is now on sale with more electric range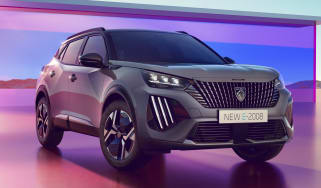 Peugeot e-2008 facelift is now on sale with more electric range
The updated e-2008 SUV gets a refreshed look and a 252-mile range