Electric car insurance: are electric vehicles expensive to insure?
Everything you need to know about insuring an electric car, including how expensive it is and why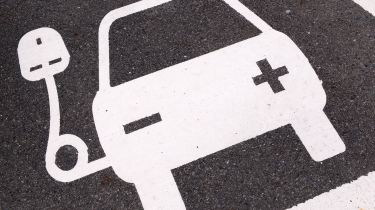 Electric cars are becoming a familiar sight on the UK's roads and while they're very different under the bonnet to petrol and diesel vehicles, they need to meet the same rules and regulations as vehicles have for decades. That includes valid insurance cover (from third-party level at least), to legally drive an EV on the public roads.
Insurance is an unavoidable and often irritating expense for all motorists – electric or otherwise – but there's no question it's worth paying for. Quite apart from the legal obligation, there are over 180,000 incidents a year on UK roads, so the chances of getting involved in a scrape may be higher than you think.
Mainstream insurance companies these days have no problem covering electric cars, quoting them in exactly the same way they would for a combustion-engined model. However, depending on the car, you may find premiums slightly higher than for an equivalent petrol or diesel-fuelled car. Here, we take a look at why this may be, as well as exploring ways you can minimise your premium.
Are electric cars more expensive to insure?
As more consumers go electric, more people are noticing that their premiums are more than they might be used to paying on a combustion vehicle. With cars like the Tesla Model Y among the UK's best sellers, some owners may be wondering why Tesla insurance is so high – despite the cars being nominally similar to others on the market.
According to Martin Smith, technical claims manager for insurance company Aviva, there's nothing about electric cars that makes them intrinsically more expensive to insure. At the end of the day, it's still a four-wheeled vehicle with a motor operated by a human driver – and it's the human driver's record and claims history, as well as other factors such as anticipated annual mileage, usage and location, that have the greatest bearing on the insurance premium you pay.
Nonetheless, electric cars can still be more expensive to insure than an otherwise directly comparable petrol or diesel counterpart. In 2017, research by price-comparison website Comparethemarket found that some electric cars could cost as much as a 45% more to insure than their conventional counterparts at the time
However, the situation seems to have improved; more recent figures show the gap is shrinking. Another comparison site, GoCompare, reported that the average cost of an electric car's insurance policy (fully comprehensive) was £470.57 – only a little more than the overall average of £458. Similar data from MoneySuperMarket showed that between 2021 and 2022, average electric car insurance premiums fell by £141, from £1,238 to £1,097. That's a little more than petrol cars, but going in the right direction.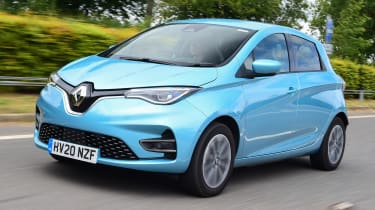 Insurer LV released data in early 2021 that showed in some cases it's cheaper to insure an electric model, and in other cases can cost around 10% more. According to LV, a Renault ZOE was 8% cheaper to insure on average than a Renault Clio (£287 vs £311), whereas a Nissan Leaf was only 8% (or £23) more expensive to cover than a Nissan Micra (£301 vs £278). Similarly, premiums for a Hyundai Kona (£299 electric vs £283 petrol) and Kia Niro (£307 electric vs £289 petrol) were found to be 6% more than combustion equivalents.
Partnership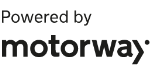 Need to sell your car?
Find your best offer from over 5,000+ dealers. It's that easy.
The difference in premiums for electric and combustion-engined vehicles can be larger for younger drivers. According to April 2021 research from BookMyGarage.com, quotes for a 22-year-old on an electric car were on average 20% higher than for petrol and hybrid models, compared to just 10% higher for a 35-year-old
Why can electric cars be more expensive to insure?
While electric cars have fewer moving parts than petrol and diesel cars, some components like the lithium-ion batteries are very expensive to repair if damaged. Insurance providers take this into account when calculating premiums.
According to Jonathan Hewett, chief executive of Thatcham Research: "When it comes to EVs, the insurance industry – and the motor industry – have relatively little experience. Product development must include design for repair, with repair technicians appropriately trained and equipped not only in the vehicle manufacturers' own networks but also in the independent repair sector.
"And although battery costs are coming down, they still represent up to 40% of the cost of the vehicle; everything must therefore be done to prevent the current lack of battery repairability resulting in a relatively minor shunt ending with the insurers writing off the vehicle.
"In an ideal world, vehicle manufacturers would factor in ways for body shop repairers to work safely on vehicles with high voltage systems, without those repairers needing to use specialist and proprietary diagnostic equipment. The goal should be an EV customer experience that equals or betters the expectations shaped by the long-established combustion-engine ecosystem – but this can only be achieved through collaboration between vehicle manufacturers, the independent repair sector, and the insurers."
Our sister title Auto Express reported that just a fraction of UK mechanics are qualified to work on electric cars. Between 13,000 and 20,000 technicians are qualified – around 5% of the total. Steve Nash, CEO of the Institute of the Motor Industry (IMI), has said that more than eight in 10 independent garages are struggling to recruit technicians qualified to work on electric cars and hybrids.
The good news is, electric car buyers feeling the sting from high insurance premiums aren't doomed to pay huge prices forever, with costs expected to decrease over time. As manufacturers find ways to cut production costs, and as the number of qualified technicians increases, electric-car drivers should enjoy lower premiums in future. The situation has improved somewhat since the above-mentioned 2016 survey; as our guide to electric car repairs and maintenance details, you can use the Hybrid and Electric Vehicle Repairers Alliance (HEVRA) website to search for a local qualified mechanic.
According to Aviva's Martin Smith, as the technology and skills needed to repair electric cars become more widespread, the effect of these factors on electric-car insurance will flatten out. "Essentially, there's nothing unique to electric cars that makes them more expensive to insure," he says. "They're like any other car. If it's very expensive or has a lot of technology,  those are things that can contribute to a higher premium."
Which explains why with certain high-value models, notably those from Tesla, other factors such as the cars' very high performance, the availability of parts, and aspects of the car design itself can make repairs more difficult or costly on top of the reasons mentioned above. While Teslas can be unusually expensive to insure relative to others in their class, the high costs are less unusual in context of other fast, high-tech cars on the market.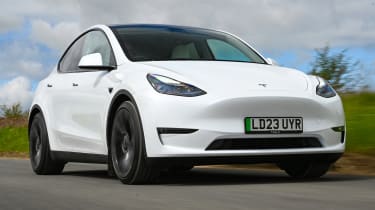 What to tell your insurer if you own an electric car
There are a couple of things you should let the insurer know before purchasing the policy. The most important is whether you have a battery lease on the car or not. If you're leasing the battery separately, you need to let your provider know to prevent any issues should you have to make a claim.
It's worth mentioning, though, that battery leasing is very rare these days, as early concerns about the long-term life of electric-car batteries have largely been allayed, but you may have to bear it in mind if you've bought an older electric car second hand – keep an eye out for some older models from Renault and Nissan, which operated battery leasing on cars like the ZOE and Leaf in the past. Another point to consider is where you'll charge the car. If you're charging it regularly at home, but park on the street outside and need to trail a charging cable across a public footpath to reach your car, have the charging cord lying on a public footpath, you have a duty of care to members of the public to prevent them tripping and hurting themselves on the cord.
You don't necessarily need a specialist electric-car insurance policy to take account of these factors, however. As Aviva's Martin Smith says: "An electric-vehicle policy will probably cover you for a trip event, but your standard motor policy will provide that cover, too."
How can I bring my electric-car insurance down?
There are several ways to lower your premium on an electric car. The first is by shopping around for the best deal. Comparison sites are a good start, but not all insurers – especially specialist providers – are listed. This is why it's also worth considering using an insurance broker.
Paying your premium all at once will work out cheaper than going for monthly instalments, as these often include interest charges – though for higher-risk individuals, higher-risk postcodes, or those trying to insure a car in a high insurance group, paying up front may not be a realistic option. You should also consider installing a 'black box' – a telematics device – in your car. These monitor driving behaviour such as how fast you're going, whether you're braking and accelerating aggressively and your corner speeds. Good behaviour is rewarded with cheaper premiums, with drivers able to save up to 20% compared to normal policies.
Finally, you could consider a dash cam. These are small cameras that sit on the dashboard, continuously recording what's happening in front of the car. If a crash were to occur, this could prove crucial in proving who was to blame and whether or not your insurer will pay out. Some providers offer discounts up to 20% for dash-cam users, but make sure to contact your provider and ask them if they offer any discounts for a dash cam before shelling out for one.
It's worth remembering too that while electric car insurance can be expensive, you may still be paying much less overall to run an EV if you're moving over from a combustion vehicle, thanks to lower taxation rates, servicing costs, and of course, the cost of charging the battery compared to filling up a tank.
New Fisker Ocean Sport washes up in the UK: £36k for a 288-mile range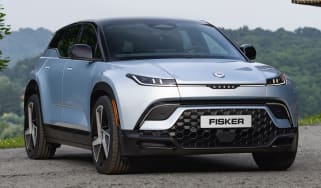 New Fisker Ocean Sport washes up in the UK: £36k for a 288-mile range
American EV startup Fisker has just launched its entry-level Ocean SUV in the UK, with a range of up to 288 miles
Big price cut: Electric Renault Megane prices slashed in time for Christmas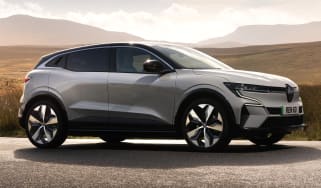 Big price cut: Electric Renault Megane prices slashed in time for Christmas
Renault Megane E-Tech gets a price drop of up to £3,500, bringing the starting price to just £34,495