Top 10 most efficient electric cars
Electric cars are all about sustainability; we showcase the most efficient EVs you can buy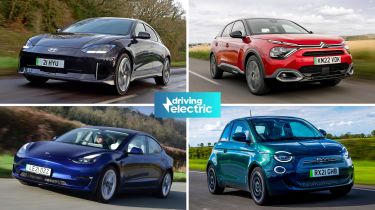 Range and recharging speeds are only a small part of the puzzle when it comes to electric motoring. Efficiency is arguably even more important, just as it was with combustion-powered vehicles – and car manufacturers have been working hard to ensure the latest EVs effectively do more with less.
The same factors make a difference here that they always have with fuel-efficient cars. Ideally you want a slippery, aerodynamic shape to cut through the wind as easily as possible. You need low rolling resistance, which is why EV tyres often use special compounds to minimise drag from the road. Low weight helps at lower speeds in particular, meaning less energy is needed to get moving, while an efficient drivetrain (an inherent EV benefit) helps convert as much energy into motion as possible.
Below you'll find the 10 most efficient electric cars currently on sale, ranked on miles per kilowatt-hour, or mi/kWh. For comparison purposes, we've used official WLTP (Worldwide Harmonised Light Vehicle Test Procedure) numbers as provided by manufacturers. The usual caveat applies – things like driving style and weather conditions can affect how efficient your car is.
Regardless, most electric cars will show you their energy use in mi/kWh in real time, and the higher the number the better. The most efficient cars on sale are now over the 4mi/kWh mark, but anything close to this figure is good going – something the cars below all achieve. If you're looking for an EV that can really go the distance, why not check out our list of the longest-range electric cars you can buy?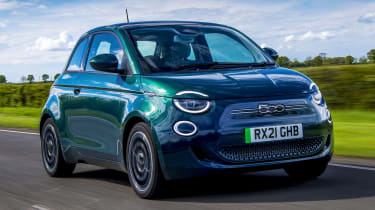 1. Fiat 500e - 4.4mi/kWh
Expanding on the idea that going smaller and lighter is as beneficial for efficiency as sleek aerodynamics, the top model in our list is one of the most compact cars on sale. In fact, the Fiat 500e is the smallest of all the cars here, measuring just over 3.6 metres in length. That's a touch larger than the combustion-powered 500, but small for a modern EV.
The 500e is just over 1,400kg at its absolute heaviest too, so doesn't need much energy to get going – something that contributes to its impressive 199-mile range when fitted with the larger 42kWh battery. It'll be a little less in the real world but that's not bad from such a compact car, and the other benefits of the 500's small size include nimble handling and easy parking.
Read our full review of the Fiat 500e to find out more.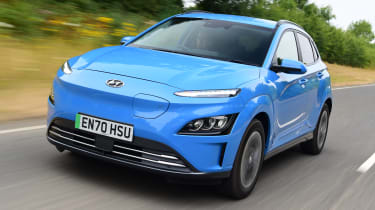 2. Hyundai Kona Electric - 4.3mi/kWh
If premium models like the Hyundai Ioniq 6, Tesla Model 3 and Polestar 2 illustrate the benefits of a sleek, wind-cheating design, the small crossover shape of the Hyundai Kona Electric might lead you to believe it couldn't possibly be as efficient. Yet like the Fiat 500 above there's merit in making a car smaller and lighter too, and simply engineering it well – which is the case here.
In its longest-range form the Kona can in theory cover 300 miles on a 64kWh battery pack, which compares very favourably indeed with the more expensive models here. There's clearly aerodynamic optimisation at work, with no grille at the front and aero-style wheel covers, but it's also around 250kg lighter than the Ioniq 6, which especially helps at lower speeds.
Partnership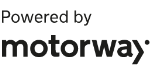 Need to sell your car?
Find your best offer from over 5,000+ dealers. It's that easy.
There's a brand-new Hyundai Kona Electric due later this year, and we expect it to follow in its efficient forbear's footsteps.
Read our full review of the Hyundai Kona Electric to find out more.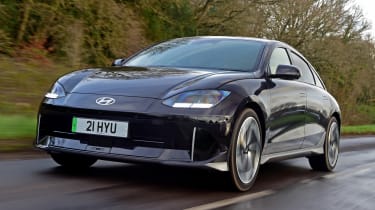 3. Hyundai Ioniq 6 - 4.3mi/kWh
Hyundai has created one of the slipperiest shapes on the market with the Ioniq 6, with a drag coefficient of just 0.21Cd – most conventional cars are closer to the 0.3 mark. With air resistance one of the main barriers to EV efficiency, a car that slips through the air more easily should also use energy at a slower rate.
And so it proves with the Ioniq 6. It's a relatively large and heavy car compared to some on this list but also one of the most frugal, stretching as far as 338 miles from a 77.4kWh battery pack. Perhaps the best illustration of the importance of aerodynamics here is that the Hyundai Ioniq 5, using the same drivetrain and battery size, falls shy of the Ioniq 6's maximum range by 23 miles.
Read our full review of the Hyundai Ioniq 6 to find out more.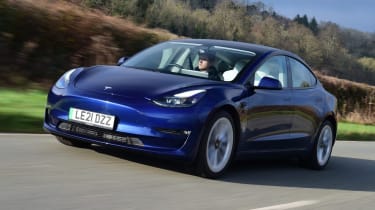 4. Tesla Model 3 - 4.3mi/kWh
The Model 3 is far from the newest EV on sale today, but to Tesla's credit, it's still one of the most capable. Not only does it still rank among the quickest electric cars in its class – and in Long Range form go further than most – but it's highly efficient at using its energy too.
It's not quite as aerodynamic as the Hyundai Ioniq 6 above, but Tesla's cars are still pretty slippery, and the company's entire mission has been to develop electric cars from the very start, so plenty of proprietary technology has gone into maximising every kilowatt-hour. Neither styling nor handling are top of the class, but for performance and efficiency (and for offering its widespread and reliable Supercharger network to make longer distances a breeze), Tesla can still hold its head high.
Read our full review of the Tesla Model 3 to find out more.
5. Toyota bZ4X - 4.3mi/kWh
A bluff front and sharp-edged styling are clearly no barrier to efficiency with the Toyota bZ4x, with a 4.3mi/kWh figure that matches the sleekly-styled Tesla Model 3 and Hyundai Ioniq 6 above. It gets pretty close to the much smaller and lighter Fiat 500e, too.
At its furthest the bZ4x can manage 317 miles in WLTP testing. You'll need the front-wheel drive model in basic Pure trim to go this far, the extra consumption of the all-wheel drive model and those with larger wheels and more equipment reducing range to a maximum of 286 miles. But it goes this far on a 71kWh battery pack, which goes to illustrate the Toyota's efficiency. It just so happens it's pretty good to drive, too.
Read our full review of the Toyota bZ4X to find out more.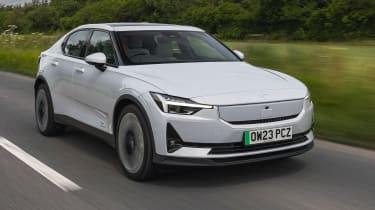 6. Polestar 2 - 4.2mi/kWh
Polestar is Volvo's electrified offshoot, and despite its relative infancy has already made a real name for itself in the EV market with just a handful of models. Yet the Polestar 2 shows there's far more to its cars than handsome Swedish styling and a hefty shot of performance. It's not quite as efficient as the Tesla Model 3 – probably the Polestar 2's closest rival – but it's not far off.
It's offered in three main variants: Standard Range Single Motor, Long Range Single Motor, and a Long Range Dual Motor. The twin-motor car is naturally the quickest, but it's the Long Range single you'll want for the most range and best efficiency. It'll do 406 miles, and Polestar claims 4.2mi/kWh.
Read our full review of the Polestar 2 to find out more.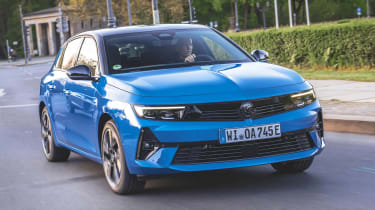 7. Vauxhall Astra Electric - 4.2mi/kWh
It's reassuring to see a conventional family car like the Vauxhall Astra in this list, and the British-badged car sits just above the mechanically similar Citroen e-C4 here. It uses the same 54kWh battery pack as the e-C4, and while it loses out on a couple of miles of range next to the Citroen, by Vauxhall's own figures, it's the tiniest bit more efficient at using those electrons.
The Astra is a perfectly good car in its own right too, with sharp styling and a composed chassis, though some drivers will prefer the more eye-catching styling of the French car. With 100kW rapid charging, Vauxhall drivers can top up from 10-80 per cent in around 26 minutes.
Read our full review of the Vauxhall Astra Electric to find out more.
8. Citroen e-C4 - 4.1mi/kWh
If you want the benefits of electric power but don't care for the sledgehammer performance offered by some models, then the Citroen e-C4 might be the car for you. True to its roots, the e-C4 majors on comfort, refinement and practicality over pure straight-line speed – and as it turns out, efficiency too.
With the larger 54kWh battery pack, the e-C4 has a WLTP range of 260 miles. For comparison, a similarly-sized Nissan Leaf, with a larger 62kWh battery, can travel only 239 miles. Smaller cells means lower weight, which can help efficiency, so while the e-C4 doesn't have the longest range in its class, Citroen is showing you can do more with less.
Read our full review of the Citroen e-C4 to find out more.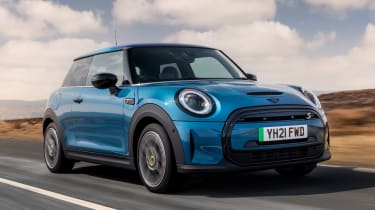 9. MINI Electric - 4.1mi/kWh
The MINI Electric's WLTP range of 145 miles is by far the lowest here, and out in the real world you'll be lucky to see more than 100 miles from a full charge. That will be enough to put off a lot of buyers, particularly with a starting price of more than £32,000, but the MINI is also a good example of how range isn't the be-all and end-all.
It's actually quite efficient on the move – comfortably managing over 4mi/kWh in mixed driving. The small battery also makes battery top-ups relatively quick, despite a so-so 50kW maximum charging rate – a 10-80 per cent charge takes less than half an hour.
Read our full review of the MINI Electric to find out more.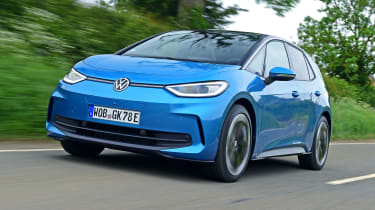 10. Volkswagen ID.3 - 4.1mi/kWh
Volkswagen's electric alternative to the Golf sneaks onto the bottom of our list, with efficiency that matches that of the MINI Electric and Citroen e-C4. The ID.3 isn't without its problems, chief among them an infuriating infotainment system, but the ability to go as far as possible for its given battery capacity isn't one of them.
In fact, VW offers two battery sizes for the ID.3, a 58kWh pack good for up to 265 miles of range – you'll note, not quite as far as the Astra and e-C4, despite greater capacity – and then a 77kWh pack that bumps range well past 300 miles. The larger pack also features slightly faster rapid charging, at 135kW, so as well as being efficient, it's relatively quick to top up while you're out and about.
Read our full review of the Volkswagen ID.3 to find out more.
BMW i4 facelift to topple Tesla with huge range and tech upgrades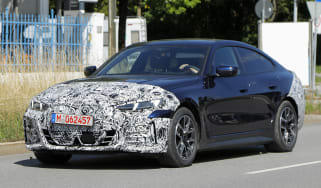 BMW i4 facelift to topple Tesla with huge range and tech upgrades
An updated version of the BMW i4 has been spotted testing, likely sporting a longer range and the latest technology
Electric BMW iX2 is set to take the kidney grille to the next level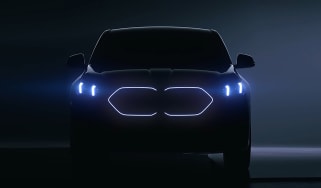 Electric BMW iX2 is set to take the kidney grille to the next level
BMW has teased the highly-rumoured iX2 coupe-SUV, which has been revealed to get enlarged illuminated kidney grilles