Coronavirus: what does it mean for hybrid and electric car drivers?
The UK government has issued advice and brought in restrictions to deal with the Covid-19 coronavirus pandemic, but what does it all mean for motorists?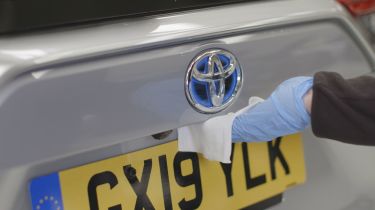 The coronavirus (Covid-19) pandemic has swept across the UK over the last few months, with preventative 'lockdown' measures now imposed by the government to slow the spread. With most of us now stuck at home for all but essential journeys, what does that mean for electric-car drivers and motorists in general?
Car production paused across the world, including at plants like Honda's facility in Swindon, UK. Dealerships were also forced to close their doors, however the government has said cars can continue to be sold and delivered as long as social-distancing and hygiene guideline are adhered to. Read our guide to buying online for more.
Many garages and dealer service departments remain open, however, as these are deemed essential services to keep key workers (healthcare professionals, utility workers, emergency services personnel, etc.) mobile. DrivingElectric sister site Buyacar remains open for business, too, with special offers in place for NHS staff and key workers.
While you're here, make sure to let us know how the coronavirus situation has affected your car buying plans by filling in our survey – every participant is in with a chance to win one of five £25 Amazon vouchers. When you're done, read on for how Covid-19 affects the motoring industry and motorists in general.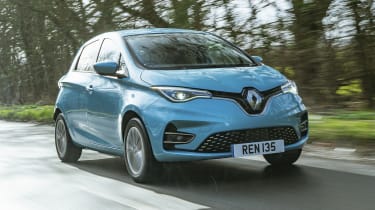 Can I drive my car during the coronavirus pandemic?
In late March, the UK government imposed widespread lockdown for all but essential journeys. So while there's nothing in place to stop you driving your car, it needs to be for one of the government's pre-defined reasons: these include shopping for essentials such as food or medicine, or attending a medical appointment at a hospital or doctor's surgery.
You may also use your car for medical purposes – be that attending a medical appointment, or assisting an elderly or vulnerable person. You can also use your car to get to work, but only if necessary and your work cannot be done from home.
Needless to say, by driving your car you're always at risk of having an accident, breaking down, or getting into other bother. If the worst happens, this could put undue strain on the emergency services, who are already working flat-out during these unprecedented times.
There are no specific restrictions or exemptions for driving electric or hybrid cars. All of the above applies to users of low-emissions vehicles.
From 13 May, the government has permitted driving any distance in order to take exercise. However, you must do this alone or with members of your own household only, and you shouldn't be staying overnight anywhere other than your primary residence. In addition, this only applies to England for now – exercise in Scotland, Wales and Northern Ireland must still be taken locally.
Coronavirus: what are car brands and charging companies doing to help?
It's worth remembering that you should only drive your car if your journey is considered essential. However, most electric-car charging networks are operating as normal – and you may even find that as there's less demand, there are more free charging bays in car parks and on the street.
GeniePoint is offering free charging for key workers during the coronavirus pandemic. You'll need to contact the company to apply for exemption, and of course, follow all current hygiene recommendations (see below: Hygiene at public fuel pumps and charging points) when using public chargers.
Partnership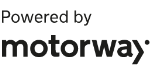 Need to sell your car?
Find your best offer from over 5,000+ dealers. It's that easy.
Source London, which operates charging points in and around the UK's capital, is offering free charging to NHS and Metropolitan Police staff to support their efforts during the current situation. The arrangement will remain in place until at least the end of April and could be extended if needed.
Polar Plus, the network operated by BP Chargemaster, is waiving subscription fees for April and May, as well as allowing free charging for emergency-services fleet vehicles. And MG Motor UK has made up to 100 ZS EVs available for use by NHS Trusts to assist with transport needs.
Many car companies are also promising to be flexible in regards to scheduled maintenance and warranty claims where visits to a dealer aren't possible due to lockdown restrictions. It's best to contact you local dealer or manufacturer's helpline to find out exactly what's happening with your brand of car.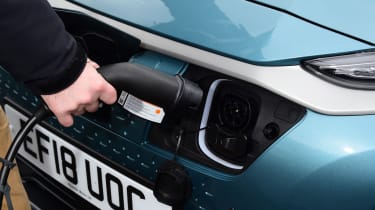 Coronavirus: How do I store my hybrid or electric car when it's not being used?
It's not recommended to keep your electric or hybrid car plugged in to a charging point during long periods of inactivity. Instead, if you plan to store your car for weeks or months on end – such as during the coronavirus pandemic – we'd advise charging it to around 80% before unplugging it. It's better to then fit a trickle charger – just as you would to a conventional petrol or diesel car – to prevent the 12-volt battery from draining completely.
Some cars, like the Hyundai Kona Electric, have an auxiliary battery saver function, which monitors the state of charge of the 12v battery. If it starts to get low, it'll automatically start to charge from the high-voltage battery to prevent loss of access to things like the remote central locking and infotainment settings. This process will be repeated automatically up to 10 times, for around 20 minutes a go.
We've put together a full article on the subject of long-term storage of electric cars.
Coronavirus: Can I still get a home wallbox charger installed?
Pod Point, one of the UK's largest suppliers and installers of home wallbox charging points, temporarily paused most home installation visits during the initial phase of lockdown.
This included installations of wallbox chargers at both residential and commercial properties. Installations still went ahead for those classified as 'key workers' who drive pure-electric cars, as well as anyone who has only a pure-electric car in the household, with no internal-combustion-engined vehicle to fall back on. Maintenance of already-installed charging points, as well as the public Pod Point network, continued.
In early May, PodPoint issued new guidance: key workers and electric-car-only households continue to be prioritised, however other domestic and commercial installations judged to be 'low risk' in the context of virus transmission can now go ahead. Other charging-point installers and operators can be expected to apply similar measures as long as the government-mandated lockdown continues.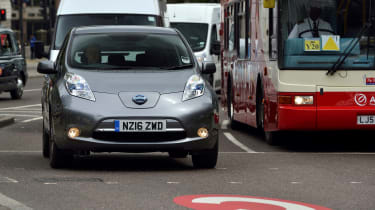 Coronavirus: London Congestion Charge, ULEZ and local parking charges
While not applicable to the entire country, Transport for London (TfL) suspended all 'road user charging schemes' from 23 March 2020. These include the daily London Congestion Charge, the Ultra Low Emissions Zone (ULEZ) and the Low Emissions Zone (LEZ).
As part of a funding deal with the government necessitated by a huge drop in TfL's revenue, the charges are set to be re-introduced on 18 May. And from 22 June, the cost and operating hours are temporarily increasing: the Congestion Charge will from that date be in force seven days a week from 7am to 10pm, rather than on weekdays until 6pm only, and cost £15 rather than £11.50 daily.
There'll no longer be a £1 discount for drivers who register their details and pay by direct debit, and the 90% discount for those living in or just outside the zone has been suspended to new applicants. There's currently no indication when the temporary cost increase and operating hours extension will be rolled back.
All pure-electric cars are exempt from the LEZ and ULEZ charges, and provided you've registered it on the TfL website, any car emitting less than 75g/km of CO2 is also exempt from the London Congestion Charge. These exemptions are unaffected by the government deal and temporary measures.
Additionally, a number of central London streets are set to become walking and cycling only, with others permitting only buses. Streets between London Bridge and Shoreditch, Euston and Waterloo and Old Street and Holborn may be limited to buses, pedestrians and cyclists, while cars and trucks may be banned from Waterloo Bridge and London Bridge, with footpaths extended to allow for social distancing.
Elsewhere, some councils around the country have formally or informally suspended resident parking restrictions on streets that would usually require permits. This information isn't always easy to access, so it's best to check with your local authority either by phone, e-mail or online.
Coronavirus: MoT tests suspended
The government has announced that all MoT tests have been suspended for six months, meaning if your car is due its MoT after 30 March 2020, you automatically benefit from a six-month extension. However, even if your car is granted this, you must make sure your vehicle is roadworthy and safe to drive. It can be unsafe even if your MoT expiry date has been extended. If applicable, this covers hybrid and electric vehicles, too.
However, if your car's MoT is due before this date you're still required to get it tested. If your car was due its MoT on 29 March 2020 or earlier, you won't be granted an extension. Many MoT centres remain open for business, although social-distancing restrictions apply.
Coronavirus: Driving tests suspended
Driving tests have also been suspended for at least three months due to Covid-19. The only exceptions are for those people with a "critical need" – such as NHS workers and prospective delivery drivers.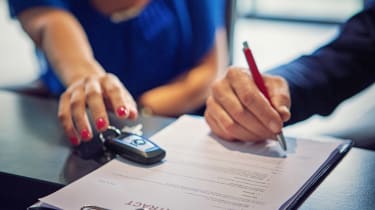 Coronavirus: electric and hybrid car leasing and PCP deals
If your electric or hybrid car (or any car for that matter) lease or PCH/PCP agreement is due to come to an end in the near future, you have a couple of options. It's unlikely any leasing company or car dealer will be sending people out to collect cars at this time, so the chances are you'll be able to agree some kind of extension. 
According to Leasing.com, many providers are open to this idea – either as a formal extension, which can lengthen your agreement by three months or more, or an informal extension which can operate on a rolling month-by-month basis.
Coronavirus: servicing, warranties and breakdown cover
The simple advice here is to contact your manufacturer. New cars use a mixture of time and mileage-dictated service intervals, which means it's not easy to give a clear-cut answer on whether your service plan or warranty would be affected if you were unable to get otherwise necessary work done on your car.
A spokesman for the Motor Ombudsman told DrivingElectric's sister title Auto Express: "If a case were to come to the Motor Ombudsman under section 3.8 of the New Car Code, the business cannot decline claims or rescind the warranty simply because the service was missed, but can only do so if the lack of care by the vehicle owner caused a fault."
Most manufacturers have now announced plans and procedures with regards to servicing during the Coronavirus pandemic. In a statement, Kia said: "For customers who have a Kia Care service plan, this will remain valid and cover the cost of services regardless of when they are undertaken."
Kia will also honour any warranty claims for work undertaken during routine servicing, even if the customer was unable to have the work done before the warranty lapsed. Kia has said it will be "flexible and honour those claims".
Mazda, on the other hand, said: "[Dealership closures] will not impact your warranty if scheduled maintenance is completed when the country is back to normal, but additional mileage must not exceed 1,875 miles over normal scheduled servicing."
The good news is, many pure-electric cars require less frequent maintenance. If you're self-isolating or forced to stay home due to the government's recently imposed lockdown, chances are you'll be using your car less than usual – or not at all. If your car has a mileage-restricted service schedule, by not driving the car, you'll effectively postpone the need for a service anyway.
With regards to breakdown cover, it's again best to speak with your provider. Toyota and Lexus have announced that they'll provide free AA breakdown cover for key workers and NHS staff, regardless of whether their policy is active. Those who aren't classified as key workers will have their policy extended until 31 May 2020 free of charge.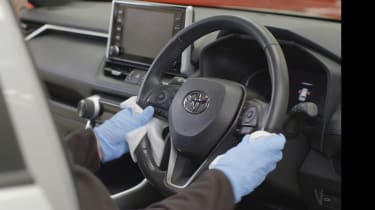 Coronavirus: Car cleaning 
Keeping your car in tip-top condition and taking the time to give it a thorough wash or deep clean at a car wash, has never been more important. If you're still using your car to get to the shops or your place of work, it's vital to regularly wipe down all hard surfaces that you touch or come into contact with. 
Areas like the steering wheel, gearlever and handbrake are obvious, but don't forget items such as the indicator stalks, seatbelt buckles, doorhandles, and any cubbyholes you use to keep things like phones or wallets.
Equally, external touch points like the bootlid, doors and fuel filler cap or electric charge port should all be wiped or cleaned on a regular basis. It's easy to think things like this are overkill, but it's always better to be safe than sorry.
Coronavirus: Hygiene at public fuel pumps and charging points
There are stories flying round online about Covid-19 being transmitted via petrol pumps, and while the chances of infection may be low, there's a similar risk around public charging points.
The forced lockdown means many people won't be driving, but if you're still using your hybrid or electric car to get about, make sure you take the necessary precautions. That means using gloves when lifting a petrol pump or connecting a charge cable, and using wipes or hand sanitiser as appropriate.
New Fisker Ocean Sport washes up in the UK: £36k for a 288-mile range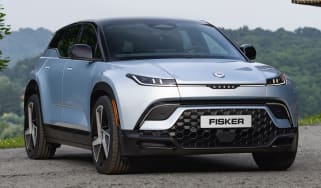 New Fisker Ocean Sport washes up in the UK: £36k for a 288-mile range
American EV startup Fisker has just launched its entry-level Ocean SUV in the UK, with a range of up to 288 miles
First contact: facelifted Kia EV6 will look even more like a UFO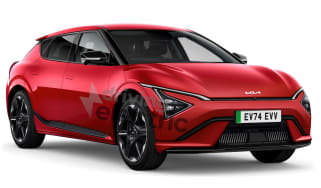 First contact: facelifted Kia EV6 will look even more like a UFO
Kia is readying an update for the EV6 crossover, which is set to include a new face and tech from the larger EV9
Big price cut: Electric Renault Megane prices slashed in time for Christmas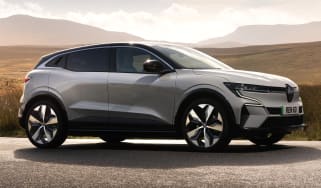 Big price cut: Electric Renault Megane prices slashed in time for Christmas
Renault Megane E-Tech gets a price drop of up to £3,500, bringing the starting price to just £34,495