Complete guide to the GeniePoint charging network
Need to charge your electric car on the GeniePoint charging network? Here's all you need to know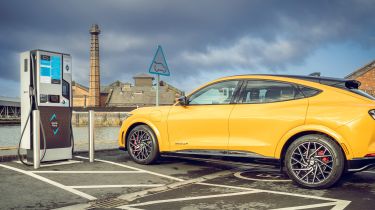 GeniePoint is the one of the largest rapid-charging network in the UK, operating more than 500 units across the country. It's owned and operated by Equans, which works with businesses such as Asda and Morrisons supermarkets to deliver charging points for customers with electric vehicles. Other locations include fuel-station forecourts, local-authority car parks, hotels and retail/leisure parks. 
GeniePoint's chargers are powered by Octopus Energy, so all the energy comes from sustainable sources in the UK such as wind and solar. The GeniePoint Platform also runs the Revive charging network in the west of England, and until recently Wales' Dragon charging network, too. 
In January 2021, it was announced that GeniePoint had been contracted by the Premier Inn hotel chain to install 600 50kW points at 300 of its locations across the UK. The first installation was at the Enfield hotel in London in March 2021, and all chargers installed under this deal are available for use by both hotel guests and the general public.
The vast majority of the network consists of 50kW DC rapid chargers, but there are still a handful of slow chargers capable of speeds between 7-22kW and rapid AC chargers that can deliver up to 43kW. Type 2, CHAdeMO and CCS charging cables all feature on the network, although not all of these are available at every station. But you can find out which cables each unit uses on the GeniePoint app.
How much does GeniePoint charging cost?
As of October 2022, it costs 57p per kWh to charge your electric car using the majority of GeniePoint chargers. However, some located in Morrisons supermarket car parks offer varied pricing of 62p per kWh from 8am til 8pm, while charging between 8pm and 8am will cost you 52p per kWh.
They all operate on a pay-as-you go (PAYG) price per kilowatt-hour (kWh) basis, meaning you only pay for the energy you use. There are no connection or subscription fees for using the network's charging points, but you will incur a £10 overstay charge if you remain plugged in for over 90 minutes and a further £10 every 90 minutes after that if you don't unplug your car.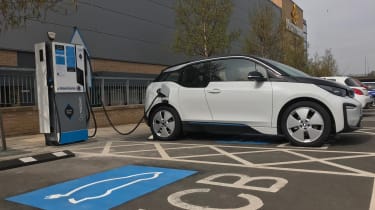 Charging on the GeniePoint network
There are several pays to top-up from a GeniePoint charger. The first is the GeniePoint App, which is available from the Apple App Store and the Google Play Store. Once you've registered with GeniePoint you use the app to start, stop and pay for charging sessions, as well as find nearby charging points. Drivers can also use an RFID card to access the network's chargers, either registering their own card (with RFID functionality) or by purchasing a GeniePoint card for £9.
Most GeniePoint chargers also accept contactless payment; just tap your smartphone, credit or debit card on the reader to topping up your car. GeniePoint is also one of the charging networks available on Zap-Pay, the pay-as-you-go service integrated into the Zap-Map app, as well as the multi-charger app Bonnet.
In February 2022, GeniePoint joined Ford's BlueOval charging network which now consists of over 16,000 chargers across the UK. This means if you drive a Mustang Mach-E, Mustang Mach-E GT or one of Ford's plug-in hybrids, you can locate GeniePoint units, as well as monitor and pay for your charging sessions, using the Ford Pass app.
Partnership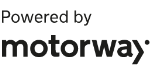 Need to sell your car?
Find your best offer from over 5,000+ dealers. It's that easy.
The GeniePoint Network is supported by a customer service team providing 24/7 phone assistance to drivers using the network. This includes remote-start facilities for drivers requiring emergency assistance. 
MINI Cooper Electric: pricing and specs for British-built electric supermini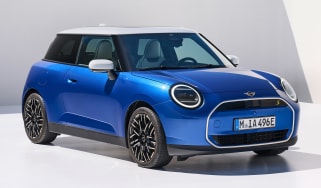 MINI Cooper Electric: pricing and specs for British-built electric supermini
MINI's latest electric hatchback introduces a revolutionary interior design, as well as larger batteries to provide a 250-mile range
Tesla Cybertruck: pricing and specs for Elon Musk's electric pickup truck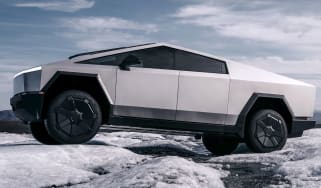 Tesla Cybertruck: pricing and specs for Elon Musk's electric pickup truck
The Tesla pickup truck is now on sale, with a range of up to 340 miles and a starting price of just over $60,000
Electric Renault 5: prices, 2024 launch date and teaser images of the MINI Cooper rival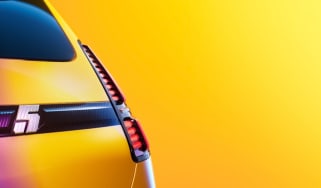 Electric Renault 5: prices, 2024 launch date and teaser images of the MINI Cooper rival
New official teaser pictures for Renault's electric supermini confirm the 5's reveal in February 2024