Top 10 best hybrid cars 2022
The best hybrid cars on sale in the UK right now will help reduce your fuel bills without needing to be plugged in. These are our favourites...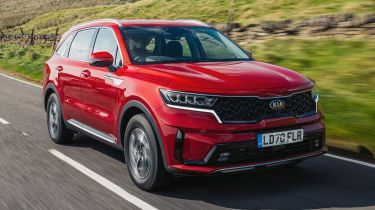 Plug-in hybrid and electric cars aren't the only ways to reduce your vehicle tailpipe emissions and improve fuel economy. If you don't have access to a charger, don't have space for a home wallbox or maybe don't want to pay the higher up-front cost of a new EV, then a hybrid car may be the answer. Hybrids (also called Hybrid Electric Vehicles, or HEVs) reduce fuel consumption by having electric motors work in tandem with a petrol engine – with no external charging required.
There are various types of hybrid electric vehicle: full hybrids (sometimes called parallel hybrids and also branded as 'self-charging' hybrids) draw electricity from the engine and regenerative braking and can drive short distances on electric power alone. Mild hybrids are similar, except they can't move under electric power only. Instead, electrical energy assists the engine, making acceleration easier and boosting fuel economy.
And because their use of electric technology is more restrained, hybrid cars don't tend to be as expensive as their plug-in counterparts, making them more accessible to  buyers. It's worth noting that while hybrids tend to be cheaper to run than an equivalent petrol car, a plug-in hybrid will typically be even more efficient. These use larger batteries and more powerful electric motors in tandem with an internal-combustion engine to give longer electric ranges, lower emissions and increased fuel efficiency.
Interested? The best hybrid cars will give you everything a normal internal-combustion motor will, but with improved fuel economy and reduced emissions. We've put together the following list to get you started...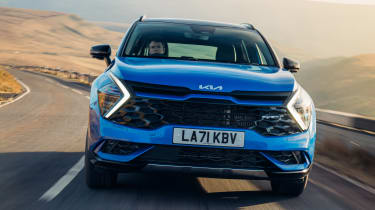 Kia Sportage
Through four previous generations, the popular Kia Sportage family SUV has never been offered as a hybrid. But for this latest incarnation, buyers have a choice of hybrid or plug-in hybrid power. We're focusing on the former for this list; it boasts the same striking looks as the rest of the new Sportage line-up, plus a slick and high-tech interior that has much in common with the Kia EV6 electric car. Traditional Kia strengths are present and correct, too, though: the Sportage is practical, spacious and comes with a highly reassuring seven-year/100,000-mile warranty. Read our full review.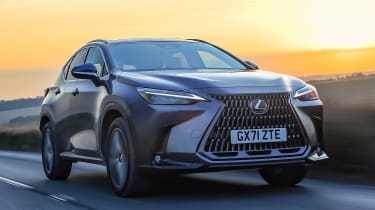 Lexus NX 350h
The Lexus NX has long been the Japanese luxury brand's most popular offering in the UK and is a heavyweight contender in the premium family SUV class. The latest generation has branched into offering the option of plug-in hybrid power for the first time, but the traditional Lexus 'self-charging' hybrid drivetrain remains – and may be a better option for private buyers, who don't benefit from the 450h+'s low company-car tax. Styling is sharp, infotainment is a big improvement on previousl Lexus efforts and the NX is pretty nice to drive, too. Read our full review.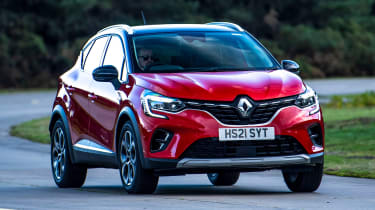 Renault Captur E-TECH
Like the Clio E-TECH, the Captur E-TECH combines a 1.6-litre petrol engine with two electric motors and a 1.2kWh lithium-ion battery. It's an impressive compact SUV that can go toe-to-toe with the best in this hugely popular class. It's comfortable, efficient and will effortlessly cover miles on electric power only around town without the need for you to ever top up the battery yourself. It does lose some practicality compared to the purely petrol-powered Captur, but still makes for a great small family car. Read our full review here.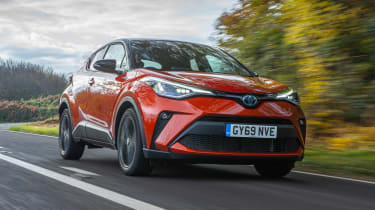 Toyota C-HR
Compared to conventional hybrid rivals, the Toyota C-HR's relatively radical styling for an SUV sets it apart. Yet there's not much of a penalty to pay for those individual looks. That's because the car's 1.8-litre petrol engine and electric motor setup, which it shares with the Prius, can deliver up to nearly 59mpg combined and as little as 109g/km of CO2. They're good figures for a family crossover.
Partnership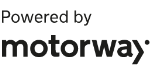 Need to sell your car?
Find your best offer from over 5,000+ dealers. It's that easy.
However, what's not so impressive for a car of this type is the space in the rear. Unfortunately, the C-HR feels cramped compared to its main rivals, and this dents its appeal slightly. But with no conventional hybrid family SUVs to contend with, the Toyota offers something unique in this class. It's also good to drive for a car of this type. The steering is relatively crisp, the ride is comfortable but composed and the suspension damping means ride quality and fun are nicely balanced. Read our full review.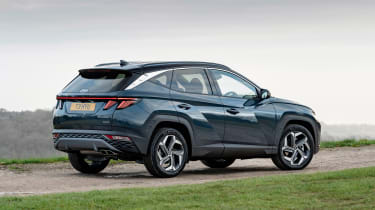 Hyundai Tucson Hybrid
The latest Tucson marks a big shift for the familiar model; whereas previously it was rather plainly styled and came with traditional petrol and diesel engines, this version boasts sharp styling and a choice of mild-hybrid, full-hybrid or plug-in-hybrid power. The Hybrid was first out of the blocks, with a 'Smartstream' 1.6-litre petrol engine paired with an electric motor and a 1.49kWh battery, making 227bhp.The hybrid drivetrain is very well executed; there's a good amount of performance, with enough torque to make it feel faster than the on-paper 0-62mph time suggests. The engine doesn't get thrashy as those in some other hybrids can, instead producing a tuneful exhaust note under acceleration. Read our full review.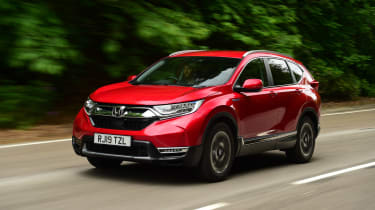 Honda CR-V
Honda has got form with hybrid cars, right from mainstream offerings like the (sadly, now defunct) CR-Z right up to the mighty NSX. The CR-V Hybrid has all the common sense appeal of Honda's big, friendly family SUV, with the added appeal of being the most efficient offering in the range.
That's not to say that conventional diesel alternatives won't be a better bet for some high mileage drivers, as the 2.0-litre petrol engine and electric motor in the CR-V Hybrid still only achieves a claimed maximum economy of 40.9mpg in its most efficient, front-wheel drive form. We're currently running a CR-V on our test fleet, and at least it's meeting this figure in the real world.
The CR-V is quiet, comfortable and also one of the most practical cars in the class. On top of that, the CR-V also has a stellar reputation for reliability; its predecessor was rated as the sixth most reliable to car to own in the 2018 Driver Power survey. Read our full review.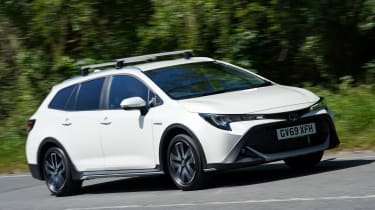 Toyota Corolla Touring Sports
After an absence of many years, the Corolla badge returned to the UK in 2019: the hatchback is a decent little runabout, but the Corolla Touring Sports estate variant is where the hybrid model comes into its own. It drives very well, and the added practicality from the larger bodystyle makes it highly suited to families.There's a choice of 1.8- and 2.0-litre hybrid powertrains, returning in the region of 65 and 50mpg respectively. While the latter is a little less frugal, it is a tad faster, hitting 0-62mph in 8.1 seconds; the full seconds quicker than the smaller engine. Read our full review.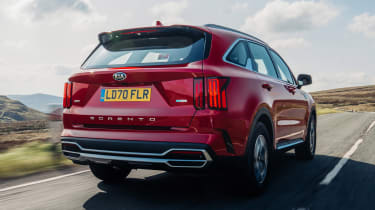 Kia Sorento
The Kia Sorento is one of the best large SUVs on sale, and while the plug-in hybrid variant will be more efficient, the next best thing is the full hybrid. Power comes from a 1.6-litre petrol engine and an electric motor, which together produce 227bhp. Performance is adequate, but efficiency is more important here: up to 41mpg fuel economy is claimed, along with CO2 emissions as low as 158g/km.
Elsewhere, the Sorento sports a handsome design, a well made interior and enough space to swallow a family and their luggage. Crucially, there are seven seats and if you fold the third row down, there's an impressive 813 litres of load space on offer.
The Sorento is a comfortable cruiser, even if the powertrain can feel harsh under harder acceleration. The suspension sits on the firmer side of comfortable, so can feel fidgety on bad surfaces, but the tradeoff is decent handling on twisty roads. Read our full review.
Toyota Yaris
The previous Yaris was offered in hybrid form, but it wasn't great to drive, as well as having an unappealingly cheap and plasticky interior. The latest effort is a big improvement in almost every respect. It has a 1.5-litre three-cylinder petrol engine working in tandem with an electric motor. The Yaris feels most at home in the city, with direct steering and a willingness to operate under electric power for much of the time when in 'Eco' mode. It's great to drive on the open road, too, with a crisp, responsive feel through corners. Overall, the Yaris gets the basics right – including  low running costs and hassle-free ownership. Read our full review.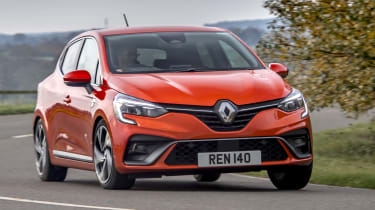 Renault Clio E-TECH
Drawing on much the same technology as the Capur E-TECH SUV further up this list, the Clio is another model worth considering, alongside the Yaris above, by those who are in the market for a hybrid supermini hatchback. Joining typical French design flair inside and out is a sophisticated but simple-to-use hybrid setup that behaves like a normal automatic car, but promises a high percentage of engine-off electric running on short urban journeys. Read our full review.
BMW i4 facelift to topple Tesla with huge range and tech upgrades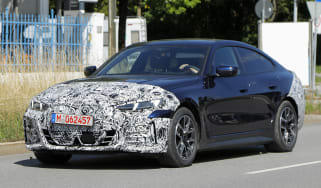 BMW i4 facelift to topple Tesla with huge range and tech upgrades
An updated version of the BMW i4 has been spotted testing, likely sporting a longer range and the latest technology
Electric BMW iX2 is set to take the kidney grille to the next level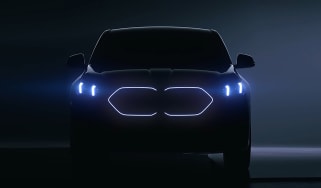 Electric BMW iX2 is set to take the kidney grille to the next level
BMW has teased the highly-rumoured iX2 coupe-SUV, which has been revealed to get enlarged illuminated kidney grilles