What is fast charging? What is rapid charging? What is ultra-rapid charging?
Fast charging, rapid charging and ultra-rapid charging are three phrases often associated with electric-car charging, but what's the difference between them? We explain all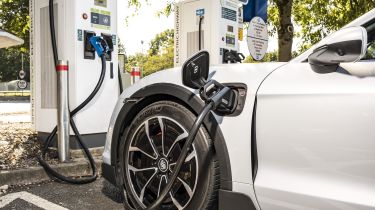 Electric cars do take a significant amount of time to charge if you use a home wallbox or a regular charging point. But, as electric-car technology has raced ahead, so have chargers; with certain units now capable of delivering power at speeds up to 350kW, recharging compatible cars like the Kia EV6 or Hyundai Ioniq 5 from 10-80% in under 18 minutes.
So what's the difference between these chargers? Where can you find them? And how do you use them? Here, we explain all you need to know about fast, rapid and ultra-rapid charging…
How electric-car fast charging, rapid charging and ultra-rapid charging works
Electric-car batteries have to be charged with direct current (DC), but a three-pin socket at home – or a home wallbox charger – draws alternating current (AC) from the grid. Therefore, to convert AC to DC, electric vehicles and plug-in hybrids (PHEV) feature a built-in convertor, or rectifier.
The extent of the convertor's capability to turn AC into DC partly determines the charging speed. All fast chargers, rated between 7kW and 22kW, draw AC current from the grid and rely on the car's converter to turn it into DC. A typical fast AC charger can fully recharge small electric vehicles in three to four hours.
But if you need a charge faster, then you need a rapid charger. There are two kinds: Rapid AC charging uses more power, at 43kW, than conventional fast AC charging, but the process is the same – AC is converted into DC by the electric car's own converter.
The other (more popular) method of rapid charging supplies DC current straight to the car, bypassing the converter, allowing the car to charge at higher rates of power. DC rapid chargers are more expensive, which is why it has taken so long to build more of them. But as of May 2021, there are over 3,500 rapid chargers in the UK, with more on the way. 
While rapid AC chargers supply power at 43kW, rapid DC chargers work at 50kW or more. In comparison to fast charging, a 50kW DC charger will charge a 40kWh Nissan Leaf from flat to 80% in 30 minutes.
Then there are ultra-rapid DC chargers, which typically supply power at 150kW or more (some units are capable of speeds up to 350kW). However, there are currently less than 1,000 ultra-rapid chargers in the UK, and 350kW units currently only feature in the Fastned and IONITY charging networks.
Tesla's Supercharger network is one of the most popular DC charging networks, and its latest V3 supercharger units are capable of charging speeds up to 250kW.
Below is a rough breakdown of the basic kind of charging speeds available:
| Slow AC | Fast AC | Rapid AC | Rapid DC | Tesla Supercharger | Ultra-rapid DC |
| --- | --- | --- | --- | --- | --- |
| 3kW | 7-22kW | 43kW | 50kW+ | 120-250kW | 150kW+ |
Can any electric car use a fast or rapid charger?
Short answer: no. It first depends on what type of connector your car uses. Most electric cars you can buy right now feature a Type 2 connector, however older models may have a Type 1 or Commando connector. These connectors can sometimes be found on certain AC fast chargers, but these units are far less common now.
Most AC and DC fast chargers use a Type 2 connector, although your car may not be able to recharge at the maximum speed offered by each unit. For example, the maximum charging capacity of the entry-level Renault ZOE is 22kW, but the car will automatically limit the amount of power it receives to prevent damage to the battery.
Whether your electric vehicle can use DC rapid charging depends on two factors: its maximum charging capacity and which connector types it accepts. Rapid DC chargers use two types of connector: CCS and CHAdeMO. CHAdeMO connectors are less common and only found on a small selection of cars like the Nissan Leaf, Toyota Prius Plug-In and Kia Soul EV, among others.
The CCS connector, like Type 2, is compatible with a much larger number of new electric cars, including the Tesla Model 3, Jaguar I-Pace, Polestar 2, Porsche Taycan, Volkswagen ID.3 and Volkswagen ID.4. This is also the connector you'll find on the ultra-rapid 150-350kW charging points.
Check your car's manual or brochure to find out which connector it has. The good news is that most DC rapid-charging stations in the UK offer both CCS and CHAdeMO connectors, so you won't be caught short wherever you stop for a recharge.
Is a rapid or ultra-rapid charger more expensive to use than a fast charger?
In most cases, yes. The tariffs for rapid and ultra-rapid charging are often higher, but as with petrol or diesel, prices can differ depending on which charging network a particular rapid charger is operated by.
For example, InstaVolt charges a flat rate of 40p per kWh, while BP Pulse charges differently depending on if you're a member, a subscriber or a pay-as-you-go user. BP Pulse's prices range from 12-42p per kWh depending on the speed of the charger you use, and there are overstaying fees for using faster units for over 90 minutes. Meanwhile, IONITY charges 69p per kWh in the UK, but its locations offer much faster charging speeds. 
However, tariffs are often clearly displayed on charging providers' websites, so check there for the most up-to-date pricing information and fees.
Where to find a rapid charger
www.zap-map.com and its app are popular tools for electric and plug-in hybrid drivers, as you use filters to find the exact charger you need. You select the type of connector you need to use, the maximum charging speed and even which network they're on.
The map will also show you how many chargers are at each location, how much they'll cost to use and if they're in use or not. Alternatively, electric and plug-in hybrid cars' sat navs often feature databases with charger locations in case you're running low on battery mid-journey.
Will frequent fast or rapid charging damage my battery?
Lithium-ion batteries, the type commonly found in electric cars and PHEVs, deplete over time, just like any other form of battery. And while the batteries found in laptops and mobile phones can be damaged if they're charged at high power consecutively, electric vehicle batteries won't.
This is because manufacturers have built in safety systems to prevent damage from frequent use of rapid or fast charging. For example, the rate of charge can be automatically lowered if the car thinks too much power is being supplied to the battery too often.
Top 10 best seven-seater electric and hybrid cars 2021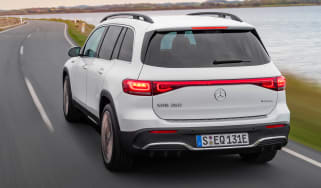 Top 10 best seven-seater electric and hybrid cars 2021
If the regular crop of electrified SUVs and family cars don't provide enough practicality for you, then take a closer look at the range of electric an…
Top 10 best luxury electric cars 2021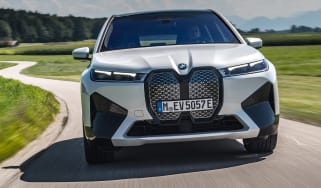 Top 10 best luxury electric cars 2021
From Audi to Tesla, here are our top picks of the most luxurious zero-emissions motoring options on the market right now
2021 Volvo XC40 Recharge electric SUV: single-motor version on sale now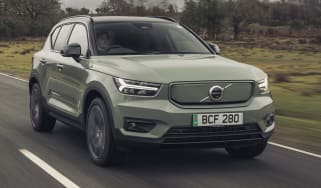 2021 Volvo XC40 Recharge electric SUV: single-motor version on sale now
Volvo has introduced a new single-motor version of its electric SUV, available in two trim levels and with prices starting from £48,300