2024 Porsche Macan electric: new pictures show coupe looks
The next-generation Porsche Macan will be electric only and uses some of the same parts as the Taycan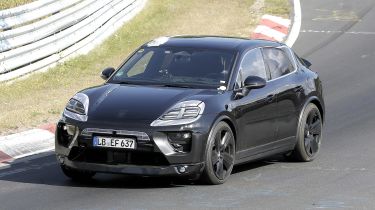 ​The new electric Porsche Macan is continuing its development programme, it's been spotted undertaking dynamic testing on the Nurburgring racetrack. Porsche's latest electric car will share its underpinnings with the upcoming Audi Q6 e-tron, while other rivals will include performance-oriented versions of the Tesla Model Y and Ford Mustang Mach-E.
In these photos, it seems that the Porsche Macan EV has dropped some of its camouflage, while a wide range of angles shows off the coupe-like styling. It'll be sleeker than its petrol-powered counterpart, which, incidentally, will remain on sale for a short while after the EV launches.
However, the electric Porsche Macan is still a little way off. Earlier this year, the launch date was pushed back from 2023 to 2024, according to company boss Oliver Blume in an interview with German media. The delay is reportedly due to hold-ups in developing software for the car.
So far, there are no confirmed details about battery size or range, but we do know the electric Macan will be capable of charging at up to 350kW thanks to the same 800-volt electrical system featured in the Taycan, as well as the Audi e-tron GT. It's thought the first electric Macan model to arrive will be a range-topping 'Turbo' variant, with more affordable versions following in due course.
We expect the electric Macan will manage roughly 300 miles on a charge, based on the battery sizes in other electric SUVs from the Volkswagen Group like the Audi Q4 e-tron and Volkswagen ID.4. However, unlike those models, the electric Macan sits on newly developed 'PPE' (Premium Platform Electric) architecture. This has been co-developed with Audi; it underpinned the A6 e-tron concept unveiled at the Auto Shanghai motor show in April 2021 and will also serve as the basis for the upcoming Q6 e-tron SUV.
The electric Macan is one of many zero-emissions models Porsche has in the works, with plans for the new Boxster and Cayman to be electric having already been announced. An electric 911 isn't part of the product plan for now, but a hybrid 911 is expected in 2023.
Oliver Blume, chairman of Porsche's board of management, said of the brand's plans for electrification: "By 2022 we will be investing more than six billion Euro in electric mobility, and by 2025, 50% of all new Porsche vehicles could have an electric drive system."