Complete guide to the Fastned electric-car charging network in the UK
Dutch company Fastned has a cluster of charging hubs in the northeast of England, as well as an ultra-rapid station near Folkestone and an extensive network on the continent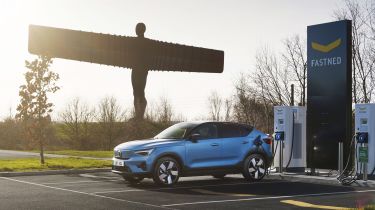 Unlike many electric-car charging networks operating in the UK, Fastned does not have the majority of its locations in and around London and the southeast of the country. Instead, the Dutch firm operates a cluster of stations in the northeast around Newcastle and Sunderland, including Wellington Street in Newcastle, Whitley Bay, Keel Row in Blyth and next to the Angel of the North sculpture (pictured above).
In May 2022, the company opened Scotland's largest rapid-charging hub, and the first in South Lanarkshire, located at the Palace Grounds Retail Park in Hamilton, just off the A72 and near the M74. The station comprises eight chargers, each of which is supplied by 100% renewable energy, and is capable of adding up to 300 miles of range to fully electric cars in 20 minutes.
It has another Scottish location in Angus Court, Dundee, and opened a hub in Barnard Castle, Durham in early 2022. Finally, there's a Fastned rapid-charging hub in Hawkinge, near Folkestone in Kent, aimed at EV drivers undertaking long-distance journeys to or from continental Europe using the Channel crossing options.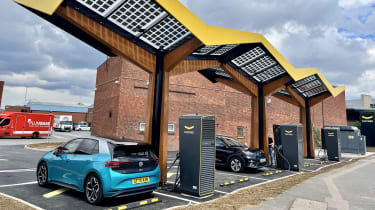 June 2022 saw Fastned expand to London for the first time, with a new station just off the Woolwich Road near the Blackwall Tunnel (pictured above). Ramac Way is the company's 11th station in the UK and comprises six 300kW chargers, capable of adding 186 miles of range in 15 minutes to EVs with sufficient charging capacity.
Payment for charging at Fastned stations can be made through the company's smartphone app or with any contactless payment card. Charging in the UK currently costs 45p per kWh – or 35p if you sign up for the Fastned 'Gold Membership' programme.
Those planning to take their electric car on holiday to continental Europe should take particular note of the Fastned network, as it has numerous locations in its native Netherlands, as well as in Germany, France, Belgium and Switzerland. These can all be viewed on Fastned's website or through its mobile app.
Top 10 best seven-seater electric and hybrid cars 2022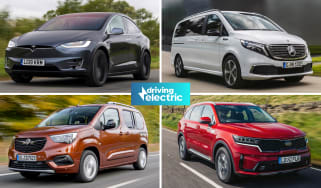 Top 10 best seven-seater electric and hybrid cars 2022
If the regular crop of electrified SUVs and family cars don't provide enough practicality for you, then take a closer look at the range of electric an…
Top 10 best electric cars 2022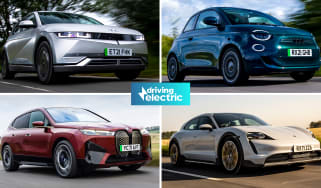 Top 10 best electric cars 2022
Here, we run through our favourite new electric cars that you can buy right now in the UK…