Complete guide to the InstaVolt charging network
Need to charge up your electric car on the InstaVolt charging network? Here's how it works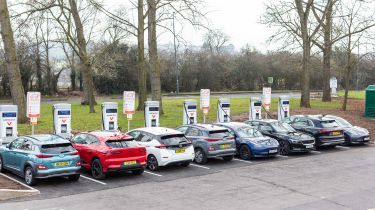 The InstaVolt charging network does exactly what it says on the tin. It's growing fast and is one of the easiest charging networks to use, with no apps or accounts to set up; you just tap your contactless card on the screen and plug the cable into your car. It really is that simple.
It's not cheap, however, with InstaVolt recently announcing its fourth price rise in less than 12 months; from 15 August 2022, charging via InstaVolt rapid charger costs 66p per kilowatt-hour – up from 57p/kWh previously.
This ease of use was backed up in the 2022 edition of the Driver Power car ownership survey, however, where InstaVolt placed third in the list of top 10 public charging providers, behind Tesla's Supercharger network and Shell Recharge. The only area InstaVolt didn't fare so well was cost of charging, finishing ninth in this category.
How to use the InstaVolt charging network and app
Electric-car drivers can check the availability of stations using the InstaVolt website or (as of June 2021) the InstaVolt smartphone app. An RFID (Radio Frequency IDentification) card isn't necessary to use InstaVolt, although you can request one if you wish through the company's app. Once you've parked up next to the charger, you simply swipe your bank or credit card on the reader, follow the instructions on screen, and plug the provided cable into your car.
InstaVolt didn't initially have its own app, relying instead on the mobile version of its website, but an InstaVolt app was launched in June 2021. The app is optional; you don't have to download it to use InstaVolt chargers. It offers additional functionality, including a live map of InstaVolt's network, a loyalty scheme that allows drivers to earn credit every time they charge and the ability to track charging history.
Where can I find InstaVolt chargers?
Most of InstaVolt's chargers are in England, but there are a handful in Scotland and South Wales. As of February 2022, InstaVolt operated over 700 rapid-charging points, located in various towns and cities around the UK. It also has chargers situated on myriad arterial routes across the country. The company aims to have 1,000 units active by summer 2022, and 10,000 by 2032 – at which point the government's ban on the sale of new combustion-engined cars will have come into effect.
InstaVolt's network encompasses rapid chargers at 200 Costa Coffee Drive-Thru locations, offering charging speeds up to 120kW. The company is also installing fast chargers at some of the 1,300 McDonald's Drive-Thrus across the country and also announced an agreement with KFC to install chargers at up to 450 of the fried chicken chain's drive-through locations.
Further expansion of the InstaVolt network is on the horizon, as in February 2022, the company was acquired by EQT Infrastructure, which has promised to "invest significantly in accelerating InstaVolt's continued expansion of charge points across the UK and beyond".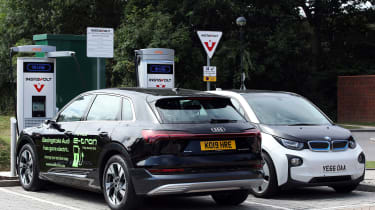 How much does InstaVolt charging cost?
As of August 2022, InstaVolt charges 66p per kilowatt-hour – a rise from the previous price on 57p/kWh announced in May. InstaVolt blames the increase on the rising cost of energy, plus its ambitious growth strategy. The company is also calling for the government to reassess the 20% VAT rate on public charging; domestic tariffs attract a lower 5% rate.
The good news is that there are no connection fees or membership rates on InstaVolt charger. This means a full top-up of a Nissan Leaf with a 40kWh battery will cost around £27. As is the case with most other public networks, charging at home will almost certainly be cheaper: if your electricity tariff is around the UK average of around 28p per kilowatt-hour, the same full charge of a Leaf will cost just over £11 from a standard 7kW wallbox.
Payments are made using a contactless card: there's no minimum payment, although the company says you'll initially see a 'pre-authorisation' fee of £5 appear on your bank statement. This will automatically be cancelled and replaced with the actual amount when you've finished charging. You can request a VAT receipt by sending the charger station name, time, date and charging cost to info@instavolt.co.uk.
How fast does InstaVolt charge?
This depends on the individual charging station: most are capable of 50kW or more; 250 chargers capable of 125kW were installed from August 2019 onwards. Regardless of charging speed, the company claims that 100% of the electricity provided is produced by renewable sources.
At 50kW chargers, a 40Wh Nissan Leaf will take a 0-80% top-up in around 45 minutes, with a full charge taking closer to an hour. Meanwhile, a vehicle like the 90kWh Jaguar I-Pace will see a 0-80% charge in less than 40 minutes on InstaVolt's newer 125kW chargers.
InstaVolt's charging stations all come with CCS and CHAdeMO cables installed, so you don't need to bring your own. That said, many cars without CCS fast-charging technology aren't currently able to use the InstaVolt network, and some Tesla owners may need a special connector to make use of the CHAdeMO plug. Anyone who encounters an issue while charging can contact InstaVolt directly on a helpline that's available 24/7: the number is 0808 281 4444.
Top 10 best seven-seater electric and hybrid cars 2022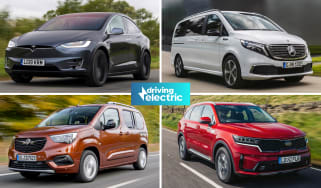 Top 10 best seven-seater electric and hybrid cars 2022
If the regular crop of electrified SUVs and family cars don't provide enough practicality for you, then take a closer look at the range of electric an…
Top 10 best electric cars 2022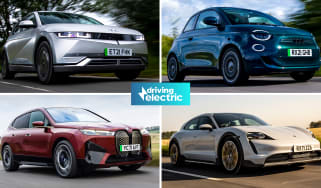 Top 10 best electric cars 2022
Here, we run through our favourite new electric cars that you can buy right now in the UK…