Complete guide to the Gridserve (formerly Ecotricity) Electric Highway charging network
Need to charge your electric vehicle on the Gridserve Electric Highway network? Here's how it works, how much it costs and how to pay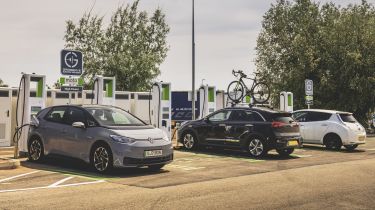 The Gridserve Electric Highway charging network – formerly run by Ecotricity – currently includes over 300 charging points located at motorway service stations and other locations across the UK. In April 2022, Gridserve confirmed it had completed plans to replace all of the old Ecotricity chargers.
In 2021, Gridserve also announced plans to expand the network with 50 'Electric Hubs' featuring 350kW ultra-rapid chargers, as well as 100 'Electric Forecourts' modelled on the company's flagship location in Braintree, Essex. The first hub opened in April 2021 at Rugby Services near Coventry, with 12 Gridserve chargers alongside 12 Tesla Superchargers.
Half of Moto service areas got a minimum of six ultra-rapid chargers by the end of 2021, with the company aiming to have units like them installed at all its sites by the end of 2022. The brand's first rapid-charging hub in Wales went online in February; another hub at Moto Thurrock services on the M25 followed in early May. June saw the opening of a six-charger site at Moto Severn View and an 11-charger site at Moto Heston.
Charging on the Gridserve Electric Highway network
While Gridserve is currently working on its own app, drivers can still download the Electric Highway app to pay for charging on the network. Simply add your car's details and a credit card to a user profile to start, ensuring you either remember or make note of your three-digit security code each time you charge. 
The app will show you all of the charging points in your area, with a live status showing whether or not they're available to use. Once you're up and running, you can use the app to monitor the progress of your charging session.
Electricity on the network is currently priced at 39p per kilowatt-hour (kWh) if you're using one of its slower 22kW units. Plugging into one of Gridserve's rapid chargers – which typically charge at up to 60kW – costs 48p per kWh. Then there's the network's ultra-rapid chargers, which can reach up to 350kW and cost 50p per kWh to use, unless you visit one of Gridserve's Electric Forecourts, where prices for all chargers are set at 45p per kWh. 
At 48p per kWh, an 80% top-up of a 40kWh Nissan Leaf would cost £15.36. This translates to 134 miles of range on paper, although it'll vary from car to car. Up-to-date prices can be found on the Electric Highway app. It's worth remembering that public charging is usually more expensive than home charging, with the latter currently costing around 19p per kWh, depending on your tariff. Some companies will also charge you less at night when demand is lower.
Top 10 best seven-seater electric and hybrid cars 2022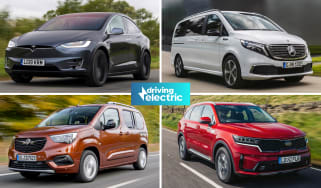 Top 10 best seven-seater electric and hybrid cars 2022
If the regular crop of electrified SUVs and family cars don't provide enough practicality for you, then take a closer look at the range of electric an…
Top 10 cheapest electric cars 2022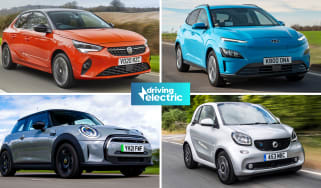 Top 10 cheapest electric cars 2022
Contrary to popular opinion, not all electric cars are expensive. Here are the cheapest ones available in the UK right now
1,972bhp Ford Electric SuperVan can do 0-62mph in under two seconds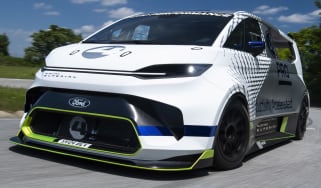 1,972bhp Ford Electric SuperVan can do 0-62mph in under two seconds
Based on the new E-Transit Custom, the Electric SuperVan has made its debut 2022 Goodwood Festival of Speed