Complete guide to the Osprey (formerly Engenie) charging network
Everything you need to know about charging your electric car on the Osprey network – which was formerly known as Engenie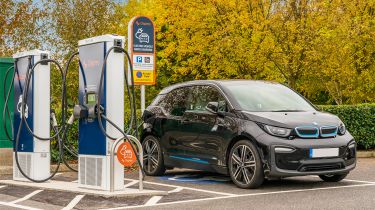 Osprey is an electric-car charging network that's spread across the UK, excluding Northern Ireland. The company was formerly known as Engenie, but rebranded to Osprey in late 2020. The change of name coincided with significant expansion for the firm, which includes the planned installation of 2,000 chargers across the UK by 2024.
Osprey's network is mostly made up of 50kW DC rapid chargers offering CCS and CHAdeMO connections, as well as some slower AC chargers using a Type 2 connection. These are the universal socket types for all modern electric cars, so will be compatible with all new models. Its latest 'Tritium' chargers, such as those at its Croydon and Wolverhampton hubs, can top up compatible cars at up to 175kW; 350 these are either installed or due to be installed in the near future.
While it's far from the largest UK charging network, Osprey has been credited by users as being one of the easiest to use. It was also the fastest-growing independent rapid-charging network in 2020, growing from 49 to 132 sites around the UK during that year. Furthermore, in April 2022, the operator announced a tie-up with GreenFlux – opening up the Osprey network to electric car drivers from across Europe.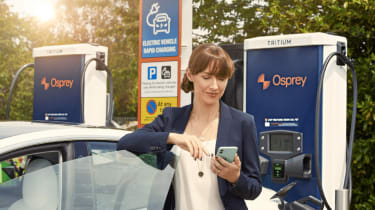 How much does Osprey charging cost?
Charging costs 66p per kWh (from 25 July 2022) at Osprey's rapid chargers, which means a 10-80% top-up of a car with a 45kWh useable battery capacity, such as a Peugeot e-208 or Vauxhall Corsa-e, would cost about £21.
There's no need to register with Osprey – all of its charging points are activated by contactless payment using your debit card or smartphone, and it all of the electricity it provides is from renewable sources.
You can also pay for a top-up at an Osprey point using various third-party accounts, including a Shell Recharge card, a New Motion card, Audi's e-tron Charging Service, Plugsurfing and the Allstar One card. Osprey is also supported by the Europe-wide GreenFlux programme, meaning users from the continent can access Osprey chargers using their usual apps and charge cards.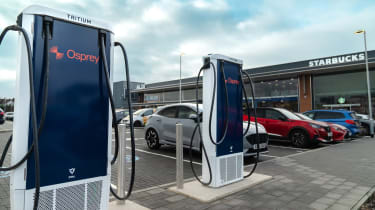 How fast can I charge at Osprey chargers?
Most Osprey chargers offer up to 50kW charging through CCS or CHAdeMO connections. This will deliver 100 miles of range in around 45 to 60 minutes depending on the temperature and your battery condition. Its latest Tritium chargers (pictured above) operate at up to 175kW, promising to more than halve that charging time for electric cars capable of charging at those speeds. The network expects to have 350 of those up and running before long.
Can solar panels charge an electric car?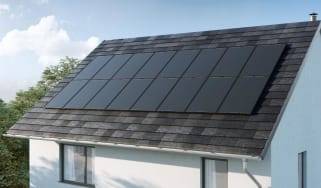 Can solar panels charge an electric car?
Using solar panels to charge your electric car can save you money in the long run. Here's everything you need to know about charging an electric car w…
New MG4 EV electric hatchback starts from £25,995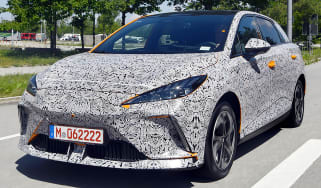 New MG4 EV electric hatchback starts from £25,995
MG's Volkswagen ID.3 rival will be one of the cheapest EVs on sale. We've driven a prototype
Tethered or untethered home charger?
Tethered or untethered home charger?
All the pros and cons of home wallbox chargers with either tethered or untethered cables