New electric vans arriving in 2023 and beyond
The electric van market has taken off in the last couple of years, with numerous new models now available and even more on the way…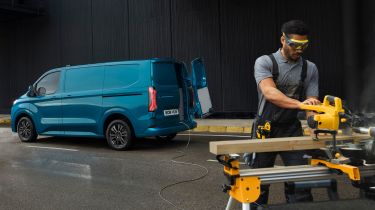 Vans run on diesel: it's been that way for decades. But now several UK cities have implemented clean-air zones and London is set to expand its existing Ultra Low Emissions Zones (ULEZ) once again. Combined with the rising cost of fuel, it's more expensive than ever to operate a fleet or just run your own van, especially in key urban areas.
So switching to electric has the potential to save you a fortune – both in exemptions from congestion charges, and reduced fuel costs. Plus, they're easy to lease, and as technology develops, electric vans' ranges, charging speeds and payloads are improving. They come in all shapes and sizes, too. Here's a rundown of the most important new electric vans coming to the UK in 2023 and beyond.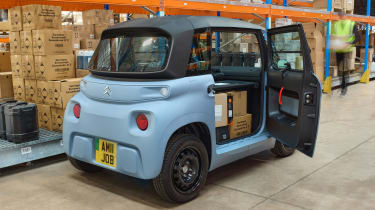 Citroen My Ami Cargo
We don't expect anyone to replace their trusty Transit with one of these, but the Citroen My Ami Cargo could be ideal for those who make last-mile parcel and food deliveries in urban areas. Range is limited to 46 miles, but it only needs three hours to fully recharge the Ami's tiny 5.5kWh battery. It can carry a payload up to 140kg and has a maximum load volume of 400 litres, 260 litres of which comes from a seven-part cargo module that replaces the passenger seat of the regular Ami. There's also a table for filling in and stashing paperwork, plus a secure storage compartment for the driver's wallet or phone. Find out more about the Citroen My Ami Cargo here, and check out our full review of Citroen Ami.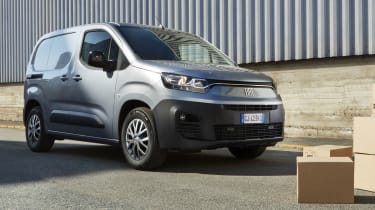 Fiat E-Doblo
The Citroen e-Berlingo, Peugeot e-Partner, Toyota Proace City Electric and Vauxhall Combo-e Cargo have all been on sale for a while, but there's still one more badge-engineered sister model to come in this group. Wearing the familiar Doblo nameplate used on many Fiat light vans over the years, the newcomer gets the same 134bhp electric motor and 50kWh battery as its stablemates, for a 173-mile range. Fiat will offer the E-Doblo in the UK as either a panel van or crew van, in both short and long-wheelbase forms. Both have a maximum payload of 800kg; the long-wheelbase version has a maximum load volume of 4.4 cubic metres. Read more about the E-Doblo here.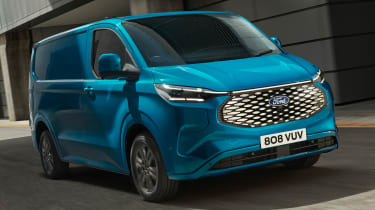 Ford E-Transit Custom
The mid-size Ford Transit Custom is the UK's best-selling vehicle, so it should come as no surprise that the company is bringing out a fully electric version to sit below its full-size E-Transit. Thanks to a 74kWh battery, aerodynamic bodywork and a heat pump to help with efficiency, the E-Transit Custom boasts a range of 236 miles, while the van's 125kW rapid charging capability means a 15-80% top up takes just 41 minutes. The E-Transit Custom also has a maximum payload capacity of 1.1 tonnes.
Inside, there's a 13-inch touchscreen running Ford's latest infotainment system, plus plug sockets in the cab and load area, to power tools, lights, laptops and conversions such as refrigeration units. Some of the van's more unique features include a tilting steering wheel, which you can either attach a laptop or clipboard to for working, or can swivel to an almost horizontal position and create a table. Production doesn't commence until Autumn 2023, so in the meantime read more about Ford E-Transit Custom here.
Maxus T90EV
Clearly the Maxus T90EV isn't a van, but pickup trucks like this – plus the diesel-powered Ford Ranger and Toyota Hilux – are used as commercial vehicles across the UK. The T90EV might not be the first electric pickup to hit the road, but it is the first one to go on sale in Britain, with a starting price of £49,950 ex.VAT. 
According to the Chinese brand, the 89kWh battery located under the T90EV's chassis is enough for a range of 220 miles on the WLTP test cycle, but we expect it'll cover closer to 150 miles in the real-world. Maximum payload capacity is 1,000kg, which means it comes with VAT savings for eligible businesses. The truck bed measures less than 1.5 metres long, however, so it might not be as practical as you think. Read more about the T90EV here.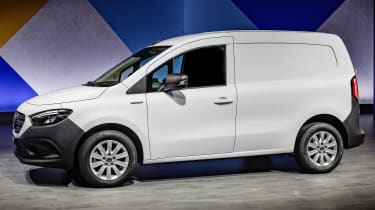 Mercedes eCitan
Mercedes, Nissan and Renault have a history of compact van collaboration, and that agreement continues into the electric era. The eCitan is a sister model of the Nissan Townstar and Renault Kangoo E-TECH below, and both its load space and payload are expected to match its diesel and petrol-powered counterparts. A single electric motor powers the front wheels to produce 101bhp and 245Nm of torque, while top speed is just over 80mph. Prices are expected to be revealed when order books open in December before the first examples arrive in early 2023. Read more about the eCitan here.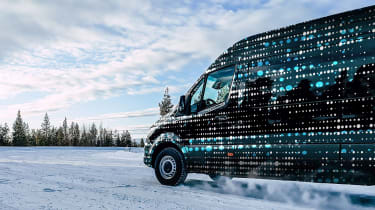 Mercedes eSprinter
Mercedes is currently working on its response to the Ford E-Transit, with the next-generation eSprinter full-size electric van expected to launch in 2023. The German marque has shared images of a prototype model undergoing extreme cold-weather testing in Sweden, close to the Arctic Circle, but so far hasn't released any technical details. However, it did reveal that – depending on configuration – the new eSprinter will boast more than double the range of the current van which can cover less than a 100 miles on a charge. Here's everything we know so far about the new Mercedes eSprinter.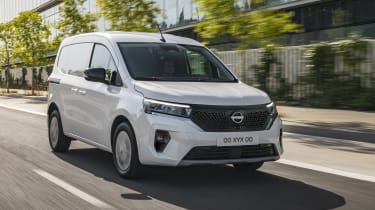 Nissan Townstar
This is Nissan's equivalent of the Mercedes eCitan (above) and Renault Kangoo E-TECH (below). Serving as a replacement for the now pretty outdated Nissan e-NV200, the Townstar incorporates design cues inspired by Nissan's Ariya electric family SUV, with distinctive LED headlamps and a smoothed-off front end. It gets a 45kWh battery for a claimed range of 183 miles – a significant increase on the e-NV200's official figure of 124 miles. The Townstar offers up to 4.3 cubic metres of cargo space. Read more about Nissan's small van here.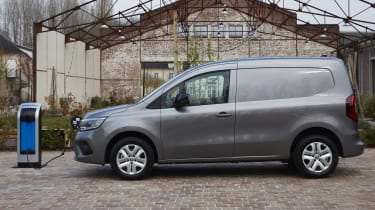 Renault Kangoo E-TECH
With the outgoing electric Kangoo lagging behind the competition, Renault has unveiled its replacement. Now known as the Kangoo E-TECH to match up with the rest of the brand's electrified models, the compact zero-emissions van gets a 45kWh battery for a claimed range of up to 186 miles, according to Renault. Charging capability has also been significantly improved, with up to 80kW rapid charging now standard, allowing over 100 miles of range to be added in around 30 minutes. Wallbox charging at either 7.4kW or 11kW is also possible, with the latter taking just under four hours to replenish the battery from 10 to 80% capacity. Read more about the new Renault Kangoo E-TECH here.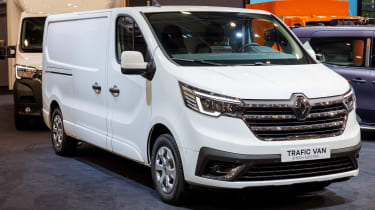 Renault Trafic E-TECH
The new Renault Trafic E-TECH is the French firm's fourth zero-emissions LCV to date, due on sale in early 2023. The Trafic E-TECH uses the same 118bhp electric motor as the Kangoo E-TECH (above), but gets a slightly larger 52kWh battery. Maximum range in the electric Trafic, without any cargo on-board, stands at 149 miles – significantly less than the 200+ miles rivals like the Vauxhall Vivaro-e, Fiat E-Scudo and forthcoming Ford E-Transit Custom are capable of. But two body lengths will be available, offering cargo volumes ranging from 5.8 to 8.9 cubic metres, and the longer L2 model also boasts a load length of up to 4.15 metres thanks to a through-loading bulkhead. Read more about the new Renault Trafic E-TECH here.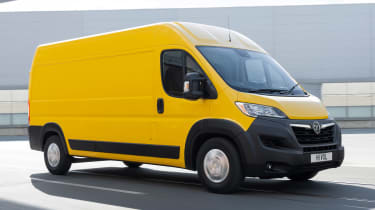 Vauxhall Movano-e
The full-size Vauxhall Movano-e is a sister model to the Citroen e-Relay and Peugeot e-Boxer we've already driven, as well as the British brand's Ford E-Transit rival. The fully electric Movano comes with a 75kWh battery, for a 154-mile range, and uses a single 120bhp electric motor, exactly like its French counterparts. There's a choice of two wheelbase lengths (L3 and L4) for a maximum cargo volume of up to 17 cubic metres – the same as the latest diesel Movano. The maximum payload of 2,100kg is also identical to what the diesel can manage. Read more about the Vauxhall Movano-e here.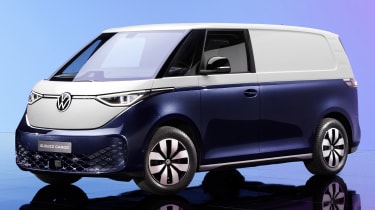 Volkswagen ID. Buzz Cargo
Perhaps the most eagerly anticipated van on this list, we've arguably saved the best 'til last. The Volkswagen ID. Buzz Cargo differs from almost all of its competitors in that it's built on dedicated electric-vehicle architecture, rather than being adapted from a combustion-engined van platform. Under the metal, it uses parts from the same VW Group electric-car 'toolkit' that underpin the Volkswagen ID.3 hatchback and Skoda Enyaq iV SUV. 
For the moment, every ID. Buzz Cargo comes with a 77kWh battery, over 250 miles of range and 170kW rapid charging. It has 3.9 cubic metres of load space in the back, which is enough to fit two Euro pallets, but it offers a relatively low 650kg maximum payload. Prices for the ID. Buzz Cargo start from £46,621 (£38,125 excluding VAT). Read our in-depth review of the VW ID. Buzz to find out more.
Electric Suzuki Jimny one of five EVs due by 2030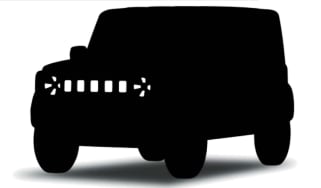 Electric Suzuki Jimny one of five EVs due by 2030
Top 10 best electric SUVs 2023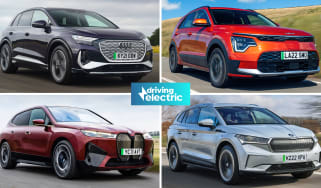 Top 10 best electric SUVs 2023
Polestar 2 now with 395-mile range and faster charging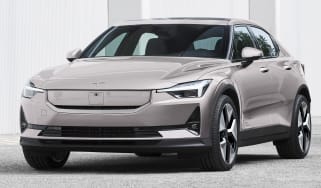 Polestar 2 now with 395-mile range and faster charging
The Tesla Model 3 rival gets major updates for the 2024 model year; order books open now, with prices starting from £44,950
New Peugeot e-3008 electric SUV to offer 435-mile range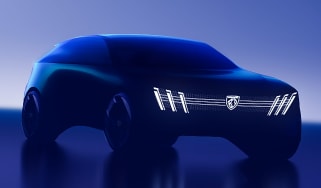 New Peugeot e-3008 electric SUV to offer 435-mile range
Peugeot's first bespoke EV will be available with all-wheel drive and is due to be revealed later this year
First look at new Ford electric SUV ahead of 2023 reveal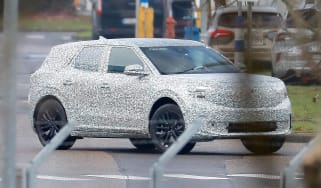 First look at new Ford electric SUV ahead of 2023 reveal
The as-yet-unnamed EV is expected to debut in March and will be built on the same platform as the Volkswagen ID.4 SUV