New electric vans arriving in 2023 and beyond
The electric van market has taken off in the last couple of years, with numerous new models now available and even more on the way…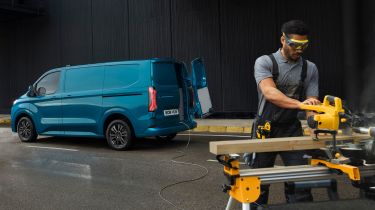 Vans run on diesel: it's been that way for decades. But now several UK cities have implemented clean-air zones and London is set to expand its existing Ultra Low Emissions Zones (ULEZ) once again. Combined with the rising cost of fuel, it's more expensive than ever to operate a fleet or just run your own van, especially in key urban areas.
So switching to electric has the potential to save you a fortune – both in exemptions from congestion charges, and reduced fuel costs. Plus, they're easy to lease, and as technology develops, electric vans' ranges, charging speeds and payloads are improving. They come in all shapes and sizes, too. So, here's a rundown of the most important new electric vans coming to the UK in 2023 and beyond.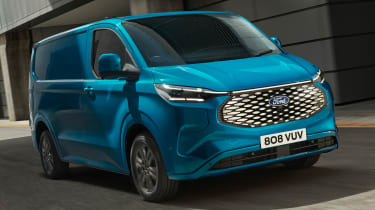 Ford E-Transit Custom
The mid-size Ford Transit Custom is the UK's best-selling vehicle, so it should come as no surprise that the company is bringing out a fully electric version to sit below its full-size E-Transit. Thanks to a 74kWh battery, aerodynamic bodywork and a heat pump to help with efficiency, the E-Transit Custom boasts a range of 236 miles, while the van's 125kW rapid charging capability means a 15-80% top up takes just 41 minutes. The E-Transit Custom also has a maximum payload capacity of 1.1 tonnes.
Inside, there's a 13-inch touchscreen running Ford's latest infotainment system, plus plug sockets in the cab and load area, to power tools, lights, laptops and conversions such as refrigeration units. Some of the van's more unique features include a tilting steering wheel, which you can either attach a laptop or clipboard to for working, or can swivel to an almost horizontal position and create a table. Production doesn't commence until Autumn 2023, so in the meantime read more about Ford E-Transit Custom here.
Ford has also revealed an MPV version called the E-Tourneo Custom that'll take on the Volkswagen ID. Buzz. It's landing in 2023, too, with seating for up to eight people and a range of 230 miles.
Maxus T90EV
Clearly the Maxus T90EV isn't a van, but pickup trucks like this – plus the diesel-powered Ford Ranger and Toyota Hilux – are used as commercial vehicles across the UK. The T90EV might not be the first electric pickup to hit the road, but it is the first one to go on sale in Britain, with a starting price of £49,950 ex.VAT. 
According to the Chinese brand, the 89kWh battery located under the T90EV's chassis is enough for a range of 220 miles on the WLTP test cycle, but we expect it'll cover closer to 150 miles in the real-world. Maximum payload capacity is 1,000kg, which means it comes with VAT savings for eligible businesses. The truck bed measures less than 1.5 metres long, however, so it might not be as practical as you think. Read more about the T90EV here.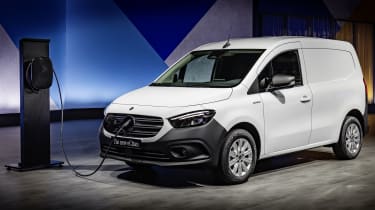 Mercedes eCitan
Mercedes, Nissan and Renault have a history of compact van collaboration, and that agreement continues into the electric era. The eCitan is a sister model of the Nissan Townstar (profiled below) and Renault Kangoo E-TECH we drove in March 2023. Both its load space and payload are expected to match its diesel and petrol-powered counterparts, while Mercedes reckons the eCitan can cover up to 176 miles on a full charge. The van's single electric motor powers the front wheels and produces 101bhp and 245Nm of torque; enough for a top speed of just over 80mph. Prices start from £33,225 (excluding VAT and plug-in van grant), while first examples are due to arrive in early 2023. Read more about the Mercedes eCitan here.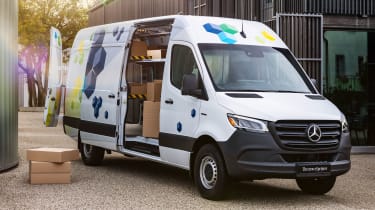 Mercedes eSprinter
The second-generation eSprinter is Mercedes' response to the Ford E-Transit and Fiat E-Ducato. Mercedes' new large electric van will be available with three battery sizes – 56kWh, 81kWh and 113kWh – the largest of which will allow the eSprinter to cover up to 248 miles on a single charge, or up to 310 miles in city driving, according to the brand. It can also charge at up to 115kW, the panel van will come in two body styles and lengths, or the eSprinter can serve as the base for various conversions and body variants for specific use cases. The new eSprinter will land in the UK and Europe towards the end of the year, with the smaller batteries and other variants like a chassis cab model to be rolled out in 2024. Here's everything you need to know about the new Mercedes eSprinter.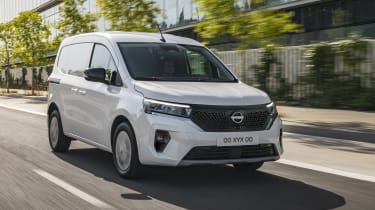 Nissan Townstar
This is Nissan's equivalent of the Mercedes eCitan (above) and Renault Kangoo E-Tech. Serving as a replacement for the now pretty outdated Nissan e-NV200, the Townstar incorporates design cues inspired from Nissan's Ariya electric family SUV, with distinctive LED headlamps and a smoothed-off front end. It gets a 45kWh battery for a claimed range of 183 miles – a significant increase on the e-NV200's official figure of 124 miles – and offers up to 4.3 cubic metres of cargo space. Customers get a choice of two body lengths and four trim levels, with prices starting from a whisper under £31,000 (excluding VAT). Read more about Nissan's small van here.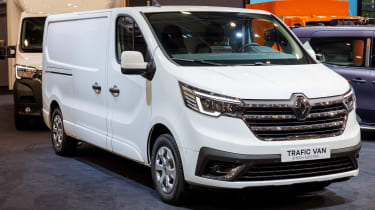 Renault Trafic E-TECH
The new Renault Trafic E-TECH is the French firm's fourth zero-emissions LCV to date, due on sale in early 2023. The Trafic E-TECH uses the same 118bhp electric motor as the Renault Kangoo E-Tech compact electric van we've now had a chance to drive, but gets a slightly larger 52kWh battery. Maximum range in the electric Trafic, without any cargo on-board, stands at 149 miles – significantly less than the 200+ miles rivals like the Vauxhall Vivaro Electric, Fiat E-Scudo and forthcoming Ford E-Transit Custom are capable of. But two body lengths will be available, offering cargo volumes ranging from 5.8 to 8.9 cubic metres, and the longer L2 model also boasts a load length of up to 4.15 metres thanks to a through-loading bulkhead. Read more about the new Renault Trafic E-TECH here.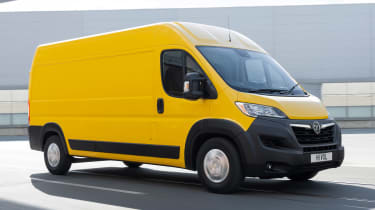 Vauxhall Movano Electric
The full-size Vauxhall Movano Electric is a sister model to the Citroen e-Relay and Peugeot e-Boxer we've already driven, as well as the Luton-based brand's Ford E-Transit rival. The fully electric Movano comes with a 75kWh battery, for a 154-mile range, and uses a single 120bhp electric motor, exactly like its French counterparts. There's a choice of three wheelbase lengths (L2, L3 and L4) for a maximum cargo volume of up to 17 cubic metres – the same as the latest diesel Movano. The maximum payload of 2,100kg is also identical to what the diesel can manage. Read more about the Vauxhall Movano Electric here.
"Everyone wins in the switch to EVs. We must hold our nerve on the 2030 ICE ban"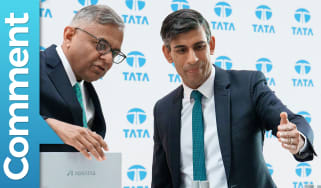 "Everyone wins in the switch to EVs. We must hold our nerve on the 2030 ICE ban"
BMW i4 facelift to topple Tesla with huge range and tech upgrades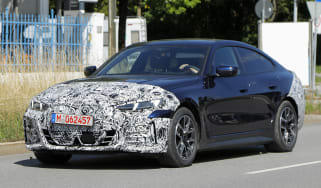 BMW i4 facelift to topple Tesla with huge range and tech upgrades
An updated version of the BMW i4 has been spotted testing, likely sporting a longer range and the latest technology
Electric BMW iX2 is set to take the kidney grille to the next level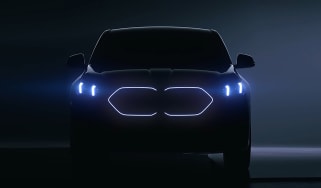 Electric BMW iX2 is set to take the kidney grille to the next level
BMW has teased the highly-rumoured iX2 coupe-SUV, which has been revealed to get enlarged illuminated kidney grilles