New electric vans coming in 2022
The electric-van market has taken off in the last couple of years, with numerous new models launched by manufacturers. Even more are on the way, too...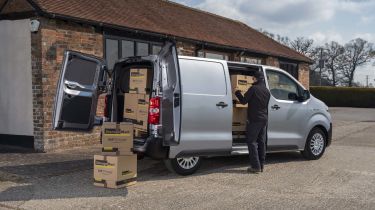 With several UK cities planning to set up clean-air zones or expand existing low-emissions zones, petrol and diesel-powered vans will become ever-more expensive to operate in urban areas in the coming years. This means electric vans will become increasingly important to keep businesses working in major cities.
Many models are already available and if you're a business owner, or run a van for daily errands, switching to electric could save you a fortune – both in exemptions from congestion charges and reduced running costs. Plus, they're easy to lease and as technology develops, electric vans' ranges and payloads are improving. Here's a rundown of the most important new electric vans coming to the UK in 2022.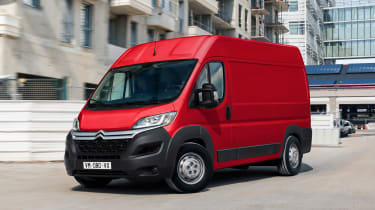 Citroen e-Relay
Sitting above the e-Berlingo and e-Dispatch in the Citroen range, the e-Relay is offered with two battery sizes: 37 or 70kWh. The former gives the van a claimed 73-mile range, while the latter can take it 139 miles before needing a top-up. The shorter-range battery is offered with the L2 body length exclusively, while the L3 and L4 lengths come with the longer-range battery. All body lengths are available in panel-van form, while the L3 offers the option of a chassis cab and the L4 a window van. Maximum payload is from 740 to 1,150kg and maximum load volume is from 11.5 to 15 cubic metres. Read more about the e-Relay here.
Fiat e-Scudo
An identical sister model to the already-on-sale Citroen e-Dispatch, Peugeot e-Expert and Vauxhall Vivaro-e, the e-Scudo is another product of technology sharing between the various Stellantis Group brands. So it gets the same 134bhp electric motor and choice of 50 or 75kWh batteries as those models, for driving ranges of 143 and 205 miles respectively, along with 100kW rapid-charging capability for swift top-ups. We haven't driven the Scudo yet, but its sister models won our 2022 Best Medium Electric Van award, so the signs are good. Read more about the e-Scudo here.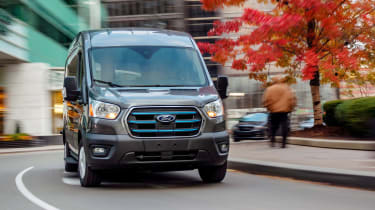 Ford E-Transit
Sales of the pure-electric Ford E-Transit start in early 2022, entering a market that'll be full of similarly large and capable electric vans. Power comes from a 265bhp electric motor and 67kWh battery, with a claimed range of 217 miles. Ford will offer the E-Transit in panel-van, double-cab-in-van and chassis-cab versions as part of a line-up of 25 possible configurations, to include different wheelbase lengths and body heights. The  van will also be packed with up-to-date driver-assistance, safety and fleet-management systems. Read more about the Ford E-Transit here.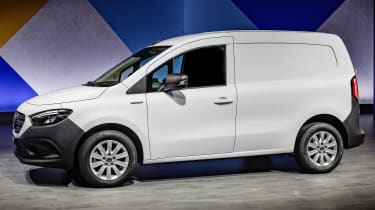 Mercedes eCitan
Mercedes, Nissan and Renault have a history of collaborating to produce compact vans, and that agreement continues into the electric era. The eCitan is a sister model of the Nissan Townstar and Renault Kangoo E-TECH below, and both its load space and payload are expected to match its diesel and petrol-powered counterparts. A single electric motor to power the front wheels will produce 101bhp and 245Nm of torque, while top speed will be just over 80mph. Read more about the eCitan here.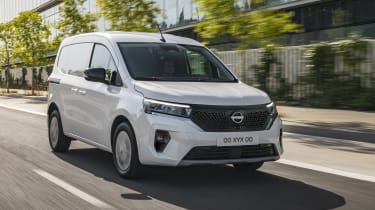 Nissan Townstar
This is Nissan's equivalent of the Mercedes eCitan (above) and Renault Kangoo E-TECH (below). Serving as a replacement for the now pretty outdated Nissan e-NV200, the Townstar incorporates design cues inspired by Nissan's Ariya electric family SUV, with distinctive LED headlamps and a smoothed-off front end. It gets a 44kWh battery for a claimed range of 177 miles – a significant increase on the e-NV200's official figure of 124 miles. Read more about the Townstar here.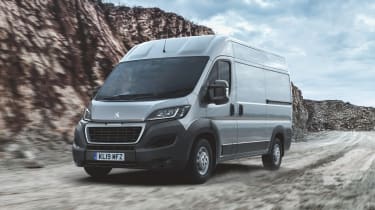 Peugeot e-Boxer
A sister model to the Citroen e-Relay and Vauxhall Movano-e, the e-Boxer is offered in three body lengths (L2, L3 and L4) and a single  height (H2), offering up to 15 cubic metres of load volume and a maximum payload of up to 1,150kg. Power comes from a 120bhp electric motor, fed by either a 37 or 70kWh battery. The smaller battery is available with the L2 and L3 body lengths and gives the van a 73-mile range, while the larger can be fitted to the L3 and L4 versions, for 139 miles' range. The e-Boxer comes with 22kW fast charging as standard; it's capable of taking an 80% charge in an hour. Read more about the e-Boxer here.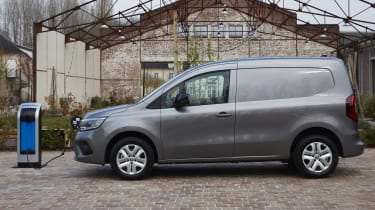 Renault Kangoo E-TECH
With the current outgoing electric Kangoo lagging behind the competition, Renault has announced its replacement. Now known as the Kangoo E-TECH in line with the rest of the brand's electrified models, the van gets a 45kWh battery for a claimed range of up to 186 miles according to official testing. Charging capability has also been significantly improved, with up to 80kW rapid charging now standard. Renault says this will allow over 100 miles of range to be added in around 30 minutes. Wallbox charging at either 11kW or 7.4kW is also possible, with the former taking just under four hours to replenish the battery from 10 to 80% capacity and the latter doing the same in six hours. Read more about the new Kangoo E-TECH here.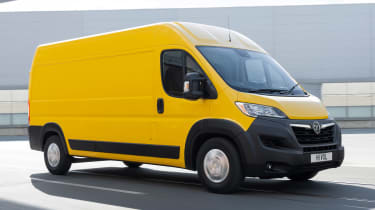 Vauxhall Movano-e
The mid-size Vauxhall Vivaro-e is already on sale, and by the end of 2021 the British brand's zero-emissions light-commercial line-up will be completed by the Combo-e (above) in the compact class and this Movano-e in the large class. A sister model to the aforementioned Citroen e-Relay and Peugeot e-Boxer, it'll come with either a 37 or 70kWh battery, for a maximum range of 72 or 129 miles respectively. Both models will use a single 120bhp electric motor, while there'll be a choice of four wheelbase lengths (L1, L2, L3 and L4) and three heights (H1, H2 and H3), for a maximum cargo volume of up to 17 cubic metres – the same as the latest diesel Movano. The maximum payload of 2,100kg is also identical to what the diesel can manage. Read more about the Vauxhall Movano-e here.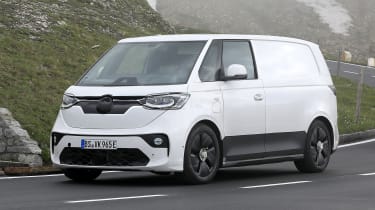 Volkswagen ID. Buzz
Perhaps the most eagerly anticipated of all the electric vans on this list, the VW ID. Buzz differs from almost all of its competitors in that it's built on dedicated electric-vehicle architecture, rather than being adapted from a combustion-engined van platform. Under the metal, it uses parts from the same VW Group electric-car 'toolkit' that underpin the Volkswagen ID.3 hatchback and Skoda Enyaq iV SUV.
The ID. Buzz hasn't been officially unveiled yet, but lightly disguised prototypes (pictured) have been spotted testing. Exact specs have also yet to be confirmed, but battery capacities from 48 to 111kWh are expected, for an estimated driving range of up to 340 miles. Both single and dual-motor layouts are anticipated, too, with a 201bhp output and 99mph top speed for the former. Read the latest about the ID. Buzz here.
Top 10 best plug-in hybrid SUVs 2022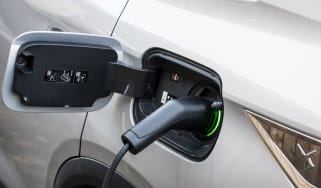 Top 10 best plug-in hybrid SUVs 2022
The finest plug-in hybrid SUVs offer low running costs, enough electric range for daily use and excellent practicality. These are the best plug-in hyb…
Top 10 best plug-in hybrid cars 2022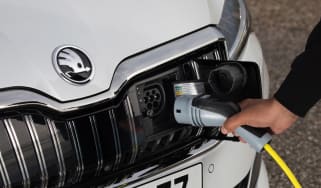 Top 10 best plug-in hybrid cars 2022
Plug-in hybrid cars are great for keeping fuel and company-car tax bills low. Here are the best ones to buy in the UK right now
Top 10 best luxury electric cars 2022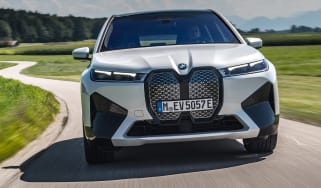 Top 10 best luxury electric cars 2022
From Audi to Tesla, here are our top picks of the most luxurious zero-emissions motoring options on the market right now