Mercedes eSprinter review
The Mercedes eSprinter electric van offers plenty of cargo space, but it's limited by its short range and single bodystyle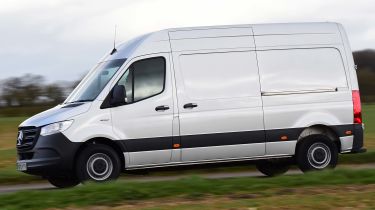 Pros
Refinement
Lots of space
Plenty of options
Cons
Short range
Only one body style
Middling performance
| Van type | Range | Wallbox charge time | Rapid charge time |
| --- | --- | --- | --- |
| Electric | 83 miles | 8hrs (0-100%, 7kW) | 30mins (10-80%, 80kW)* |
*80kW charging is optional extra
There are more and more fully electric vans appearing these days and the Mercedes eSprinter is one option for businesses looking to reduce their running costs and emissions. The eSprinter is a large panel van, which means its rivals include the Citroen e-Relay, Fiat e-Ducato, Peugeot e-Boxer and Renault Master E-TECH.
Instead of a diesel engine under the bonnet, the eSprinter uses an electric motor with 114bhp and 295Nm of torque, plus a relatively small 55kWh battery. This means it's far more relaxing and quiet than the diesel model, gliding smoothly and nearly silently through city traffic – although it's not the quickest, since the van is big and the motor is pretty small.
The battery isn't that big considering the size of the van either, although it's a bit larger than the Mercedes eVito's 41kWh unit. It means the eSprinter's range is just 83 miles, so it has a specific customer base in mind – businesses that do 'last-mile' deliveries over short distances but need a lot of carrying capacity. It's good for city deliveries in particular.
There's only one body style because of the limited use case: the L2 H2 configuration that features a medium-length wheelbase and medium-height roof. There's no impact on carrying capacity compared to a diesel Sprinter panel van, as the batteries are cleverly packaged under the floor. There's a single sliding side door, plus rear doors that open out to 270 degrees.
Once the door's open you can fill the 11 cubic metres of load space easily enough, or make use of the 3.4-metre cargo bay length. If you plan to make use of the maximum payload of 731kg, you can expect the maximum range figure to drop as it has to work harder for every mile travelled.
Up front, there's a three-seat cabin with plenty of room and storage space throughout. It also features air-conditioning, a heated driver's seat, automatic emergency braking and LED interior lighting as standard. Active braking assistance, emergency braking and attention assistance (which detects when the driver is tired) are standard-fit, too. The regular fabric seats feel comfortable for a day of driving, although artificial leather and a comfort seat with an armrest and additional adjustment are available as optional extras.
If you use a home wallbox style charger, the eSprinter will take eight hours to go from 0-100%, Although, if your business has access to an 11kW charger, it'll be a bit quicker. All versions of the van can charge at 20kW using a DC fast charger, allowing you to replenish from 10-80% in two hours. You may want to invest in the optional 80kW charger for £500, though, as it drops the time to charge to just half an hour. 
The eSprinter is only available in Progressive trim, and prices start at £52,000 excluding VAT. But don't be put off by that seemingly high figure: the UK Government's plug-in van grant offers up to £6,000 off the list price, while Mercedes Vans offers a free charging-point installation, subject to survey, to anyone buying an eSprinter.
The eSprinter also comes with a three-year warranty with no mileage limit, plus its battery is covered by an eight-year/160,000-kilometre guarantee. If during this time the maximum battery capacity drops below 70% of its original design, it will be repaired or replaced at no charge. Overall, the Mercedes eSprinter is a very refined electric van, but is limited by its short range and single choice of bodystyle.