Abarth 500e review
Loud and proud, the Abarth 500e certainly looks (and sounds) the part – but can it supercharge the electric hot hatch market?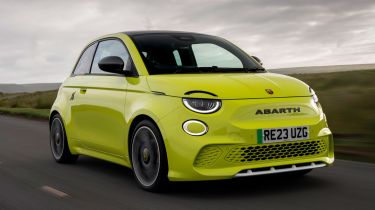 Pros
Fun to drive
Sporty styling
Decent tech
Cons
Could be quicker
Range penalty
Cramped inside
Abarth 500e verdict
Never has an electric car been quite as loud as the Abarth 500e – both in the visual and audible sense. The souped up Fiat 500e may not be to everyone's tastes, but it's certainly proof that there's plenty of scope for electric hot hatchbacks to excite us in the future. Sharp steering and a low centre of gravity make it great fun to drive, but given the MG4 XPower offers twice the amount of horsepower for the same money, we wish there was at least a little more poke. If you can afford to swallow the eye-watering price tag, you'll find there's a lot to love above this pint-sized pocket rocket, with few EVs providing this level of fun and engagement – especially around town.
Details, specs and alternatives
For years, Abarth has been turning up the wick on the humble-yet-handsome Fiat 500, boosting power and fitting exhausts fit for hooligan antics in supermarket car parks late at night. So how has this translated during the switch to electric power? Well, let us introduce you to the Abarth 500e: the most rebellious electric car you can buy.
A rival to the popular MINI Electric – soon to be replaced by the MINI Cooper Electric – as well as the much more powerful MG4 XPower, the Abarth 500e is amongst the first electric hot hatchbacks to go on sale. That being said, at face value, things seem a tad lukewarm; the Abarth 500e 'only' produces 150bhp and reaches 62mph in seven seconds, making it slower than both of its direct rivals.
However, what the 500e does have on its side is a plethora of performance parts; Abarth has ditched the standard Fiat's suspension, re-tuned the steering and fitted bigger brakes. It even gets a set of bespoke Bridgestone tyres.
On top of this, the Abarth is given a more aggressive stance with wider bumpers, side skirts and different wheels. There's also a variety of migraine-inducing bright paint colours, plus every version gets scorpion badges with a new lightning bolt design. Perhaps most controversially, Abarth has fitted the 500e with a sound generator (essentially a glorified speaker) that's designed to mimic a petrol-powered Record Monza exhaust – it really does need to be heard to be believed.
One thing that hasn't changed is the battery. The Abarth 500e uses the same 42kWh battery, though the myriad tweaks to the rest of the car mean range drops to between 150 and 164 miles (from the Fiat's 199-mile maximum). It'll still charge from 0-80% in around 35 minutes, though, thanks to the car's 85kW DC rapid charging speed.
Available as a hatchback or a convertible 'Abarth 500e Cabrio' for roughly £3,000 more, this rorty runabout is also offered in both standard and top-spec Turismo trims. The base spec brings 17-inch wheels, LED lights, climate control and keyless go, plus a 10.25-inch infotainment system with Apple CarPlay and Android Auto. Turismo (again, £3k more than the base car) gets bigger wheels, Alcantara trim inside, plus wireless phone charging and a reversing camera. A fixed glass roof is included on Turismo versions, too.
Partnership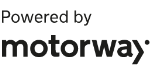 Need to sell your car?
Find your best offer from over 5,000+ dealers. It's that easy.
The 500e is currently the only electric Abarth on sale, though according to CEO Olivier Francois, further models are planned – including faster, lighter iterations of the 500, plus a tuned version of the new Fiat 600 SUV.
Range, battery size & charging
| | | |
| --- | --- | --- |
| Range | Wallbox charge time | Rapid charge |
| 150-164 miles | 4hrs 15mins (0-100%, 11kW) | 35mins (10-80%, 80kW) |
While Abarth has swapped out plenty of the Fiat 500's core components for uprated performance parts – suspension, brakes, etc – it has left the battery well alone. That means every version uses the same 42kWh battery, which here is good for a claimed range of between 150 and 164 miles – the lower of those two figures relates to the top-spec convertible on the biggest 18-inch wheels.
While that's more miles than the outgoing MINI Electric can muster, it's some way shy of cars like the bigger MG4 XPower and Cupra Born – neither of which cost all that much more than a base Abarth. We found the usual EV efficiency killers – namely spirited high-speed driving and cold, wet weather – didn't do the 500e's range any favours; on a rainy day in Northern Italy, we were seeing just over 2.5mi/kWh – translating to a real-world range of just over 100 miles. However, a gentler run on UK roads saw us easily crack 4mi/kWh over a mix of urban and rural roads – pretty much bang-on Abarth's official figures.
Charge times are unchanged versus its Fiat donor car. The Abarth's 85kW rapid charging speeds sit at the slower end of the spectrum, but it should be capable of a 0-80% top-up in just over half an hour when needs must. Abarth quotes home charge times via an 11kW wallbox, but you'll need three-phase electricity to take advantage of that – add at least another couple of hours for a more common 7kW home setup.
Running costs & insurance
Ultimately, the Abarth 500e is a small, electric city car. So, ignoring its astronomical base price and provided you don't drive around everywhere like a hyperactive 17-year-old who just got their licence, it shouldn't be too expensive to run.
The Abarth 500e sits in the very lowest Benefit-in-Kind (BiK) company car tax band, and it's currently exempt from the London Congestion Charge and other low emission zones. There's no road tax to pay until at least 2025, either. But beware – top-spec convertible versions cost more than £40,000 so if plans go ahead to make EVs liable for the luxury car tax, you'll pay a hefty premium in years two to six.
Regardless, you can have the Abarth looked after in the same way you would a Fiat 500e – via an identical dealer network and, we expect, with a similar range of service plans. It should be pretty inexpensive to charge, too; at the current electricity rate of 30p per kWh, a full charge at a home wallbox should cost you well under £15. Using a public rapid charger can be almost as expensive as filling up a combustion engined car with petrol, though. 
Abarth insurance groups have now been revealed, and aren't actually as bad as you might think. The group 23 (out of 50) rating for all versions is on par with a MINI Electric and quite a bit lower than the faster and more powerful MG4 XPower.
Performance, motor & drive
| 0-62mph | Top speed | Driven wheels | Power |
| --- | --- | --- | --- |
| 7.0s | 96mph | Front | 150bhp |
Given the visual and mechanical updates Abarth has made to the 500e in its transition from city car to hot hatch, you'd be right to expect a dramatically different driving experience. And actually, while it still feels like a nippy, fun-to-drive small car, it's quite a bit more engaging on a twisty road.
Abarth claims the EV is a second faster from 25-37mph than its petrol counterpart – not a particularly conventional performance statistic, but one that demonstrates this car's strengths. While it runs out of puff at the top end, the car hunkers down and shoots away out of corners, making it feel a little like an oversized electric go-kart.
In fact, we think the Abarth 500e makes most sense around town, with its nippy powertrain and quick-yet-light steering allowing sharp direction changes and making darting around between traffic a breeze. Ultimately, while the instant delivery of torque does make the Abarth feel nippy at the lights, the lack of power is evident at higher speeds – a shame, given how otherwise surprisingly composed the 500e feels on the motorway.
The uprated brakes are strong, and the one-pedal setup works as well here as it does in the Abarth's Fiat donor car. If you prefer to use the conventional brakes rather than the regen, then you'll be pleased to hear there's plenty of pedal feel – something that isn't always easy to get right in electric cars.
Then there's the elephant in the room: the Abarth 500e's 'sound generator'. Consisting of a water and mud-proof external subwoofer, it mimics the sounds of an old Record Monza exhaust. It's certainly distinctive, but we're not convinced it's the right solution – nor did many others, as displayed by the disapproving looks from members of the public as we drove by. We must admit that it's pretty fun when you're zipping around town or a twisty set of backroads, but it does get annoying when you cruise along at high speeds. Thankfully, you can turn it off  – but only at a standstill.
There are three different drive modes: Turismo, Scorpion Street and Scorpion Track. The first of those limits power and ramps up the regenerative braking, while the latter does the complete opposite – offering customers the full beans but without the energy-harvesting one-pedal driving. We drove the car in Scorpion Street most of the time, blending maximum power with high regen.
Interior, dashboard & infotainment
Being based on the latest Fiat 500 is no bad thing when it comes to the Abarth's cabin. You no longer feel as if you're sitting on a bar stool, with the electric Abarth offering a much lower seating position than its predecessor. The dashboard is well laid out, with all cars getting a large 10.25-inch infotainment display and digital instrument cluster. 
All cars come with Apple CarPlay and Android Auto. But the relatively intuitive nature of the standard system may surprise those who've experienced older Fiat and Abarth touchscreens. It's a shame, therefore, that to turn the polarising sound generator on (or off) requires you to delve into the myriad sub-menus on the screen behind the steering wheel – and only when the car is stopped – probably a good thing given its complexity. We think a simple button on the dashboard would be preferable, and we're assured a simpler solution is in the works.
The seats are both supportive and comfortable, and the steering wheel is beautifully sculpted to fit your hands when driving quickly. There's Alcantara on the dashboard, too, which not only looks great, but helps draw attention away from the swathes of cheap plastic that otherwise fill the cabin.
Boot space, seating & practicality
| Length | Width | Height | Boot space (seats up/down) |
| --- | --- | --- | --- |
| 3,673mm | 1,682mm | 1,518mm | 185/550 litres |
You don't buy an Abarth 500e if you want a spacious, practical or versatile family car – that much is a given. And yet the little pocket rocket is useful in its own way – compact dimensions make it a simple, user-friendly city car that makes driving on tight urban streets a doddle.
Space up front is generous, though, and you're not presented with the annoying raised seating position that plagued the Abarth's predecessor. The view out the front is great, and the short overhangs make the car easy to place when parking or manoeuvring. One thing worth noting, though, is that the rear window on Cabrio models is like peering through a letterbox, with your view behind completely obscured if you choose to retract the roof fully.
The 500e is two-door only and the rear seats aren't particularly accommodating – for adults or children. You'll struggle to post a baby or toddler through the tight opening between the door and front seat, and once they're there things are quite claustrophobic. It's probably best to use the Abarth as a two-seater with some extra luggage space in the back.
You'll need all the extra storage space you can get as, with just 185 litres, the 500e has one of the smallest boots in its class – smaller even than a MINI Electric's (211 litres). And if you throw things open to similarly priced but far larger hatchbacks like the MG4 or Cupra Born then it's no contest; the Abarth simply isn't suited to family buyers. There's no extra space to store the charging cables, either, so you'll be forced to sacrifice some of the load bay just to keep your car topped up away from home.
Reliability & safety rating
Fiat and Abarth don't have the best reputation in terms of customer satisfaction. In fact, Fiat finished 31st out of 32 manufacturers in our 2023 Driver Power owner satisfaction survey – ahead of MG, but well behind mainstream rivals like Vauxhall (24th), SEAT (23rd) and Nissan (19th). On the plus side, only 12% of owners reported a fault in the first year – bettered only by Suzuki (8%).
It's worth taking Fiat's figures with a small pinch of salt, however, as some of the biggest complaints were with regards to practicality and rear-seat legroom – but you won't buy a 500e if space is a top priority. Fiat owners who responded to the survey also complained about interior quality– something the maker has been working hard to improve, and an area we think the 500e shows strong gains. Every 500e comes with an Alcantara dash, and there's loads of tech on board.
Safety shouldn't be a cause for concern either. The Fiat on which the Abarth is based was awarded four stars out of five when it was tested by independent crash test body Euro NCAP in 2021. That's not the maximum score available, but still a strong showing; adult and child occupancy scores of more than 70% are credible in this part of the market. All cars get a plethora of sensors and safety features as standard.