Volkswagen e-Crafter van review
The Volkswagen e-Crafter is an impressive addition to the growing large electric van class – but like rivals, it's set to be very expensive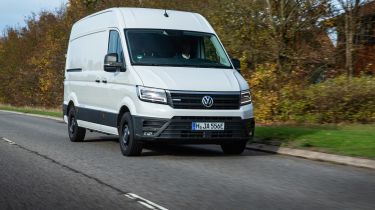 Pros
Same load space as diesel Crafter
User-friendly and good to drive
Ultra-low running costs
Cons
Very expensive
Won't suit all businesses
Not coming to UK until 2021
The Volkswagen e-Crafter is the latest manifestation of a growing trend towards larger electric vans. Small electric vans such as the Citroen Berlingo Electric, Peugeot Partner Electric and Renault Kangoo Z.E. are now relatively well established, but larger panel vans have been slower to electrify.
At the moment, the only direct rivals for the e-Crafter on the UK market are the Renault Master Z.E. and LDV EV80, although more competitors are on the way from other brands – Mercedes will soon launch an 'eSprinter', while the Citroen Relay Electric, Fiat Ducato Electric and Peugeot e-Boxer are also on the way.
Large electric vans like these are designed to fulfil a very specific niche: 'last-mile' urban, multi-drop delivery routes, where volume rather than outright weight of cargo is important. They're designed to allow urban delivery companies and drivers to keep operating in low- or zero-emission zones, which are expected to be become increasingly prevalent in dense city centres in the not-too-distant future.
The up-front cost for a business to 'future-proof' itself against this development is high, though: the Master Z.E. costs from around £47,000 before VAT and after government incentives, while the retail price of the e-Crafter in Germany (including sales tax, but before incentives) is around £63,000. A UK retail price has yet to be confirmed, and right-hand-drive sales are not expected to start until mid-2021.
One advantage the e-Crafter has over the Master Z.E. is that the more recently launched Volkswagen was developed from the outset to accept both diesel and electric powertrains, whereas the Renault is more of a 'retrofit' of electric technology to a van that was originally designed only as a diesel.
The e-Crafter uses the same electric drivetrain as the Volkswagen e-Golf electric family hatchback, making 134bhp and driving through the front wheels. There's no compromise in load space compared to the regular Crafter: 10.7 cubic metres of volume ensure four Euro pallets can be swallowed without fuss.
If the e-Crafter makes sense financially, it's a great choice. Like the standard diesel Crafter, it's a great-to-drive and very user-friendly van, with the kudos of that premium Volkswagen badge on the nose.
For more on the Volkswagen e-Crafter, read on for the rest of our in-depth review.