Volkswagen e-Crafter reliability & safety
The Volkswagen e-Crafter features advanced safety systems and has already been tested in the field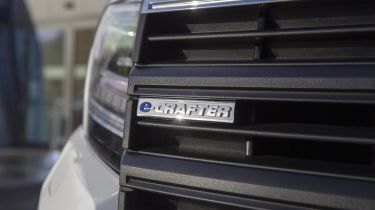 Reliability is vital for commercial-vehicle operators, and the long-term prospects for electric vans looks good. They should be inherently more reliable than diesel vans due to having significantly fewer moving parts, and maintenance bills should be lower as a result.
Volkswagen e-Crafter reliability & problems
Although the e-Crafter is a brand-new model, its electric powertrain technology has been proven in the Volkswagen e-Golf hatchback, which has been on sale for several years now.
The e-Crafter has also been on test with 25 companies in the UK, Sweden, the Netherlands and Germany, generating positive feedback from users. There's also the added reassurance of Volkswagen's eight-year battery guarantee.
Safety
Vans aren't always at the cutting edge when it comes to safety technology, but the e-Crafter bucks this trend by including post-collision braking and crosswind assistance systems, as well as front and rear-view cameras, backed up by a 16-sensor parking-assistance system to help avoid minor bumps and scrapes while manoeuvring in tight spaces.