Renault Master E-TECH review
The Renault Master E-TECH is one of the largest electric vans around, but its scope is somewhat limited by its range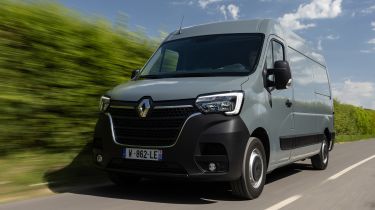 Pros
Massive cargo volume
Good payload
Easy to drive
Cons
High list prices
Bulky for urban driving
Range not class-leading
| Van type | Range | Wallbox charge time | Fast charge time |
| --- | --- | --- | --- |
| Electric | 126 miles | 5hrs (20-80%, 7.4kW) | 1hr 30mins (20-80%, 22kW) |
The Renault Master E-TECH is a fully electric large panel van. It was the first such vehicle to be offered on the UK market, but over the years has been joined by a series of rivals, including the Citroen e-Relay, Peugeot e-Boxer, Fiat e-Ducato, Mercedes eSprinter and – most notably – the Ford E-Transit.
Despite all this competition, the Renault is still an interesting choice for businesses doing regular short trips in London or other large UK cities. It's exempt from the London Congestion Charge and other such clean-air zone charges and has been designed to undertake last-mile, multi-drop deliveries, prioritising cargo volume over sheer payload.
The Master E-TECH is largely similar to the diesel version of the van, but instead of an engine there's an electric motor and battery. The latter was upgraded in size to 52kWh in mid-2022, promising 68% more range than before – up to a maximum of 126 miles before a top-up is needed. For cargo, up to 13 cubic metres of load volume is available, depending on which body style you choose, as the motor and battery are fitted in place of the diesel engine rather than taking up any space in the back of the van.
Charging is done using a standard Type 2 cable, and Renault claims that charging from 20 to 80% capacity can be done in five hours using a wallbox, as opposed to 10 hours from a domestic socket. When you buy the Master E-TECH, Renault will consult with you about charging options, and it's best to have a high-voltage wallbox available where the van is most likely to be parked overnight.
Master E-TECH buyers have a choice of panel van, chassis cab and platform cab formats, with MM35, LM35, ML35 and LL35 size formats available, allowing a payload of up to 1,420kg. The platform-cab model can have bespoke bodywork added from a recommended conversion company.
On the road, the Master E-TECH has enough grunt to keep pace with traffic, but it's hardly what you'd call fast. There's plenty of torque to make light work of a heavy payload, although if you do carry a big load on board, expect the maximum driving range to reduce.
There's an Eco button on the dash that helps preserve the Master E-TECH's range by cutting throttle response and limiting top speed to 50mph (down from 68mph), but this is as frustrating as it is useful, as it blunts the van's performance. Other than that, driving the electric Master is just like driving the diesel version. In fact, it's better, because it's quiet, refined and no gearchanges are needed.
Overall, the Master E-TECH is a niche electric vehicle that caters to a very specific sector of the commercial-vehicle market. It beat its rivals to the punch, but unless you're running a last-mile delivery company making multiple drops in a busy urban area, it's unlikely to cater for your needs.
A relatively short range means it's not going to venture much further than city streets. But if that's where you're going to use it, the Master E-TECH makes a lot of sense. It has masses of cargo space, is easy to drive and has the same conversion options available as the diesel Master. For a more detailed look at the Renault Master E-TECH, read on for the rest of our in-depth review...