Volkswagen e-Crafter running costs
The Volkswagen e-Crafter's rock-bottom everyday running costs have to be balanced against a high initial investment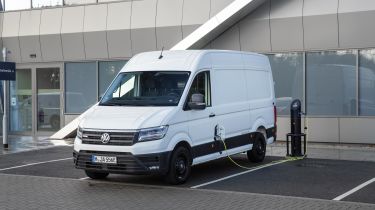 Like all electric vans, the e-Crafter offers big savings over its diesel-fuelled equivalent when it comes to day-to-day running costs, which should make business users sit up and take notice.
Exact charging costs will depend on your energy tariff, while maintenance costs should be lower than for a conventionally powered van, due to the e-Crafter having much fewer moving parts than the diesel. There's also the potential to save on having to pay current and future pollution charges in cities, such as the London Ultra Low Emission Zone (ULEZ), which came into force in April 2019.
In order to better illustrate the savings that can be made, Volkswagen has calculated that the e-Crafter uses 21.5kWh of energy per 100 kilometres when carrying a 975kg payload, which is equivalent to a 2.0-litre TDI diesel Crafter returning 135mpg fuel economy with the same load on board.
This all has to be balanced against a high initial purchase price. In Germany, the e-Crafter retails for the equivalent of £63,000 (including sales tax but excluding government incentives), but we'll have to wait and see exactly what the figure is for the UK market. With the Renault Master Z.E. already on sale, and large electric vans from Mercedes not far off, this part of the van market is about to get more competitive.
Volkswagen e-Crafter insurance group
The standard diesel Crafter falls into insurance groups 7 to 11 depending on specification, but the e-Crafter could end up with a slightly higher rating due to its higher purchase price. Its exact UK insurance group has yet to be confirmed.
Warranty
The precise warranty cover for the e-Crafter on the UK market hasn't been confirmed yet, but it's likely to combine the standard Volkswagen Commercial Vehicles three-year/100,000-mile warranty (with options to extend) along with Volkswagen's eight-year battery guarantee for its electric models.