Volkswagen e-Crafter range, battery & charging
Intended urban delivery role means the Volkswagen e-Crafter's driving range is relatively short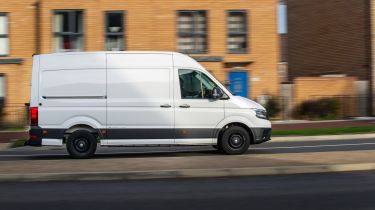 The e-Crafter's range isn't especially impressive on paper, especially when compared to what the latest passenger electric cars can manage. However, this van is primarily intended for use on short urban delivery routes in heavy traffic, and is therefore not expected to cover big mileage. Charging can be carried out from a domestic power socket, a wallbox or a public fast charger.
Volkswagen e-Crafter range
On a full charge, says Volkswagen, the e-Crafter can travel for up to 107 miles, but in real-world operating conditions, that's likely to be closer to around 60 miles. Weather, traffic conditions, road types, driving style, on-board equipment use and payload will all have an affect on the total range achievable.
While that's a good deal shorter than what can be achieved by the latest electric passenger cars, it should be sufficient for the urban multi-drop delivery role the e-Crafter has been designed for.
The interior can be 'pre-conditioned' to a set temperature and the heated seats warmed up in advance while the e-Crafter is still plugged in, in order to minimise battery use and range depletion on the move, especially on particularly hot or cold days.
Charge time
Using a mains socket, charging the e-Crafter fully will take a rather unwieldy 17 hours, so most operators are likely to plump for a 7.2kW wallbox (which will take about five hours to do the job) or use public CCS charging points (which can give 80% charge in 45 minutes).
Battery warranty
We don't yet have confirmation of exactly what warranty cover the e-Crafter will be sold with in the UK, but Volkswagen's electric passenger cars like the e-Golf and e-up! come with an eight-year guarantee for their high-voltage batteries.