Volkswagen e-Crafter practicality & load space
The Volkswagen e-Crafter has exactly the same cargo capacity as the diesel Crafter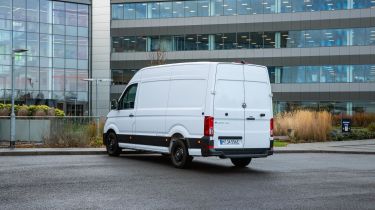 Unlike some electric vans, the latest Volkswagen Crafter was designed from the outset to accept both diesel and electric powertrains, so there's no sacrifice in the carrying capacity of the e-Crafter compared to the conventional model. The load space measures 10.7 cubic metres – big enough for four Euro pallets.
Volkswagen e-Crafter interior space, storage and comfort
Up front, the e-Crafter is as spacious and comfortable as the standard Crafter, with plenty of storage spaces in the doors and dashboard for the day-to-day clutter of working life. The only difference from the standard Crafter is a tell-tale electric range indicator in place of the rev counter in the dashboard.
Load space
Volkswagen is initially offering the e-Crafter in two different variants, both with a high roof and standard body length. The 3.5-tonne version has a payload of 975kg, while the 4.25-tonne variant – a version which standard car licence holders can still drive – can carry a payload of 1.72 tonnes.