Renault Master E-TECH performance, top speed & motor
The Renault Master E-TECH has modest performance, but it can cope with reasonable loads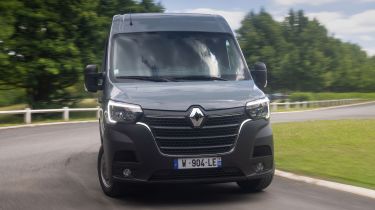 Some electric cars make a show of their searing acceleration. And while most electric vehicles are rapid off the line, the sheer size and bulk of the Renault Master E-TECH means it's not one of them. The Master has a 75bhp electric motor, but the addition of the 52kWh battery to the large Master body bumps up its kerbweight, so performance is blunted.
Still, the Master E-TECH is fast enough to keep up with traffic, as long as you don't press the Eco button. This limits top speed to 50mph, which is good for energy saving, but throttle response is also dulled, making the van seem slow off the line. You feel like you need to push the throttle harder to compensate for the poor response, thereby cancelling out the positive effect the Eco button is supposed to have.
Renault Master E-TECH electric motor, 0-62mph and acceleration
The 75bhp electric motor is sourced from the ZOE electric supermini, so it's only a modest performer – in comparison, the Ford E-Transit has a 181bhp electric motor, so can easily outsprint the Master E-TECH There's no official 0-62mph time for the Renault, but the same electric motor in the old Kangoo E-TECH compact van returned a 0-62mph time of 14 seconds, so the Master's not going to be any quicker than that.
Handling
The Master E-TECH is arguably an easier van to drive than the diesel version. It's automatic as standard, so there's no gearbox to deal with, while the silent running of the electric motor means it's pretty quiet and refined. The weight of the batteries makes the Master relatively stable and unruffled by bumps, while the only noise really comes from the tyres, wing mirrors and the sound of bumps shuddering through the big body.
Renault fits the same noise generator in the Master E-TECH as found in the rest of the range. This emits a futuristic whirring hum at speeds up to around 20mph, so other road users know of its presence. Go faster than that, and the van's general tyre and wind noise is louder than the sound generator.