Renault Master E-TECH reliability & safety rating
The use of proven components and technology means the Renault Master E-TECH should be reliable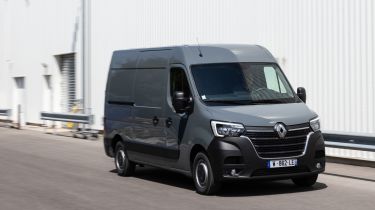 Renault has been canny with the Master E-TECH, because it's based on the existing Master, which has been in production since 2010, and uses electric running gear that's already been proven in the Kangoo E-TECH. The E-TECH is built in the same factory as the Master diesel in Batilly, France, which is why Renault is able to offer it in a similar range of body and platform-cab styles as the diesel van. That should also mean the E-TECH is reasonably reliable, and the fewer moving parts means less is likely to go wrong in the first place.
Renault Master E-TECH reliability & problems
Taking the 2.3-litre diesel and manual gearbox out of the Master means the E-TECH has less components to go wrong. But a record of MoT test failures reveals that the Master has the biggest issues with the electrical system, followed by suspension problems and braking system failures, so these are things to look out for on the E-TECH as well. At least the battery is covered by an eight-year warranty, so that should give peace of mind about how the battery pack performs over the van's work life.
Safety
The Master E-TECH gets the same safety kit as the diesel van, so there's a full steel bulkhead for the panel-van versions, three-point seatbelts for all three seats and anti-lock brakes with brake force distribution. There's only one airbag as standard, though – if you want a passenger airbag, you have to pay extra.
Electronic stability control is also standard, and it includes Grip Xtend, which allows you to alter the traction control to get going on slippery surfaces. Hill-hold assistance is also included and trailer stability control is also thrown in. However, cruise control with a speed limiter is an option.
As with the Kangoo E-TECH, the Master E-TECH comes with a sound generator to help other road users know you're there. This works at speeds up to around 20mph, when general tyre and road noise takes over.