Renault Master E-TECH practicality, seating & load space
The Renault Master E-TECH is one of the most spacious electric vehicles on sale today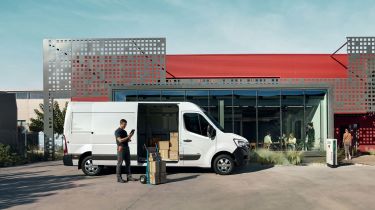 There's no question that the Renault Master E-TECH is among the most spacious electric vehicles currently on sale in the UK. Of course, it's also one of the most utilitarian, and there are no passenger or minibus versions on offer just yet, so it only really has seats for three.
Most of the space is behind the bulkhead, and there are two different panel vans on offer, called MM35 and LM35. The number 35 refers to a gross vehicle weight (GVW) of 3.5 tonnes, while the MM is a medium-wheelbase, medium-roof configuration roof and the LM has a long wheelbase and medium roof.
As standard, the Master E-TECH has a single sliding door and twin 'barn doors' at the back. These open through 180 degrees, while 270-degree opening is available as an option. A second side door is available, as is glazing for all doors.
The LL35 platform-can model is designed to have custom bodywork added, such as a Luton low-loader. A chassis-cab version was added to the range in July 2020, allowing for a whole host of conversions, including tipper, dropside and Luton box van.
Renault Master E-TECH interior space, storage & comfort
There's a 1+2 seat layout in the Master E-TECH, with the driver's seat getting height adjustment and an armrest. The other two seats are fixed in place, but the cab is vast, so there should be no arguments about elbow room. The seats are comfortable, while the view out is good, with double wide-angle mirrors and an extra wide-angle mirror mounted on the passenger sun visor that gives the driver a better view of their blind spot on the nearside of the van.
The passenger seats have flip-up bases that reveal a large hidden storage area underneath, while there's a big glovebox, deep door bins and storage trays on top of the dashboard. There's a pull-out clipboard mounted in the top centre of the dash, while the roof is high enough to make room for overhead parcel shelves. You can add a suspended driver's seat for added comfort, while height-adjustable passenger seats with armrests are available.
Load capacity
Cargo volume is the reason why the Master E-TECH exists, as it's designed for businesses that need maximum load volume from an electric van. The panel van has a load volume of up to 13 cubic metres in its largest form, along with a payload of up to 1,420kg.