Renault Master Z.E. range, battery & charging
Its sheer size means the Renault Master Z.E. is compromised in terms of driving range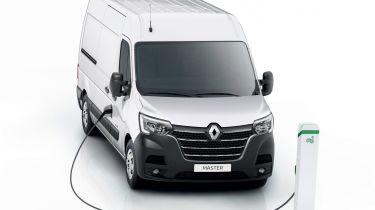 The Renault Master Z.E. was one of the first large electric vans to go on sale, and while it leads the way for cargo volume and payload, compromises have to be made in terms of its driving range. Renault has used the electric motor and 33kWh battery pack from the Kangoo Z.E. to the Master, and as you'd expect, the larger, heavier van has a shorter range than the Kangoo.
Renault quotes a 124-mile potential range for the Master Z.E., although real-world driving should see a range of around 75 miles possible without resorting to eco-driving techniques. That's around 50 miles less than the Kangoo Z.E., so some potential buyers might want to weigh up whether they need the extra capacity of the Master over the extended range of the Kangoo.
Renault Master Z.E. range
The quoted maximum range of the Master Z.E. is 124 miles, but Renault is honest about the kind of driving range you're likely to experience in the real world – it has a handy range calculator on its website that can give you an idea of what kind of range you'll experience.
In regular driving with a modest payload and warm weather, Renault claims you'll be able to travel around 75 miles without too much trouble. And if you use the Master Z.E. as an urban delivery vehicle, this will be enough to do a day's work without needing to recharge the battery. If the weather is colder, then battery performance is compromised, while a heavier payload will also have an effect on the overall driving range. Renault quotes a range of 50 miles in winter.
Charge time
Renault supplies a Type 2 charging lead with the Master Z.E. and claims you can recharge the battery from flat in six hours if you use a wallbox. If you're using a mains socket, then you'll have to wait 17 hours for a flat battery to be fully charged. Unfortunately, there are no rapid charging options offered with the Master Z.E.
Battery warranty
There's a five-year/100,000-mile warranty on the battery in the Master, while the electric drive system has separate cover that lasts for four years, but has the same 100,000-mile mileage limit. The rest of the van is covered by Renault's standard three-year/100,000-mile guarantee, and you can add another 12 months to the warranty for around £300. Breakdown cover is also for three years, while this also includes recovery if you run out of power.