Renault Master E-TECH range, battery & charging
Its sheer size means the Renault Master E-TECH is compromised in terms of driving range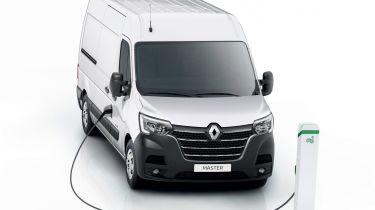 The Renault Master E-TECH was one of the first large electric vans to go on sale, and by 2022 its range figure was beginning to look decidedly sub-bar, leading its manufacturer to upgrade the battery size from 33 to 52kWh in a bid to offer more range.
Renault Master E-TECH range
The quoted maximum range of the Master E-TECH is 126 miles, but Renault is honest about the kind of driving range you're likely to experience in the real world – it has a handy range calculator on its website that can give you an idea of what kind of range you'll experience.
If you use the Master E-TECH as an urban delivery vehicle, this will be enough to do a day's work without needing to recharge the battery. If the weather is colder, then battery performance is compromised, while a heavier payload will also have an effect on the overall driving range.
Charge time
Renault supplies a Type 2 charging lead with the Master E-TECH and claims you can recharge the battery to 80% capacity from flat in five hours if you use a wallbox. If you're using a regular domestic socket, then you'll have to wait 10 hours to do the same. Unfortunately, the Master can't stretch to rapid charging, although it will fast charge at 22kW from a public point.
Battery warranty
There's a five-year/100,000-mile warranty on the battery in the Master, while the electric drive system has separate cover that lasts for four years, but has the same 100,000-mile mileage limit. The rest of the van is covered by Renault's standard three-year/100,000-mile guarantee, and you can add another 12 months to that at extra cost. Breakdown cover is also for three years; this includes recovery if you run out of power.