Renault Master E-TECH running costs, insurance, warranty & tax
It's expensive to buy or lease, but total cost of ownership is where the Renault Master E-TECH claws back money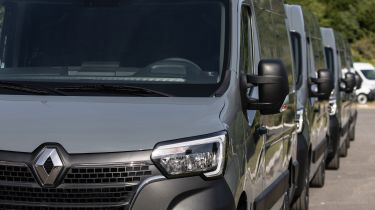 With the panel-van version of the Renault Master E-TECH starting around the £50,000, it's pretty expensive. That's a lot more than for a diesel-powered Master, but benefits of the E-TECH's low running costs will be felt as soon as you hit the road. Charging costs much less than filling up with diesel, and as the Master E-TECH is designed with multi-drop deliveries in mind, it'll soon recoup the additional cost if it's being used five or six days a week, all year round, when compared to a diesel van.
Renault Master E-TECH insurance group
The Master E-TECH falls into insurance groups 45 and 46, which is pretty much the same as equivalent diesel version of the van, so there should be little or no difference in the cost of coverage.
Warranty
The standard three-year/100,000-mile warranty that Renault offers on its entire range is also given to the Master E-TECH, backed up by three years of Renault Assistance breakdown and recovery. The battery is covered for five years/100,000 miles and the electric drive system is covered for four years/100,000 miles.
Servicing
Service intervals for the Master E-TECH are every two years or 25,000 miles, whichever comes first. Renault offers its iCare service package for the Master E-TECH through its Pro+ van centres. They're able to arrange a service package based on your mileage and work requirements, and it's designed to minimise the time your van spends off the road.