Top 15 best used plug-in hybrid cars 2022
Plug-in hybrid cars have the potential to bring big savings on running costs, and buying used can make them even cheaper. Here are the best used PHEVs right now…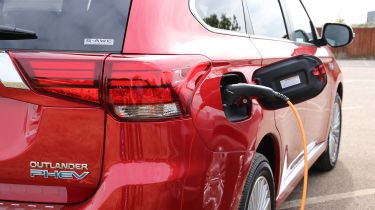 Plug-in hybrids (PHEVs) have been around for a few years now. They've proven popular with people seeking a car to bridge the gap between traditional petrol and diesel-powered cars and the fully electric future. You need the right usage patterns to get the most from a plug-in hybrid but now that they are readily available on the used market, they are becoming an affordable option for more people. On this page we list the best used plug-in hybrid cars to buy now.
Plug-in hybrids can complete short trips on electric power alone with zero tailpipe emissions and lower running costs, but can still manage longer journeys using petrol or diesel if necessary.
They are great options if you'd like to step away from diesel – which was traditionally favoured by drivers seeking high fuel economy figures – without giving up on low running costs. To that end, PHEVs are most cost-effective if you have somewhere to charge the car at home and do lots of short trips that allow you to run on cheap battery power as often as possible. 
You might also be after one of these models if you'd like to try electrification, or don't have a dedicated charging point for charging an electric car's bigger battery. The beauty of the PHEV is its mix of the two technologies - so you could, in theory, run it exclusively on the internal combustion engine, even though that would send fuel costs soaring.
The main drawback of PHEVs in the past has been cost, as they're typically more expensive to buy new compared with their petrol- or diesel-powered counterparts. Many PHEVs are aimed at company-car drivers because they offer low BiK company car tax, so you'll find that many are plush executive cars with premium badges. Now that plug-in hybrids have been around long enough, there are also plenty of used options available, making them more accessible to buyers. Based on our extensive road testing, we've identified the  UK's best used plug-in hybrid cars below.
It's important to remember that even the oldest plug-in hybrids are still fairly new in the grand scheme of things, and still offer some fairly cutting-edge technology. While they're more affordable than before, many are still not cheap. Over time they'll get cheaper, but you should weigh up the total cost, including purchase price and running costs – you might find that a traditional hybrid could make more sense depending on your situation.
With more and more used fully electric cars for sale, one could also be an option if you want to forego petrol or diesel completely. Check out our guide to the best secondhand electric cars and follow DrivingElectric on Twitter, Facebook, Instagram and YouTube for up-to-date advice and guides for all types of electric and hybrid cars.
Best used plug-in hybrids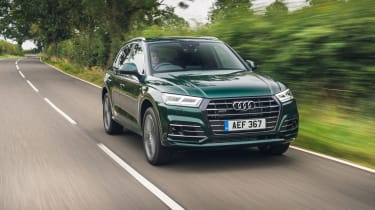 1. Audi Q5 TFSI e (pre-2021)
The Audi Q5 TFSI e is a roomy, high-quality and comfortable SUV with an electric range of around 26 miles. That puts it near the bottom of the pile for range, but it should be enough for most people to get to work on – and the rest of the package is excellent.
Partnership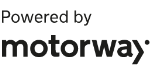 Need to sell your car?
Find your best offer from over 5,000+ dealers. It's that easy.
It has a fantastic interior with high-quality materials, lots of tech and plenty of room. There's more than enough headroom and legroom in the rear and a big boot, so it makes a good family car. The engine is a 2.0-litre petrol unit and it's pretty powerful in either 50 TFSI e or 55 TFSI e form, yet also relatively efficient considering the size and weight of the Q5. Read our full review here.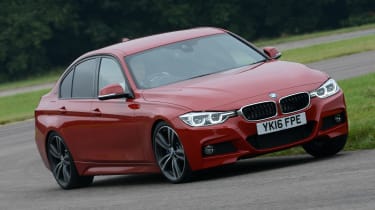 2. BMW 330e (all years)
The 330e is a plug-in saloon that has loads of appeal for keen drivers, as it's really good to drive despite its efficiency and practicality. The first-generation model is generally cheaper than the most affordable used Mercedes C350 e – its main rival. This version of the 330e has around 23 miles of electric range, and it can be charged from the mains in under four hours.
The second-generation version is still on sale and it's even better, yet is naturally a bit more expensive to buy. It's more comfortable, has a better interior, and has more equipment than the older model, so it could be worth it if you can stretch to buying what is essentially a nearly new car. It's also available as a 330e Touring estate, unlike the first-generation model. Read our full used BMW 330e buying guide here.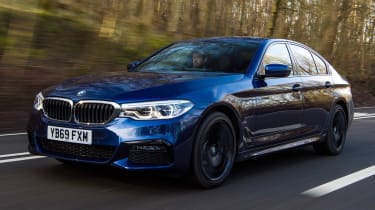 3. BMW 530e (2017-2020)
The 530e is the bigger brother of the 330e above, and although it's more expensive, it's also a better car in many ways. It's much more spacious inside, for example, but it's also more comfortable and has a really luxurious interior that makes it feel like a very special place to spend time.
The pre-facelift car (2017-2020) is what we're focusing on here, although if you can stretch to a later car, it has a better cabin. The 530e has a 2.0-litre petrol engine with an electric motor that delivers an electric range of around 30 miles, and thanks to 248bhp on tap, it's quick as well as being relaxing to drive. Read our full review here.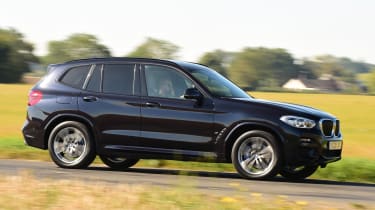 4. BMW X3 xDrive30e (all years) 
The X3 xDrive30e is the plug-in version of the BMW X3 and it brings the excellent powertrain from the BMW saloon range into this practical SUV body. It uses a 2.0-litre petrol along with the same 12kWh battery, and can cover around 30 electric-only miles from a full charge, which is impressive given the X3's extra weight.
The X3 is great to drive for an SUV as well, and thanks to both well judged suspension and comfortable seats, it's a really relaxing car to drive. It's got plenty of performance when you need it, drives quietly on electric power, and the interior is high quality and looks very modern. It's just a shame it's not as practical as the non-PHEV models, as it has a smaller boot. Read our full review here.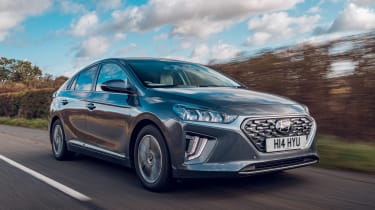 5. Hyundai Ioniq Plug-In (all years)
The Ioniq Plug-In is powered by a 1.6-litre petrol engine and an electric motor, which produces 138bhp and allows an electric range of about 40 miles. In 2019, the Ioniq was facelifted; the improved model doesn't look hugely different, but there's a larger infotainment screen that really lifts the interior, so one of these could be worth seeking out if you can afford it.
The Ioniq is comfortable, quiet and easy to drive, and makes a great commuter, because it's so relaxing and very efficient. Even with an empty battery, it returns similar economy to the normal hybrid despite the extra weight of the Plug-in's larger battery. Read our full review here.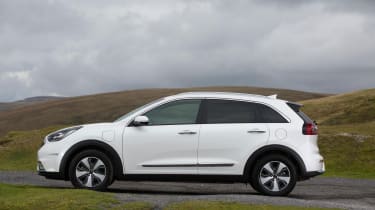 6. Kia Niro PHEV (all years)
The Niro PHEV is a small family SUV that uses a similar powertrain to the Hyundai Ioniq (above), with a 1.6-litre petrol engine and electric motor, for about 35 miles of electric driving range. The Niro PHEV is efficient, quiet and smooth to drive.
It's not particularly fun, and the interior is quite drab, especially compared with the second-generation model introduced in 2022 which gets a slightly bigger battery for more electric range. That said, it has lots of standard kit and plenty of space, so it's great value. Plug in regularly and you should see good savings on fuel compared to a normal petrol SUV. Read our full review here.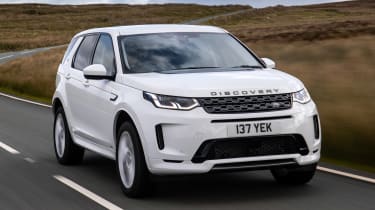 7. Land Rover Discovery Sport P300e
The plug-in version of the Discovery Sport is a more recent addition to the range – a push from Land Rover to keep up with offerings from German rivals BMW and Audi. The Discovery Sport P300e has a respectable electric range of 34 miles, and unlike many other plug-ins, offers 50kW rapid charging, so topping up from 0-80% is possible in 30 minutes from a public station.
Land Rovers are known for their off-road abilities, and this model is no different; the car drives very similarly to the non-hybrid models. Unfortunately, the seven seats offered in those cars aren't available in the PHEV, given the extra space taken up by batteries. All Discovery Sports, PHEV or otherwise, boast an attractively styled and luxurious interior. Read our full review here.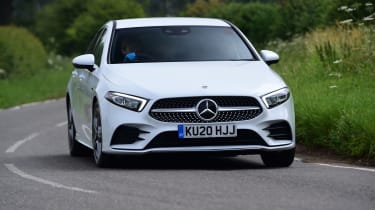 8. Mercedes A 250 e
The A 250 e is one of the most affordable plug-in options available in the Mercedes range from new, so it goes without saying that a used example will be even more accessible. There's an impressive range of up to 45 miles on electricity alone, which we found to be fairly accurate in testing.
Where the A 250 e falters slightly is in how harsh its engine sounds under hard throttle – it's not as refined as you'd expect a Mercedes to be. Ride quality is better in many rivals, too. The Mercedes does, however, impress with its interior; while the build quality of BMWs and Audis may be slightly better, the A 250 e's space, practicality and design make it a class leader in this respect. Read our full review here.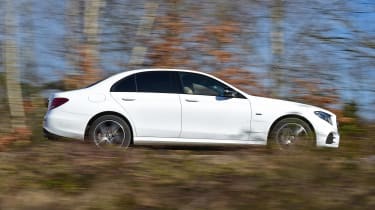 9. Mercedes E 300 e and E 300 de (all years)
The E-Class plug-in hybrid presents a rarity in the PHEV world: there's a diesel-engine option. Most PHEVs are petrol-electric, yet the E 300 de is diesel-electric, which means drivers can benefit from the diesel engine's long-distance efficiency when the battery runs out. There's a petrol E 300 e as well, and both are excellent, making great used buys.
The E-Class is comfortable, fast, luxurious and packed with standard kit. As for whether to choose diesel or petrol? If you do motorway trips often, diesel is best, but otherwise the petrol is smoother and quieter.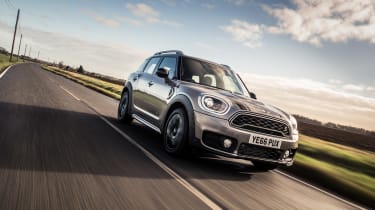 10. MINI Countryman PHEV (all years)
The Countryman Cooper S E is a small SUV with an upmarket finish and smart, stylish looks. It also happens to be good to drive and comfortable. It doesn't have the greatest electric driving range, at only 20-25 miles, but that could be enough for some buyers.
Despite wearing the 'Cooper S' badge, which is usually the sporty model in the MINI range, the hybrid isn't all that fast or exciting, but it's composed and fun enough for most on a twisty road. It's quiet and easy to drive in traffic, too. Read our full review here.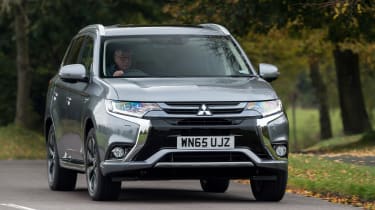 11. Mitsubishi Outlander PHEV (all years)
The Outlander PHEV was the first plug-in hybrid SUV to go on sale, and as such the early examples have had longer to depreciate than most. It's not great to drive, not all that efficient when using the petrol engine, and the interior looks cheap, so it won't appeal to everyone – but a pragmatic buyer who's looking for a practical SUV with plug-in power could benefit.
A mid-life update saw the introduction of a slightly larger battery pack which promises up to 28 electric-only miles, so they're worth looking out for. You can recognise these by their 2.4-litre petrol engine, compared with the earlier models' 2.0-litre engines. Read our full used Mitsubishi PHEV buying guide here.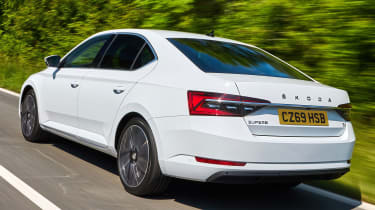 12. Skoda Superb iV (all years)
The Superb iV uses a 1.4-litre petrol engine alongside its electric motor and has an electric range of about 36 miles, but it's the rest of the offering that makes this one of the best used PHEVs around. It's one of the most practical cars you can buy for the money, with a gigantic boot, especially in estate form, and enough room for even the tallest passengers in the rear.
The Superb hybrid is also very comfortable, with soft suspension and supportive seats. It's reasonably quick, if not much of a driver's car, yet it's still satisfying to drive and cheap to run. There's lots of standard kit, too, no matter which trim level you choose. Read our full review here.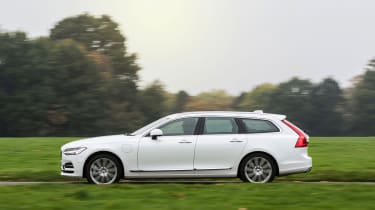 13. Volvo V90 Twin Engine/Recharge (all years)
The V90 is a fantastic used buy in petrol or diesel form, as depreciation has struck and prices are low. The plug-in model was initially called the Twin Engine, but more recent examples wear the Recharge badge. It offers luxury, quiet running, and plenty of luggage space, as well as about 30 miles' range in electric mode.
When the 2.0-litre petrol engine kicks in, it has pretty strong performance considering it's a comfortable cruiser – 0-62mph takes 4.8 seconds, which was supercar pace not long ago. Read our full review here.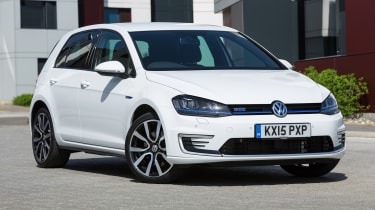 14. Volkswagen Golf GTE (2015-2018)
The Golf is one of the most popular cars on sale in the UK, and the plug-in hybrid GTE version extends its appeal even further. Golf GTEs from 2015 to 2018 deliver 148bhp and 0-60mph in 7.3 seconds, with an 8.7kWh battery returning up to 25 miles of pure electric range.
They're comfortable, good to drive, roomy inside, and have a good amount of tech for the money, especially if you find an updated Mk7.5 model (launched in 2017). Read our full used Golf GTE buying guide here.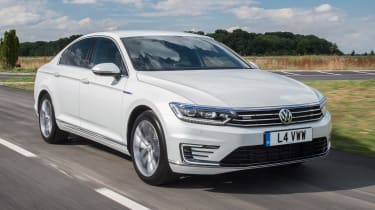 15. Volkswagen Passat GTE (2015-2018)
This version of the Passat GTE was also on sale from 2015-2018 and it uses the same 1.4-litre petrol engine and electric motor as the Golf GTE, so should be able to do around 30 miles before having to rely on the petrol engine.
It's a good option if you like the Golf GTE but want more space, particularly for rear-seat passengers, as there's a lot more legroom in the back and the boot is huge. There are saloon and estate variants to choose from. Read our full review here.
New MINI Countryman Electric boasts a circular screen and a 287-mile range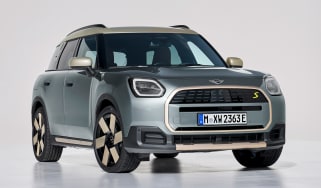 New MINI Countryman Electric boasts a circular screen and a 287-mile range
BMW i4 facelift to topple Tesla with huge range and tech upgrades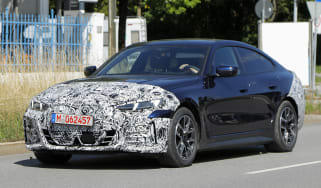 BMW i4 facelift to topple Tesla with huge range and tech upgrades
An updated version of the BMW i4 has been spotted testing, likely sporting a longer range and the latest technology
Electric BMW iX2 is set to take the kidney grille to the next level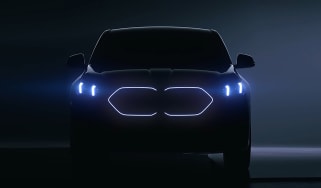 Electric BMW iX2 is set to take the kidney grille to the next level
BMW has teased the highly-rumoured iX2 coupe-SUV, which has been revealed to get enlarged illuminated kidney grilles