Used Mitsubishi Outlander PHEV buying guide
Everything you need to know about buying a secondhand Mitsubishi Outlander PHEV, produced from 2014 onwards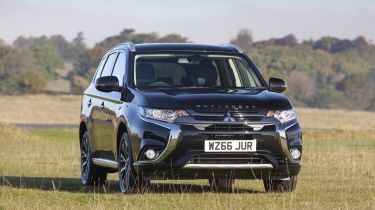 A wide range of plug-in hybrid cars are available these days, but the Mitsubishi Outlander PHEV was one of the first mainstream plug-in hybrid SUVs released in the UK back in 2014. In many ways, it was the right car at the right time, as the wave of SUV popularity had only just begun amid a growing interest in cheap-to-run plug-in hybrid cars. Its combination of low running costs and practicality at a reasonable purchase price proved very popular.
It took several years for rival brands to catch up with their own plug-in hybrid SUV offerings, and during that time Mitsubishi sold thousands of Outlander PHEVs. Happily, this means the used market has plenty of examples of the Mitsubishi Outlander PHEV to choose from at attractive prices.
Until late 2018, the UK government's plug-in grant was generous enough that it brought the price of a new Outlander PHEV down to the same amount as the diesel version – another reason for the car's popularity. Sub-50g/km CO2 emission figures mean that Outlander PHEVs registered before April 2017 are tax-exempt. Be aware that they're no longer allowed to enter the London Congestion Charge zone for free, although this was the case previously.
With so many on the market, you'll be spoilt for choice when it comes to looking for a used Mitsubishi Outlander PHEV. There are plenty of different colours and specifications available, and all of them vary in condition, so there should be an example to suit any budget.
There are some downsides to be aware of, however: interior quality can't match the best European rivals and you can't get a seven-seat Outlander PHEV, as the space used for the third row of seats in the standard versions is taken up by the batteries for the hybrid system. Running costs are very impressive, however, even if it's unlikely you'll get near the claimed 148-166mpg on a regular basis.
Expect to see around 50mpg with ease if you can charge the Mitsubishi regularly, and even more if most of your trips are within its electric range. Depending on the exact age of the car you're looking at, this will officially be between 28 and 33 miles.
History
The Mk3 Mitsubishi Outlander was launched in 2013 as a diesel, and the PHEV (Plug-In Hybrid Electric Vehicle) version went on sale a year later, making it the first plug-in hybrid SUV to be offered to UK buyers. At first, it was available in GX3h and GX4h trim levels, while a GX5h version followed in 2015, a few months before a facelift that gave it a far more modern look. New GX4hs and GX5hs models and a special-edition Juro came out between 2016 and 2017 as part of a wider set of revisions.
These revisions were significant, because the car gained an 'EV Priority' mode, which enables you to start the Outlander PHEV in electric mode for improved fuel economy and CO2 emissions (a claimed 166mpg and 41g/km). High-spec GX4h and GX5h models got must-have safety features such as autonomous emergency braking and rear cross-traffic alert to help when reversing out of parking spaces. A revised Juro version arrived in March 2017.
Partnership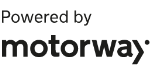 Need to sell your car?
Find your best offer from over 5,000+ dealers. It's that easy.
In June 2018, a new 2.4-litre petrol engine replaced the old 2.0-litre. Despite a power increase, efficiency was also improved. However, this coincided with the introduction of a new efficiency testing method called WLTP, so the official CO2 and fuel-economy numbers were actually worse on paper. Still, 141mpg and emissions of just 46g/km is still impressive. Other changes introduced in June 2018 included revised suspension for an improved ride, a sport mode and more modern styling.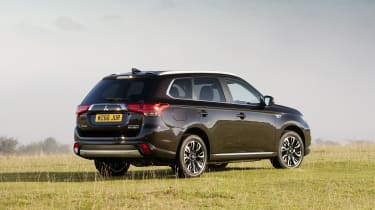 Which one should I buy?
With so many revisions over a fairly short period of time, knowing what you're actually getting with any one Outlander PHEV can be slightly tricky. But all models are well equipped – even the earliest GX3h trim came with 18-inch alloy wheels, a speed limiter, power-folding mirrors, dual-zone climate control and keyless entry.
Post-2017 cars offer the best balance of cost and ability, with significantly improved looks, the EV Priority mode and better rapid charging, which shaved five minutes off the replenishment time; an 80% charge can now be done in 25 minutes.
High-spec Juro models are also worth hunting out. Post-2017 models offered Apple CarPlay and Android Auto, hill hold and the Mitsubishi PHEV app, which allows you to pre-heat the interior.
You can buy a higher-mileage Mitsubishi Outlander PHEV from as little as £12,000.
Used Mitsubishi Outlander PHEV alternatives
The Outlander PHEV has relatively few rivals on the used-car market, particularly at this price.  The MINI Countryman plug-in hybrid is perhaps its closest rival, but is much smaller and quite a lot more expensive, as it's a more recent model. The same is true of the Kia Niro, a plug-in hybrid version of which was launched in 2017. There aren't as many of these available on the used market as there are Outlanders.
The Lexus RX is a similar size to the Mitsubishi, but offers a far more upmarket look and feel. Unlike the Outlander, it's a "self-charging" hybrid, so it only has a very limited pure-electric range. The Toyota C-HR is a stylish alternative, although its looks come at the expense of practicality and it's not available as a plug-in hybrid, either. If you can stretch to it, the Volvo XC60 T8 is probably the most talented all-rounder of the PHEV SUV pack, but its upmarket nature and high list price means it's also the priciest option on the used market.
What to look for
Economy: Mitsubishi claims the Outlander PHEV is capable of up to 166mpg, depending on model, but few will ever see such figures. But reports of 50-65mpg aren't uncommon and still impressive.
Battery: A frequent concern for the used electric, hybrid and plug-in hybrid car buyer is the longevity and cost of battery replacement. The Outlander PHEV has an eight-year/100,000-mile warranty to cover any unforeseen circumstances. Like all electric cars, the Outlander's range is governed by how much you use equipment like air-conditioning.
Seats: While the diesel Outlander has seven seats – albeit with a pretty cramped third row – the PHEV has just five, due to the location of the batteries.
Gearbox: Like many hybrids and plug-in hybrids, the Outlander PHEV has a CVT automatic gearbox. These have a tendency to rev hard as the car accelerates and produce a slurring sound. Try before you buy, as they're not to everyone's taste.
Ride comfort: Despite its high-riding stance, the Outlander PHEV doesn't ride over bumps particularly smoothly. Again, take a test drive over some poor road surfaces to see if it's still the car for you.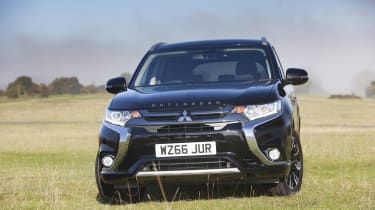 Running costs
Official fuel economy and emissions figures for the Mitsubishi vary slightly over the years, but all manage 140-166mpg and emit less than 50g/km of CO2. The variation in fuel-economy figures is rather irrelevant as you'll rarely – if ever – come close to them. Plenty of Outlander PHEV drivers report economy in the 50-65mpg range, which is still excellent.
Like all plug-in hybrid cars, economy depends entirely on how often you're able to charge it. Drive less than 25 miles a day, and it's conceivable you'd never use a drop of petrol. Take long motorway trips every day, and watch the economy tumble as the petrol engine hauls the flat batteries around.
While that also impacts your actual CO2 emissions at the tailpipe, the official ratings of between 41 and 46g/km still stand. That means you won't pay any road tax on an Outlander PHEV registered before April 2017. Those registered after this date cost £145 a year.
Recalls
The Mitsubishi Outlander PHEV has been the subject of surprisingly few recalls. Just under 1,100 were recalled in 2015, affecting cars built between 21 July and 12 September that year, due to a possible fuel leak.
Owner satisfaction
The Mitsubishi Outlander – either in PHEV or diesel guise – isn't often found in the Driver Power owner survey, but in 2020 it finished 67th out of 100 cars. The Mitsubishi brand as a whole finished eighth out of 29 manufacturers in the 2021 survey.
Top 15 best used plug-in hybrid cars 2022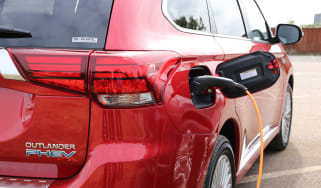 Top 15 best used plug-in hybrid cars 2022
New electric cars coming in 2023 and beyond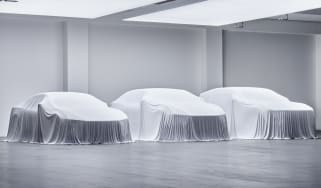 New electric cars coming in 2023 and beyond
With electric cars making up an ever-increasing proportion of sales, the industry is working flat out to launch new models – here's what's on the way …
New Toyota battery tech to deliver 500-mile EVs by 2026; 750-mile ranges to come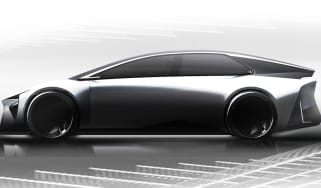 New Toyota battery tech to deliver 500-mile EVs by 2026; 750-mile ranges to come
Toyota has revealed details on its latest battery technology, set to underpin its next generation of EVs
New Fiat 600e SUV prices announced: £3,000 cheaper than a Jeep Avenger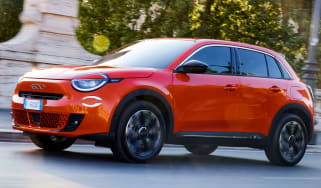 New Fiat 600e SUV prices announced: £3,000 cheaper than a Jeep Avenger
The larger sibling to the Fiat 500e gets a stylish SUV-like design and a 249-mile range